Is Your Package Out for Post Office Delivery? What if You Don't Receive It?
Waiting for an order can be a hassle sometimes. While courier companies are constantly improving their services and deliveries run smoothly in most cases, there can be inconveniences.
Package out for post office delivery is a tracking status that should be thrilling. You will be getting your new item of clothes, pair of shoes, or something else of value to you.
What happens if you do not receive the package? Who should you get in touch with? What's the procedure? Can you get a refund? This article provides answers to these questions, and DoNotPay is at your disposal whenever you need to handle your delivery issues!
USPS Tracking Says Out for Delivery but Not Delivered
If you are keeping track of your soon-to-come package via USPS tracking system and the status says out for delivery, it means the package has left a local post office. A courier should deliver it during that day.
USPS's usual delivery times are until 5 p.m. Monday through Saturday, but some deliveries can happen at a later time. Situations that can delay deliveries include:
Heavy traffic
Route changes
Weather conditions
High volumes of deliveries
If you do not receive your parcel by the following business day, you should:
Check the tracking status the next day—maybe it was returned to the post office because of a problem, and you should be able to see a new status indicating the reason
Contact USPS
USPS Out for Delivery Didn't Come—What Can You Do?
If the USPS status "out for delivery" turns to delivered but your package has not arrived, here are some of the reasons and suggested solutions:
Possible Scenarios
What You Could Do
The package will be delivered

Wait until the end of the business day as the package could be delivered later in the day
Check the status the next day if you do not receive the parcel by then

Unsuccessful delivery attempt
Check the status the following day to see the reason why the delivery failed
The package was delivered to the wrong address
Inspect details next to the status to see if the delivery address is listed. If there is a wrong one, you should:

File a claim
Get ahold of a local post office

The package was lost or stolen
First:

Check:

Your mailbox or P.O. box
The area around your home to make sure the driver did not leave your parcel in some safe place near your house

Talk to your neighbors in case a courier left the package at their address by accident or because you were not at home

If you cannot locate the package, you should:

Inform USPS
File a refund claim
My Package Says Out for Delivery but Never Came, USPS—Run a Missing Package Search
The first step you would need to complete is to let USPS know that your package is lost. Here is how you can do that:
Fill out a help request form to inform your local post office first
Start a Missing Mail Search if seven days after you filed the help request form you have not:

Heard back from a local post office
Received your lost package
If USPS cannot find your parcel and you used a service with a money-back guarantee, you should file a refund claim. You can do that:
Online
By mail
Via DoNotPay
Start a Claim Online
You can file a claim online by following these steps:
Visit the File a Claim page
Confirm the filing period—you might need to wait between seven and 45 days to file a claim
Gather supporting evidence
Start your claim
You could also be interested in finding out how long it takes a package to arrive from China and what options you have to claim USPS insurance.
Submit Your Refund Claim via Mail
If you like using paper and pen, you can send your claim by mail. Here is how you make it happen:
Contact the USPS National Materials Customer Service at 1-800-332-0317
Ask them to send you a paper Domestic Claim form
Complete the document
Send it to the address provided on the form
Be patient when opting for finishing the claim process on your own. The phone line might be busy for a long time.
There is a simpler and faster way to file a refund claim— to complete the whole process in a flash!
File a Refund Claim Like in a Computer Game—Swiftly and Efficiently
Losing a package does not need to be a cause for yet another headache and stress in your life. As it is a common problem, you simply need to find the most convenient way to solve it.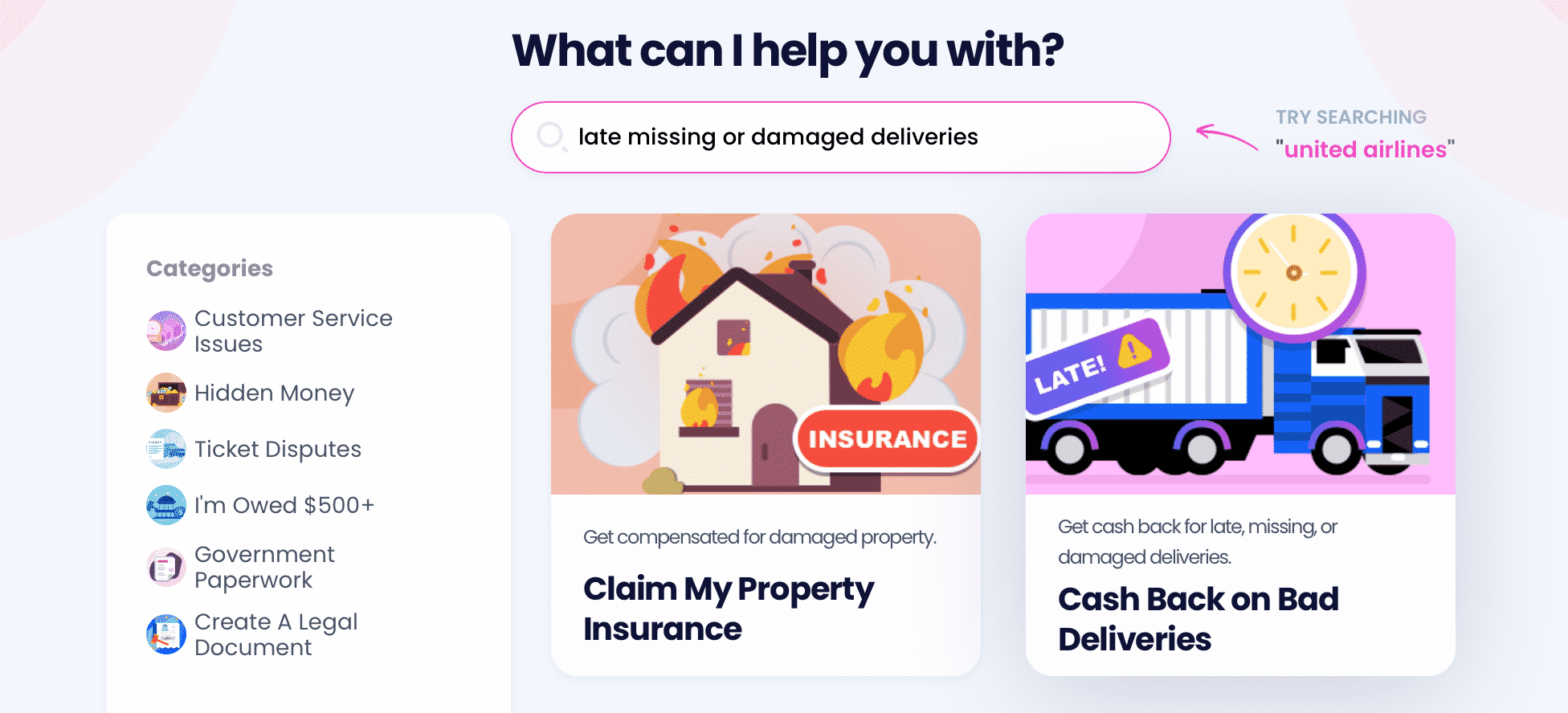 Our app can help you submit a refund claim for a stolen or missing package in a matter of minutes! and complete these short steps:
Select our Late Delivery Refund feature
Choose USPS (or some other courier company)
Type in some details about your shipment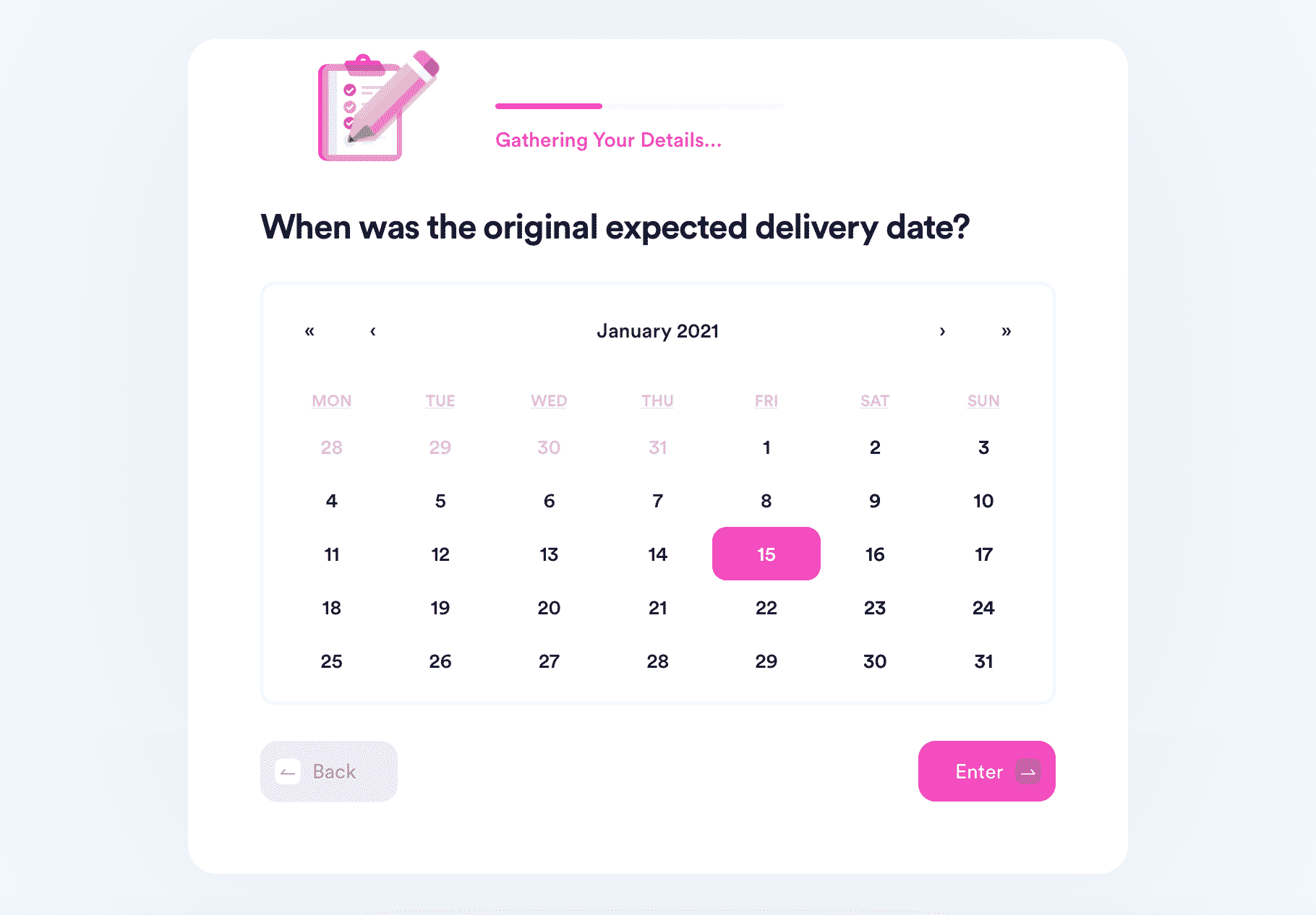 It will take you a few minutes to complete these steps, and DoNotPay will automatically file your claim.
DoNotPay Is Your Reliable Delivery-Problem Solver
USPS is not the only company we can help you with. You might also be interested in the following articles where we provide valuable information about other companies and topics:
Find Hidden Money With DoNotPay Effortlessly
Our app can do more than request delivery refunds for you. We can help you identify all your hidden expenses and save your money for more relevant matters. If you use DoNotPay, you can:
Earn Some Extra Cash With DoNotPay's Help
Not only can we eliminate all hidden expenses you have, but we can help you put more money in your pocket! We don't let you forget the smaller but meaningful gains you can make from gift card cash backs, raffle ticket wins, or warranty claims. Our nifty app can also assist you in getting some serious cash by way of chargebacks, insurance claims, airline compensation, college fee waivers, paid clinical trials, or crime victims compensation. We can also show you how to sue any company or individual for compensation in small claims court.