How To Find Lost AirPods in No Time
Ever since their release, AirPods have been one of the most popular earbuds out there. They are stylish and small, which is why they often become lost items. When you consider their price, it's no wonder why people try their best to retrieve them instead of buying another pair.
You can search around the whole house and pray they are still there to save your time and not look elsewhere—but what should you do if you lose them outdoors? In this guide, we'll show you how to find lost AirPods and introduce a quicker and more reliable method of searching for them.
Steps to Finding Lost AirPods
If you're trying to find your AirPods, these are the methods you can use:
Try Apple's Find My app
Look for them in person
Use DoNotPay
Find My—AirPods
You can use your device's Find My app—be it an iPhone, iPod, or iPad.
The app will work only if you already have it enabled on a device to which your AirPods are connected. Check out the following table to see instructions on finding the earbuds with Find My:
Using a Device
Looking for AirPods Online

Open the app
Choose the Devices section
Select the missing AirPods

Visit iCloud
Sign in with your Apple ID
Click on Devices
Choose the missing AirPods
If the AirPods are still turned on and connected, the app will show you their current location. Otherwise, you'll see their last location unless the time period for which they hold the information has passed. The following table shows the time limits of storing location info for different AirPods:
| AirPods Type | When Inside the Smart Case | When Outside the Smart Case |
| --- | --- | --- |
| AirPods | No location shown | 72 hours |
| AirPods Pro | No location shown | 72 hours |
| AirPods Max | 18 hours | 72 hours |
If you're in the vicinity and the AirPods are still connected, you can use the app to play a sound and use the audio clue to help you find them.
When only one of them is missing, you can use the app as well. Place the one inside the Smart Case. This way, the Find My app will show you the location of the other one if it's available.
In the instance of lost AirPods in the case, the app will not be able to show any location.
Searching for AirPods Manually
If the Find My app doesn't help, you can look around for AirPods on your own, but be prepared to invest time and energy in it. You will first need to retrace your steps and create a list of all potential locations where you might have lost the earbuds.
Then, you need to revisit the locations if possible—you won't be able to figure out the exact subway or bus and go there to search. You can also reach out to customer support and see if they can help. Some services have a lost and found office that you can call and file a claim.
For instance, you can file a claim with an L&F office at:
How To Find Lost AirPods Using DoNotPay
If you want to avoid contacting and going around places you've already been to looking for your AirPods, you can do so with DoNotPay. Our app will reach out to all locations you list on your behalf. You only need to subscribe to DoNotPay and answer a few questions about:
Locations where you might have lost them
The date of loss
Description—if there was something unique about them, such as a sticker on your case, a dent in the earbuds, etc.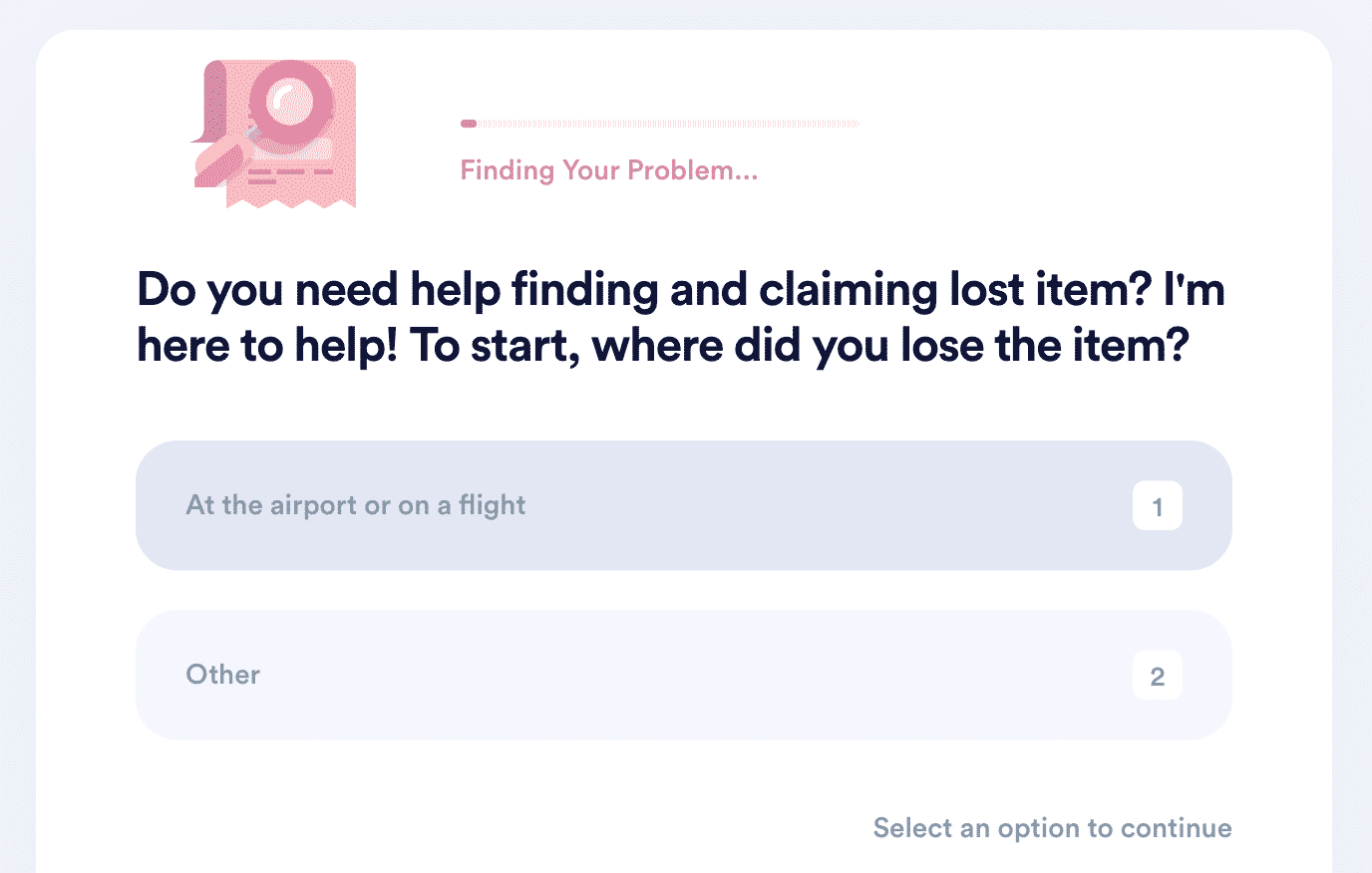 When we get an answer from each location, we will notify you of the responses. If they find your AirPods, we will help you schedule an appointment so that you can go and pick them up.
Find Your AirPods With DoNotPay—How It Works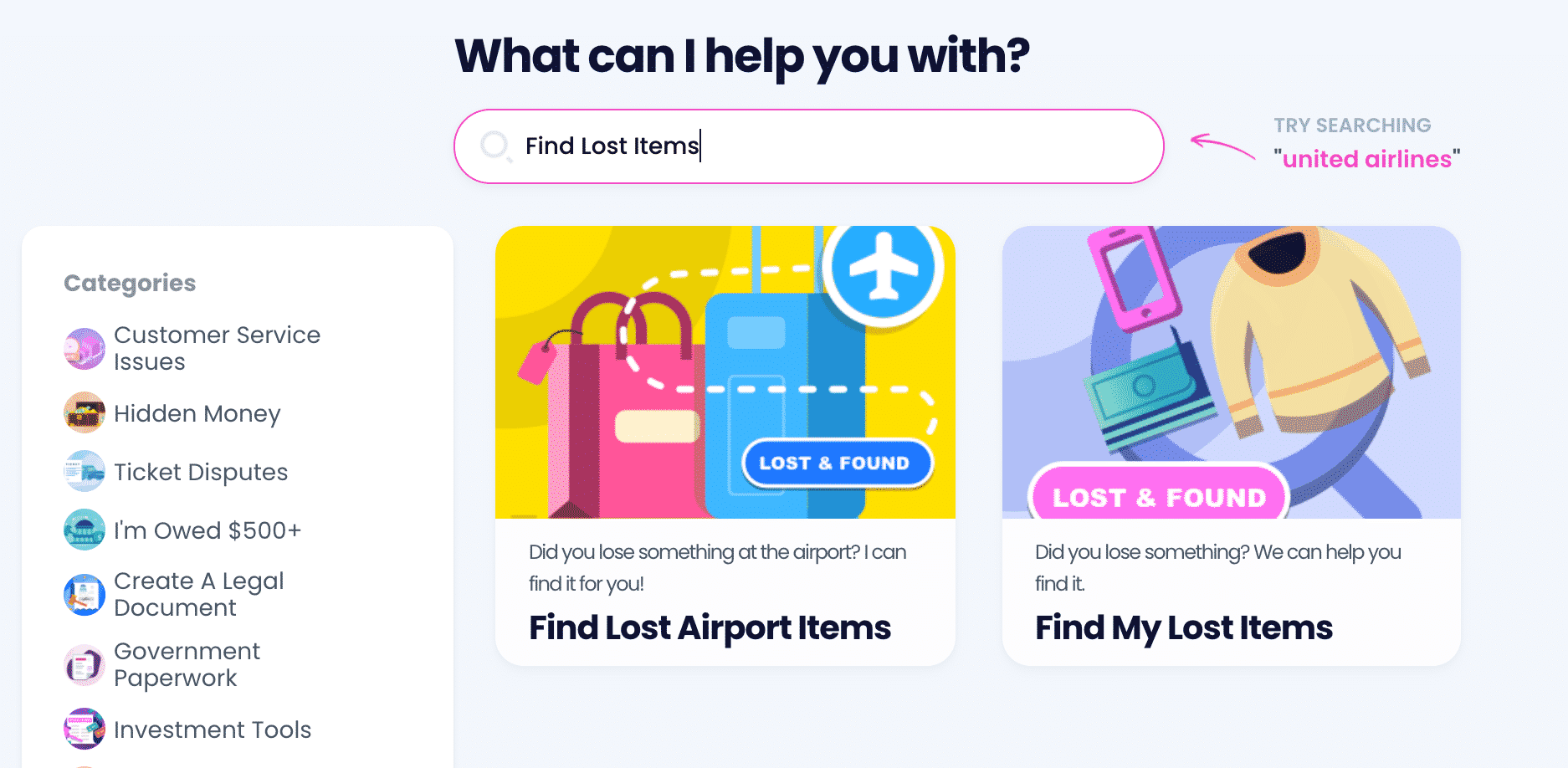 Retrieving your AirPods can be tricky as they are small and don't have any distinctive features—all of them look the same. If Apple's recovery app can't help you locate them, you're left with no option other than to look for them on your own. That's where DoNotPay comes in—our app will automate the search process for you! We will contact all locations where your AirPods might be on your behalf and let you know of the results.
All you need to do is the following:
Sign up for DoNotPay via any web browser
Click on the Find My Lost Items product
Answer a few questions from our chatbot
DoNotPay can help you retrieve a variety of items, such as cell phones, wallets, car keys, and rings.
Fight Corporate Greed With DoNotPay
Greedy companies may take advantage of your time and money, but you shouldn't take it lying down. DoNotPay is here to help you get what you're owed and protect yourself!
Once you sign up for DoNotPay, you'll be able to get free trials and not worry about automatic renewals. When you don't want to disclose your personal info, use DoNotPay's virtual credit card and receive a randomly generated name, email address, and credit card details.
Tired of spending hours and even days requesting a refund or cancellation? Our AI-powered app completes the tasks within minutes.
In case you're not satisfied with an item or it was delivered late, we can help you return it for an exchange or refund. We can also fast-track claiming your warranty or insurance.
Strapped for Cash? Earn Some Money With the Help of Our App!
You may need help paying your bills, getting what you're owed, or earning some extra money. Whatever the case, DoNotPay is your go-to.
With our help, you can fight your parking tickets, request a college fee waiver, reduce your property taxes, and enter giveaways. You may even have some money lying around. Don't hesitate to search for unclaimed money under your name or redeem used gift cards.