Lost Apple Watch—How To Look for It
The worst part about losing an item is often not the material loss—it's the hassle and stress that follows it. When you lose something like an iPhone, car keys, or a wallet, you need to make sure your safety and privacy don't suffer by going through time-consuming processes of deleting credit card information, canceling IDs, and changing locks.
In this article, we'll focus on finding a lost Apple Watch and explain what you need to do to get it back. If you can't find it anywhere, we'll explain what you should do to guarantee your safety.
Finding Your Apple Watch—Getting Started
Before you get into a state of panic, you should try to remember when the last time you had your Apple Watch with you was. Think about all the places you've been to from that moment on.
You can revisit all those locations and ask around about your lost Apple Watch. With the Find My Apple Watch, you can make your Watch play a sound from afar. You will be able to hear if the device is nearby and if someone is being coy about its whereabouts.
If that doesn't work, you have additional options to use:
Find My Apple Watch
DoNotPay
How Does Find My Apple Watch Work?
Apple's Find My series has a dedicated app for each of its devices, including Apple Watches, iPhones, iPads, Macs, AirTags, and AirPods.
The app can help you find your watch only if you've previously activated it and added the watch to the list of devices. The app activates automatically if you pair the watch with an iPhone that already has Find My Phone active.
The first step you should take is to locate your watch on the map. You can do so by:
Go to iCloud on your PC or open up the Find My app on your iPhone
Choose All Devices
Select your Apple Watch
For this to work, the watch needs to be in your proximity and have access to the internet.
How Can DoNotPay Help?
If Find My Apple Watch can't locate your device on the map, you can still get your watch back. To do that, you should get in touch with all places you've identified as possible locations of your lost Apple Watch.
You can contact customer support or call a lost and found office directly. Many companies and transportation service providers have an L&F office, such as:
Calling each location one at a time can be a tedious chore and one you can avoid. When you , you only need to describe your Apple Watch or upload a photo of it and provide us with a list of possible locations.
We'll contact them and take all the necessary steps to find your watch and schedule an appointment for you to pick it up.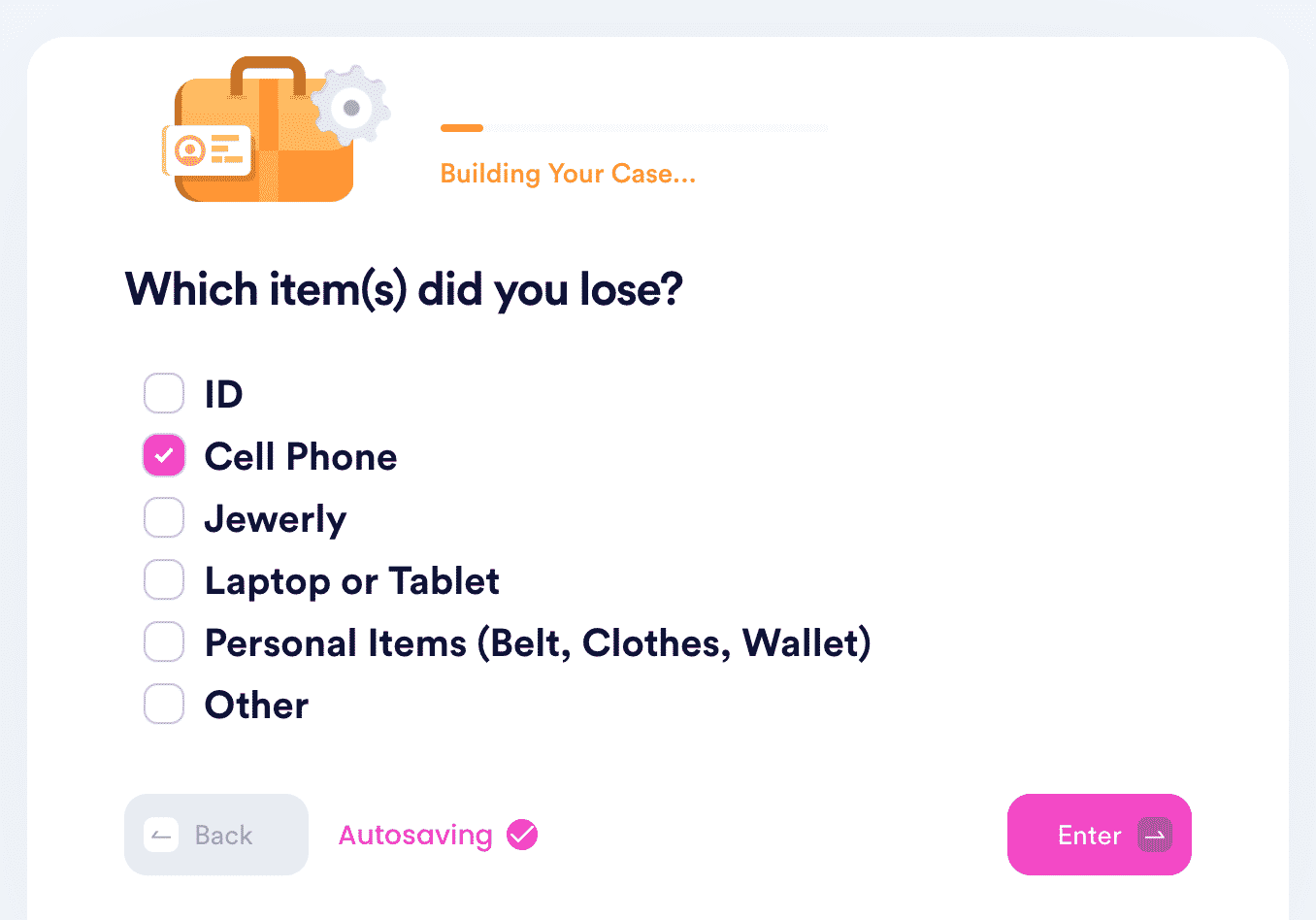 I Lost My Apple Watch and Can't Find It—What Now?
If none of the above works, it's time to move on to plan B—accepting you won't get it back and cutting your losses. The Find My app can help you:
Make your lost Apple Watch unusable to any potential thief
Delete any payment details
Erase all personal data
When you mark your watch as lost, the Watch will lock itself, and you—or someone else—will be able to unlock it only with a passcode you provide to the app. You can also display a message on the screen with your contact info for your finder to reach out and give the watch back.
You can also use the app to delete your bank account information to prevent any unwanted transactions. The app can erase all data on the watch, but bear in mind that this is irreversible—once you do it, everything is gone.
Check out the following table to see how exactly you can complete the aforementioned steps:
Course of Action
Necessary Steps
Marking the watch as lost

Open the Find My app on any other Apple device
Go to the Mark As Lost section and tap Activate
Tap Continue
Enter the display message and a phone number
Tap Activate

Deleting payment info

Sign in to your Apple account
Go to the Devices section
Choose your watch
Tap Remove All under Apple Pay

Erasing data

Open the Apple Watch app on your iPhone
Tap My Watch, then All Watches
Tap More Info next to your watch and then Find My Apple Watch
Tap Erase This Device
The Process of Finding Your Lost Apple Watch With DoNotPay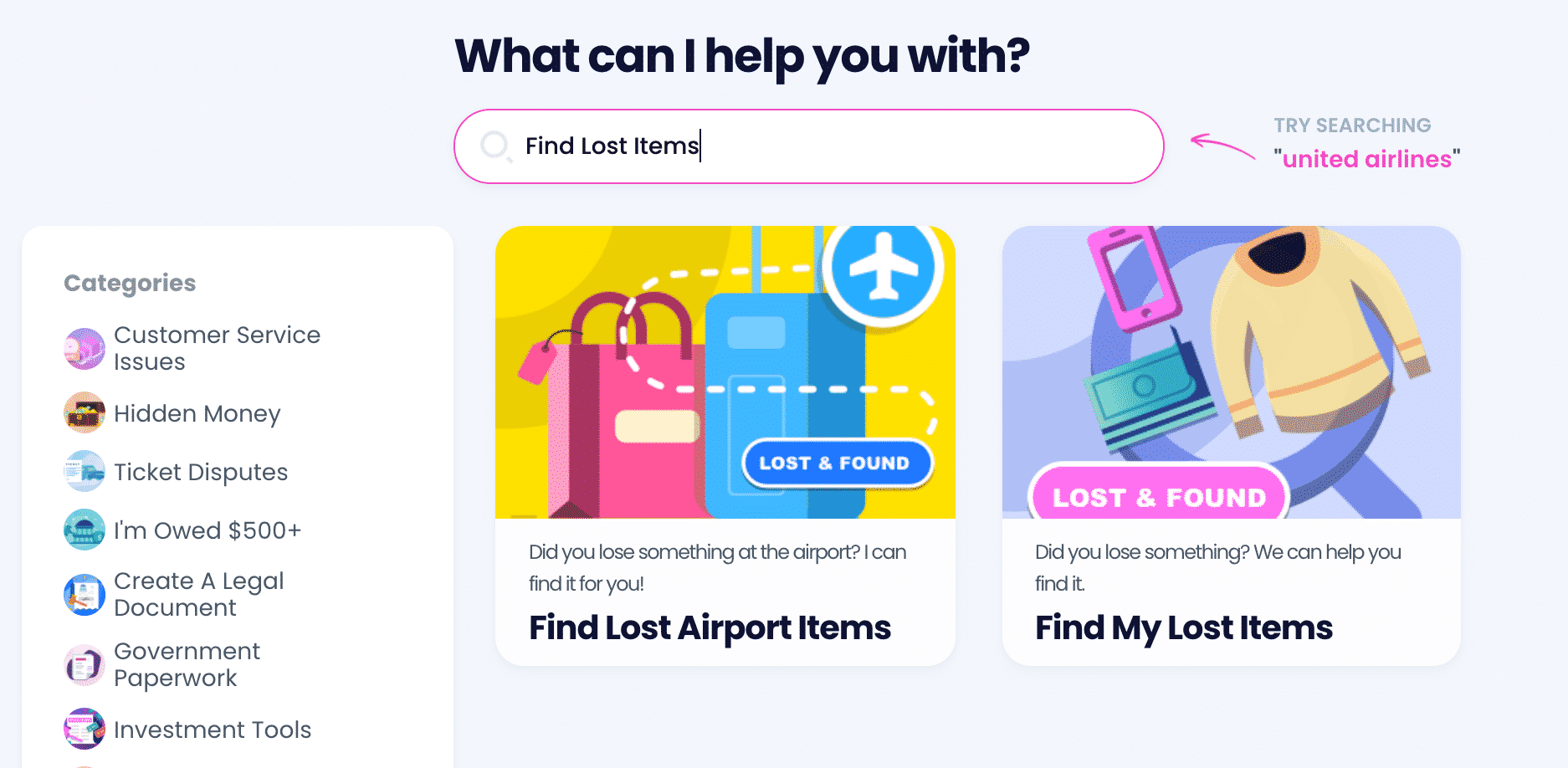 Instead of going around to various possible locations and calling them on your own, you can let DoNotPay do it for you. Our app will use the information you provide about your Apple Watch, and we'll reach out to all places you indicate to try and find your device.
You only need to complete the following steps:
Search for the Find My Lost Items feature
Answer a few questions from our chatbot
Once the process is done, we'll notify you of the outcome. We can also help you in many similar situations, such as finding your ring, contacting Uber for your lost phone, or retrieving your glasses.
Protect Yourself With DoNotPay's Help!
In case you're looking for protection from harassers and stalkers, you can count on our help. Even if you're dealing with discrimination at work or noisy neighbors, our app can solve your issues. When spam is what's bothering you, our AI-powered app will put a stop to it. Email spammers, texters, and robocallers won't be able to reach you.
What if you need to take the issue to court? The world's first robot lawyer will be by your side. With our help, you can file a complaint or sue anyone in small claims court.
If you're wondering whether there might be a sex offender in your area, we can help you find out. Use our app to perform a sex offender search and get updates.
A Pocket-Sized Assistant Is All You Need
Is your to-do list getting longer and your paperwork piling up? DoNotPay swoops in! We'll cut through numerous bureaucratic tasks so that you can sit back and relax.
Here's what we can assist you in: