Is Union Test Prep for the ASVAB Exam the Best Way To Prepare?
Individuals who want to join the Military need to take the Armed Services Vocational Aptitude Battery (ASVAB) test.
If you want to get the best score possible when taking the ASVAB exam, you should consider preparing for the test.
Even though Union Test Prep is a valid and popular option, DoNotPay offers myriads of interactive tests that will help you nail that ASVAB exam once and for all! We can also help you prepare for your driving test, Air Force ASVAB test, or any other government exam effortlessly.
ASVAB Test Explained
The ASVAB test is designed to measure the applicants' potential for military service. There are two versions of the test—the enlistment ASVAB test and the ASVAB Career Exploration Program (CEP). The applicants need to take ten subtests that examine their aptitude in four domains:
Subtests To Take

Domains

Word Knowledge

Paragraph Comprehension

Verbal

Spatial

Math

General Science

Auto Information

Shop Information

Mechanical Comprehension

Science/Technical
What's the Purpose of the Enlistment ASVAB Test?
The enlistment test is created for military recruiting. This type of examination usually lasts three hours. While you can neither fail nor pass the exam, the role you will be assigned depends on the score. These are the minimum score requirements for each U.S. Military Branch:
Navy—35/99

Army—31/99

Air Force—36/99

Marine Corps

—32/99

Coast Guard—40/99
If you're interested in joining the Military, you can take the ASVAB test at a:
Military Entrance Processing Station (MEPS) or

Military Entrance Test (MET) site
What's the ASVAB Career Exploration Program (CEP)?
Are you a student or graduate and want to find out which career would fit your skills the most? Consider taking the ASVAB test as a part of the career exploration program. You can take the test in multiple locations:
High schools

Community colleges

Job Corps centers

Correctional facilities
How To Prepare for the ASVAB Test
Applicants interested in enlistment ASVAB tests should prepare for it as much as possible to ensure their role in the Military. There isn't an official handbook you can study from. You have better chances of getting an excellent score if you have good academic knowledge of:
Math

Science

English
A great way to prepare for the ASVAB exam is to take a few practice tests. You'll get familiar with the questions and feel more comfortable when taking the real exam.
Nobody Likes Studying, but Here's Why You Should Practice for Your ASVAB Test!
The ASVAB practice test is a collection of questions similar to those applicants get on the real exam. If you take a few practice tests, you'll feel more confident in your knowledge, and you'll be able to concentrate better.
A great way to practice is to give yourself a time limit for each subtest. This approach will allow you to get used to the stressful atmosphere of the real test.
You can find the best ASVAB practice tests on DoNotPay. The numerous question combinations will help you prepare until you're happy with your practice test scores.
What Is Union Test Prep?
Union Test Prep is one of the popular platforms dedicated to providing practice tests for multiple government and non-government exams, including:
SAT

Medical Assistant Test

U.S. Citizenship Test

Real Estate License Exam
The platform offers other features, such as study guides, flashcards, and tutors. Before you take advantage of a Union Test Prep service, you'll need to create an account.
Even though this platform can be a nice way to practice for some government tests—including ASVAB—it's not a perfect solution.
Opt for a Better Way To Prepare for the ASVAB Test—DoNotPay
If you're looking for a user-friendly platform that offers sample questions for all government tests, DoNotPay is the best choice. You can practice for the ASVAB or any other test by following these steps:
Log in to the DoNotPay platform in any

Search for the practice test you're interested in

Pick the exam you want to prepare for

Choose the test length—10, 20, or 30 sample questions
If you give an incorrect answer, you'll have two options:
Redo the question

Retake the entire test once you get the score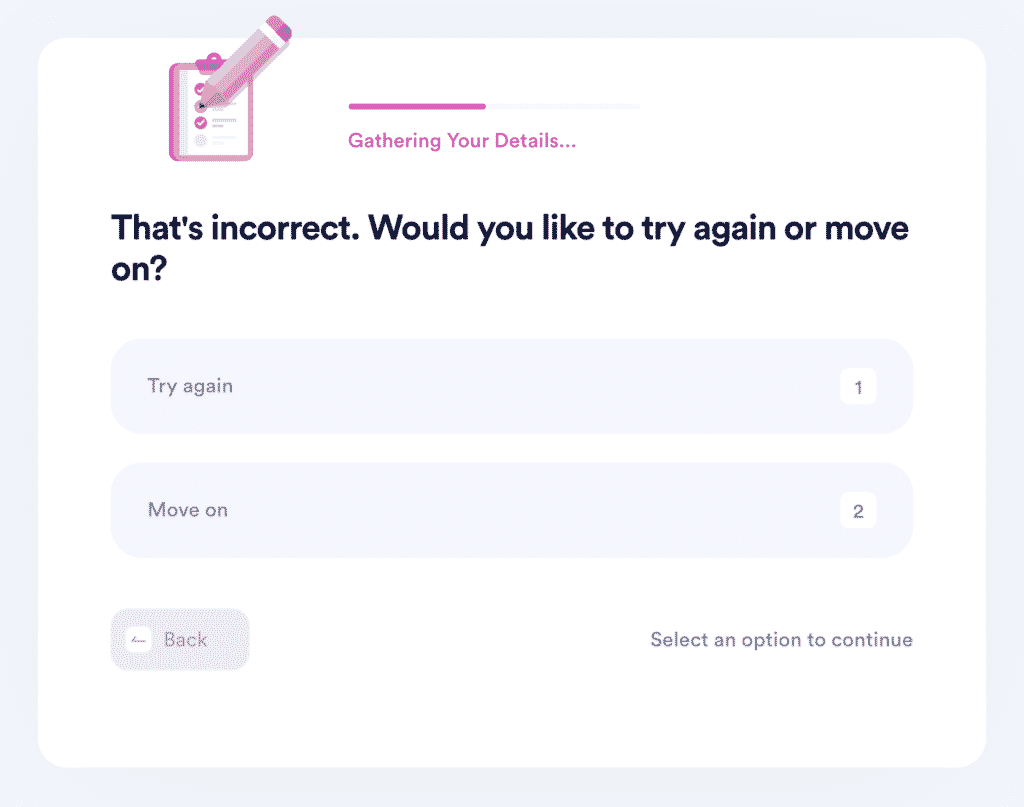 Besides helping you prepare for the ASVAB test, our feature can assist you in passing a written driving test in any American state, including Arkansas, Arizona, or Nevada.
We can even help you schedule your DMV driving test appointment in California or North Carolina.
By logging in to your DoNotPay account in any , you can access practice materials for:
The Best Way To Schedule the ASVAB Test
To schedule your enlistment ASVAB test, visit the Today's Military website and follow these steps:
Click on the

Ways To Serve

tab

Choose the

Service Branches

option

Pick the branch you'd like to enlist for

Hit the

Find a Recruiter

button
If you want to take the ASVAB CEP test, visit your guidance counselor, and schedule your exam with him or her.
Clear Your Schedule With the Help of DoNotPay
DoNotPay is renowned for making our users' lives infinitely easier. Not only can we root out unwanted subscriptions for you—you don't need to do it manually one by one any longer—but we can unsubscribe you from unwanted email and snail mail lists.
Fire up our app and let it navigate the phone tree instead of you or use it to make a DMV appointment at your earliest convenience. Forget about googling clinical trials near you—DoNotPay can sort them out according to your needs and their individual eligibility criteria.
We can fill out the paperwork that you need to file at your local small claims court to initiate a dispute. You can work around the U.S. penal system and have DoNotPay locate an imprisoned loved one instead of you trying to reach individual prisons attempting to do it yourself.
You don't need to go to great lengths to get in touch with a counselor to sign your college fee waiver either—DoNotPay does it for you and then forwards the necessary documents on your behalf.
DoNotPay Never Ceases To Amaze
Where there's one useful feature, there are nifty features galore!
Use our Virtual Credit Card to sign up for free trials and stop robocalls and spam text messages from reaching your phone. If you feel a free trial unrightfully turned into an expensive paid membership, we can help you request a refund or chargeback for the inconvenience.
We can further assist you in exercising your consumer rights by making a warranty claim in your place and verifying your online accounts with temporary phone numbers.
We can also break down the Freedom of Information Act for you and introduce you to online fax options and property tax reductions.