A Guide to Preparing for Your Arizona Driving Test
Preparing for getting a driver's license in Arizona may not be as easy as it seems. According to surveys, this state has the biggest driving test fail rate after Missouri and Mississippi.
The numbers are discouraging, yet with some effort and the right strategy, you can beat these statistics and get your license with no stress. This article will teach you all about the Arizona driving test and give you some advice for preparing for the written exam stress-free.
What Does the Arizona Driving Permit Test Consist Of?
The main goal of the Arizona DMV test is to ensure the candidate has learned the essentials of safe driving, road regulations, and traffic rules. It also checks the ability to interpret road signs and communicate with other traffic participants.
The test has four stages:
Written knowledge test

Vision test

Parking test

Road test
The applicant needs to pass all parts of the exam to obtain the license. 
Arizona Driving Test Requirements
To take a driving test in Arizona, you need to meet certain requirements. You can see the overview of all the criteria in the table that follows:
Criteria
Details

Age

At least 15 years and six months old

Documentation

Proof of identification

Proof of Arizona residence

Driver's License Application

Application fee

$25 for the applicants between the ages of 16 and 39

$20 for the applicants between the ages of 40 and 44

$15 for the applicants between the ages of 45 and 49

$10 for the applicants above the age of 50

Written test passing score

80% (24 correct answers) or more

Number of questions

30
Ways To Prepare for the Arizona Driving Permit Test
Once you decide to obtain a driver's license, the first step is to choose the best way to prepare for your exam. Depending on your learning preferences, you can combine some of the following methods:
Studying from the driver's manual

—The official driver's manual is a document published by the Arizona DMV, and you can find it on the official website. It's free and easily accessible, containing all the necessary information

Finding a tutor

—Getting yourself a mentor is a perfect option if you are having a hard time studying on your own. By getting some help from an experienced person, you will get valuable tips for more effective learning. Note that hiring an instructor can be expensive

Taking practice tests

—Examples of exam questions can help you check and improve your knowledge. The more combinations you run through, the bigger the chances of doing the real exam with ease
How To Access Arizona DMV Practice Tests on Your Own
If you type "AZ permit practice test" in Google and hit the search button, you may get hundreds of results. Not all of the test prep websites you bump into are reliable or easy to use, but how do you recognize verified platforms that offer the best examples? 
You can rely on a particular practice test base if:
Examples come from the state's Department of Motor Vehicles

Test base is up-to-date and contains the examples for the current year

Website that contains it appears on the top of the Google search results
Check out the following table to see the most popular platforms that offer practice tests for Arizona DMV exams:
Website
Features

Reliable source

Limited number of practice tests

Up-to-date

Instant feedback

Limited—many tests are unavailable without a premium membership

Four free tests available

False promises—guarantees you will pass the test if you upgrade your account to a premium one
The biggest flaw of available test prep platforms is their limitations. Despite containing solid tests, practice test websites usually require a premium membership. The free content they offer can be useful, but you need more to pass your exam with flying colors. Luckily, you can easily resolve this issue with DoNotPay's help.
How To Schedule the Arizona DMV Test 
Written knowledge tests don't require scheduling, but you need to set an appointment to take a road test. You can do it in two ways:
Online

At third-party driver's license locations
How To Schedule a Road Test Appointment Online
To set an appointment online, follow these steps:
Visit the Arizona MVD website and

log in

to your account

Complete the Driver's License Application form 

Attach the necessary documents

Follow the rest of the steps to arrange the appointment
How To Schedule a Road Test Appointment via a Third-Party Company
You can schedule your appointment by visiting an authorized third-party company. These service providers will collect your documentation and forward it to the Department of Transportation.
Here are the instructions you should follow:
Check out the

list of authorized companies

and choose the nearest one

Visit them and inform them you would like to set a DMV appointment

Provide the staff with the required documents and complete the form
Take the Best Arizona Permit Practice Tests With DoNotPay
If you are tired of searching for test examples on multiple websites, you can use DoNotPay. We have the most comprehensive practice test collection that will help you prepare for any DMV exam in no time!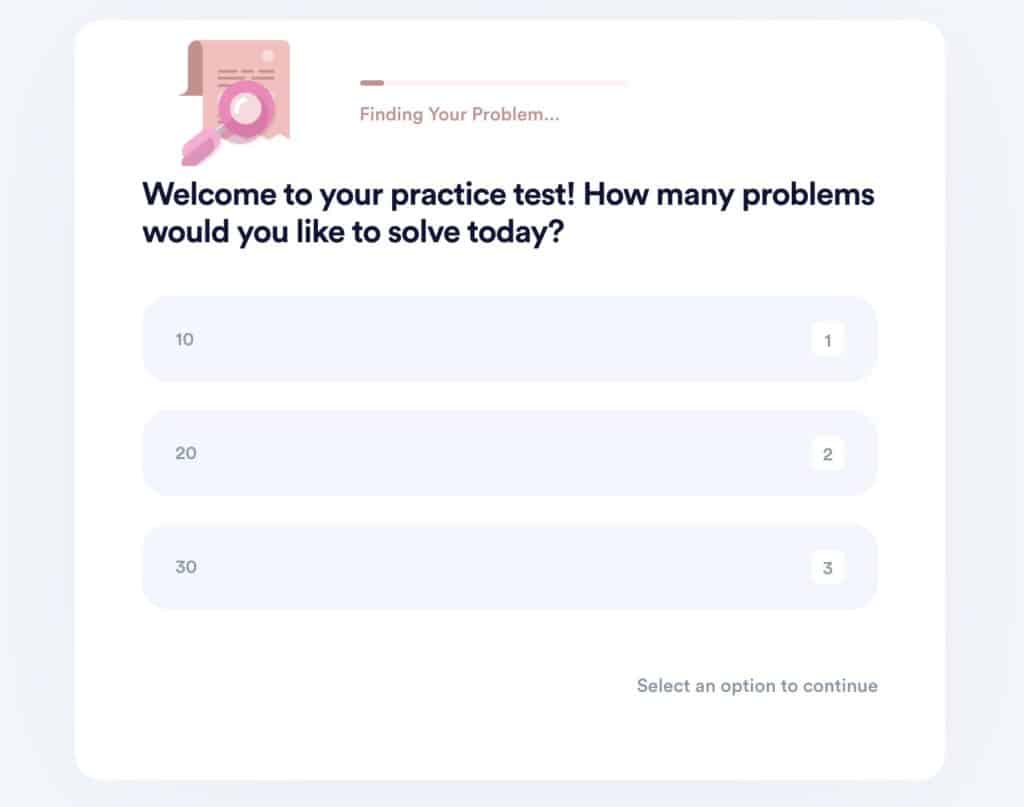 Our app lets you retake the tests as many times as you wish and get familiar with possible question variations. The procedure can't be easier, and it includes the following steps:
Visit DoNotPay in your

web browser

Search for the type of test you wish to practice for

Specify if you want to do 10, 20, or 30 questions per test

Take the test question by question
You choose if you wish to correct each answer right away or once you get the results of the test! 
Besides this service, we offer practice tests for other types of government exams. The list includes the Commercial Driver's License Test, Notary Exam, Postal Service Exam, U.S. Citizenship Test, etc.
Moving to another state? Check out our DMV practice test guides for:
What Else Can DoNotPay Do?
Our portal helps you prepare for many other types of exams, such as CCAT, HazMat, or CompTIA A+ with no stress!
If you wish to ace your ASVAB exam and get the best scores, we offer many handy tips for making it real! Our advice can help you pass your written driving exam with zero fuss or easily schedule a DMV test appointment.
Visit our platform in any web browser, and check out our learning base to find out more about:
Contesting speeding tickets easily

Appealing traffic tickets