How To Prepare for Your Nevada Driving Test With Zero Stress
Preparing for a DMV test can be a nerve-wracking procedure. All first-time candidates are usually overwhelmed by new information, which may result in failure.
The applicants from Nevada aren't an exception. Research has shown that the average driving test failure rate in this state is 41.6%, which is close to half of the cases. The main reasons for such an outcome are the lack of effort and wrong choice of learning resources.
If you want to sail through your DMV test with no worries, our guide may be the source of information you have been looking for! Learn how to get the best out of practice tests with our amazing app and ace your driving exam with zero hassle!
What Are the Nevada Driving Test Requirements?
Like all U.S. states, Nevada has its specific rules and regulations regarding the driving test protocols. The table below shows the requirements you should consider before arranging a driving test appointment:
Category
Details

Accepted Documentation

Proof of Nevada citizenship

Registration and proof of insurance

Proof of identity—stating the name and date of birth

Unaccepted Documentation

Military IDs

Consular identification cards

Foreign driver's licenses or IDs

Birth certificates issued in a hospital or another state or country

Driver's licenses or IDs that don't align with Real ID standards

Application Fee

$26 for first-time knowledge written test

$11 for each test retake

Passing Score

Languages
The Popular Ways To Prepare for a Nevada DMV Driving Test
Candidates usually combine several learning methods to get the best results. Some of the best ways to prepare for both parts of your driving test include:
Official handbook or manual

—The Nevada DMV publishes an up-to-date manual every year, providing candidates with the essential learning resource. It contains updated laws, main application requirements, and other essential details

Practice tests

—Driving exam practice tests are the most similar to the real DMV exam, and they come in numerous question combinations and variations. By using them, you can repeat all the lessons from the manual

Professional help

—Another method is hiring an experienced instructor to guide you and help you clarify the difficult parts. The problem is that this service may cost a lot—sometimes much more than one can afford

Online courses

—

Nevada Drivers Ed

, a thorough 30-hour online course, allows you to go through the learning material at your own pace. After passing the final test, you obtain a certificate
You can't go wrong by combining several strategies from the list, but practice tests are the best option for refreshing your knowledge.
Where Can You Find Nevada DMV Practice Test Collections?
The following table shows the three most popular platforms where you can find Nevada DMV practice tests and the platforms' features:
Platform
Features

Small number of available tests

Question-level feedback included

Multiple difficulty level settings unavailable

Available audio handbook

Many tests and information accessible only to Premium members

Numerous ads

Most resources and the so-called "pass guarantee" accessible only to Premium members
Having in mind the costs of getting a driver's license, not everyone will be willing to spend extra money on premium subscriptions. You will need to search through multiple websites with free memberships to get a solid number of tests, which is tiring and time-consuming.
If you want to avoid the hassle and access the best practice tests in the blink of an eye, DoNotPay is the perfect match for you.
How To Use DoNotPay for Finding the Best DMVNV Practice Tests
If you're struggling to find all relevant practice tests in one place, DoNotPay is here to save the day! Our app has a vast practice test collection for various purposes, including the Nevada driving test samples. You won't need to comb through Google search results looking for the best examples. We collect the best tests for you and let you retake them as many times as you want!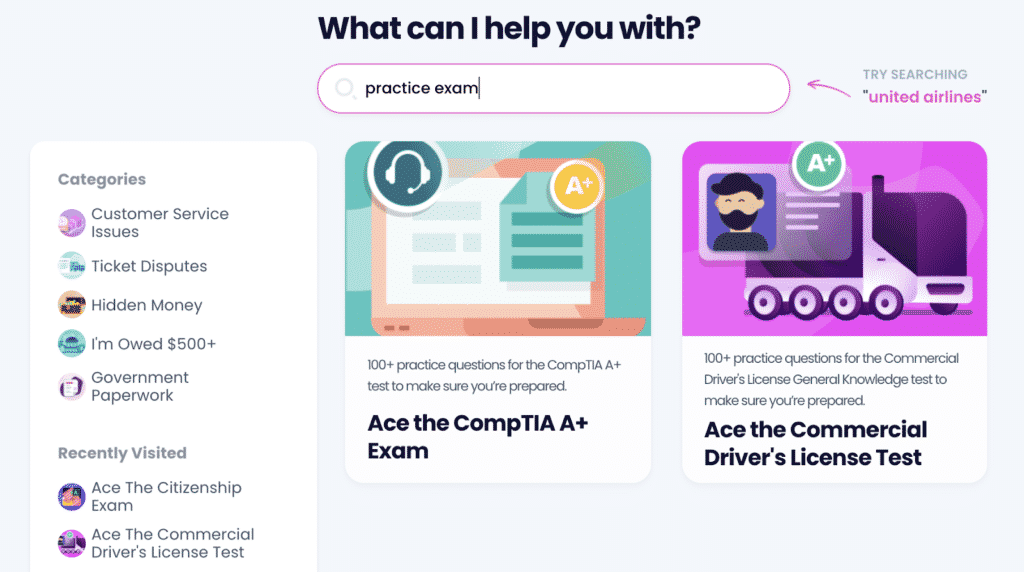 Here are the instructions you need to follow to practice with DoNotPay:
Access DoNotPay from your

Search for the test category—in this case,

Nevada Driving Tests—

and pick the test you want to prepare for

Specify whether you want a 10-question, 20-question, or 30-question test format

Take the test by answering one question at a time
You can correct the wrong answers right away or do the entire test again once you get your results.
Check out the list of other practice tests you can take on our platform:
U.S. Citizenship practice tests
How To Schedule a Nevada Knowledge Test
Nevada's DMV allows driving test scheduling for four locations: Reno, Las Vegas, Henderson, and Carson City. There are two ways to set the exam date—over the phone or by completing an online form.
Setting a Nevada DMV Test Appointment via Phone
The first option is to schedule a driving test via a phone call. To use this method, follow the steps below:
Dial

(702) 486-4368

if you are from Las Vegas or

(775) 684-4368

in case you are from Reno, Sparks, or Carson City

Tell the representative you want to make a driving test appointment

Provide them with the necessary information

Wait for the rep to inform you about your exam date
Setting a Nevada DMV Test Appointment Online
Here's how you can set a knowledge test appointment online:
Go to the official DMV website for Nevada

Select the

Driver License

tab

Click on

Drive Test Scheduling

Complete the form with the required details and enter the preferred exam date

Check the availability of the chosen date and finalize test scheduling
Upon completing these steps, all you need to do is wait for the exam date. If you are unable to show up on the scheduled day, you can cancel your driving test appointment anytime. Note that you will need to pay an extra fee if you wish to set another one later.
What Else Can DoNotPay Do?
DoNotPay will help you arrange a DMV driving test appointment once you feel confident about taking a real test. We will also share fantastic tips for getting the best ASVAB scores and breezing through written driving tests stress-free.
Visit our portal in your preferred , and find the best methods of:
Appealing speeding tickets

Overturning traffic citations