A Complete Guide to the UCLA Regents Scholarship
If you want to enroll in the University of California, Los Angeles (UCLA), you need to prepare up to $40,000 for education expenses. To avoid student loans—which, on average, leave UCLA seniors with over $22,390 in debt—your best option is a UCLA scholarship.
Besides the regular scholarships anyone can apply for, there is a special one for outstanding students, known as the UCLA Regents Scholarship. If you want to learn more about this type of financial aid, DoNotPay brings you an ultimate guide that covers it all.
The Basics of the Regents Scholarship at UCLA
The UCLA Regents Scholarship Program was established in 1962 by the Regents of the University of California. It was their way of honoring the students who demonstrated leadership, high potential, and academic excellence.
Students who can receive this college scholarship are:
Entering students
Transfer students
The aid is available only to students on the UCLA campus. Each campus selects its Regent Scholars individually. Receiving this title can secure you from $2,000 to $9,000. To cover the rest of your education costs, you will be awarded university scholarships and/or grants.
There are about 500 Regents Scholars enrolled at UCLA currently, and every year, the university welcomes up to 100 more.
The funds are only a part of the package as you also get:
An opportunity to join the Regents Scholar Society
Priority enrollment—starting with your second and subsequent quarters
Guaranteed housing
Guaranteed parking
Enrollment in the Faculty Mentorship program
The Types of UCLA Regents Scholarship
The Regents Program is open to only two types of students who can be awarded one of the following scholarships:
UCLA freshmen scholarship
UCLA transfer scholarship
UCLA Freshmen Scholarships
High school seniors enrolled in UCLA have the opportunity to become Regent Scholars. Entering freshmen receive a four-year scholarship. You will get the funds for 12 straight academic quarters, excluding the summer. To cover expenses for those classes as well, you can apply for summer financial aid.
UCLA Transfer Scholarships
As a promising undergraduate transfer student with an exceptional academic record, you are eligible for the Regents scholarship. The aid is limited to two years—that is, six academic quarters, not including summer.
Other Scholarship Options for UCLA Regents
The Regents scholarships can only cover a small portion of your expenses. You will receive other university aid, but if you want to diversify your possibilities, look into other scholarships.
The best way to go about it is to consider different categories you fall under—such as the ones listed in the table below:
Who Is Eligible for the UCLA Regents Scholarship?
A student who qualifies for a UCLA Regents scholarship needs to meet these requirements:
Be a first-time freshman who is still in high school or has graduated but hasn't enrolled in a regular session at any school
Be an undergraduate transfer student
Report any additional outside financial help you receive—such as scholarships and grants from companies and foundations—to the Financial Aid and Scholarships Office
Maintain a minimum 3.0 GPA during the entire attendance at UCLA
Enroll in a minimum of 12 units per quarter
Inform the scholarship coordinator about any change in your academic status—for example, dropping below a 3.0 GPA
How To Get More Information About the UCLA Regents Scholarship
You can contact the Scholarship Resource Center (SRC) at UCLA or its Financial Aid and Scholarships Office for any further inquiries, such as where to find other scholarships.
You can also browse the internet or inquire about the potential aid at your local communities and organizations you are a member of.
Want to get a custom-made list of all scholarships and grants you are eligible for? DoNotPay will make it happen! Subscribe to our app, and in less than two minutes, you'll be able to see every aid type you can apply for. We'll give you info about the amount, deadlines, and requirements.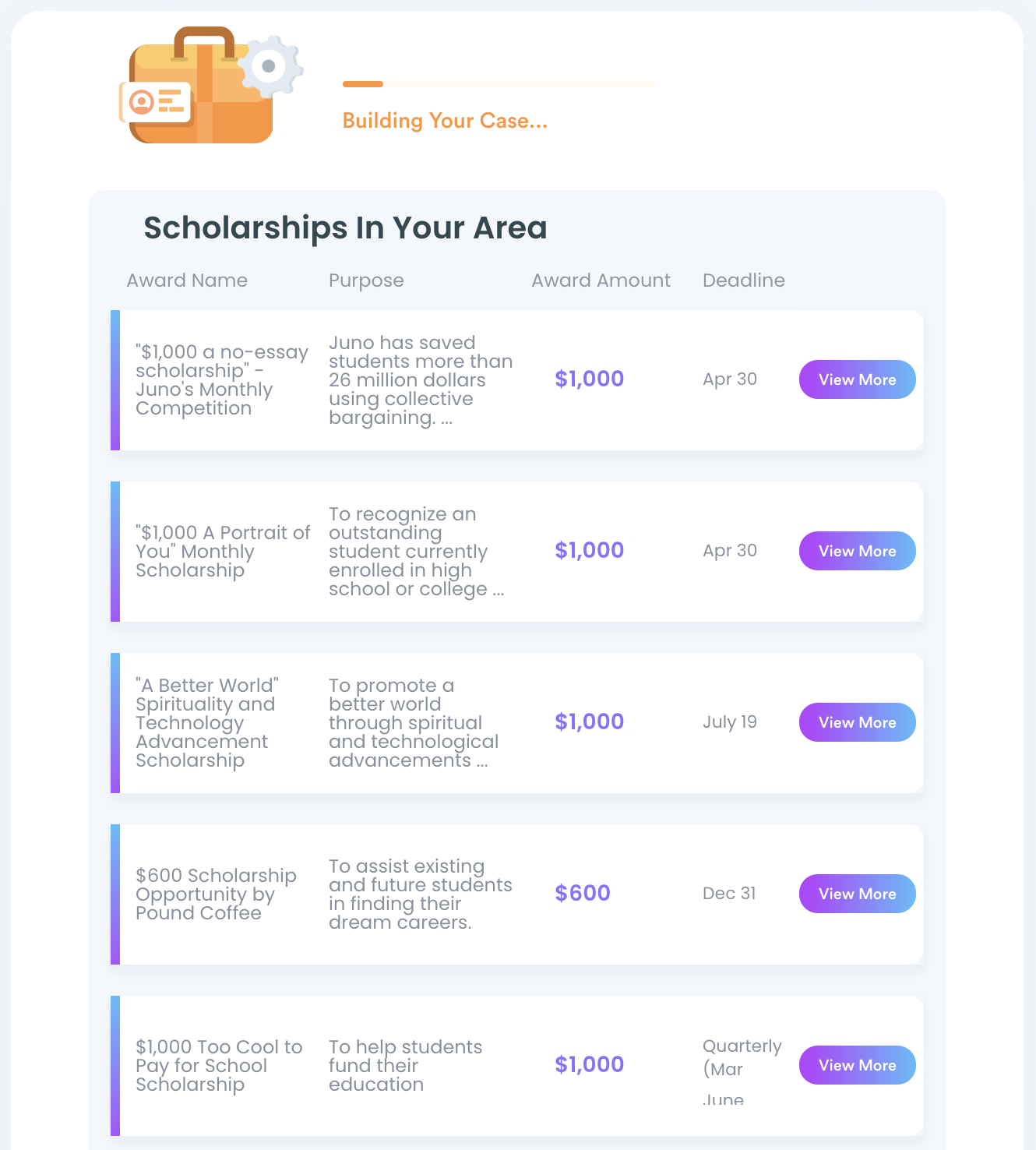 How To Apply for the Regents Scholarship at UCLA
The application for the Regents scholarship is by invitation only. When you apply for admission or transfer to UCLA, you will be considered for this type of aid.
If you receive an email with a unique application code, you are an eligible candidate. Note that sharing your code can disqualify you instantly.
Besides your academic achievements, the board also reviews:
Extracurricular activities
Scholarship essay on the How would you go about maximizing your undergraduate experience at UCLA topic
Do you want to avoid paying the UCLA application fees? Go to our guide to learn how to waive them.
DoNotPay Will Take Your Scholarship Application Worries Away
Find out what your options are besides the Regents scholarships with the help of our nifty app. We'll point out every aid type you are eligible for and help you request it. You can also use the app to discover graduate school scholarships if you decide to level up.
Using DoNotPay is as simple as it gets—you only need to:
Open the DoNotPay app from any web browser
Type Scholarships in the search bar and select the Apply for Scholarships tool
Tell us more about your academic level, fields of interest, types of scholarships you want, and similar
When you get your list, apply for no-essay scholarships you qualify for in a jiffy without leaving the app!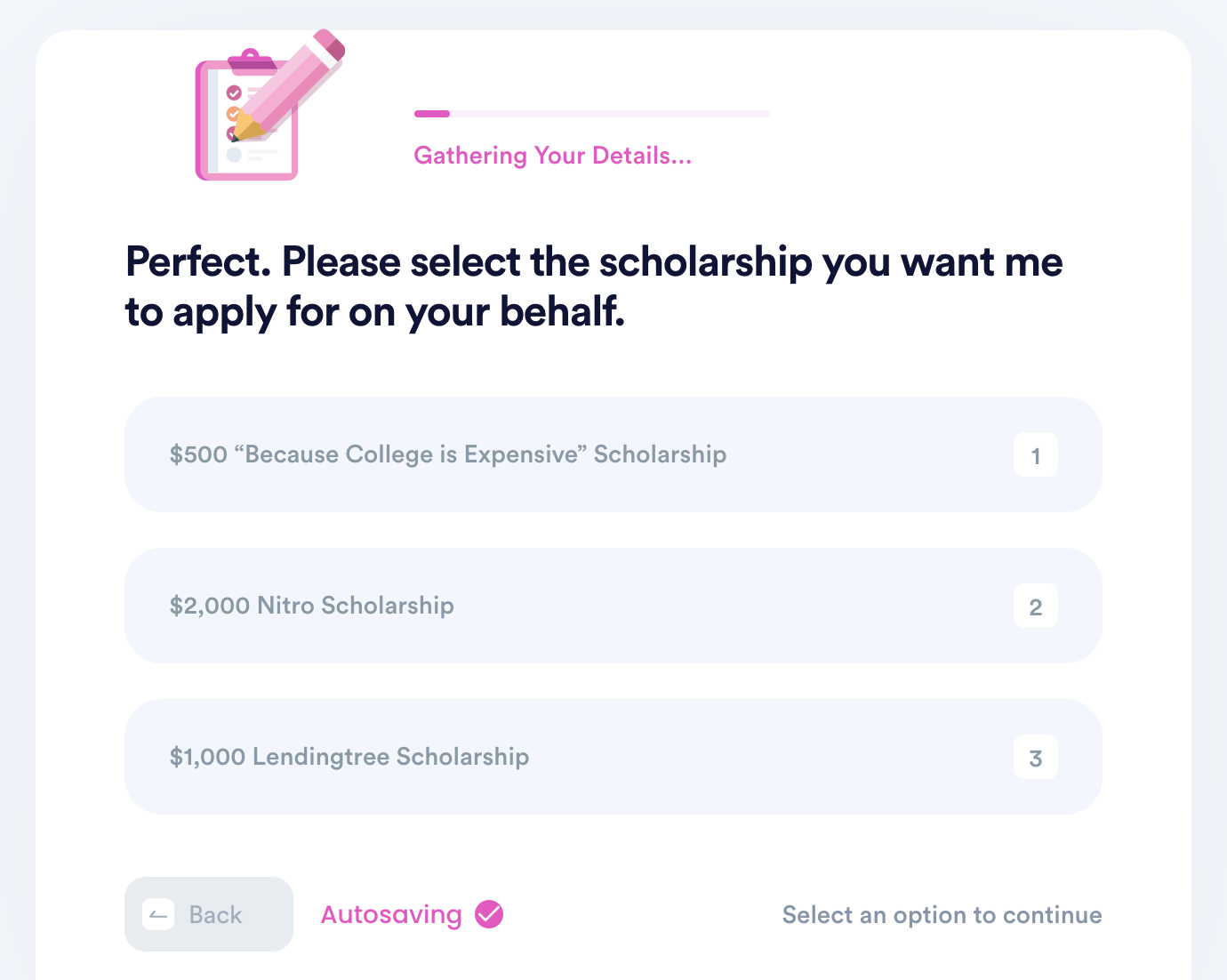 Managing Everyday Tasks With DoNotPay Is a Breeze
Completing mundane tasks doesn't have to be a nightmare! With our help, you can relax and finish them in a few taps! All you need to do is register for DoNotPay and let us help you with:
Have Your Documents Drafted and Notarized With Our Help!
If you need to draft a legal document, such as a divorce settlement agreement, power of attorney, or a child consent form, hiring a lawyer to assist you is probably the first thing that comes to mind. What if we told you that spending hundreds of dollars on legal services is unnecessary? Not only can DoNotPay draft contracts and agreements in a few minutes, but it is also your most affordable and effortless option!
The benefits our app provides don't stop there! After we generate your document, we'll connect you with a remote notary and show you how to get it notarized online without leaving the comfort of your home! You can even fax the document online and skip dealing with outdated fax machines.