Timberland Lifetime Warranty—Real or Fake?
Timberland has made a name for itself in the clothing and footwear industry by creating a staple item—the Timberland boots.
As much as these iconic boots are durable, it's unlikely that they'll last a lifetime. Do they come with a lifetime or any other type of warranty? How can you file a warranty claim if they get damaged?
DoNotPay will answer all your questions and reveal some of our warranty hacks!
Do Timberland Boots Have a Lifetime Warranty?
While an article on Consumer Reports states that Timberland offers a lifetime warranty, this is not true. Such claims have perpetuated the Timberland lifetime warranty rumor, so consumers still ask questions about it on Quora and similar websites.
What Does Timberland Warranty Cover?
Timberland provides a 12-month manufacturer warranty for all its products, except for watches whose warranty lasts for two years. Here's what the warranty covers:
Timberland Warranty Covers
Timberland Warranty Doesn't Cover

Defects in material and workmanship

Normal wear and tear

Damage due to misuse or neglect

Defects caused by accidents or unauthorized repairs
You cannot file a warranty claim for regular wear and tear, but Timberland offers complimentary cleaning and conditioning to keep your boots in pristine condition. All you have to do is go to the nearest Timberland specialty store or Timberland factory store. You can find their location on the Store Locator page.
How Can I Submit a Timberland Warranty Claim?
To file a Timberland warranty claim, you should email customer support at customersupport@vfc.com and provide these details:
Completed

Warranty Return Form

Proof of purchase no older than 12 months

Pictures of the product, internal tags with the size and number, the bottom of soles, and the defective area
If the warranty covers your issue, Timberland will offer a replacement or store credit.
File a Timberland Warranty Claim With DoNotPay
In case you're not sure how to go about Timberland's method for claiming a warranty, DoNotPay is the way to go! We can submit a warranty claim on your behalf, and Timberland will get in touch with further instructions.
Check out what you need to do:
Open DoNotPay in any

Access the

Claim Warranty

feature

Select the

Warranty on a Purchased Item

option

Provide a few details regarding the warranty and your Timberland product

Click on

Submit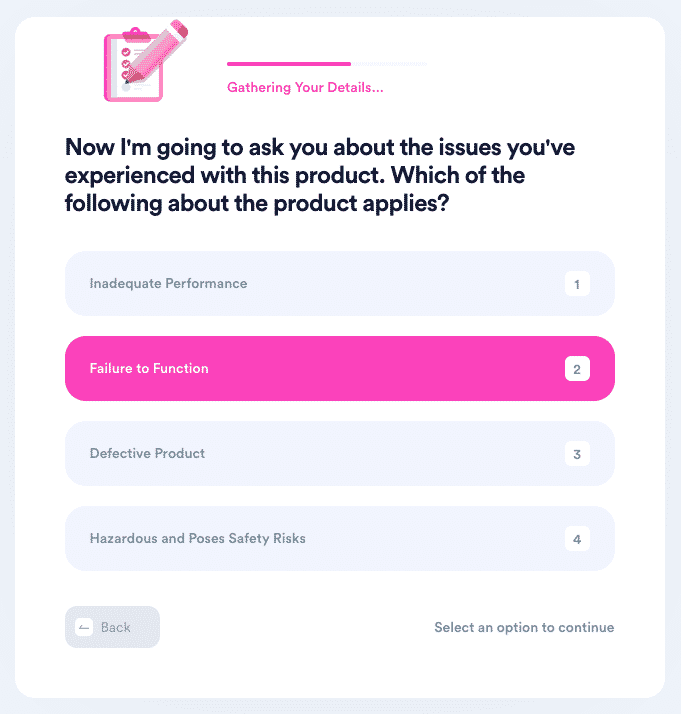 DoNotPay can also handle claims for your car or home warranties. Our feature works for extended warranties for used cars, too.
Use DoNotPay To Appeal Your Rejected Warranty Claim
Timberland states that it may reject your warranty claim if you purchased Timberland items from unauthorized sellers or websites. Even if this situation doesn't apply to you, Timberland could still reject the warranty claim, as many companies do.
You can use DoNotPay and appeal your original claim in no time! Follow these steps:
Access DoNotPay from any

Select the

Claim Warranty

feature

Pick

Appeal a Denied Warranty Claim

Answer a few questions about your Timberland product

Enter details about your warranty claim and hit

Submit
DoNotPay will draft an appeal letter and send it to Timberland in your stead. The company should contact you in no time. You can count on us to deal with a dealer refusing to cancel your extended warranty, too!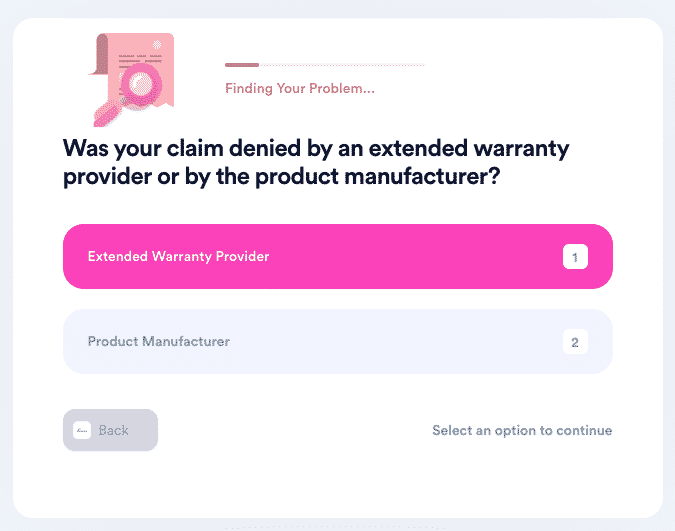 DoNotPay Is the Source of Numerous Helpful Features
Apart from your Timberland gear, are there any other purchased products you need to file a warranty for? Whether it's a phone or laptop, anything from Sony, Amazon, or Samsung, we've got it covered!
If you need a savvy assistant to help you find reputable home warranty companies, we're here for you! Our home warranty reviews will help you land some of the best home warranties in America.
DoNotPay's valuable tips and hacks are not only about warranties! Visit our app in your , and you'll learn the best way to:
Appeal your traffic tickets

Overturn your speeding citations