Sign Up for Microsoft Word Free Trial With DoNotPay
Microsoft Corporation is a multinational tech company headquartered in Redmond, Washington. Some of its most popular products are Microsoft Windows, Microsoft Office Suite, and Internet Explorer. The company has also made numerous acquisitions, such as those of Skype and LinkedIn.
If you need Microsoft productivity software like Word, PowerPoint, Excel, and others, you can either make a one-time purchase of Office 365 or get an annual/monthly subscription to Microsoft 365.
If you don't want to shell out money on hefty Microsoft purchases, there are other ways to use Office apps for free.
You can sign up to Office.com and use the limited versions of the apps or register for a Microsoft 365 free trial if you need the full extension of those apps.
How Can I Register for Microsoft Word Free Trial?
You can give Microsoft Word a try by registering for free trials for:
Microsoft 365 Family

Microsoft 365 Business Standard

Microsoft 365 Business Premium
Free trial for these subscription plans gives you full access to all the features in Word and other Microsoft apps for one month.
To get your one-month free-trial Suite deal, you should take the following steps:
Log in to your

Microsoft account

or sign up if you don't have one

Enter payment details to enable future monthly billing

Once your payment method is confirmed, you should follow the prompts to install Office apps
Are There Office Apps for Mobile Devices?
Yes, there are, and you can use their basic versions for free.
You can download them from:
How Much Will Microsoft 365 Cost After the Free Run Is Over?
Your Microsoft 365 subscription cost depends on the plan you opted for during your free-trial sign-up. The prices can be quite steep, so think carefully before giving your payment details for the free-trial registration, or use DoNotPay's free trial card.
For more details on the prices and benefits of each subscription plan, refer to the table below.
Subscription Plan

Price

Benefits

Microsoft 365 Family

Annual price: $99.99

Monthly price: $9.99

Maximum six people

Premium apps: Word, Excel, PowerPoint, OneNote, Outlook, Access (PC only), Publisher (PC only)

1 TB of cloud storage per person

Advanced app security

Microsoft 365 Business Standard

Annual commitment $12.50/month

Microsoft Teams

Business emails

Premium Office apps

Secure cloud services: OneDrive, Exchange, SharePoint, Teams

Microsoft 365 Business Premium

Annual commitment $20/month

Everything included in the Business Standard plus:

Advanced cyber threat protection

Additional secure cloud services: Intune, Azure Information Protection
What Happens When My Free Trial Runs Out?
Your free trial will automatically transition into a paid subscription unless you turn off recurring billing in your Microsoft Account. Afterward, you will be billed for a one-time or monthly payment, depending on the selected subscription plan.
In case you have difficulties navigating your Microsoft account and aren't sure how to cancel your trial run before it expires, you can rely on DoNotPay to cancel it on your behalf.
If you still want to do it on your own, make sure to cancel your free trial (in case auto-payment is enabled) before it expires, as Microsoft won't inform you about the upcoming expiration date.
Is it Possible to Sign Up for Another Microsoft Subscription Trial?
It is possible, but not immediately. Two trials need to be one year apart, and you can also sign up for a trial a year after your paid subscription runs out.
Sign Up for Free Trials With DoNotPay's Secret Weapon

Has it ever happened to you that a new service caught your eye, and you were enticed by flashy free trial promotions that you just couldn't help but subscribe to? You'd try it out, only to realize that you are not that into it, and forget about it completely. You'd repeat the process with each new service, and the moment of epiphany comes in a flash—you are now an inadvertent paying subscriber to all.
Thankfully, DoNotPay offers you two solutions specifically designed to tackle predicaments like that:
Free Trial Card

Find Hidden Money
Your Golden Ticket—Free Trial Card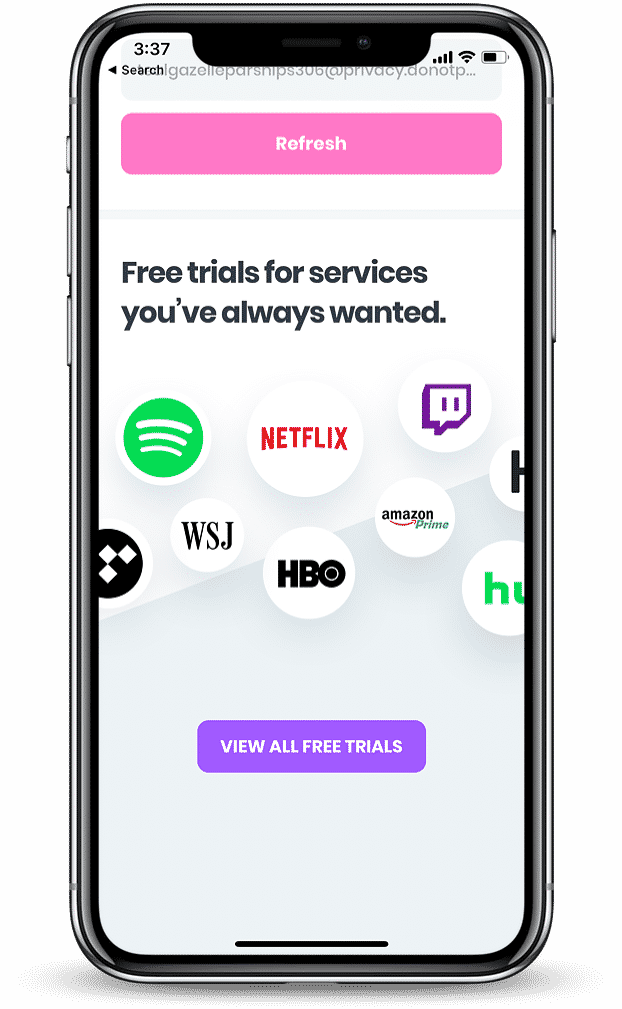 DoNotPay's virtual credit card enables you to register for free trials on numerous subscription-based services with no risk of hidden charges.
Our virtual credit card is a dummy card that will look like a standard credit card to any vendor. Each time it creates unique single-use credit card details that you can provide when signing up for a free trial. It is your first line of defense against unwanted charges for services you may have forgotten to have ever subscribed to because it will cancel them automatically once the trial period is over.
The fundamentals of the DoNotPay virtual credit card are:
It's not linked to any funding source

It guarantees approval on free trial pages

It's automatically declined on subscription pages

It cancels subscriptions based on auto-payment
Find Hidden Money Where You Least Expect to

Besides helping you prevent subscription problems in the future, DoNotPay can help you resolve the ones from the past. How? Via our Find Hidden Money feature.
This fantastic functionality enables you to get rid of all subscriptions you don't benefit from yet regularly pay.
By linking your bank and email accounts to DoNotPay, you authorize the app to audit your subscription expenditures and suggest which memberships you could do without, thus saving a lot of money in the future.
DoNotPay can also cancel them on your behalf.
An Extra Perk of the DoNotPay Virtual Credit Card

DoNotPay's virtual credit card can help you keep your inbox clean from spam and commercial emails and keep your identity completely anonymous.
Not only does the feature generate a temporary credit card number, but it also creates a fake email that you can use for your free-trial sign-up.
Here's why you should use it:
It

prevents spam emails

, such as advertisements and newsletters, from piling up in your inbox

It makes it impossible for companies to track your location and gather data on you

It ensures that your personal email address does not fall into the wrong hands and end up being sold to fraudsters on the black market
We will make sure that you still get important messages from services that you regularly use.
Combat Bureaucratic and Administrative Adversity With DoNotPay

Lack of time, money, and proper access to legal and administrative services are the reasons why so many people don't claim their consumer rights.
DoNotPay is here to right that wrong and level the playing field for common people. With our AI-supported system, we will help you secure proper legal protection from various types of sexual harassment, cancel DoorDash, and so much more.
You can use DoNotPay's free trial card to test Illustrator or Adobe Premiere.
Access DoNotPay from any web browser and explore the scope of issues we can give you a hand with:
Contesting speeding tickets

Disputing traffic tickets