How To Claim Your TV Warranty Without Any Problems
Is your TV malfunctioning? If it is, you should first check your warranty. In case it is still valid, you need to claim it and get your TV repaired or replaced as soon as possible.
You must be thinking about how many phone calls you will need to place until you reach the right person who can supply adequate instruction on how to file a TV warranty claim.
DoNotPay can help you claim your home, car, or TV warranty without too much fuss!
Is Your TV Still Under Warranty?
If your TV has broken down, do not try to fix it yourself as this is one of the disqualifying criteria for warranty claims.
What you should know is that most manufacturers offer one-year warranties. This means you need to check the date on the receipt to see if your warranty is still valid. If it is, you are covered for parts and labor, and you should let DoNotPay claim your TV warranty for you.
Should You Buy an Extended Warranty for a TV?
If you are thinking about purchasing a new TV and are racking your brain whether to purchase an extended TV warranty this time around, take a look at the pros and cons:
Reasons for Getting an Extended TV Warranty
Reasons Against Getting an Extended TV Warranty

It offers more comprehensive coverage than a

manufacturer warranty

Most extended TV warranties cover repairs for up to three years

If you are buying an expensive TV set, an extended warranty might bring you peace of mind

It offers in-home service or free pickup

Most TVs come with a manufacturer's warranty that will cover any repairs for twelve months

If you bought the TV by credit card, you might have a credit card's warranty extension for an additional year

An extended TV warranty can be pricey

Submitting a warranty claim can be challenging (not with DoNotPay!)
Most extended television warranties cover the following failures:
Power

Mechanical

Speaker/sound

Screen

Button

Wi-Fi

Inputs/outputs

Internal components
Most TV warranties do not cover:
Accidents

Liquid spillage

Cosmetic damage

Abuse or negligence

Normal wear and tear

Improper handling or installation

TVs with removed serial numbers

Unauthorized repairs and maintenance
A TV manufacturer's warranty typically covers your repairs for one year, while an extended one can cover them for up to five years.
Make sure to get the specifics of the terms and conditions of the extended warranty plan before you choose to purchase it. You should also be careful not to wait too long to get a TV extended warranty as you can get some extended warranties up to a certain period after the purchase date. That is why you need to keep your receipt on hand as you must present it when you decide to buy an extended TV warranty.
If you would like to get more information on extended warranties, you can review extended warranties and service contracts on the Federal Trade Commission's website.
How To Claim a TV Warranty by Yourself?
Can You Claim Your Warranty Via
Yes/No
DoNotPay

Yes

Phone

Most likely

In Person
Company Website
Email

Unlikely

Letter
In most cases, you can file a TV warranty claim on your own via:
Phone

An online form

In person
For most TVs, you can get in touch with the retailer to claim your TV warranty. If your TV manufacturer's warranty is still valid, you can contact the manufacturer.
To get the contact information, check your warranty or the website of the retailer or the manufacturer. You can try to reach customer support for further inquiries and instructions.
For precise steps and data, check out how you can claim a Samsung, SquareTrade, Vizio, Costco, Hisense, or Sharp TV warranty.
Can DoNotPay Help You File Your TV Warranty Claim?
DoNotPay can help you claim a TV warranty fast and efficiently! Instead of wasting time waiting for a customer service representative to answer your phone call, let our app do everything for you.
Here is how:
Open DoNotPay in any

Select our

Claim Warranty

feature

Choose

Warranty on a Purchased Item

Select your TV warranty provider, enter the warranty details, and describe the problems you are having with your TV

Click on the

Submit My Claim

button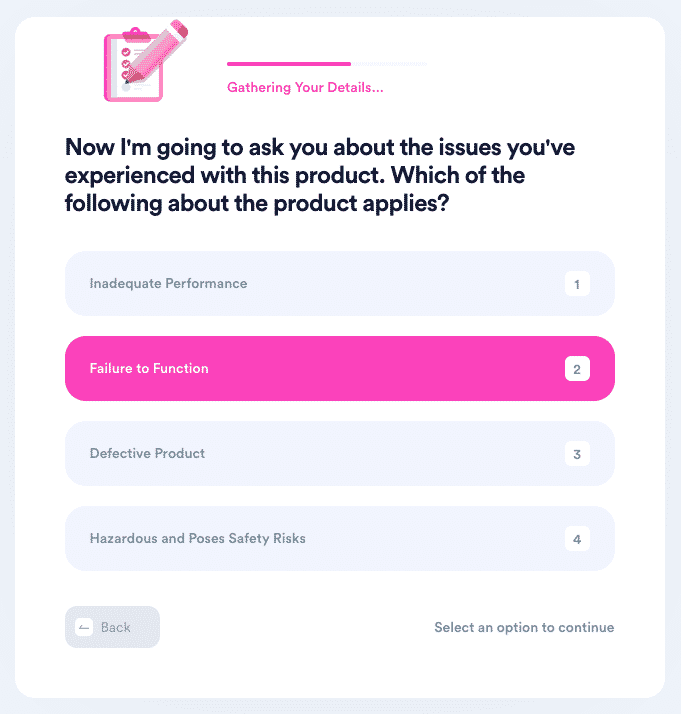 We will file your TV warranty claim, and you can sit back, relax, and wait for your TV warranty provider's customer support to get back to you.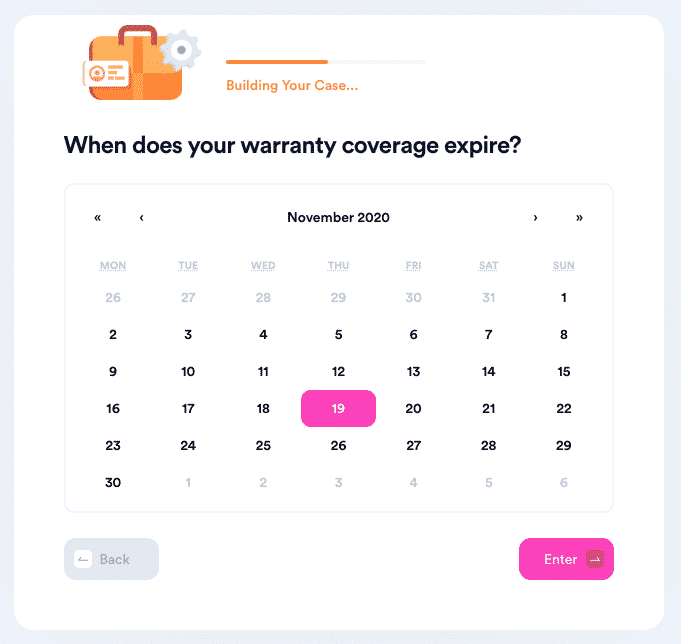 DoNotPay has created this hassle-free process to save you time and energy and help you get back to enjoying some quality TV programs in no time.
What Happens if Your TV Warranty Claim Is Rejected? DoNotPay Handles This for You!
DoNotPay can help if your TV warranty claim is denied! Here is how you can initiate the process:
Access DoNotPay from your

Choose the

Claim Warranty

feature

Opt for

Appeal a Denied Warranty Claim

Select a TV warranty provider

Enter the details

regarding your rejected TV warranty claim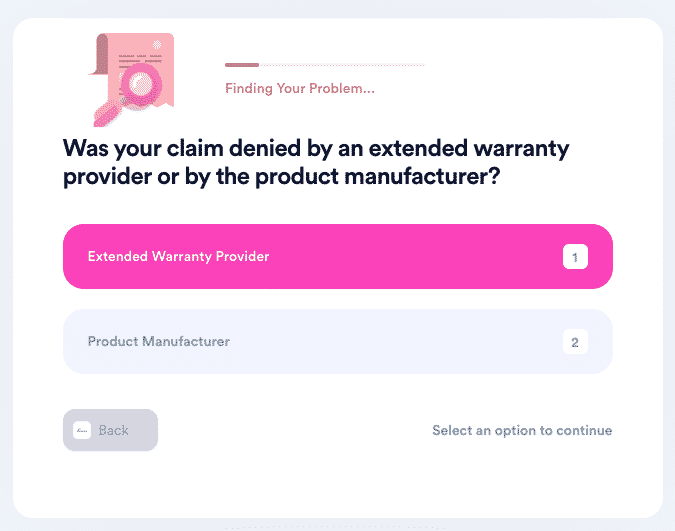 DoNotPay files your appeal, and a customer support representative will inform you about your case.
We can also assist with a handful of annoying bureaucratic issues since our app provides information on the best U.S. home warranties, extended warranties for used cars, and home warranty reviews. It can also show you what to do if a dealer is refusing to cancel your extended warranty.
DoNotPay Is Your Shortcut Through Bureaucracy
With our app, you don't have to spend hours figuring out how to request a refund, cancel a service, or book a DMV appointment.
We take over all the hard work! Forget about waiting in a phone queue for hours in hopes of reaching a customer service rep. Our AI-powered app will call any company for you and ping you when a human appears on the other end of the line.
DoNotPay also speeds up the process of filing insurance claims, claiming warranties, reducing property tax, and drafting various legal docs.
Keep the Communication Lines Clear With DoNotPay
Do you know how powerful DoNotPay's virtual credit card is?
This super-smart feature can not only sign you up for no-risk free trials but can provide you with an alternative email address. You can test any service without giving out your real email, which will keep your inbox clean from spam!
If you have family or friends within the U.S. prison system, our app helps you get in touch with them quickly.
We can also make sure you don't become a target of text and robocall scammers! Keep your phone number private and avoid this type of harassment by using our Burner Phone feature!
In case you need to fax a document, there is no need to search for the instruction manual on how to operate a fax machine. DoNotPay makes it simple to send online faxes anywhere!