Explore the Shapermint Return Policy With Ease!
Shapermint designs undergarments and swimsuits that smooth the figure and minimize flaws. With the plethora of orders the company deals with every day, it's no surprise that items get shipped in the wrong size or type from time to time.
If you wind up with the wrong shapewear product, our streamlined guide to the Shapermint return policy can help!
You can also use the DoNotPay app to simplify your return and target other tedious tasks stress-free. To get started, .
Getting Acquainted With the Shapermint Return Policy
The Shapermint return policy comes with a 60-day guarantee. You can return any item you are not 100% satisfied with for a refund or exchange.
The exchange process is free and allows you to select a replacement item, crediting or debiting your account based on the difference in price.
To return your item for a refund, you need to pay $4.95 for return shipping. You will not get a refund for the original shipping fees, though.
Unlike other clothing retailers, Shapermint allows customers to return worn undergarments within the 60-day window.
How To Initiate a Shapermint Return
Finding the right way to communicate with a company during a return is key. Many retailers have brick-and-mortar locations as well as digital return options.
Some companies—such as Nordstrom, Sephora, eBay, Target, and Macy's—have multiple return initiation processes, but Shapermint offers just one:
| Can You Initiate a Shapermint Return Via: | Yes/No |
| --- | --- |
| DoNotPay | Yes |
| Phone | No |
| In person | No |
| Online | Yes |
| Email | No |
How To Return Your Shapermint Product
To return an item to Shapermint, follow these steps:
Visit the Shapermint Returns page
Enter your order number and ZIP code (order number starts with SM and can be found in your order confirmation email)
Answer some questions about your item and your reason for returning it
Select Shop Now to choose a new item for exchange
You may also choose to cancel a purchase before it gets shipped to you. In this case, you don't need to file a return ticket—you can contact Shapermint directly through the website chatbot.
Shapermint Return Timeline
The Shapermint return timeline depends on whether you are requesting a refund or exchange.
Before an item is processed for return, it must first arrive at the sorting center.
Exchanges are quick, beginning two or three days after you return the original product.
If you opt for a refund, it will be credited to your account within ten days of returning the unwanted shapewear.
You can speed up the Shapermint return by choosing to complete the whole process with our easy-to-use app!
Skip the Hassle by Using DoNotPay
Realizing your new shapewear doesn't fit right is stressful enough without the extra hassle of a return. Use our app to skip lengthy chats with Shapermint or any other company, like Columbia, American Eagle, Clinique, or Adidas, and reduce time spent on your return.
The Shapermint return policy includes many steps you need to follow, but you don't need to go through any of them if you opt for our AI-powered app!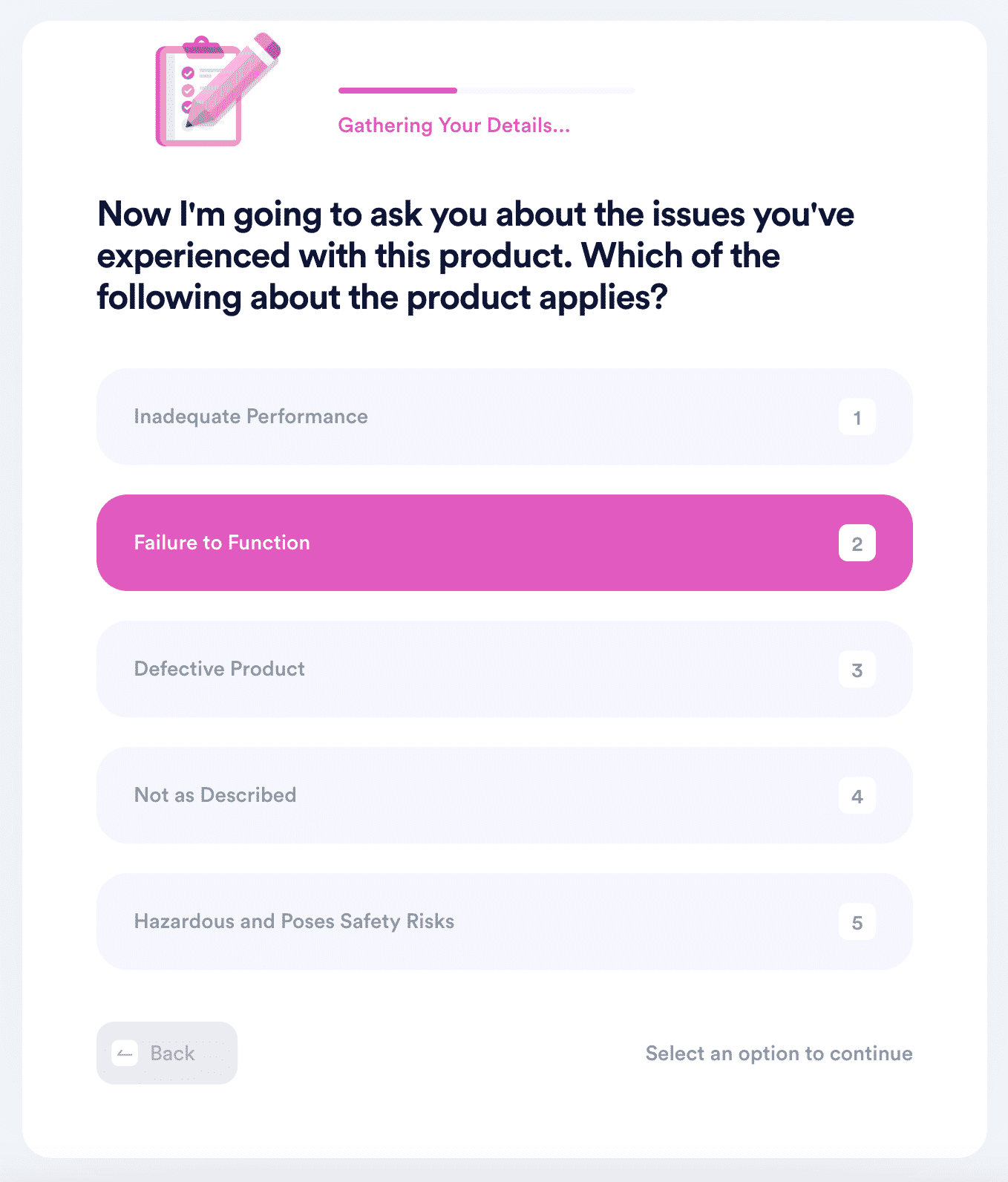 To get started, follow these steps:
Select Item Return Request
Provide information about your purchase and reason for return
Click Submit
DoNotPay creates a bespoke letter to Shapermint, outlining your return and adding a specified deadline for Shapermint to process your request.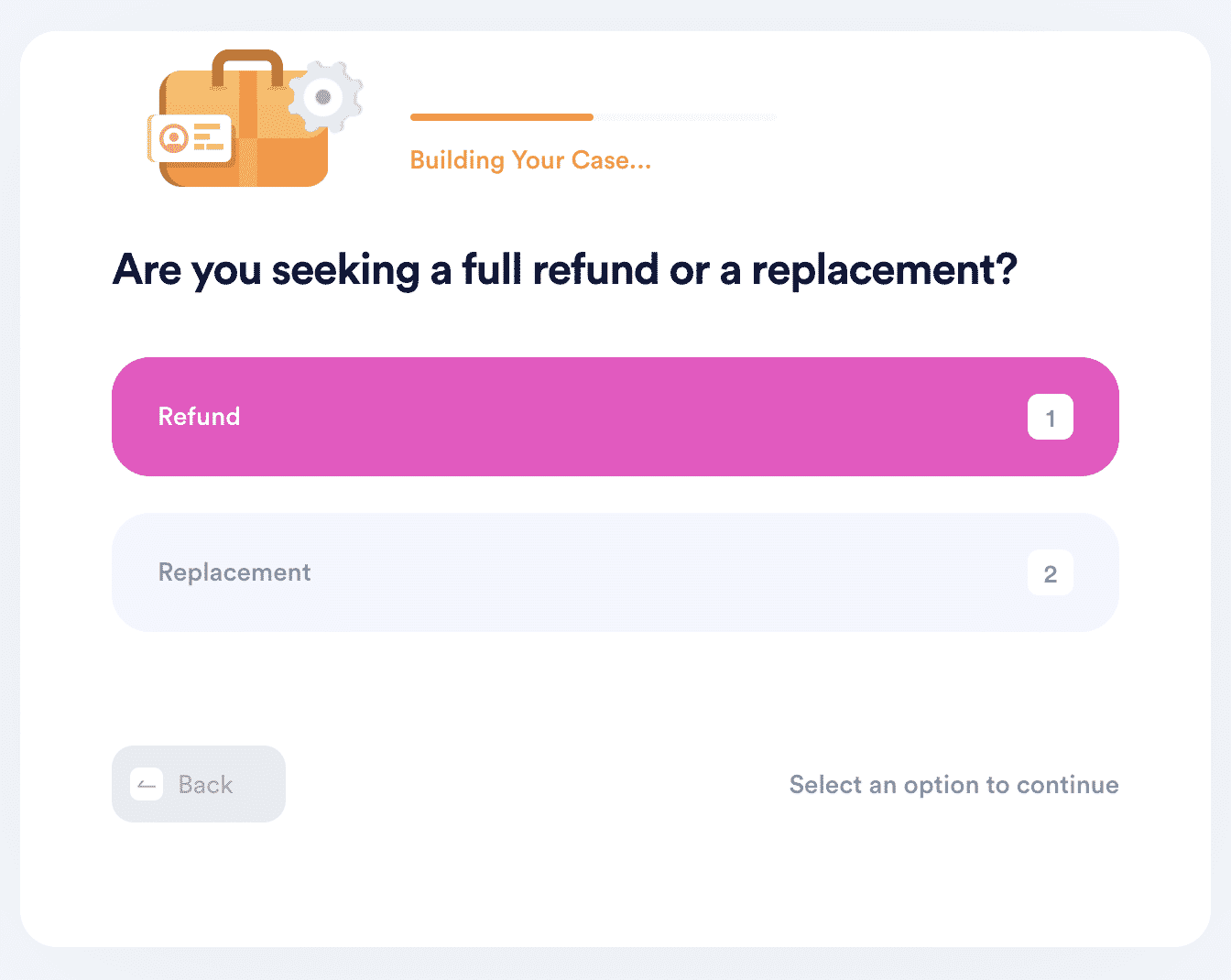 Our app will also provide a free return shipping label, so you won't have to worry about any additional charges!
DoNotPay offers a wide range of easy-to-follow guides to other businesses' return policies, including:
Rectify Shapermint's Wrongdoings in Small Claims Court
If Shapermint refuses to process your return or wrongs you in any other way, you can use DoNotPay to seek retribution.
DoNotPay is the first robot lawyer to be recognized by the American Bar Association. Our app will help strengthen your case and make sure you win the suit stress-free. You can count on our app to:
Perform due diligence
Locate and complete court documents
File your complaint
Design sound arguments for you to use in court
Expedite Your Refund With DoNotPay
Using our app not only minimizes the time spent initiating your return but also expedites your refund. Once you've logged in to your DoNotPay account, all you need to do is:
Select Chargeback Instantly
Choose Get Protected
Answer our chatbot's questions
Click the Sign and Submit button
Our app can also request a chargeback from your bank directly for credit or debit purchases. This is a tedious process, and in some cases, it is left up to the bank's discretion whether a chargeback is completed.
With DoNotPay, you can rest assured that your chargeback is processed on your behalf, with no need to contact your bank or credit card company to reverse charges.
DoNotPay Offers More Than Swift Returns
Our AI-driven app has a plethora of products that can help you save time and money. Once you sign up for DoNotPay, you will be able to:
Check Out Our Full Product Range
There's so much more to DoNotPay than filing return requests. With our app, you can cancel any membership, sign up for a free trial risk-free, get a virtual credit card, sign up for a clinical trial, map sex offenders in your area, and demand a refund from any airline.
If you want to reduce your property taxes, get help paying your bills, enter raffles and sweepstakes, find your unclaimed funds, or prepare for a government test, DoNotPay is the only solution you need!
Sign up today to access all of our products!