Orvis Return Policy From A to Z
It can be stressful looking for ways to return a purchased product you don't want or have ordered by mistake. That's why DoNotPay provides guides like this one—deciphering the Orvis return policy for you—and offering ways to exchange or collect a refund from different companies, including:
What Is the Orvis Return Policy?
Under the Orvis return policy, you can exchange a product or ask for a refund if you're not satisfied with the purchased item.
Orvis will issue a refund by:
Following the same payment method you used if you can present proof of purchase
Providing you with the credit on an Orvis gift card in case you cannot submit a receipt
Keep in mind that refunds for returned items might take up to four weeks.
How To Return Merchandise to Orvis
To initiate the return process at Orvis, you can:
Get in touch with customer service
Complete an online return form
Use DoNotPay
Contact Orvis Customer Service
If you'd like to get ahold of an Orvis representative, you could reach them using the options presented in the table below:
Reach Customer Service By
Details
Phone
You should dial:

1–888–235–9763 for a toll-free call
1–800–828–1200 for hearing impaired TTY

Keep in mind that you'll likely need to wait on hold before a representative answers your call

Email
While you can email your return request to customerservice@orvis.com, you:

Need to provide as much detail about your order as possible
Will probably have to wait for a response for a while

Chat
Orvis provides a live chat service on their website. You should:

Click on the Chat button on the right
Choose the Set Up a Return/Exchange topic
Select the I have my order number option
Go through guided steps to finalize your return request
Access the Orvis Online Return Form
You could submit your return/refund request at Orvis by following these steps:
Open the Return form on the Orvis website
Type in your order number
Enter your ZIP code
Hit Next
If you don't have your order number, you won't be able to complete the provided form. In that case, you should:
Call customer service if you'd like to wait on hold
if you want to file your return request in a matter of minutes!
DoNotPay Takes Care of Your Return Request Automatically
There's no need for you to waste any energy or time trying to reach customer service.
Our AI-powered app is familiar with the most efficient way to get in touch with any company you'd like to return a product to and get a refund from.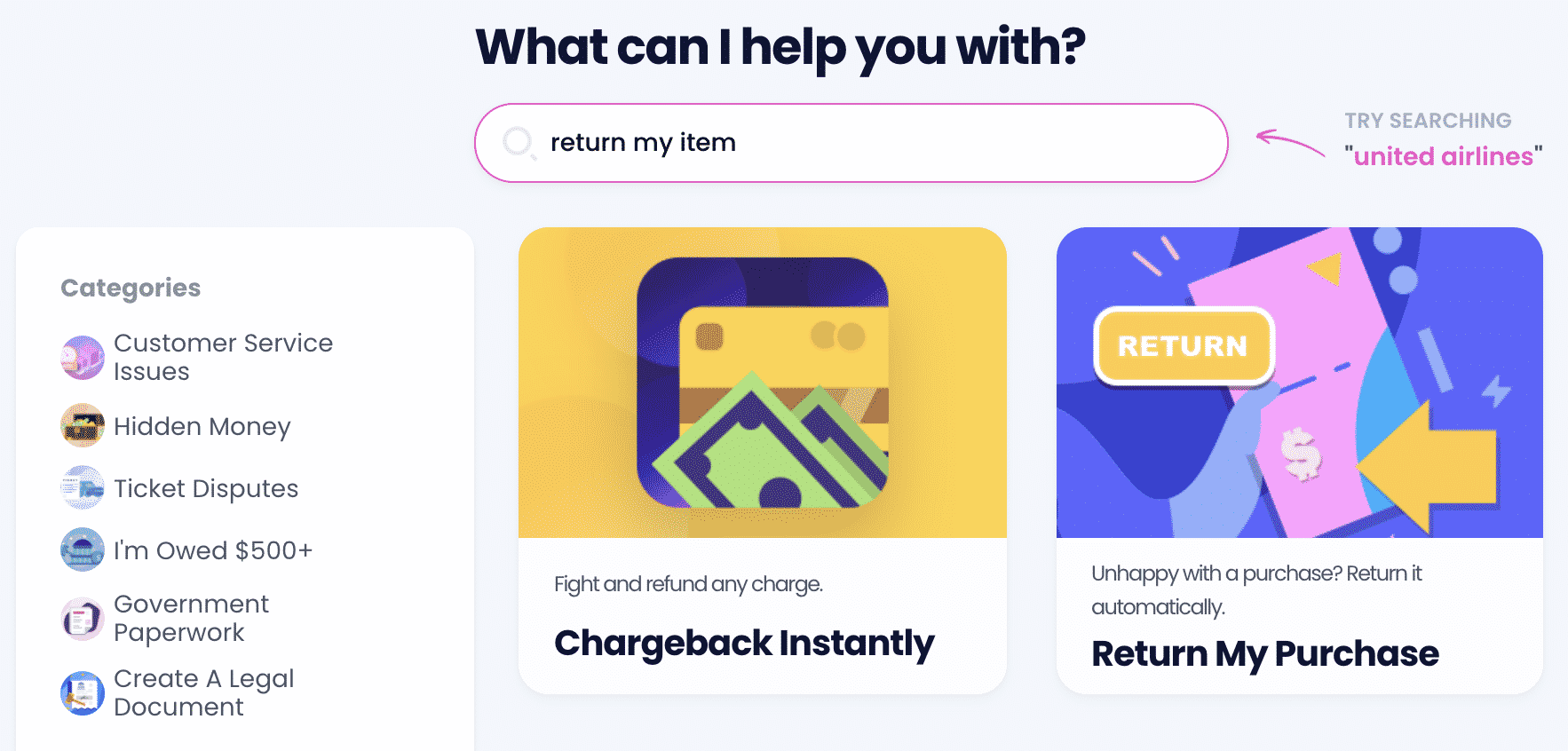 and take these steps:
Navigate to the Return My Purchase product
Answer a few questions about your purchase
Provide photo evidence of the purchase if available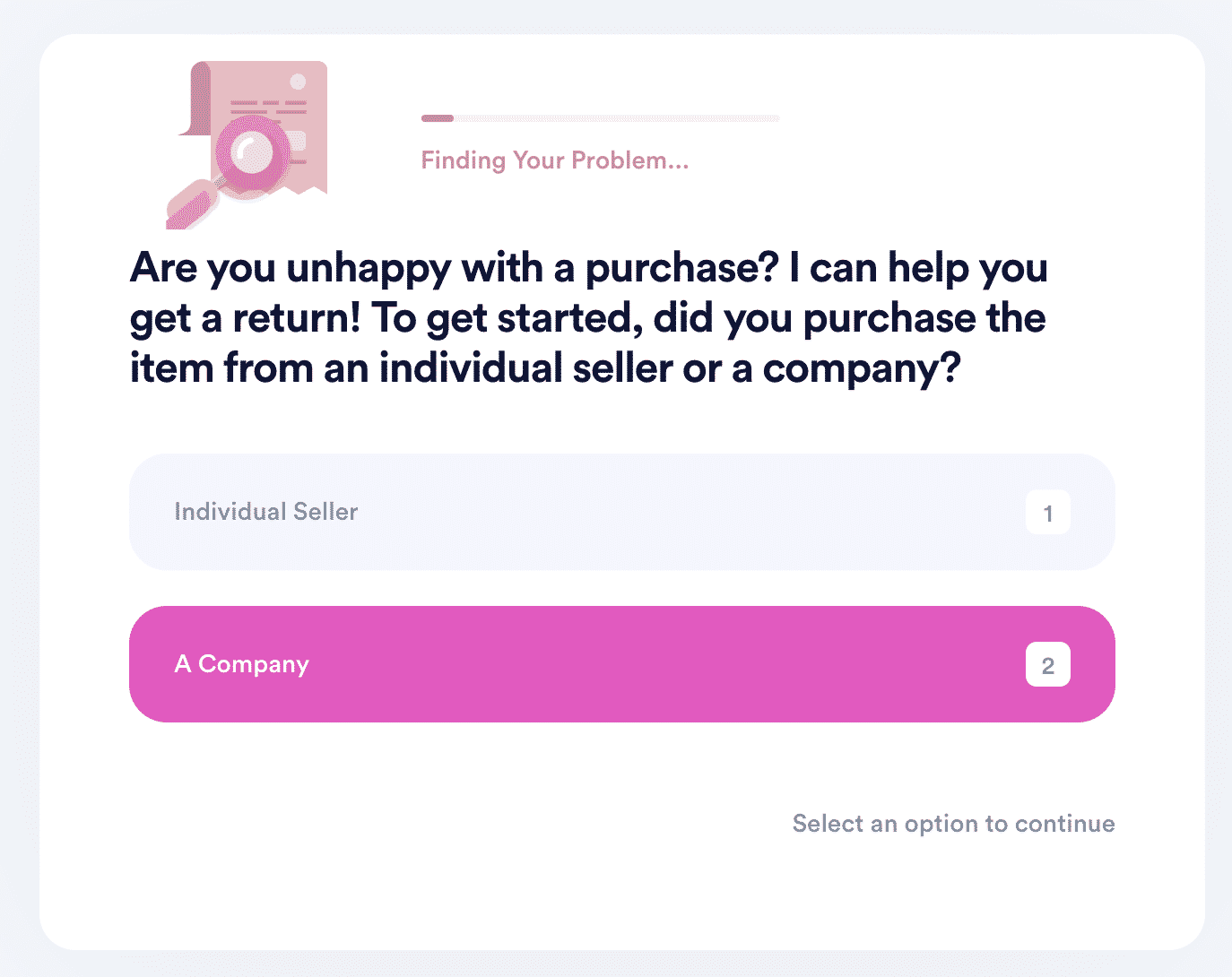 DoNotPay generates a rock-solid letter with all necessary information and delivers it to the company on your behalf.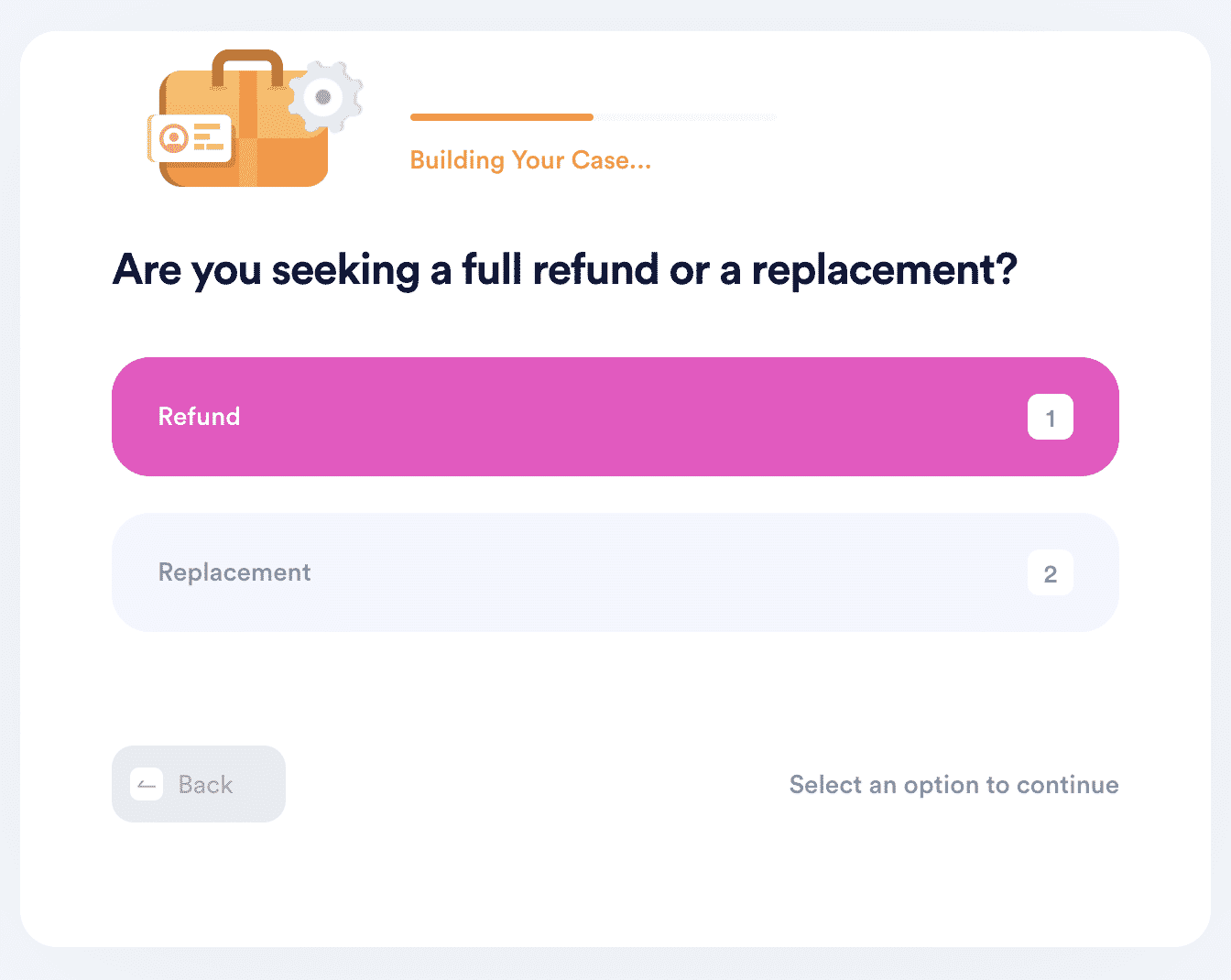 Get a Refund With DoNotPay
If you'd like to get a refund instead of a replacement, follow these steps:
Open the File a Chargeback option
Click on Get Protected
Answer a few questions our chatbot asks you
Hit Sign and Submit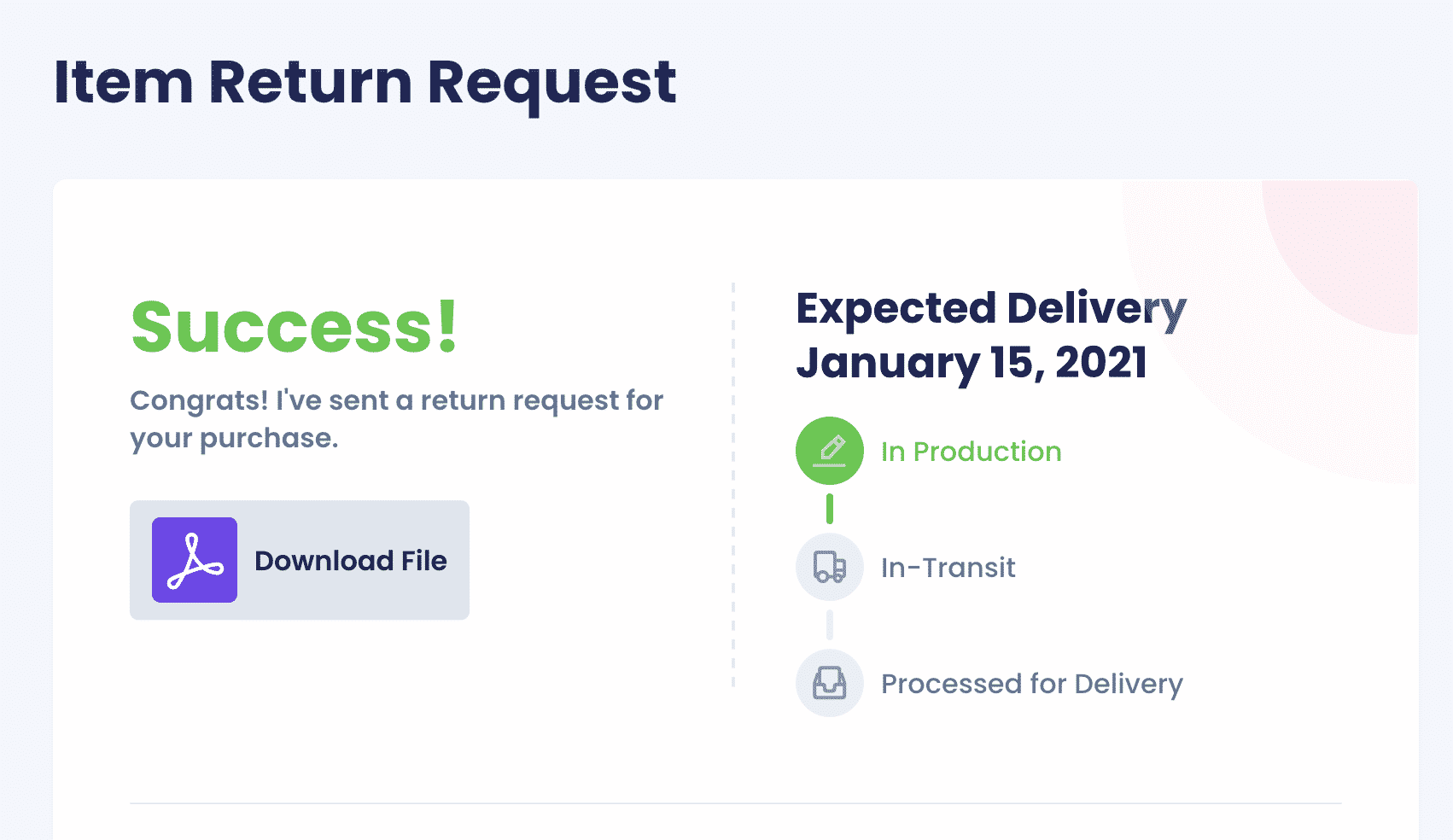 We know how to claim a refund on your behalf from numerous merchants, including:
Has Orvis Wronged You? DoNotPay Can Help You Sue Them
If you believe that Orvis or any other company has treated you unfairly, you can sue them in small claims court using our robot lawyer's assistance.
We have been recognized by the American Bar Association and can help you get what you deserve by:
Creating a demand letter for you
Filling out all court forms
Collecting the necessary documentation
Filing your complaint
Producing a script with the most suitable argumentation you should use in court
Say No to Bad Purchases—DoNotPay Will Help You Get Back What's Rightfully Yours
Have you finally returned that damaged item thanks to DoNotPay's nifty product? Our app's capabilities don't stop there—we can assist you in doing so much more!
Do you believe you have some missing money? Use the world's first robot lawyer before the government claims your assets! Are you feeling lucky and want to enter sweepstakes without purchasing anything? DoNotPay will sign you up for them automatically! Looking for ways to save on property taxes or utility bills? We'll show you the way. Don't want to get charged for free trials that auto-renew into paid subscriptions? We'll help you cancel them on time.
No matter the issue you're facing, DoNotPay is here to resolve it in a split second.
Need Help With Anything Else? Your Robot Lawyer Will Provide!
Aside from sending return request letters to a myriad of companies in your stead, we can also help you get refunds from airlines, earn off robocalls, appeal parking tickets, protect your intellectual property, claim insurance and warranty, and so much more!
Are you dealing with rude neighbors or mean coworkers that discriminate against you? DoNotPay will help you fight for your rights!