How To Find a Notary in Stockton, CA in a Heartbeat
Are you struggling to find a notary in Stockton, CA? If you want to learn how to notarize a document in Stockton the easiest way, you should use DoNotPay! We will provide you with the easiest guide on handling the notarization process anywhere.
What Are Your Notary Service Options in Stockton, CA?
Because Stockton is located in California, you need to know more about the rules of the notarization process in this state. The Golden State does not allow online notarization at the moment. Other options at your disposal include:
Standard in-person notarization

—You need to go to the notary's office and handle the task face to face

Mobile notary services

—The notary can visit you and complete their task

Out-of-state remote online notarization

—You can find an online notary from another state even though notaries registered in California aren't allowed to perform notarial acts online
For more information about the notarization process in other states, you can check out our guides for Ohio, Florida, Texas, New York, Pennsylvania, and other states.
Where Can You Find a Notary in Stockton, California?
You can find a notary in Stockton or another city in California either by turning to some public places that offer notary services or looking for one online. Take a look at the table below for more details:
Public Places
Online Options

Public libraries

Real estate agents

AAA

locations

Police departments

Law offices

Office supply stores

Tax preparation firms

Money transfer stores

Insurance agents

Accountant offices
How To Notarize a Document on Your Own
If you wish to get a document notarized the old-fashioned way, you will have to do the following:
Find a notary

Set up an appointment

Collect the necessary documents

Go to their office in person

Answer questions to prove your identity

Provide the

signatures

Pay the required notary fees
If you'd like to avoid going to the notary in person, you should consider using the online notarization option. This technique is more practical and will save you much more time.
What Is the Issue With the Current Notarization Process?
Wherever in the U.S. you live, you should try to avoid going through the notarization process the traditional way. This option is outdated and involves numerous unnecessarily time-consuming steps.
Another good reason to ditch notarizing documents in person is the current pandemic. There's no need to risk your health when you can deal with this task from the comfort of your couch!
What Documents Are Usually Notarized?
Not all documents require a notary's involvement, but it can help strengthen the contract you're drawing up. These are the documents you should consider notarizing:
Real estate deeds

Trusts

Power of attorney forms

Loan documents
You should also bear in mind the amount of money you'll have to set aside to pay for notary services, which are often not cheap. This is especially true for California.
How Much Does a Stockton Notary Charge?
When it comes to the cost of their services, notaries in California are on the more expensive side. For jurats, verbal oaths/affirmations, and acknowledgments, you will need to set aside $15 per notarization.
If you want to save some of your precious time, you should use DoNotPay to help you with the notarization process in a matter of minutes! We will help you find and set up an appointment with an online notary for a low subscription fee. Besides notarization, our platform offers loads of other useful tools and services for avoiding unnecessary bureaucracy for just a few bucks!
DoNotPay Can Help You Notarize any Document in a Heartbeat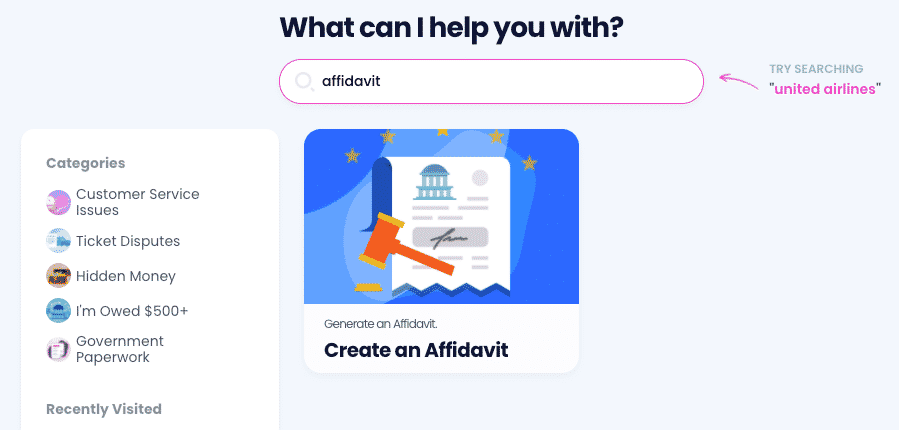 Whatever legal document you need to get notarized, you can count on DoNotPay to help you handle the process in a matter of minutes. Our app will make sure a will, affidavit, or business contract gets notarized in a few easy steps. You only need to:
in any web browser

Navigate to the

Notarize any Document

product

Upload the document you wish to get notarized

Type in your email address

Confirm your notary appointment
During your virtual meeting, the notary will verify your signature. Notarizing documents is not the only useful feature DoNotPay offers. Our app will be there to help you create legal documents as well!
Draw Up Legal Documents With DoNotpay!
To create a legal document of your choice with , you only need to open our Standardized Legal Documents product. You can make any of the documents from the table below:
Real Estate
Business Agreements
Other

Quitclaim Deed

Intent To Purchase Real Estate

Estoppel Certificate

Residential Lease Agreement

Bill of Sale

LLC Operating Agreement

Non-Disclosure Agreement

Independent Contractor Agreement

Non-Compete Agreement

General Business Contract

General Affidavit

Promissory Note

Prenuptial Agreement

Parenting Plan (Child Custody Agreement)
This feature is especially beneficial because you get the documents tailored to your specific needs, unlike the free contract template options you can stumble upon online. You can also use DoNotPay to learn about creating other legal documents, such as:
Settlement Agreements

Purchase Agreements

Room Rental Agreements

Postnuptial Agreements

Confidentiality Agreements
Don't Let Companies Take Your Hard-Earned Money!
People love to subscribe to all sorts of services—especially if there are free trials involved. The problem is that most of them forget that they signed up for anything in the first place. Companies are aware of this, which is why they auto-renew memberships as soon as the free trials expire.
Don't let them get away with it—use DoNotPay to sign up for free trials and cancel subscriptions right before they renew. If you want to save even more money, use our platform to learn how to handle high bills, parking tickets, college application fees, canceled or delayed flights, or faulty services you should get refunded for.
Use DoNotPay To Stop Illegal Activities and Earn off Scammers!
Our AI-powered platform can assist you in dealing with all sorts of scammers. If you got any of the following, the world's first robot lawyer will help you seek justice:
Do you want to protect yourself and your loved ones from stalking and harassment as well? Use DoNotPay to learn how! If the situation with a stalker escalates, our app is going to help you take them to small claims court by preparing all the paperwork and your court statement.
Don't stop there—check out how you can bypass phone number verification, claim any type of warranty, or pass any government test with flying colors!