A Guide to Booking a Notary in San Luis Obispo in Under Five Minutes
Locating a notary in San Luis Obispo usually takes hours. We are here to show you how to do it in only a few minutes!
Does it sound too good to be true? Sign up for DoNotPay, and let us show you the quickest way to book a remote notary in a few clicks!
What Does a
Notary in San Luis Obispo
Do?
A notary's main duty is to witness the signing of documents and verify the signer's identity. Notaries should also:
Check whether the signer is of sound mind during the signing process

Ensure the signer isn't under the influence of any substances

Make sure the signer is aware of document contents

Take

acknowledgments

Certify a

copy

of a document
What Documents Can a
Notary in San Luis Obispo
Notarize?
Notaries in San Luis Obispo, CA, can notarize different legal, business, and financial documents. Check out the table below for more details:
Legal Documents
Business Documents
Financial Documents

Court documents

Trusts

Advanced directives

Custody and guardianship agreements

Executorships

Construction and loan agreements

Vendor contracts

Memorandums of understanding

Employment contracts

Commercial leases

Articles of incorporation

Mortgage closing documents

Property deeds

Loan documents
The Downsides of Visiting a
Notary in San Luis Obispo
in Person
You can get your documents notarized by seeing a notary public in person, but keep in mind that standard notarization can be tedious and time-consuming. To better understand how the process works, we listed all the steps it entails:
Searching for a notary

—Visit a website, like

123notary.com

or

Notary.net

, and enter your ZIP code to start the search. You can also go to public places, such as

banks

,

AAA

offices, or

UPS

stores because they usually offer notary services

Inquiring about notary fees

—Find out how much money you should set aside for notarization to avoid unpleasant surprises

Booking a meeting

—Call a notary's office and schedule a meeting at a time that works for you since they can charge additional fees if you cancel your appointment at short notice

Preparing your documents

—Gather all the documents you want to get notarized because if you forget any, a notary will have to reschedule the meeting

Showing up in person

—Go to the meeting yourself instead of sending someone to take the documents for you. A notary cannot notarize your documents unless you are present

Proving your identity

—Show your ID, passport, or driver's license to the notary to confirm your identity. Notaries aren't allowed to notarize documents without verifying the signer's identity

Signing the documents

—Pay the fees and proceed to sign the documents while the notary witnesses the signing process
After you sign the documents, the notary will add their stamp and signature to finalize the process.
Since this method of notarizing documents takes a long time, we'll present you with simpler alternatives.
Notary in San Luis Obispo
—Types
Besides in-person notarization, the San Luis Obispo residents can also notarize their documents by:
Booking a

mobile notary

Using an

online notary service
Mobile Notarization
If you go with a mobile notary, you won't have to travel to a notary's office. They will meet you at any location you want and notarize your documents on the spot.
Mobile notaries tend to charge higher fees for their service because of travel expenses. In California, a mobile notary charges around $50 in travel fees, excluding the standard $15 fee per notarized signature. If you want them to notarize your documents at peak traffic times or after hours, the costs increase from $10 to $50, depending on the hour.
Online Notarization
Notarizing documents online became the go-to notarization method during the COVID-19 pandemic. It helps you avoid health risks and provides benefits, such as finalizing the entire process from your home or office.
Booking a meeting with a remote notary takes a few minutes, so you won't have to waste time locating a nearby notary public or squander money on mobile notary travel fees.
DoNotPay Shows You How To Book a Remote
Notary in San Luis Obispo
Since remote online notarization isn't allowed everywhere in the U.S., we are happy to inform you that DoNotPay has a solution! Our notary service works even if remote notary law wasn't passed in your state. We will connect you with an out-of-state notary who will witness the signing process over a video call and add their digital stamp and signature!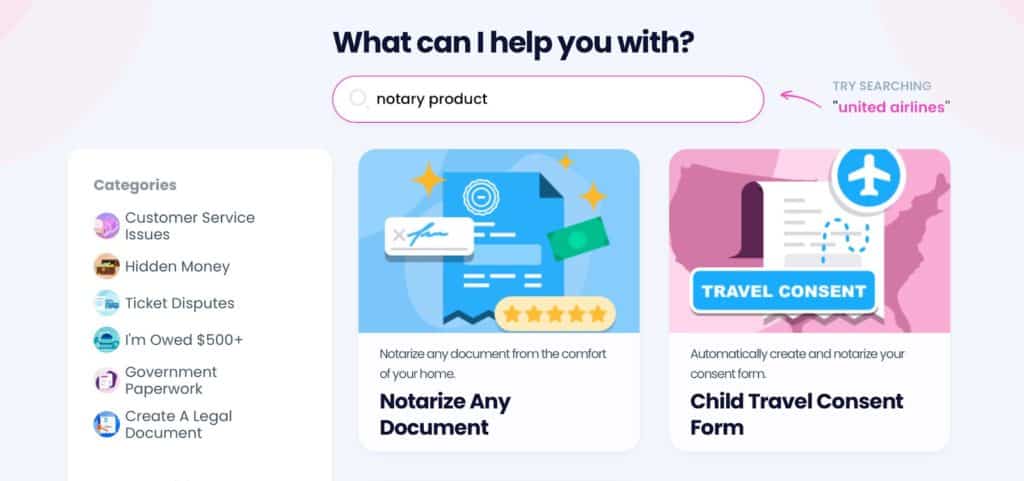 Follow the instructions below to get started:
Select the

Notarize Any Document

service

Attach your documents and type in your email address
We'll send you a link with a remote notary's timetable, and you can book an appointment easily!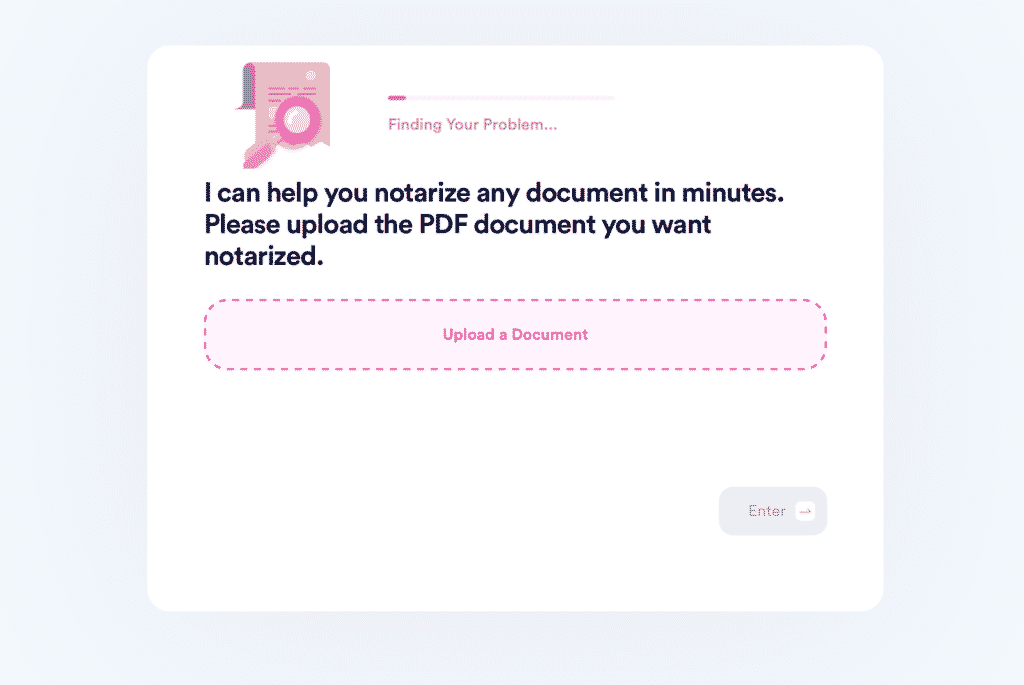 Our app is at your disposal 24/7, so if you need to book a meeting with a notary after hours, we got you covered!
Say No to Spam and Unnecessary Paperwork
If your inbox, mailbox, or to-do list is overflowing, our app is exactly what you need! Check out ways to declutter your life:
You can have your cake and eat it too—DoNotPay makes it possible to cut down on unnecessary red tape and save you money—all in one full swing. We can help you overturn your parking tickets, apply for a college fee waiver, uncover missing money, submit a FOIA request, and much more.
Discover Numerous Fast and Easy Solutions
DoNotPay is all about helping you through a complicated task by coming up with simple solutions: