Get Your Documents Notarized Remotely With a Notary Public in Plano, TX
Notarizing specific documents is sometimes necessary, but the whole process can feel like a chore. If you need to get a car title, affidavit, power of attorney, or another document notarized, visiting a local notary public is not the only way to go.
You don't have to waste any more time looking for a notary and waiting for ages to get an appointment. If you want to get your documents notarized fast, we have great news—Texas offers the possibility of online notarization!
If you , we will give you tips on how to book an appointment with an online notary public in Plano, TX, and get any document notarized without a hitch!
What Does a
Notary in Plano, TX,
Do?
The state of Texas authorizes a notary public to:
Take

acknowledgments

Protest negotiable instruments, bills, and notes

Administer oaths

Take depositions

Certify copies of documents
A notary public's main duty is to verify the signatures on legal documents. That involves a specific procedure, as presented in the table below:
Steps for Notarizing Documents in Texas

Description

Verifying the signers' identities

As a signer, you will have to provide a government-issued ID to prove your identity

Confirming the signers' willingness to sign

The notary needs to confirm that you were in no way coerced or blackmailed into signing the agreement

Proving that the signers are of sound mind

The document signers mustn't be mentally unstable or intoxicated

Determining the signers' awareness of the document's content

You have to prove that you understand the content and purpose of the document

Checking the document

The document that contains missing pages or blank spaces cannot be notarized

Witnessing the signing

You cannot sign the document before your appointment. A notary will refuse to notarize a

previously signed document

Notarizing the document

You will get a document with a

notary's signature

and stamp if everything is in order
Why Is In-Person Notarization So Inconvenient?
Traditional notarization is often lengthy and time-consuming. Take a look at the various steps you need to follow to get a document notarized in person:
Find a local notary by:

Schedule a meeting

Collect the necessary documents

Head to the notary public's office in person

Pay a fee

Sign the document in the notary's presence

Get the document notarized
Another option is to hire a mobile notary, who will visit you in your house or office and perform the notarial act there. They typically charge for travel expenses on top of a standard notary fee, which will increase your expenses significantly.
How Much Does a Notary Public in Plano, TX, Charge?
The state of Texas sets the maximum fee a notary can charge for notarial services. Notaries have to post their fees publicly.
Take a look at the highest possible prices for common notarial acts in Plano, TX:
Taking proofs and acknowledgments for the first signature—$6

Taking proofs and acknowledgments for each additional signature—$1

Certifying a

photocopy

—$6

Protesting notes and bills—$4

Administering an oath or affirmation—$6

Swearing a witness for a deposition—$6

Taking a deposition of a witness—$0.50 for every 100 words
Mobile notaries charge as follows:
Travel expenses—$25

After hours and weekends—$30

Late-night notarizations and emergencies—$60
Benefits of Remote Online Notarization
Online notary services have modernized and facilitated the notarization process in Texas. You get to e-sign the document during a video call with the notary and download it after a notary's electronic signature and stamp have been added to it.
Take a look at the most notable benefits of online notarization:
Getting your document notarized from the comfort of your home

Meeting with the online notary via any digital device

Scheduling an appointment at a time convenient for you (online notaries are available

24/7

)

Saving time on visiting the notary in person

Avoiding travel expenses

Getting digital identity screening and credential analysis, which minimizes the risk of fraud

Eliminating paperwork
Get Your Documents Notarized Online in Plano With DoNotPay
You don't have to waste time looking for an online notary yourself. DoNotPay will find an online notary and help you schedule an appointment.
After you from a web browser, follow these steps:
Find our

Notarize Any Document

feature

Upload the document you wish to get notarized

Enter your email address

Click on the link we email you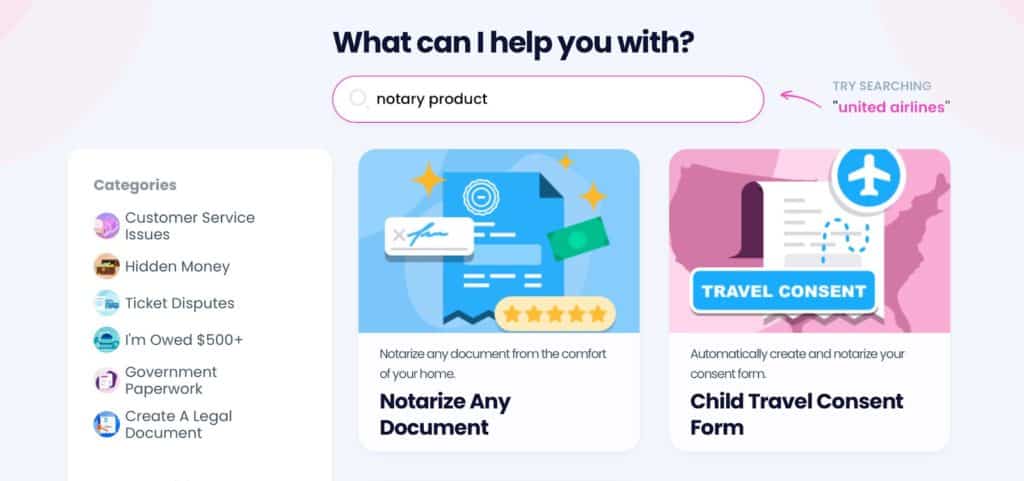 By following the link, you can confirm the appointment with the online notary and complete the notarization effortlessly!
That is not all! Our Standardized Legal Documents tool can create numerous legal documents for you, tailored to meet your needs and any state-specific requirements.
After we create and help you get the document notarized, you can use our Online Fax product to send the document to anyone from the same nifty app.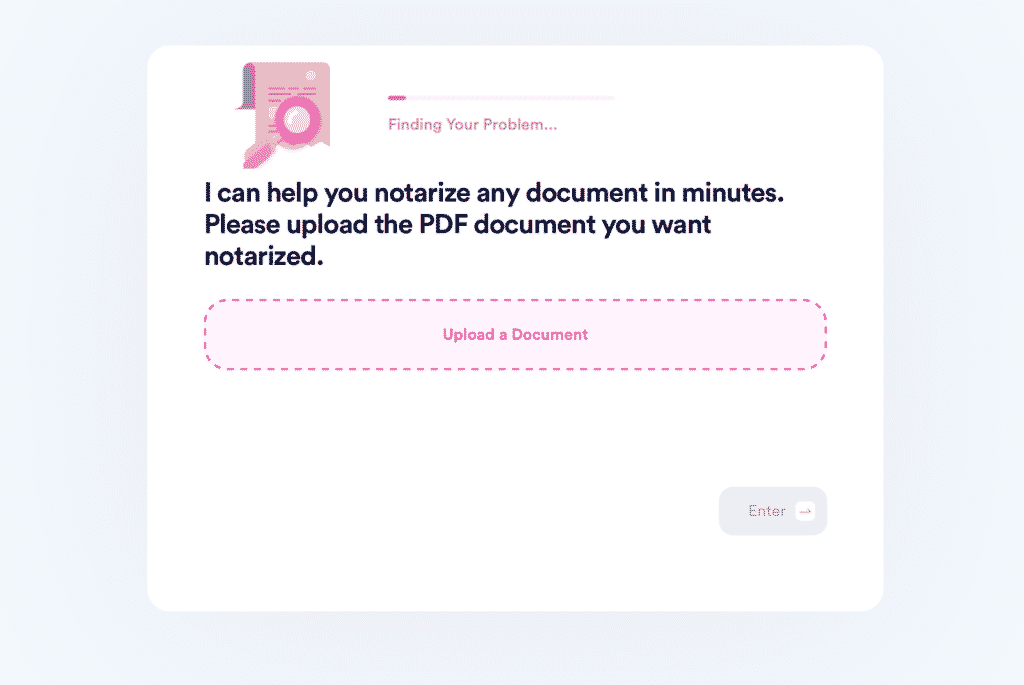 Forget About Bureaucracy With DoNotPay
There's no end to what our app can help you do. From drafting legal documents and asking for bill extensions and reducing property taxes to connecting with an inmate in a federal prison and contesting parking citations, DoNotPay can handle it all and cut through the red tape.
Need to pass a government test? Use our practice tests database to nail it. Looking to file an insurance claim? You've come to the right place. College applications drained your accounts? Request college fee waivers with our assistance.
The DoNotPay app is so versatile that it can easily locate any unclaimed funds under your name or any clinical trials that you're eligible to participate in. We can also schedule DMV appointments and take care of your small claims court documents.
Check Out What Else DoNotPay Has in Store
DoNotPay never stops upping the game. You can explore some of our latest features and see how you can access public records, receive free online fax, submit a warranty claim, or get compensation if you were a victim of a crime.
Alternatively, check out some of our most popular products that aim to reclaim your funds—from getting airline flight compensation and submitting refund and chargeback claims to canceling your unused subscriptions and getting class action cash from email, text, and robocall scammers.