Visiting a Notary in Baton Rouge Isn't the Only Way To Notarize Documents
Notarizing important documents in Baton Rouge can be a struggle—from finding a notary office to figuring out what documents to bring, the process can be overbearing. To all the Louisiana residents—don't give up hope yet! Visiting a notary isn't the only option you have. By , you get access to an online notary service that makes notarizing documents a smooth-sailing experience!
Should you decide to visit a notary in Baton Rouge, we'll give you all the info on their procedures and services.
What Documents Can a
Notary in Baton Rouge
Notarize?
Notaries in Baton Rouge can notarize various documents. Here's a list of the common documents a Baton Rouge notary can help you with:
Trusts

Executorships

Custody and guardianship agreements

Court documents

Security agreements

Mortgages

Bond-for-deed contracts

Acts of adoption

Guarantee letters

Partnership agreements

Matrimonial agreements

Public inventories

Contracts
How To Find Notaries in Louisiana
Finding a notary in Louisiana can be a burden if you don't know where to look. We can help by providing you with a list of different websites and public places where you are likely to find notary service:
Louisiana Notary Fees—Explained
The notarization fees vary from state to state. Some states, like California, have a notarization fee of $15, while in Missouri, you can have your document notarized for $2.
There are states that don't have a fixed notarization fee at all.
Louisiana is one of those states—a notary in Louisiana can charge you any amount they see fit. That can be quite inconvenient since you would have no idea how much money you should set aside for their service.
Visiting a
Notary Public in Baton Rouge
—Inconvenient and Time-Consuming
Are you debating whether you should visit a notary public in Baton Rouge or go for a different notarization method? We will help you decide by explaining how the process works. We'll also list more convenient methods you can choose should you conclude that visiting a notary isn't the right move.
The notarization process in Baton Rouge usually requires you to visit a notary's office and bring the documents you want to notarize with you. A notary will witness you signing the document and provide an official stamp along with his or her signature.
You can't have anyone bring the documents on your behalf, and you have to bring a valid ID or another document that proves your identity. Keep in mind that if you forget to bring any of the required documents with you, the notary won't be able to finish the procedure, and you will have to start the process all over again.
How To Notarize Documents Online Effortlessly
If you find in-person notary visits too exhausting, you can always lean on remote online notarization.
You can find many online notary services on the internet, and they, generally rely on the same process. You have to:
Upload your documents

Add signers or witnesses (if there are any)

Verify your identity by taking a picture of your ID or driver's license

Connect to a notary and sign the document digitally

Pay for the service

Download the document
This option is a good way to avoid wasting time, but it has its downsides. Finding reliable online notary services might be difficult, so that's where DoNotPay jumps in! With our app, you'll be able to schedule your meeting with a reliable remote notary in only a few clicks from the comfort of your couch!
How To Notarize Documents With DoNotPay in Under Five Minutes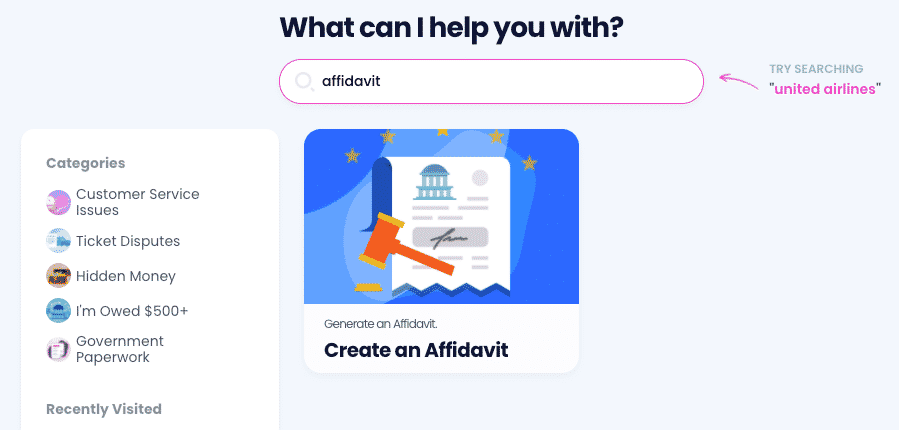 DoNotPay helps you both write and notarize legal documents trouble-free! We developed a feature that is super easy to navigate, and you can rest easy knowing that you won't encounter any confusing or time-consuming prompts.
Complete the following instructions to notarize your document the easy way:
Select the

Notarize Any Document

feature

Attach the document that you want to notarize

Provide your email address
We'll send you a link via email for scheduling your virtual appointment with a notary!
Our app generates documents like business contracts, non-compete agreements, bills of sale, independent contractor agreements, LLC operating rules documents, non-disclosure agreements, and many more contracts!
Looking for More Info About Notary Services?
If you are looking for more information concerning notary services, DoNotPay will teach you everything there is to know! The common questions we can answer are:
Don't hesitate to use our app and make your daily tasks so much easier!
Enjoy Services Worry-Free With DoNotPay
Do you want to try out a new service but are worried about being charged if you forget to cancel it before it ends?
With DoNotPay, you can sign up for free trials without worrying about auto-charges. Our virtual credit card makes sure you enjoy your trial run of the service and prevents any company from taking money out of your real account.
This free-trial card also protects you from email spam because it generates an alternate email address for the free trial sign up.
If you want to keep your phone number private and deter robocallers and text spammers, use DoNotPay's Burner Phone feature when subscribing to services.
In case the company does charge you, initiate a chargeback on your credit card transactions quickly with our app.
Discover DoNotPay's Amazing Features
DoNotPay is a virtual lawyer app that can take over annoying bureaucratic tasks from you.
We can cover anything you may need help with—dealing with customer service reps, booking appointments with the DMV, securing refunds and compensation from airlines, disputing your parking tickets, or getting you an extension on bill payments.
Our app can help you draft any legal document in minutes or access public records from state and federal databases.