Follow the Steps To Claim Your New Car Tire Warranty Effortlessly
Does a car warranty cover tires? The answer, in most cases, is no. Car tires, in general, have separate warranties that come from the tire manufacturer directly.
Car tire warranty covers tires for four, five, or six years from the day you buy them. The warranties are there as a guarantee that your tires can pull off a certain mileage before they wear out.
If your tires wear out before the expiration of your tire manufacturer warranty, you have the right to file a warranty claim. There is no better way to claim any type of warranty, including extended warranties for used cars and home warranties, than via DoNotPay. Our platform will do most of the work for you. Check out how to claim your new car tire warranty with DoNotPay in the fastest way possible.
How Can DoNotPay Help You Claim Your
New Car Tire Warranty
?
Claiming warranties is a lot of unnecessary stress and anxiety, but with DoNotPay, that isn't the case. Our app simplifies filing warranty claims and does most of the work for you. If you want to minimize the time you'll spend on filing a new car tire warranty claim, go with DoNotPay.
You can access DoNotPay from any and take the following steps to acquire your car tire warranty:
Open the

Claim Warranty

feature

Choose

Car Warranty

Select the company that provides your warranty and give the details about the problem that occurred

Click on

Submit My Claim
We will create a warranty claim letter and send it to the company in your name. The company will get back to you with further information and instructions.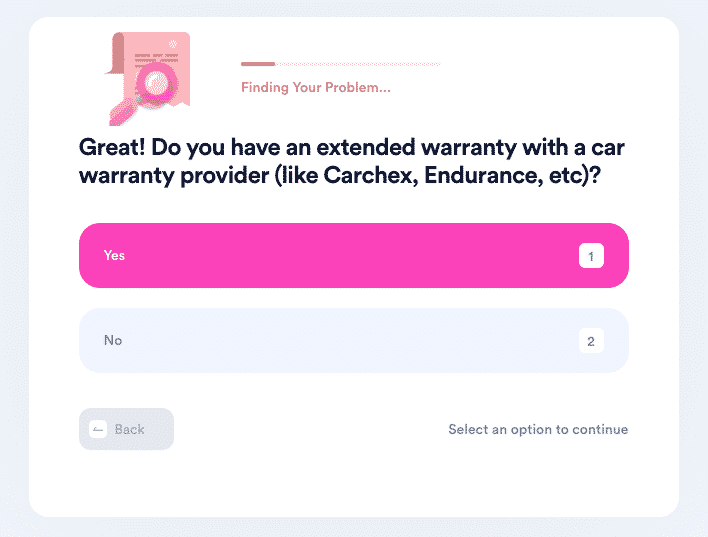 Check out how to claim a car tire warranty if you have a Toyota or a Honda—DoNotPay can make this super easy for you. We can also help if your dealer refuses to cancel an extended warranty.
The Company Denied Your Warranty Claim? No Problem—DoNotPay Can Solve This Issue
Within our Claim Warranty feature, there's an option to Appeal a Denied Warranty Claim. DoNotPay can generate an excellent appeal letter and send it to the company on your behalf. After we submit your appeal, the company will contact you.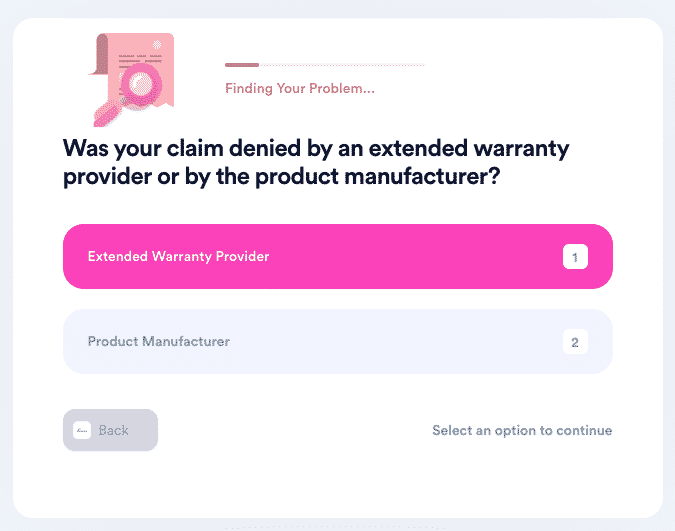 Companies tend to deny first-time warranty claims because they want you to give up. Follow these steps instead to file an appeal and improve your chances of claiming a warranty:
Access the

Claim Warranty

feature

Click on

Appeal a Denied Warranty

Choose who you're appealing against—a

Product Manufacturer

or an

Extended Warranty Provider

Provide the details about the company and the issues you're experiencing with your tires
The last step is to submit your claim and wait for them to contact you.
How To Get Tires Replaced Under Warranty
Tire manufacturers offer tread-life warranties. They estimate tread-life according to the type of tire and mileage. When a tire wears out evenly before the warranty expires, it might be eligible for a replacement under the tread-life warranty.
You'll need to provide proof of purchase and proof that you rotated the tires correctly at the recommended intervals to claim your warranty.
Check out the table below to see how you can claim your warranty from a tire company:
Tire Company
How To Claim a Warranty

Call Michelin at

1-800-847-3435

Explain the issue and request service

Call Dorman Products at

1-800-523-2492

Describe your issue and ask to claim your warranty

Call Goodyear at

1-800-426-0733

to obtain your car tire warranty

Call Bridgestone at

1-800-847-3272

to claim your car warranty
DoNotPay Can Make Your Life Easier With Our Numerous Features
After we solve the problem of new car tires together, we can focus on other warranties you might need help claiming.
DoNotPay can help you with both limited and extended warranties for companies like Kia, Audi, Tesla, Toyota, Nissan, and various others. Our platform can also take care of any home warranty in America for you. You can read our take on home warranties according to reviews if you're planning to switch companies.
DoNotPay can do a lot more than assisting you with your warranties. Check out what else we can help you with after you open our app in any :
Appealing speeding tickets

Fighting traffic citations in the U.S.