How To Pass Your Michigan CDL Test With Flying Colors!
Passing your commercial driver's license test is no joke! You can't show up and expect to ace it without previously studying and thoroughly preparing for it. To boost your chances of doing well on your Michigan CDL test, we provide you with study tips and guides on how to use DoNotPay's practice tests to your advantage!
Understanding How the CDL Test in Michigan Works
The Michigan CDL test isn't much different from other CDL tests. It's classified into three classes: A, B, and C. Depending on the CDL class, it consists of either 50 or 70 questions, the passing score is 80%, designed to test your general knowledge and skills. The knowledge test consists of seven segments.
Some of the requirements for your Michigan CDL test are:
| | | |
| --- | --- | --- |
| CDL Class | General Knowledge Tests | Skills Test |
| Class A | 70 Questions (includes a 20-question combination vehicle test) | Yes |
| Class B | 50 Questions | Yes |
| Class C | 50 Questions | Yes |
Endorsements
If you are applying for the HAZMAT endorsement, you have to:
Pass a written hazardous materials knowledge test

Include proof of U.S. Citizenship or Lawful Permanent Resident

Present a Federal Security Threat Assessment
Various endorsements and the requirements to obtain them are presented in the table below.
| | | |
| --- | --- | --- |
| Endorsements | Knowledge Tests | Skills Test |
| S - School Bus | 20 Questions | Yes |
| T- Double Trailer | 20 Questions | No |
| P - Passenger | 20 Questions | Yes |
| N - Tank Vehicles | 20 Questions | No |
| H - Hazardous Materials | 30 Questions | No |
Ways To Prepare for Your Michigan CDL Test
Every CDL test is a written exam. Preparing for it is not an easy task, and you shouldn't take it lightly.
The Michigan Commercial Driver License Manual is an excellent place to start because it includes all the material the actual test covers.
A great tip for studying is taking practice tests! They will give you a good idea of what your real exam will look like, and you will be able to see how much time you'll need to answer a question. It's also a good way to see which segments you have to improve and focus on.
Take the Michigan Commercial Drivers License Practice Test With DoNotPay
DoNotPay has all the government practice tests you need at your fingertips! We'll help you make your DMV driving test appointment and how to pass your written driving test, as well as find your ASVAB test scores.
You can use our app to find information and tips on how to pass your Notary exam, U.S. Citizenship test, HAZMAT test, Criteria Cognitive Aptitude Test (CCAT), CompTIA A+, Armed Service Vocational Aptitude Battery (ASVAB), and Postal Service exam.
Take DoNotPay's Michigan CDL practice test in five simple steps by following these instructions:
Access DoNotPay from any

Look for the

CDL practice tests

Choose the test you would like to practice and select the number of questions you want to have (choose 10, 20, or 30 questions)

Start practicing!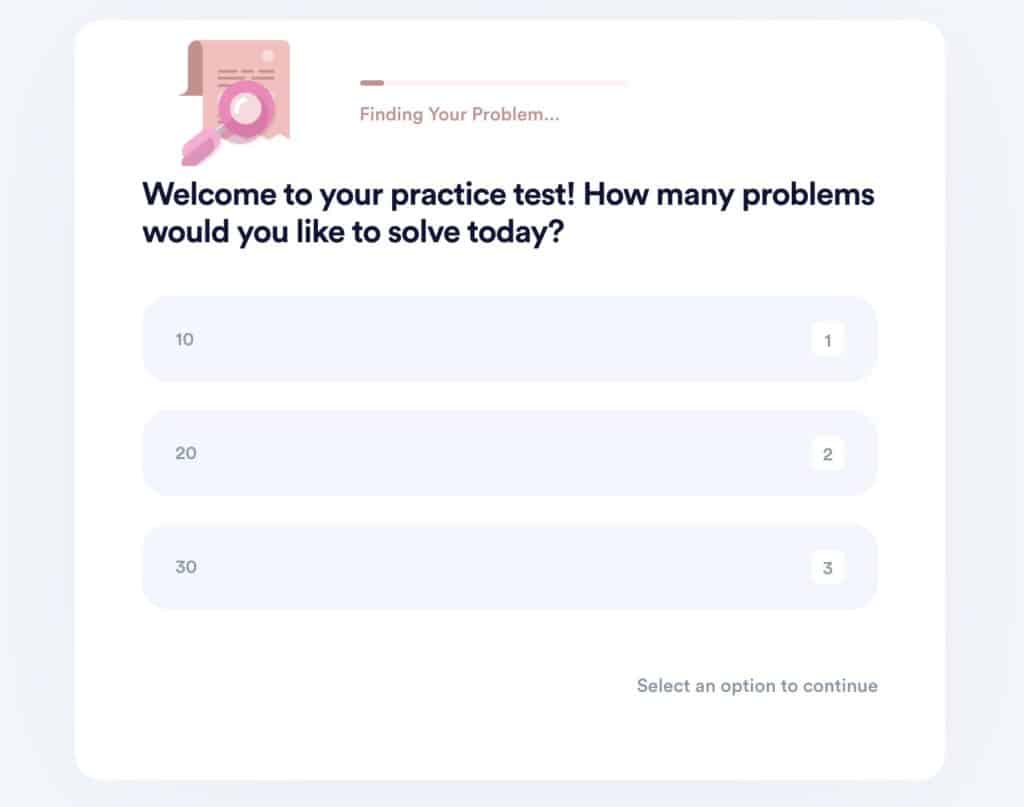 You can use our app to find information and tips on how to pass your:
These CDL tests we listed are only some of which we can help you with! There are plenty more practice tests on the DoNotPay app, and you can search for them by following the instructions mentioned above.
The Important Info About the CDL Testing in Michigan
It is important to note that if you are a driver between the ages of 18 and 21 and you are a U.S. citizen, you can drive a commercial vehicle only in Michigan. To drive a commercial vehicle across state lines or transport hazardous materials, you have to be at least 21 years old.
To apply for your CDL or commercial learner's permit (CLP), here is what you will have to do:
Present proof of a valid

Social Security number

and

Legal Presence in the United States

Meet the medical and driver requirements

Pass the appropriate

vision and written tests

Make an appointment for your driving skills test with a

driving skills testing organization

Pass the required CDL driving skills tests

Pay the

CDL licensing fees
If you are adding a hazmat endorsement, present:
The Air Brakes test
If you want to get a license for driving vehicles with air brakes, you have to pass an air brake knowledge test consisting of 25 questions. The vehicle you will be using for the skills test must be equipped with air brakes. If you don't meet either of these two conditions, you will be restricted from operating vehicles with this particular system.
Get Back at Greedy Corporations With DoNotPay
How many times have you tried reaching out to an airline regarding your canceled flight? Did you ever spend hours trying to contact customer service reps only to be refused your refund request?
Big companies tend to make certain processes complicated for their customer in hopes they would give up on pursuing their goals.
This is why your warranty claims often get denied the first time or why canceling a gym membership can be an administrative hell.
Our AI-powered app is here to help you sort these problems out.
Whether you're trying to file an insurance claim, schedule your driving test, start a free trial without disclosing your payment info or a phone number, or get access to public records, we've got you covered.
DoNotPay Is the Virtual Assistant You Need
DoNotPay is the first robot lawyer in the world created to simplify complex tasks. We can help you with anything from appealing your parking citations to filing lawsuits in small claims court.
In case you need to save up some money, our app will show you how to get an extension on your bill payments, sign up for paid clinical trials, or avoid paying your college application fees.
DoNotPay can also report robocallers, text spammers, email phishing attempts, and real-life stalkers with a few clicks.