Moosejaw Return Policy—A Walk in the Park or an Uphill Battle?
The camping trip got canceled, and you're now stuck with a brand new pair of Moosejaw mountaineering boots? Don't worry—we're here to tell you everything you need to know about the Moosejaw return policy.
Moosejaw implements different procedures for different item types. If you're afraid you'll trip up on the intricacies, and come out on top.
All About the Moosejaw Return Policy
If you've changed your mind about your latest purchase, the Moosejaw return policy provides lifetime coverage. You can only get a cash refund in the first 60 days—after that, you'll receive a Moosejaw eGift Card instead.
Electronics must be sent back 30 days after delivery, apart from drones which have a 15-day window for returns.
For a Moosejaw item to be eligible for a return or exchange, it has to be:
In sellable condition (unworn, unused, and undamaged)
Contained in the original packaging (footwear)
Labeled with the manufactured tags
How To Return a Moosejaw Product
You can return unwanted Moosejaw products in two ways:
Bring them to the nearest Moosejaw store
Send them back via mail
Moosejaw Return Policy for In-Store Returns
The Moosejaw return policy allows you to start a return in person. Locate the nearest Moosejaw store in your area and bring the product along with the original packaging and proof of purchase. In-store returns also cover items you purchased online, and Moosejaw won't charge you additional costs for them.
Moosejaw Return Policy for Mail Returns
If you don't have a Moosejaw shop near you, you can initiate the return via mail. Follow these steps to start the process:
Go to the official Moosejaw Return and Exchange web page
Find the link for generating a FedEx prepaid label
Print out the label and place it on the package
Take the package to the closest FedEx drop-off location
Customers will have to cover the return shipping costs of $7.95. Moosejaw will deduct the charge from their refund.
If you live outside the contiguous United States, the Moosejaw return policy allows you to use alternative shipping services such as USPS, DHL, or UPS.
Send the package prepaid to the following address:
Moosejaw Returns/Exchanges
1500 East Avis Drive
Madison Heights, MI 48071
How To Return a Moosejaw Product—International Orders
The Moosejaw return policy only provides customers within the contiguous United States with a FedEx prepaid label. Hawaii and the more populated areas of Alaska are the two exceptions.
For international orders, you have to organize the return shipment by yourself and cover all the costs. If you have any questions about the process, you can reach out to Moosejaw's customer services by:
Calling 248-246-4000
Using the Live Chat feature on their official website
Are There Any Non-Returnable Moosejaw Products?
While the lifetime Moosejaw return policy covers most products, there are a few exceptions. Check out the details about the return policies for different products in the table below:
| Product Type | Return Policy |
| --- | --- |
| Footwear | All Moosejaw shoes and boots are returnable, but only if the shoe box is included in the return shipment. You shouldn't use the original box as packaging since it's meant for recycling |
| Climbing gear | Climbing equipment is considered a final sale and is not eligible for returns. This includes helmets, ropes, carabiners, harnesses, and other load-bearing items |
| Food | Non-returnable |
| Gift cards | Gift cards are non-returnable and not eligible for an exchange |
| Products with free gifts | If you want to return an item that came with a free gift, you're required to return the free gift as well |
What Is Moosejaw's Exchange Policy?
There are two ways to request an exchange from Moosejaw:
Through mail (slow exchange)
By contacting the Moosejaw return department via Live Chat
You can exchange all Moosejaw items, apart from products that are labeled as final sale. The Moosejaw return policy currently doesn't offer exchanges for items purchased via PayPal, Jet, or eBay.
How Long Until Your Return Request Is Processed?
Once you send the return shipment to the Moosejaw warehouse, it takes around 10–15 days to process the request. If the item passes the evaluation, you will receive a confirmation email. It may take an additional 2–5 business days for the refund.
If waiting almost 20 days for a simple return sounds tedious to you, try DoNotPay. The AI-based app sets a deadline for the return request review, ensuring a quick and stress-free process.
Climb Every Mountain With DoNotPay

DoNotPay has a nifty feature that allows you to initiate a return with speed and efficiency. By using the Item Return Request tool, you can reach out to Moosejaw and demand a refund with a few clicks.
Follow these simple steps to start the return/exchange procedure:
Select the Item Return Request tool
Provide the necessary information about the purchase and include photos if needed
Click Submit
If you're interested in the full scope of our services, the Item Return Request product also covers the return policies of the following companies: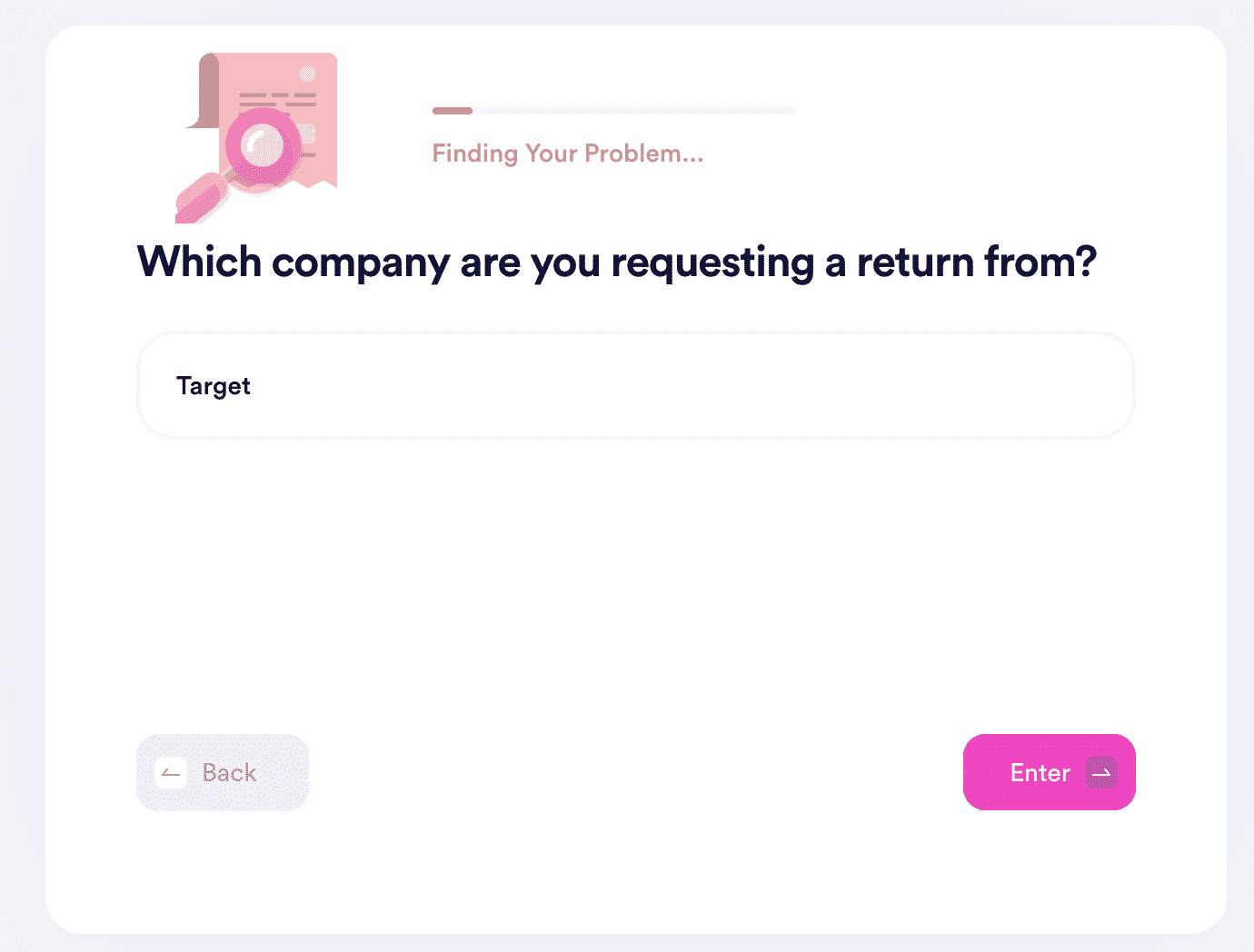 Wasted Your Money on a Non-Returnable Purchase? There Are Other Methods To Earn It!
Don't feel down if the item you got isn't returnable—DoNotPay has many more tricks up its sleeve that will help you earn some money!
From helping you enter sweepstakes, decrease your property taxes, and lower your utility bills to assisting you in earning off email or text spammers and robocalls, waiving your college application fees, submitting a college financial aid appeal letter, and getting a refund from any company or airline, we can do it all!
DoNotPay Is Always at Your Disposal
Our app's mission is to take everyday admin and legal tasks off your plate so you don't have to waste any of your precious time. If you want to appeal your parking tickets, draw up a legal document, get any agreement notarized, get a tourist visa, keep a sex offender at bay, mail anything without waiting in line, or get in touch with a loved one in prison, DoNotPay will resolve any of these with ease.
Too busy to track your memberships? You don't need to worry about canceling your free trial on time before it turns into a paid subscription if you use our virtual credit card.
With DoNotPay, you can tackle any otherwise annoying chore stress-free.