How To Find a Mobile Notary in DC and Get Your Documents Notarized the Easy Way
If you don't have time to visit a notary in person, mobile notarization is an efficient way of getting a notary's signature on your document. Whether you need to get a translation or a contract notarized, will help you find a reliable mobile notary in DC and show you an even more efficient way of document notarization. Read our guide to learn everything about notarization and how to get any document notarized with ease!
Which Types of Notaries Are Available in the District of Columbia?
If you need to get your documents notarized, you have various notary options to choose from:
| | |
| --- | --- |
| Notary Type | Specifics |
| Traditional notary public | A traditional notary working in an office or location such as a: |
| Mobile notary | A notary who can come to your location, whether it be your office or your home |
| Notary signing agents | Notaries who notarize loan documents |
| Online notary | A type of notary who works remotely and can notarize your document via an audio-video call |
What Are the Duties of Mobile Notaries in DC?
Mobile notarization is a convenient option for people who need their documents notarized but don't want to leave the comfort of their home. Mobile notaries have the same duties as traditional notaries, with the main difference being that the traveling ones can come to your preferred location to perform notarial acts. A mobile notary has to:
Inspect the signer's ID and verify his or her identity with a couple of authorization questions

Make sure there's no fraud

Ensure that the document is to be signed willingly

Witness the signing of the document

Add a

notary signature

and seal the document with the notary stamp
How To Get Your Documents Notarized by a Mobile Notary
To get your documents notarized by a traveling notary, you'll have to:
Find a reliable and an available mobile notary

Contact him or her to schedule an appointment

Gather all the needed documentation

Meet the mobile notary

Wait for the notary to validate your identity

Sign the document in front of the notary
Types of Documents a Mobile Notary in DC Can Notarize
Mobile notaries in DC can notarize various types of documents, including:
Trusts

Living trust

Mortgage documents

Irrevocable/revocable trusts

Advanced healthcare directives

Authorizations for minors to travel
Where To Find a Mobile Notary in DC
Finding a mobile notary in DC will require you to dedicate your time to combing through websites for a long time or asking around. Once you find a reliable notary, you will have to waste even more time calling them, checking their availability, and going back and forth before you schedule an appointment.
You can find mobile notarization services on these platforms:
District of Columbia Mobile Notary Fees
Mobile notaries in the District of Columbia are prohibited by law to charge you more than $5 per notarial act. They are not allowed to charge fees that exceed the limit, and they have to inform you about the charges in advance. What they can do, though, is charge you for additional services, such as making copies of your documents.
Even though using mobile notary services is a convenient way of getting your documents notarized, they can get pricey as you'll have to cover the notary's travel fees.
The Most Efficient and Reliable Way To Get Documents Notarized in DC
If you're looking for an alternative that won't break the bank and is safer, especially during the COVID-19 pandemic, you might want to consider remote online notarization.
The District of Columbia doesn't currently allow online notarization, but you can still get your documents notarized by an out-of-state online notary. This option will allow you to finish the process from the comfort of your home, and it will save you money because you won't have to pay additional travel fees.
To find an online notary easily, all you have to do is turn to DoNotPay for help!
Use DoNotPay To Get Your Documents Notarized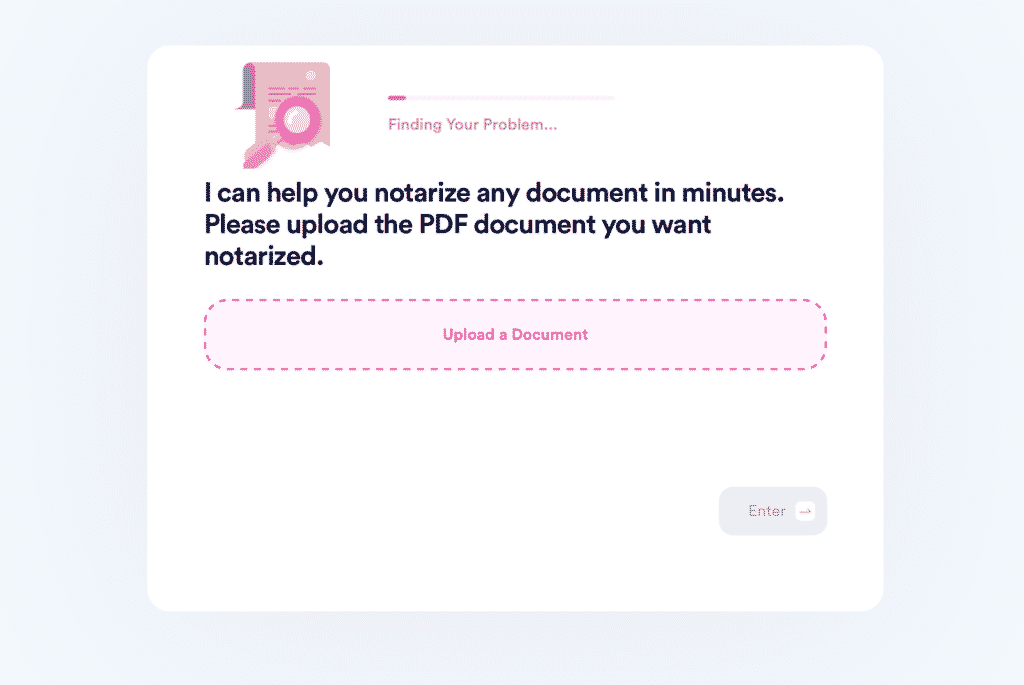 DoNotPay will provide you with the most reliable and efficient way of notarizing your documents. Our AI-based app will help you find an online notary and schedule an appointment in no time. To utilize our app's nifty product, you'll only need to follow a few simple steps:
from your preferred web browser

Find the

Notarize Any Document

product

Upload the document you need notarized

Type in your email
All you need to do now is follow the link we send you via email and schedule an appointment. Once you sign up for our AI-driven app, you'll get access to all of its other products, such as Standardized Legal Documents and Online Fax!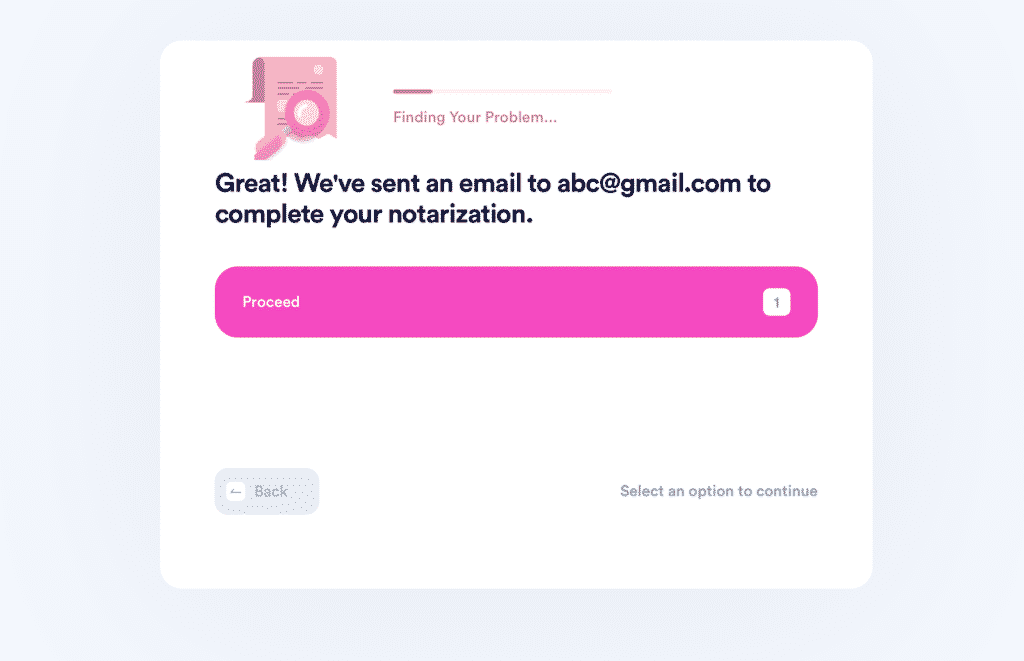 Use DoNotPay's Features to Your Advantage!
DoNotPay offers a myriad of helpful services you can use to resolve your everyday hurdles.
Do you need help paying bills or finding and claiming missing money? Are you interested in applying for clinical trials in your area? We can help you solve these and many more issues in no time!
Here are some other problems you can handle effortlessly with our help:
Hiring a Lawyer Can Cost a Small Fortune—Rely on DoNotPay Instead
If you're on a tight budget and can't pay a lawyer to help you create legal documents, file a claim in small claims court, or handle stalking and harassment, DoNotPay has a solution for you.
Our app will help you create various documents, including child travel consent forms and complaint letters for a problematic neighbor.
Are you a victim of a crime and need help applying for reimbursement of your crime-related expenses? You can sign up for DoNotPay and allow us to handle your crime victims compensation on your behalf.
DoNotPay can also connect you with an online notary and enable you to get your documents notarized from the comfort of your home.