How To File a Milwaukee Warranty Claim
Milwaukee Electric Tool is an American company founded almost 100 years ago. It manufactures power tools and related equipment, including:
Hammer drills

Screwdrivers

Batteries

Chargers

Various hand tools

Apparel, etc.
Milwaukee Tools Warranty—Terms and Coverage
All Milwaukee tools come with a manufacturer warranty that covers costs of repair and replacements due to defects in material and workmanship. Defects that appear due to normal wear and tear are not covered.
You don't need to register your product for the warranty to be valid. The duration depends on the product, and you can check the table below for details.
Product
Warranty Duration

Batteries

From one to three years

Hoists

Heated gear

Reconditioned products

Tool and equipment trackers

One year

Airless paint sprayers

Portable generators

Two years

Laser distance meters

Redstick levels

Digital levels

Steel storage chests and cabinets

Three years

Air-nailer staplers

Portable power tools

Test and measurement instruments

Five years

Hand tools

Deep-cut band saws

Hole dozers

Outdoor power equipment

Shockwave Matrix Carbide driver bits

Lifetime
The Milwaukee Warranty Claim Procedure Explained
You need proof of purchase to claim a warranty for your Milwaukee tool. The manufacturer uses proof of purchase to determine the age of the product and eligibility for warranty coverage.
The table shows available methods of filing a Milwaukee warranty claim.
| | |
| --- | --- |
| Can You Claim Your Warranty Via? | Yes/No |
| DoNotPay | Yes |
| Email | Yes |
| Phone | Yes |
| Live chat | No |
| In Person | Yes |
| eService Tool Repair | Yes |
Contacting Customer Service by Phone
The phone number of Milwaukee's customer service is 1-800-729-3878. You can contact the reps to initiate the claim procedure.
Claiming a Warranty via Email
Use the contact form on Milwaukee's website to file a claim by email. Here's how to fill out the form:
Enter your

personal information

Describe

the issue

with your product

Select

eService/Warranty

in the drop-down menu

Click

Contact Us

to send the email
Use Milwaukee's eService To Claim a Warranty
You can sign up for Milwaukee's eService on the company's website to request service for your product, within or outside of a warranty. The procedure for signing up and filing a claim is as follows:
Visit the

eService

sign-up page

Enter your email and create a password

Click on

Sign Up

Choose

Add a tool
Search

for your tool

Type in the

serial number

of your product and an optional tag

Select whether you are shipping the

proof of purchase

with the product or uploading a scan/photo

Describe

the issue

Select or add which items you are sending (eService includes free FedEx shipping)

Click

Submit
In-Person Warranty Claims
Take your tool to one of the 19 Milwaukee factory service centers or hundreds of authorized service centers to request service. You can locate the one near you by running a search on Milwaukee's website. Go to the Find a Service Center page and:
Enter your

ZIP code

or city

Select your preferred mile radius

Choose the product type

Click on

Find Service Center
The results should include a map with the exact location. If there is a phone number, you should make a call to check the business hours.
File a Milwaukee Warranty Claim Super Easy With DoNotPay
DoNotPay is the easiest method of filing warranty claims for various products, including Milwaukee tools. Our virtual assistant can help you claim warranties for your car, home, or a wide range of appliances and consumer electronics. Check out numerous home warranty reviews to find the best home warranties in America!
Use our AI technology to simplify the process of claiming warranties for Craftsman tools, Stanley tape measures, SolarEdge systems, Kobalt products, Ryobi tools, and many others!
Sign up for DoNotPay in any and follow these steps:
Navigate to the

Claim Warranty

option

Choose

Warranty on a Purchased Item

Provide the required information about your purchase

Click on

Submit
We'll send your warranty claim letter to Milwaukee. The company's customer service should respond to you directly. Meanwhile, discover how DoNotPay can claim an extended warranty for your used car or cancel it if your dealer refuses to!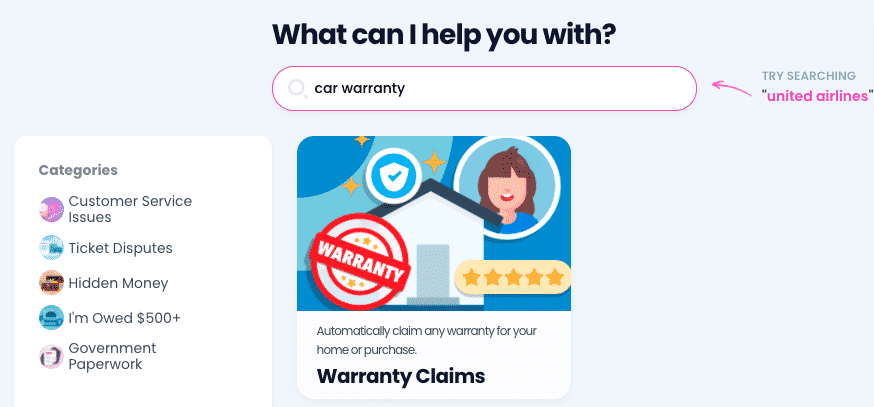 DoNotPay Can Help You Appeal a Dismissed Warranty Claim
If Milwaukee rejects your warranty claim, it doesn't have to end there. You have the right to appeal their decision, and DoNotPay can do it for you in a few clicks!
After accessing DoNotPay from your , do the following:
Select the

Claim Warranty

feature

Choose

Appeal a Denied Warranty Claim

State that you're appealing against the

product manufacturer's

decision

Enter details about Milwaukee and your

original warranty claim
DoNotPay will automatically submit the appeal letter on your behalf. A response from Milwaukee's customer service should go to you directly.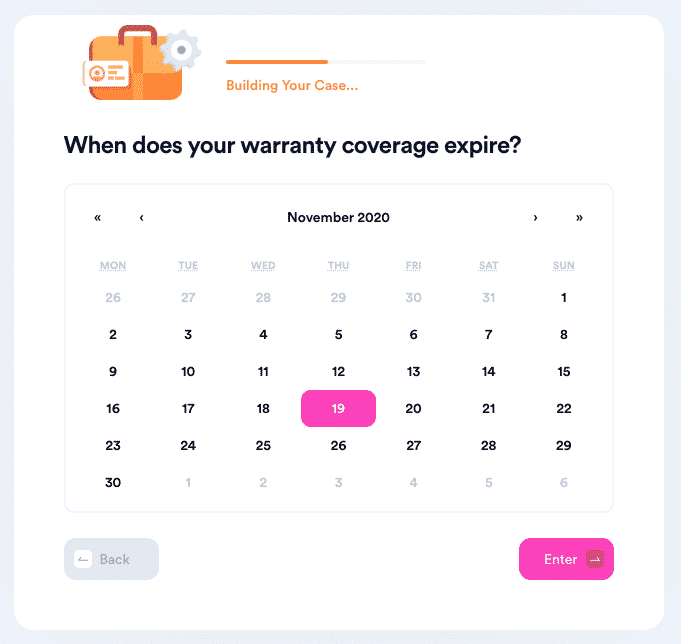 The Appeal Fell Short? Sue Milwaukee With the Help of DoNotPay
It's not uncommon for companies to try to dismiss warranty claims in every way they can. If Milwaukee keeps refusing to provide the service you paid for, use DoNotPay to sue the company in small claims court! The American Bar Association recognized our robot lawyer with the Louis M. Brown Award for Legal Access, so you can count on us to fight for your customer rights.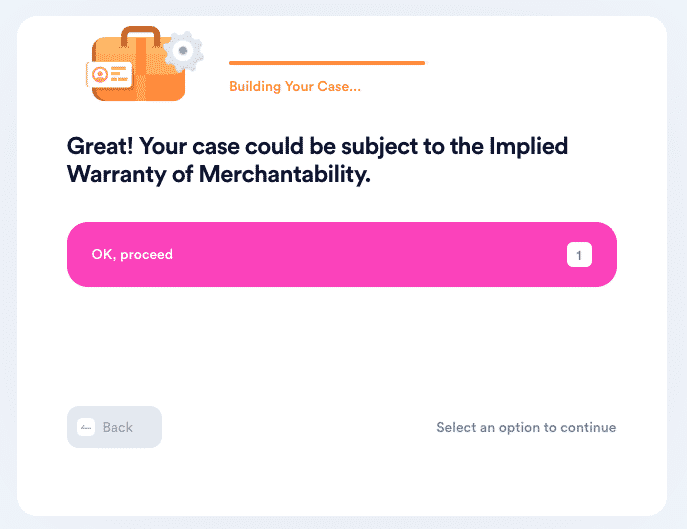 Don't Let Companies Take Your Hard-Earned Money!
People love to subscribe to all sorts of services—especially if there are free trials involved. The problem is that most of them forget that they signed up for anything in the first place. Companies are aware of this, which is why they auto-renew memberships as soon as the free trials expire.
Don't let them get away with it—use DoNotPay to sign up for free trials and cancel subscriptions right before they renew. If you want to save even more money, use our platform to learn how to handle high bills, parking tickets, college application fees, canceled or delayed flights, or faulty services you should get refunded for.
Use DoNotPay To Stop Illegal Activities and Earn off Scammers!
Our AI-powered platform can assist you in dealing with all sorts of scammers. If you got any of the following, the world's first robot lawyer will help you seek justice:
Do you want to protect yourself and your loved ones from stalking and harassment as well? Use DoNotPay to learn how! If the situation with a stalker escalates, our app is going to help you take them to small claims court by preparing all the paperwork and your court statement.
Don't stop there—check out how you can bypass phone number verification, claim any type of warranty, or pass any government test with flying colors!