A Guide to Claiming Craftsman Lifetime Warranty
Craftsman is a tool brand developed by Sears, a Chicago-based department store chain. According to BestOfMachinery reviews, it takes eighth place on the list of the best hand tool manufacturers in the USA.
Does Craftsman Have a Lifetime Warranty, and What Does It Cover?
Craftsman offers two types of lifetime warranty:
Full lifetime warranty

covering all defects regardless of their origin as long as the product is usable

Limited lifetime warranty

that covers defects in material and workmanship as long as the product is usable
The following table shows all product categories covered by these warranties and the exclusions that apply in each case:
Product Category
Full or Limited Lifetime Warranty
Exclusions

Hand Tools

Full

Mechanic's Tools

Full

Non-Electric Automotive Tools

Full

Stools

Lighting

Heat guns

Electronic tools

Lifting equipment

Wear-and-tear parts

Tape Measures

Limited

Legacy tape measurer models

Electronic Measuring Tools

Limited

No exclusions

Portable Plastic Storage

Limited

No exclusions

Lawn and Garden Care

Limited

Long-handled garden tools

Hoses and hose-end products (medium and light duty)
How To Claim Craftsman Tools Lifetime Warranty by Yourself
Once your Craftsman tool or piece of equipment breaks down, you can file a warranty claim by visiting the nearest Sears department store. Here are the steps you should follow:
Go to the official Sears website and select the

Locations

tab

Choose your state and find the nearest Sears department store

Bring the faulty item to the chosen shop and explain that you wish to claim a full/lifetime warranty for the product in question

Wait for the shop assistant to examine the damage
Depending on the type of failure, you may be entitled to a repair or replacement of the damaged item. Should your piece of gear qualify for repair, Sears will send it to the repair center and let you know once they fix it. In case of irreparable damage, you will get a brand new product on the spot, given that it's in stock at the moment.
Do You Need Proof of Purchase To File a Warranty Claim for Craftsman?
If you are trying to repair a product covered by a full lifetime warranty, you won't need to bring the receipt with you. This doesn't apply to the items under a limited lifetime warranty, for which you would need a valid proof of purchase in case of any repair request.
DoNotPay Makes Claiming Craftsman Warranty a Breeze
If you can't find any Sears stores in your vicinity, DoNotPay has got you covered. We can help you file a claim from anywhere in no time.
All you need to do is open our app in your and follow these steps:
Navigate to the

Claim Warranty

feature and pick

Warranty on a Purchased Item

Select the company and input the required purchase details

Describe the issue you have experienced with the item

Select

Submit My Claim
Thanks to our AI-powered technology, we will compose a warranty claim letter and send it to Sears on your behalf. Once the company processes your details, they will reach out to you and propose a solution for the reported issue.
This feature can also help you file a car or home warranty claim and deal with extended warranties for used cars.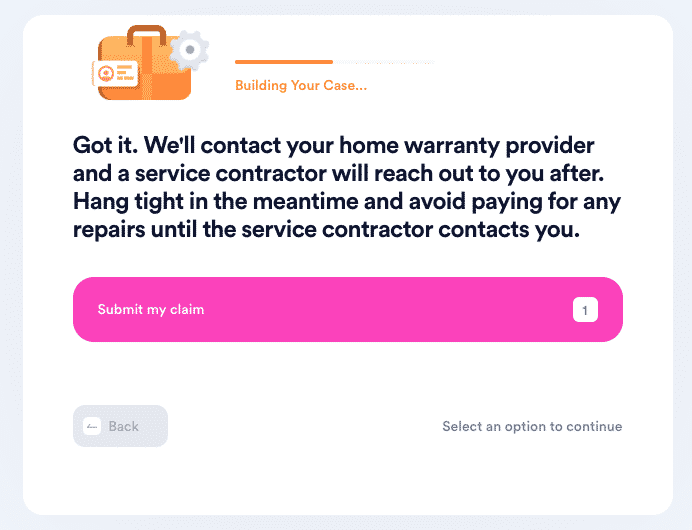 Submit an Appeal for Any Denied Warranty Claim With DoNotPay
If your claim gets rejected or a company doesn't want to cancel your extended warranty, you shouldn't get discouraged. Numerous merchants tend to make the claim procedure difficult and deny first-time warranty claims. Don't despair, because DoNotPay can support you in this situation too!
With our app, you can file an appeal against the company's decision within minutes. All you need to do is follow these steps:
Open DoNotPay and navigate to

Claim Warranty

Choose

Appeal a Denied Warranty Claim

Specify who rejected your claim—a manufacturer or an extended warranty provider

Tell us more about the company and provide us with the rejected warranty claim
We will generate an appeal letter and forward it to the company/provider in question.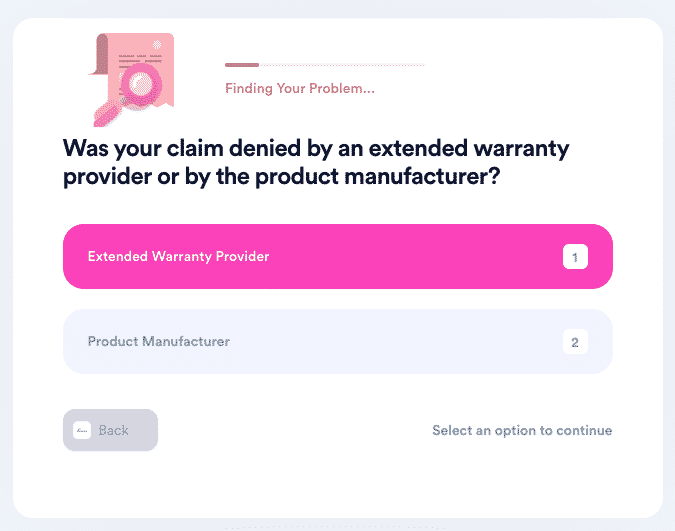 What Else Can DoNotPay Do?
With our Claim Warranty feature, you can file a warranty claim for any company or merchant, including Razer, Ridgid, Maytag, Skullcandy, and Gadget Guard.
Get familiar with various types of home warranties in America and learn how to get the best out of home warranty reviews by accessing our app from any !
Check out more features from our offer and get help with:
Appealing speeding tickets

Contesting traffic tickets