File a SolarEdge Extended Warranty Claim With No Effort
SolarEdge is a company that provides solar inverters, power optimizers, and monitoring systems for photovoltaic arrays. Its solar modules and solutions help businesses and individuals reduce their energy costs. SolarEdge offers extended warranties for some of its products.
If you need to file a SolarEdge extended warranty claim, you are in the right place. We will show you how to do it with DoNotPay—the easy way.
Which Extended Warranty Plans Does SolarEdge Offer?
Solaredge offers extended warranty plans for their inverters. Its standard inverter warranty lasts 12 years and can be extended from 20 to 25 years, depending on the model.
If you want to extend your warranty, you must do so within the first 24 months of purchasing the product.
You can check if you are eligible for filing an inverter extension warranty claim by accessing the official SolarEdge website and entering the product's serial number in the required field.
What Does the SolarEdge Product Warranty Cover?
In case you notice any defect on the inverter, SolarEdge will replace it in the next 48 hours, provided the Limited Warranty Product regulations cover the malfunction.
Here is a table of conditions under which the warranty will and will not apply:
Warranty Covers
Warranty Doesn't Cover

Defects in workmanship and materials

Misuse and negligence of the product

Modifications and alterations unapproved by SolarEdge

Failure to apply safety regulations

Accidents, third-party actions, or any events beyond SolarEdge's control

Damage during transport and shipping of the product
How To File a SolarEdge Extended Warranty Claim on Your Own
If you detect a fault on SolarEdge's product during the warranty period, you can file a warranty claim by sending an email to support@solaredge.com. You have to provide the following information:
A short description of the problem

Product's serial number

Scanned copy of the receipt or a warranty certificate of the product
If SolarEdge determines that the defect doesn't fall under the Limited Warranty Product regulations, they will notify you and explain their reasons for denying your claim.
File a SolarEdge Extended Warranty With the Help of DoNotPay
DoNotPay can help you file a warranty claim with no trouble. Our app will do most of the work, provided you perform a few easy steps first:
Open DoNotPay in your

Access the

Claim Warranty

feature

Select

Warranty on a Purchased Item

Select SolarEdge and provide some information on the issue
If you know your warranty details, we will use them to argue your case. If you don't, we will do it by using general warranty laws. After we submit the claim letter on your behalf, SolarEdge will contact you in no time.
We also provide assistance with car and home warranties. Visit our learning center to find out how!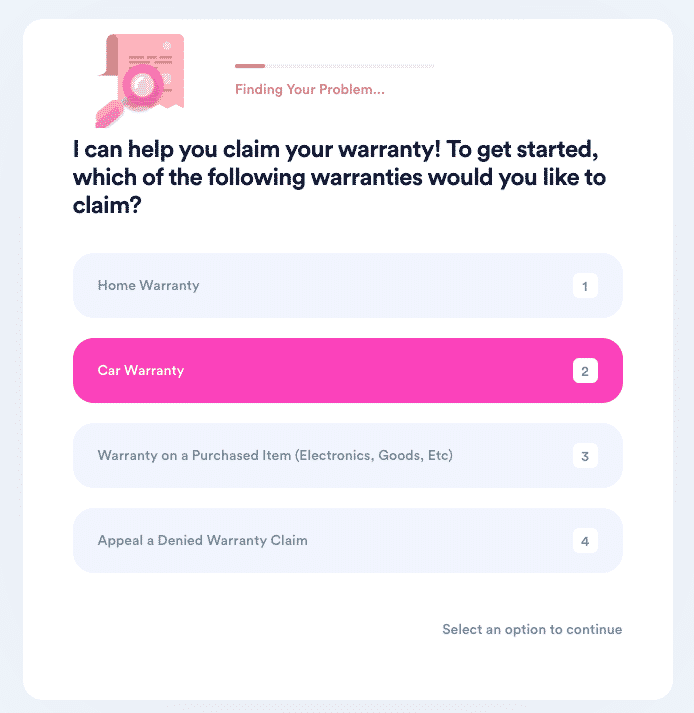 DoNotPay Can Help You Appeal a Denied SolarEdge Extended Warranty Claim
It is not unusual for companies to reject the file for extended warranty claims. If you find that SolarEdge is trying to drag out the process or flat out denies your claim, know that there is hope.
DoNotPay can help you appeal against their decision. With our assistance, you have a higher chance of getting your extended warranty claim accepted.
All you have to do is:
Access DoNotPay from your

Navigate to the

Claim Warranty

feature

Select

Appeal a Denied Warranty Claim

Indicate if you're appealing against the decision of an extended warranty provider or product manufacturer

Provide details about SolarEdge and the original warranty claim
DoNotPay will use the information you provided to submit the appeal letter in your name. You can expect a call from SolarEdge soon after they receive the letter.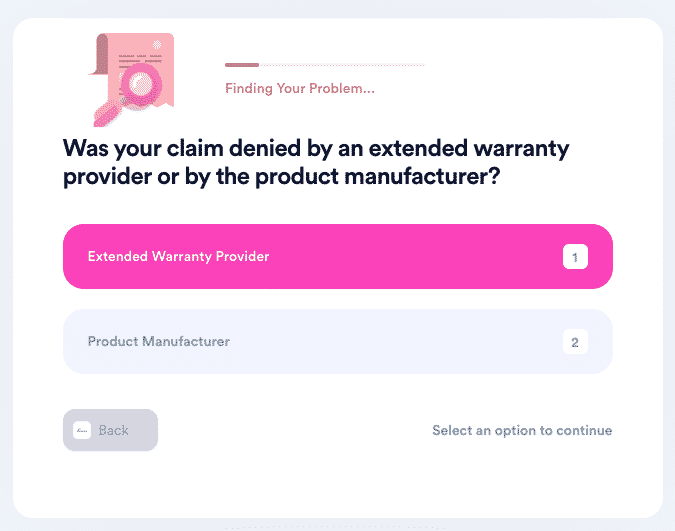 How Else Can DoNotPay Ease Your Bureaucratic Issues?
We can help you with other extended warranty claims, such as Costco Visa, Trane, or Sam's Club. DoNotPay is a great resource for home warranty reviews and information on home warranties across America.
If you need guidance through the process of claiming extended warranties for used cars or handling a dealer who refuses to cancel your extended car warranty, check out how we can solve those problems with ease.
Open DoNotPay in your and see how we can help you:
Dispute traffic tickets

Fight speeding tickets in different states