LMU Fee Waiver—A Guide to Waiving the LMU Application Fee
Loyola Marymount University (LMU) is one of the largest Roman Catholic universities in America. It offers 60 major degrees across six undergraduate colleges.
If LMU is one of your preferred schools, you should be familiar with the application process, college fees, and fee waivers. DoNotPay can help you waive college application fees not only when applying to LMU but also other schools in the U.S.
Learn About the Loyola Marymount Application Fee
Loyola Marymount University charges $60 for the application fee, which is close to the average college fee price in America. If you want to apply to LMU, you can do so:
College Application Fee Waiver—What It Is & Why You Need It
While the LMU application fee isn't too expensive, if you plan to apply to multiple safety schools, the costs can accumulate quickly. You will probably need to pay a few hundreds of dollars on SATs, ACTs, applications, and travel expenses for on-campus visits.
Even though some universities don't charge the application fee, most schools are pricey:
Applying to multiple schools increases your chances of enrollment, but it's also a large financial burden. Fee waivers are the best solution to save some money.
Ways To Get an LMU Fee Waiver
Loyola Marymount University doesn't have a fee waiver form on their website, but the school allows students to waive the application fee in three ways:
With the Common App

With the Coalition App

By getting the SAT fee waiver
A Guide to Getting the Common App Fee Waiver
The Common App's main purpose is to enable students to apply to multiple colleges without wasting time filling out each application form individually. The app also offers a fee waiver feature that helps applicants waive fees when applying to participating colleges.
To take advantage of the Common App fee waiver, log in to your account and do the following:
Select the

Common App

tab

Click on

Profile

Choose the

Common App Fee Waiver

option

Respond to the required questions
Once you submit the request, the Common App will mail the fee waiver form to your guidance counselor. He or she should fill out the form, confirm that you're eligible to get a fee waiver, and provide any additional documentation.
Even though this feature is useful, you can only use it to get fee waivers for 900 member colleges.
How To Get the Coalition App Fee Waiver
The Coalition App works on the same principle as the Common App—it helps students apply to multiple schools quickly, and it offers fee waivers for member colleges.
If you want to get a fee waiver through the Coalition App, follow these steps:
Log in

to your account

Go to

My Coalition Profile

Click on the

Fee Waiver

option

Check the boxes next to the criteria that apply to you
You'll be presented with the schools that allow you to waive fees based on your eligibility. One of the requirements is receiving the College Board fee waiver. You should consider waiving your SAT fee first if you still haven't taken the test.
How To Get the SAT Fee Waiver
To request the SAT fee waiver, you should contact your guidance counselor. The College Board sends fee waiver forms to high schools so he or she will have the required form you should complete. Your counselor will also help you fill out the form and tell you which documents you need to provide.
The primary purpose of the College Board fee waiver is to enable you to take up to two SATs and six SAT Subject Tests for free. It also covers the college application fee of member schools and offers other benefits, such as:
No fees for late registration

Free score reports to send to schools

Two reports of Question-and-Answer Service (QAS) or Student Answer Service (SAS)
DoNotPay Has a Better Solution for You!
If you're looking for a simpler, quicker, and more reliable solution to waive college fees, rely on DoNotPay. We will save you time by completing the form on your behalf and mailing it to the university in question.
Once you log in to your DoNotPay account from a , you can try out our convenient feature by following these steps:
Open our

College Application Fee Waiver

tool

Pick the fee you want to waive

Select the university you wish to apply to

Answer our questions and tell us if you need your counselor's signature
If you indicate that you want to obtain the counselor's signature and strengthen your application, we will send him or her the fee waiver form and explain your financial situation.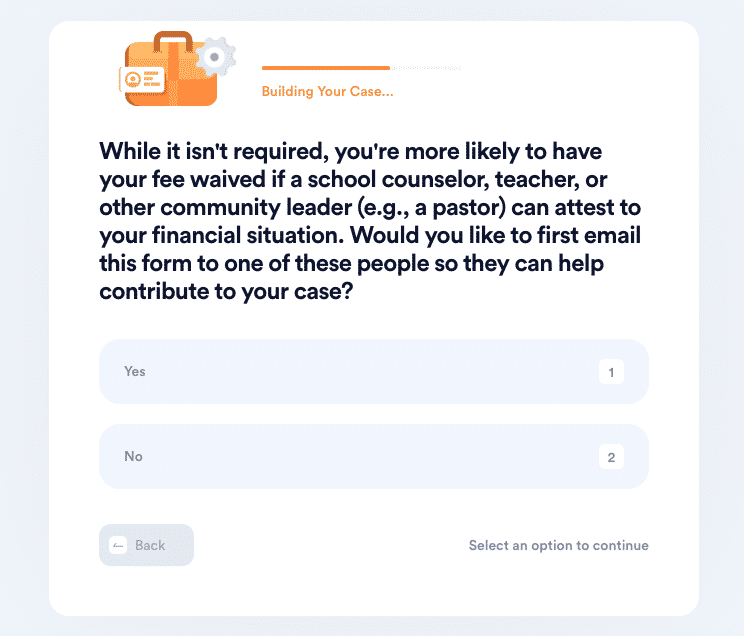 DoNotPay enables you to waive three types of fees:
New Student Application

Transfer Student

Enrollment Deposit
Can DoNotPay Help Me Request a Fee Waiver From Any College in the U.S.?
While the Common App can help you waive fees for 900 member schools, DoNotPay has a more extensive database. This allows our tool to send your fee waiver request to any university in the U.S.
With DoNotPay, you can easily send the request even to the most popular schools, such as:
Who's Eligible To Receive a College Application Fee Waiver?
Not everyone can be granted a fee waiver. To be eligible to waive college fees, you should fulfill some of the following requirements. You would need to:
Be enrolled in the

National School Lunch Program

or any other federal, state, or local financial aid program

Live in a low-income family that receives financial aid

Live in a foster home

Be homeless, an orphan, or a ward of the state
Some colleges grant merit-based waivers, while some enable students to apply for free if they show up on campus. Once you decide which schools you're interested in, consult your guidance counselor as he or she should have more info about every college's application fees.
What Else Does DoNotPay Offer?
DoNotPay helps you save a ton of money not only when it comes to college application fees but also various subscriptions and memberships. Want to start free trials on platforms such as Chegg, Cengage, or Amazon Prime Student, but you don't feel comfortable sharing your credit card info? Try out DoNotPay's virtual credit card upon registration and use our virtual credit card generator to avoid being charged once the trial is over.
Streaming services such as Hulu or Netflix are fun, but once exams get close, you'll appreciate DoNotPay's feature that enables you to cancel any membership in a few clicks.
Sign in to your account from a and allow us to help you solve any complex issue fast. DoNotPay will assist you with:
Disputing traffic tickets

Contesting speeding tickets