Top Hints for Navigating the Kate Spade Return Policy
Did you buy a faulty product from Kate Spade and want to return it? Find out how to do it in this foolproof guide to the Kate Spade return policy!
Don't fret if your round of shopping went wrong. You can return an unwanted item in just a few clicks—sign up for DoNotPay, and we'll help you submit a return request stress-free!
The Kate Spade New York Return Policy Interpreted
The Kate Spade New York return policy specifically states that all returnable items must be unworn and unused. This applies regardless of whether you want a refund or exchange.
Kate Spade New York allows you to return most products bought online at any of its retail stores.
Non-returnable items include:
Lighting
Legwear
Home fragrances
Beauty products
Personalized items
Note that you cannot return items bought from Kate Spade New York By Lenox to a regular Kate Spade New York retail store—you can only return them by mail.
How Do I Return an Item to Kate Spade?
You'll have to watch out for the return deadline, as Kate Spade New York allows you 30 days from the date of purchase to initiate a return request. If you've bought an item on sale, you'll get a shortened 14-day deadline instead.
If you meet the deadline and your item is returnable, the company will refund you to the original payment method.
This table contains the summary of available methods for making your return request:
| Method | Yes/No |
| --- | --- |
| Via mail | Yes |
| In person | Yes |
| Via phone | No |
| DoNotPay | Yes |
Bring the Product to a Kate Spade New York Store
If you bought an item at a Kate Spade New York retail store, the company's policy requires that you also return it in person. To make a return request this way, do as follows:
Go to the Kate Spade New York website
Use the Store Locator tool
Bring your original packaging slip, item hang-tags, and receipt
Visit the nearest store and find a staff member
State why you're returning the item and request a refund or replacement
Kate Spade New York will issue a replacement immediately. If you want a refund, the company will transfer it to your credit card balance within 30 days. Without the original receipt, you can only get store credit to spend on Kate Spade New York merchandise.
Ship Off Your Item by Mail
When returning your item to Kate Spade New York via mail, follow these general guidelines:
Take your original packaging slip
Fill out the Returns section on it
Place your items in the original packaging along with the slip
Affix the prepaid shipping label you got with the purchase—if you've lost the label, contact the company's customer service at 866-999-5283
Take your parcel to any post office and ship it off
After Kate Spade New York receives the item, your refund or replacement should arrive within 30 days.
How Can DoNotPay Help Out With the Return Process?
DoNotPay can help you if you're worried that a company will not uphold its end of the deal. Subscribe to DoNotPay, and we'll make the return procedure a breeze!
Our Return My Purchase tool can help you by:
Using your input to create a personalized return request letter
Sending the letter to the company
Setting the company a deadline for processing your request
Giving you a free shipping label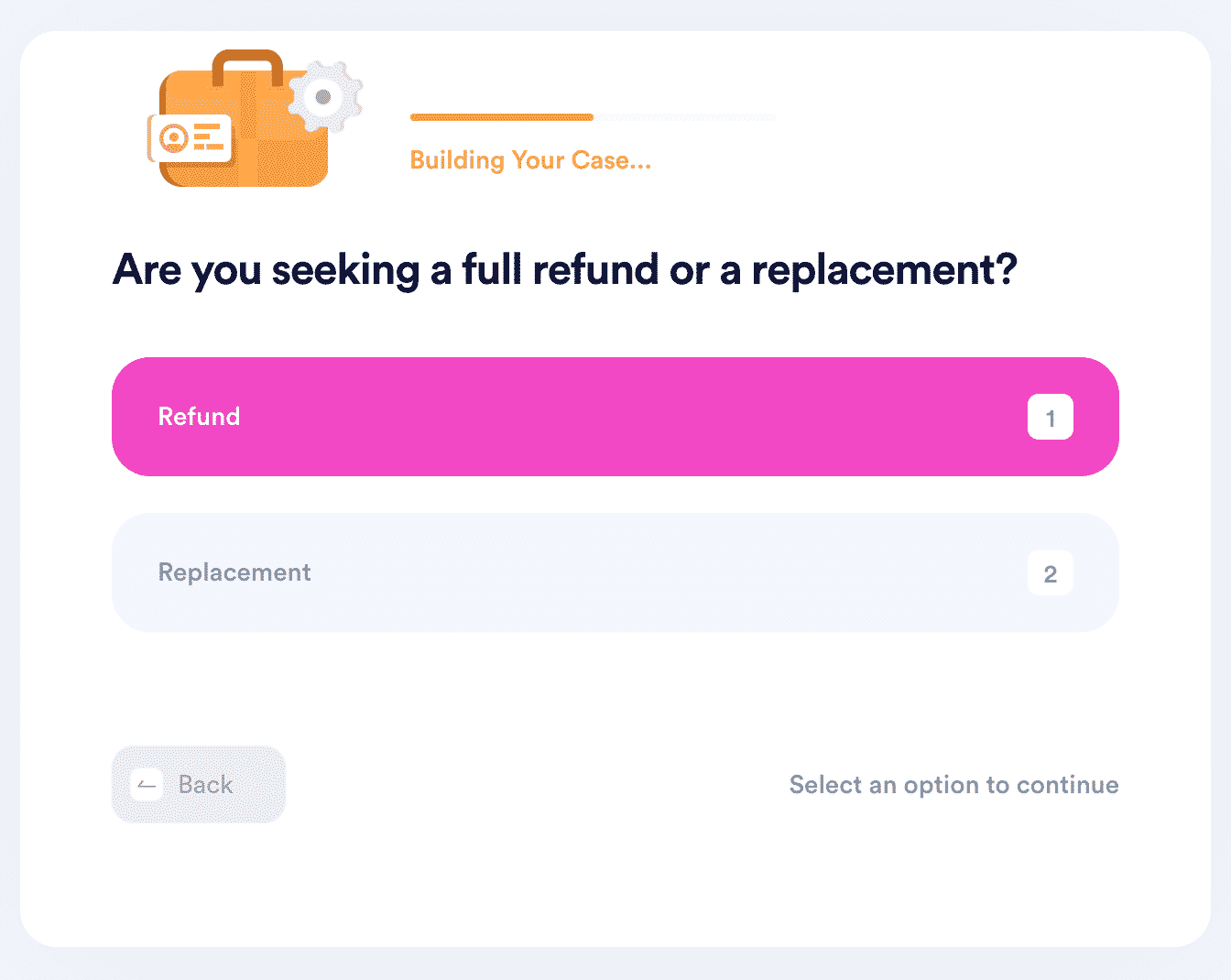 Initiate the return process with us in a few simple steps:
Choose the Return My Purchase product
Specify why you're returning the item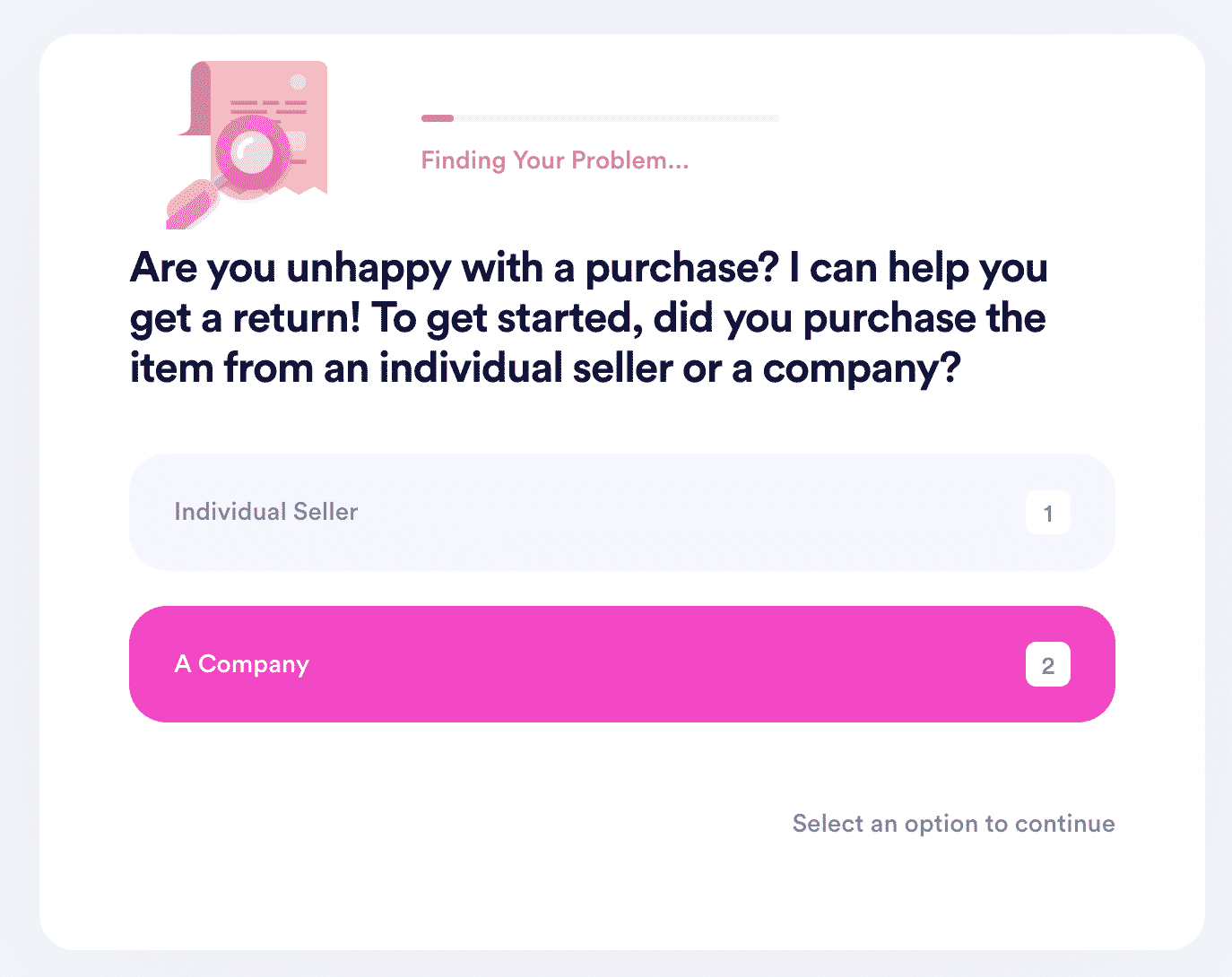 DoNotPay can help you initiate a return request with many other major companies, including:
The Company Doesn't Want To Refund the Damaged Item? We'll Help You Get Money in Other Ways
If the company you're dealing with refuses to issue a refund, you can take it to small claims court with your personal robot lawyer assistant. We'll create any legal document you may need for the lawsuit, have it notarized remotely, and fax it to anyone you specify in our short questionnaire.
Is there anything else you'd like us to help you with? No problem—rely on our AI-powered products to save the day:
Our Array of AI-Driven Products Doesn't Stop There
You can count on DoNotPay to lend a helping hand no matter what kind of struggle you're dealing with. Need financial assistance? Check out how our app can lower your utility bills and property taxes, appeal your parking tickets, get you a refund from any company or airline, find your unclaimed money, get you free raffle tickets, check your gift card balance and turn it into cash, and so much more!
Dealing with a noisy neighbor or a creepy stalker? Report them using our app! Want to get a refund for a late or missing parcel? Say no more—we'll help you get what's rightfully yours in mere minutes.