The Jimmy Jazz Return Policy Deciphered
Have you bought an item you don't want at Jimmy Jazz but are unsure how to return it? Check out our quick guide and learn the specifics of the Jimmy Jazz return policy.
—we'll help you submit a return request and get you a refund or replacement for the unwanted item problem-free!
All You Need To Know About the Jimmy Jazz Return Policy
The Jimmy Jazz return policy allows you to get a full refund of most unwanted products. At this time, the company does not permit exchanges. To be eligible for a refund, the item needs to meet several criteria, such as to:
Be new and unused
Be in its original container and packaging
Have store tags attached
Products that you cannot return to Jimmy Jazz include:
Underwear
Swimwear
Undergarments
Bodysuits
Jewelry
Leather care accessories
Jimmy Jazz Return Policy—How To Initiate a Return Request
If you aren't satisfied with your purchase, the Jimmy Jazz return policy sets a 30-day deadline for returning unwanted items.
Keep in mind that the available method of returning depends on how you purchased the item (online or in person). The following table shows you how to initiate the return request in each scenario:
| Purchase Method | You can Submit a Return Request |
| --- | --- |
| Jimmy Jazz online shop | On the Jimmy Jazz website |
| Retail store | In person |
| Amazon | Via Amazon |
If you've bought your item on Amazon, your purchase will be liable to that company's return policy. Bear in mind that Jimmy Jazz will not be accountable for any mishap with a third-party vendor.
Returning Your Item In Person
When returning your item to Jimmy Jazz in person, do as follows:
Go to the Jimmy Jazz website
Use the Store Locator tool to find the nearest Jimmy Jazz store
Bring the item along with your purchase receipt and item tags
Visit the store and request a refund from a staff member
The store will refund you to your original payment method. Without the receipt, you can only receive store credit that you can spend on Jimmy Jazz merchandise.
Requesting an Item Return to Jimmy Jazz Online
If you'd rather submit the return request to Jimmy Jazz online, follow these steps:
Visit the Jimmy Jazz website
Find the Returns section
Enter your item ID, ZIP code, and email address
Select the item you want to return
State your reasons for returning it
Enter the original payment method
Confirm your return request
Print the shipping label Jimmy Jazz emails you
Put your item in its original casing and include your purchase invoice and shipping label
Ship it off at any major post office to this address:
85 Metro Way Secaucus, NJ 07094 USA
After Jimmy Jazz processes your return request, you should get the refund in 5–10 days.
Note that Jimmy Jazz will hold you accountable if the item gets lost or damaged during transport. The company will also deduct $7.95 from your refund for the return label.
Return Your Item the Faster Way With DoNotPay!
No company can guarantee the exact date when you'll get your refund—five days can easily turn into weeks as you wait for your request to be processed. Subscribe to DoNotPay so you can skip any unnecessary hassle when returning a product to Jimmy Jazz!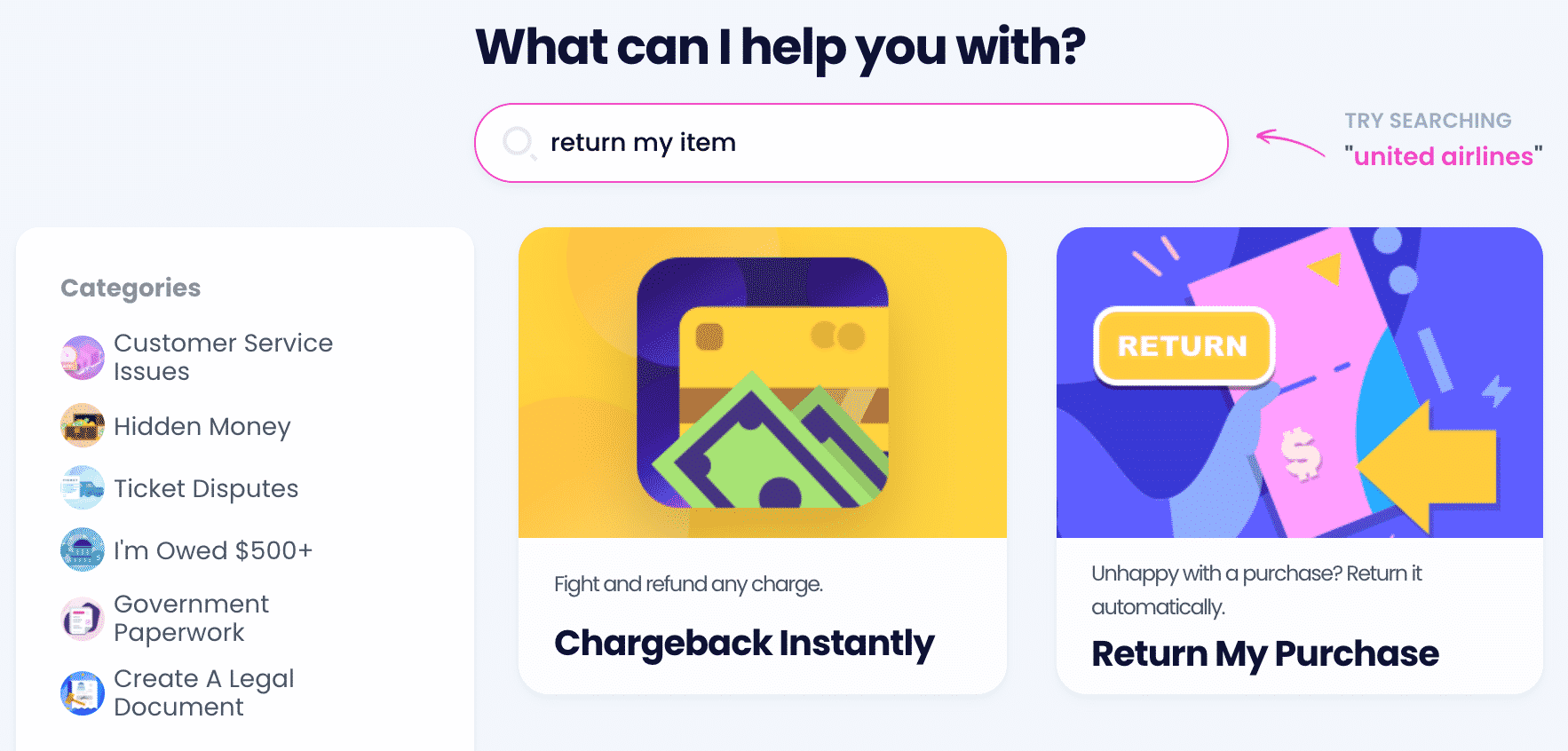 Take these easy-to-follow-steps and get your refund in record time:
Pick the Return My Purchase product
Specify the details of your return request
Our Return My Purchase tool will help you out by:
Using your input to formulate a personalized item return letter
Forwarding the letter to the company on your behalf
Setting the company a deadline to make sure they process your request promptly
Giving you a free shipping label so that you don't have to pay the transport fees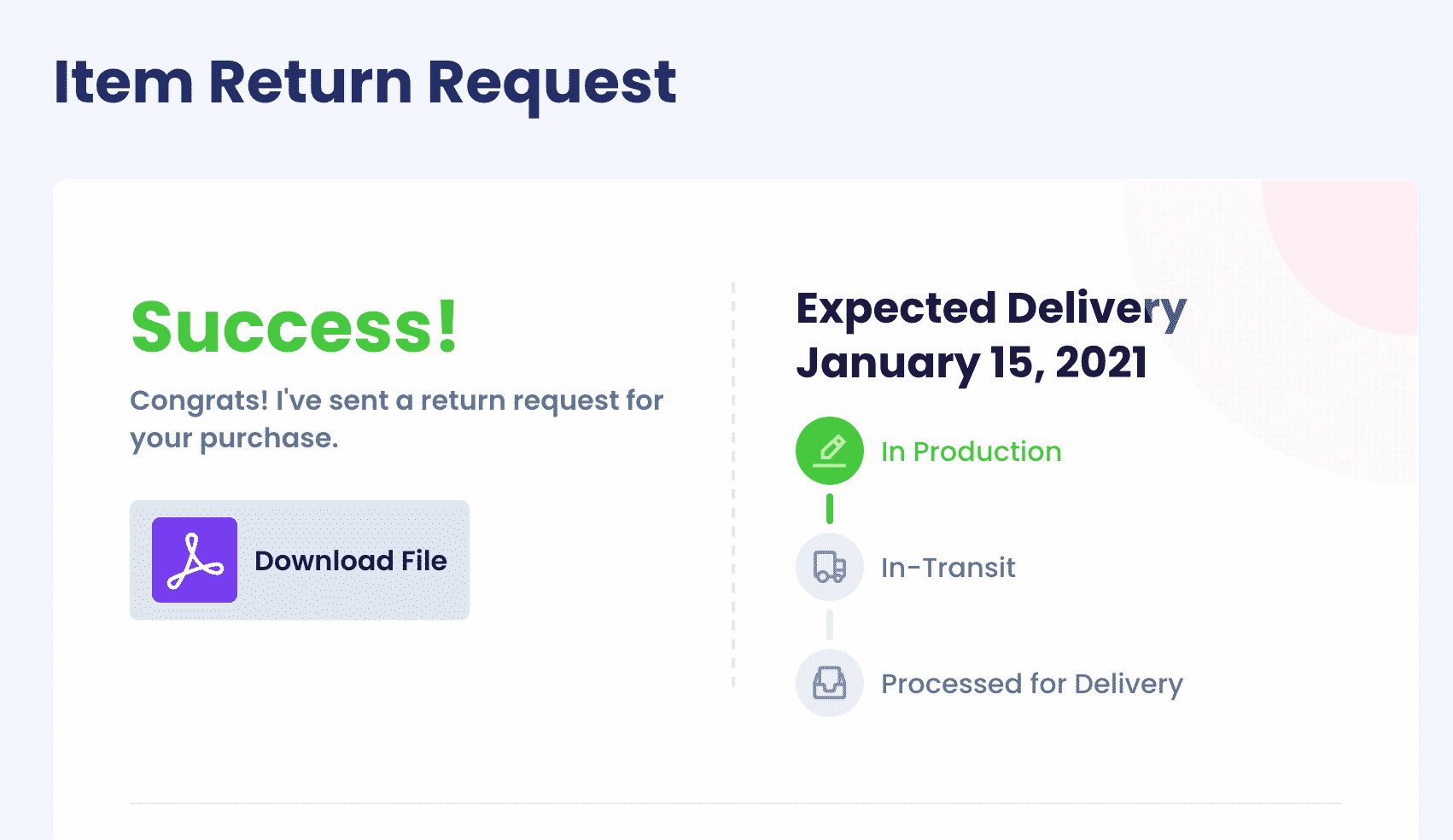 If you need to return your item to another store, this table shows a sample of other big-time retailers DoNotPay can also help with:
Say No to Bad Purchases—DoNotPay Will Help You Get Back What's Rightfully Yours
Have you finally returned that damaged item thanks to DoNotPay's nifty product? Our app's capabilities don't stop there—we can assist you in doing so much more!
Do you believe you have some missing money? Use the world's first robot lawyer before the government claims your assets! Are you feeling lucky and want to enter sweepstakes without purchasing anything? DoNotPay will sign you up for them automatically! Looking for ways to save on property taxes or utility bills? We'll show you the way. Don't want to get charged for free trials that auto-renew into paid subscriptions? We'll help you cancel them on time.
No matter the issue you're facing, DoNotPay is here to resolve it in a split second.
Need Help With Anything Else? Your Robot Lawyer Will Provide!
Aside from sending return request letters to a myriad of companies in your stead, we can also help you get refunds from airlines, earn off robocalls, appeal parking tickets, protect your intellectual property, claim insurance and warranty, and so much more!
Are you dealing with rude neighbors or mean coworkers that discriminate against you? DoNotPay will help you fight for your rights!