Understanding the "Item Will Come in Original Packaging, but the Packaging Will Be Damaged" Disclaimer
Have you ever browsed through the Amazon Warehouse website and saw the "Item will come in original packaging, but the packaging will be damaged" or a similar disclaimer? If you're wondering what this statement means and whether you should buy the product in question, you're in the right place!
to learn more about Amazon Warehouse and find out how to deal with late, damaged, or missing Amazon packages hassle-free!
Everything You Should Know About Amazon Warehouse
Amazon Warehouse resells pre-owned products that have been returned for various reasons. These items can be like new, slightly used, or damaged, and they are sold at a discount.
Amazon employees inspect and grade each product to establish the quality and price—the bigger the damage, the higher the discount.
Most items have a disclaimer regarding the damaged packaging, which doesn't mean the product itself is faulty.
Amazon Warehouse—Product Conditions
Each product has a listing comment that describes its condition:
Product Condition
Description
Renewed
A renewed item works and looks like new, and it has minimal or no signs of wear. This product has no visible damages from 12 inches away. You'll receive all accessories, and the product will come with Amazon Renewed Guarantee
Used—Like New
A like-new item is in perfect working condition. The product might come in original packaging with minor damage
Used—Very Good
A product classified as "Very Good" is in good working condition even though it has seen limited use. Minor scratches and other cosmetic damages might be present. Some items might come without accessories
Used—Good
An item that remains in good working condition but shows wear and has cosmetic damage is classified as "Good." The product could be missing:

Accessories
Some parts
The instruction manual
Assembly tools

Used—Acceptable
An acceptable product continues to function properly even though it's fairly worn. This item will come with dents, significant scratches, and other signs of cosmetic damage. It could also be missing accessories and most parts as well as assembly tools and the instruction manual
Can You Return Amazon Warehouse Items and Get a Refund?
Did Amazon send the wrong item, or does the product you ordered have more cosmetic damage than you expected? Whichever the case might be, you have the right to file a delivery claim, return the package, and:
Request a refund
Exchange it for another item with the same listing condition
To be eligible for a refund or exchange, you need to return your product within 30 days from the day of purchase. Items with the "Renewed" listing condition are covered with a 90-day return policy.
A Guide to Requesting a Refund From Amazon
If you'd like to request an Amazon refund for damaged products, you can do so by following these steps:
Visit the Your Orders page
Pick the order
Choose Problem With Order
Select the issue
Click on the Request Refund option
Provide a detailed explanation and click on Submit
You can also ask for a refund by calling Amazon customer support or contacting them via an online form. To complete the form, do the following:
Open your Amazon account
Go to the Help & Customer Service page
Click on Returns & Refunds
Complete further instructions
Note that you'll probably have to return the product to be eligible to get your money back. Sometimes, Amazon approves a refund request without the product return.
How To Return Your Amazon Warehouse Package
To return an Amazon item, follow these steps:
Go to the Your Orders page
Click on the Return or Replace Items option
Choose the item you'd like to return
Select the reason for return
Pick whether you want a refund or a replacement
Click on your preferred return method
Pack your item and send it with the return label provided by Amazon
Does this process seem time-consuming? Rely on DoNotPay's Item Return Request product and deal with a faulty product in a jiffy! We will:
Generate a custom item return request letter
Send the letter to Amazon
Let Amazon know whether you want a refund or replacement
Use DoNotPay To Get a Refund for Your Amazon Delivery Hassle-Free
If you—like most people—find the Amazon refund process too confusing, you should rely on DoNotPay. We can help you handle delivery complaints in a matter of minutes.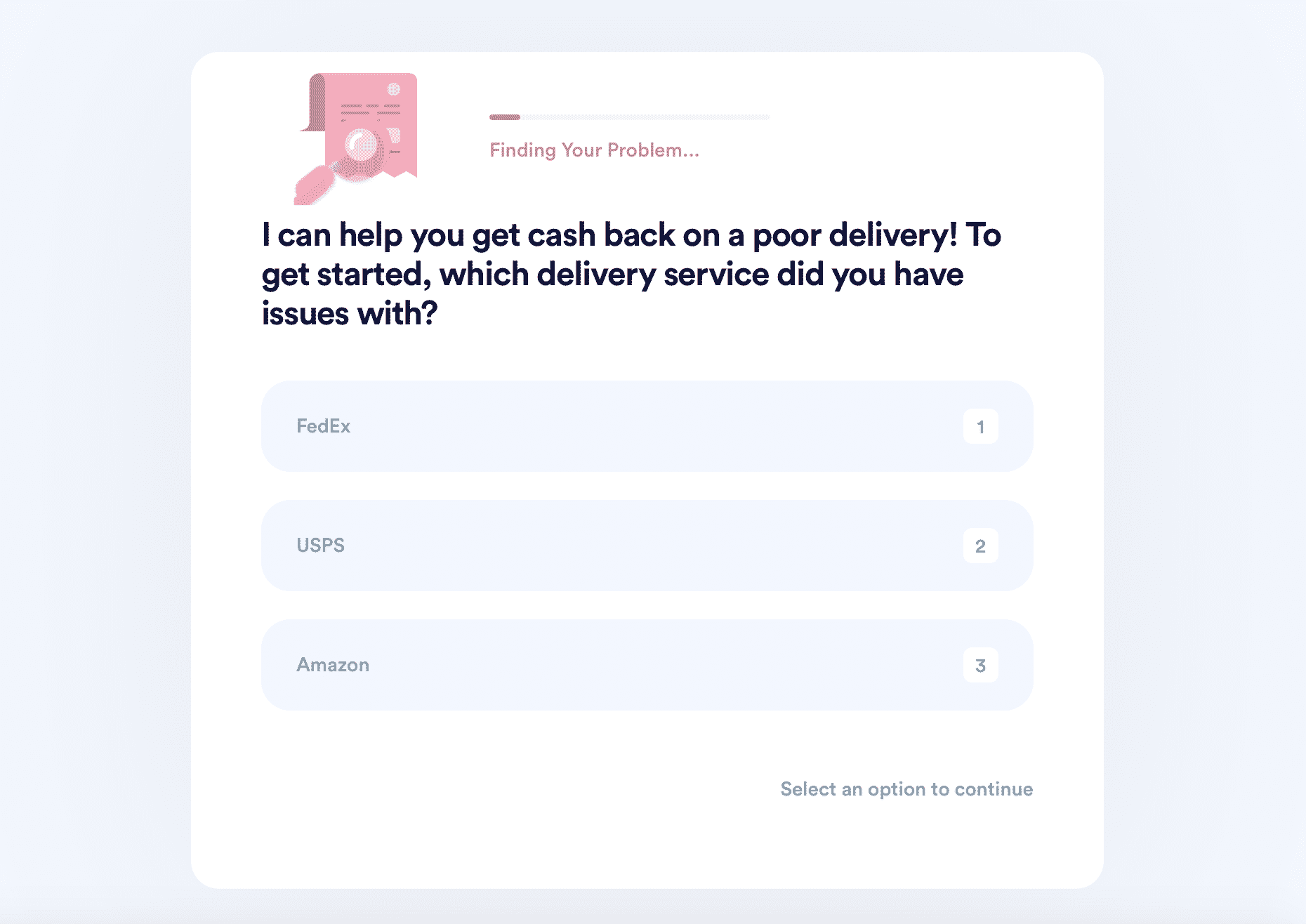 To report your issue and request a refund from Amazon for a late, damaged, or missing package, do as follows:
Enter the delivery issue you're facing in the Search tab (e.g., late delivery, damaged item, and similar)
Pick the courier
Describe the problem you're facing
We will submit the claim on your behalf.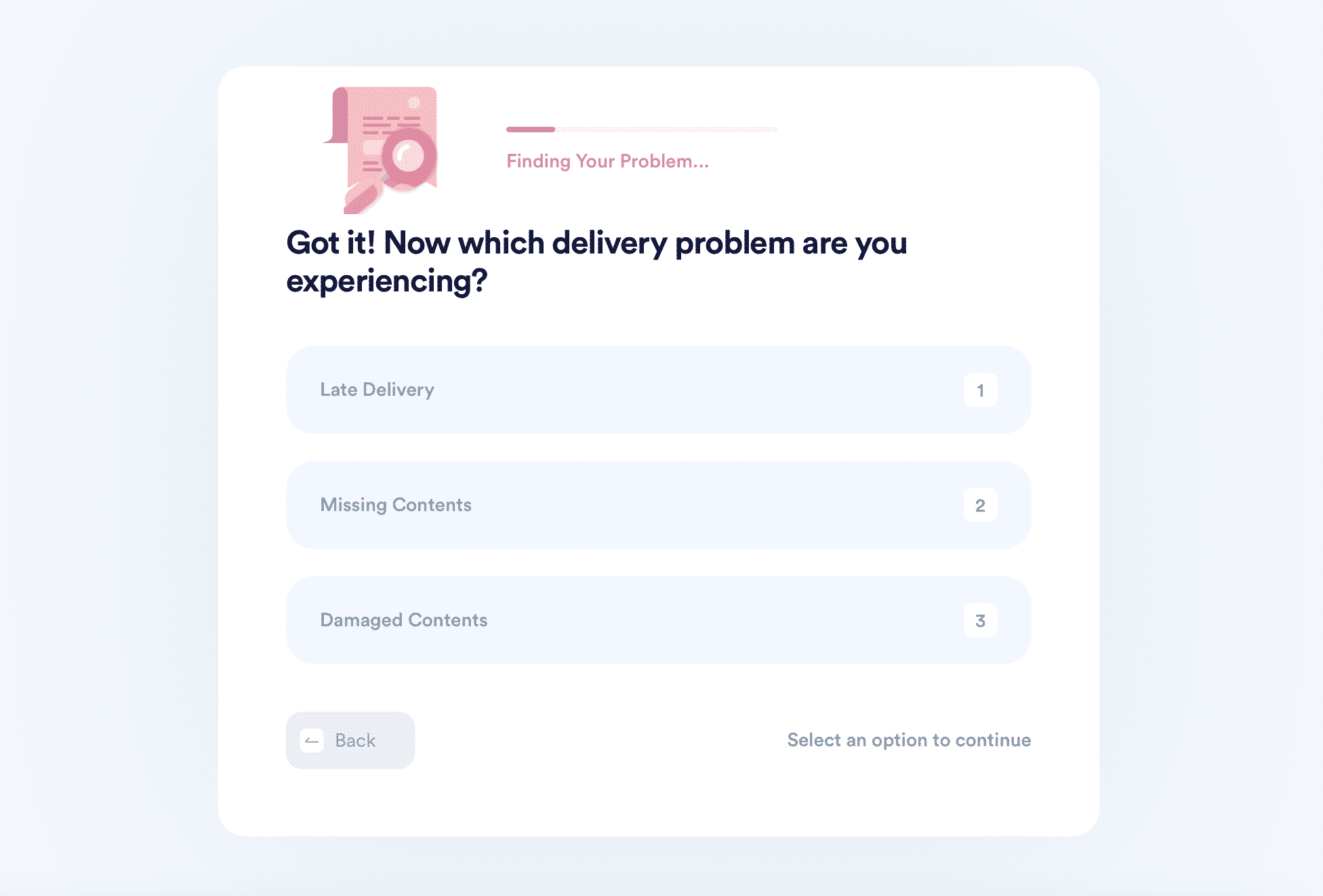 Besides helping you get your money back for a damaged Amazon warehouse item, DoNotPay can also assist you with:
Find Hidden Money With DoNotPay Effortlessly
Our app can do more than request delivery refunds for you. We can help you identify all your hidden expenses and save your money for more relevant matters. If you use DoNotPay, you can:
Earn Some Extra Cash With DoNotPay's Help
Not only can we eliminate all hidden expenses you have, but we can help you put more money in your pocket! We don't let you forget the smaller but meaningful gains you can make from gift card cash backs, raffle ticket wins, or warranty claims. Our nifty app can also assist you in getting some serious cash by way of chargebacks, insurance claims, airline compensation, college fee waivers, paid clinical trials, or crime victims compensation. We can also show you how to sue any company or individual for compensation in small claims court.