All the Info About Medical School Application Fees in One Place
It's not a secret that students who wish to apply to medical schools will have to spend a large amount of money during the process. If you are among them, prepare as much as $10,000 to get into the school of your choice.
This is because the process is more complicated compared to other school applications, and there are more college fees to be paid. We will go through them all and provide valuable information on lowering your expenses.
Med School Application Fees and Other Expenses
Forget about SAT and ACT tests—the first cost you will come across as a medical school applicant is the MCAT. You will be able to take this test on one of the 30 days it's available during the year and spend anything between $300 and $370, depending on how early you apply. If you decide to cancel the test, you will need to pay additional fees.
Once you are done with this part, you move one to the first of your application fees. Yes, there is more than one.
What's the AMCAS Primary Application Fee?
The first among your application fees for medical school is the American Medical College Application Service (AMCAS). You will need to set $170 aside for the first school you apply to. If you don't want to risk getting rejected, you'll apply to more schools and pay an additional $41 for each of those primary applications.
So far, you are out of more than $500, but there's more—secondary medical school application fees.
How Do Medical School Secondary Application Fees Work?
Secondary application fees for med schools are not a mandatory step for all universities. This is a school-specific choice, and you will need to check with the ones you're interested in if it is a necessary step. You can expect to spend between $75 and $100 on secondary or supplemental application fees.
A List of Medical Schools With Secondary Application Fees
You can check out some of the most popular medical schools in the United States and the cost of their secondary application fees in the table below:
There is a way to get these fees waived—students who have obtained the AMCAS fee waiver can have their secondary fees removed as well.
How the AAMC's Fee Assistance Program Can Help You
You can get both the primary and secondary fees removed if you use the AAMC's Fee Assistance program. This program offers fee waivers to students based on their household incomes.
This is in direct correlation with the U.S. Department of Health and Human Services' poverty level guidelines. Students with a total family income that is 400 percent or less of the poverty level for their family can have the fee assistance.
There are some other criteria needed. To be eligible for AAMC's Fee Assistance Program, you need to:
Be a United States citizen

Have an asylee or refugee status by the United States government

Receive Deferred Action for Childhood Arrivals (DACA)

Be a U.S. national

Wait for a refugee or asylee status approval by the U.S. government

Be a lawful permanent resident (LPR) of the United States (a green card holder)

Have a U.S. Employment Authorization Document (EAD card)
College Application Fee Waivers for Other Schools
If you want to keep your options open and are not sure if medical school is the direction you want to go, you can always check out other university options. The process is less complicated, but you will still have to set aside a hefty amount of money for application fees.
There is a way to save hundreds of dollars if you are eligible for a fee waiver! Getting your fees waived is easier than for med schools. The qualifications for most schools include you having financial difficulties. If you can prove this, you should be able to get your fee waived without trouble.
If you are a grad student, you will have even more criteria for getting a fee waiver, and that includes participation in chosen programs, such as AmeriCorps or Peace Corps.
The process of being granted one such waiver can be complicated if you choose to follow the school's options and request them through the Common App, which is the most popular way.
If you want to get a fee waiver fast and easy, you should use DoNotPay!
Use DoNotPay To Waive Application Fees for Other Universities
DoNotPay may not be able to help you waive fees for medical school applications, but we are here for any other application fee you want to skip paying. If you are still not sure which way you want your future to unfold and want to keep your options open, you can count on us.
DoNotPay can help you with:
New Student Application Fees

Transfer Student Fees

Graduate Student Fees

Test fees

Enrollment Deposit Fee Waiver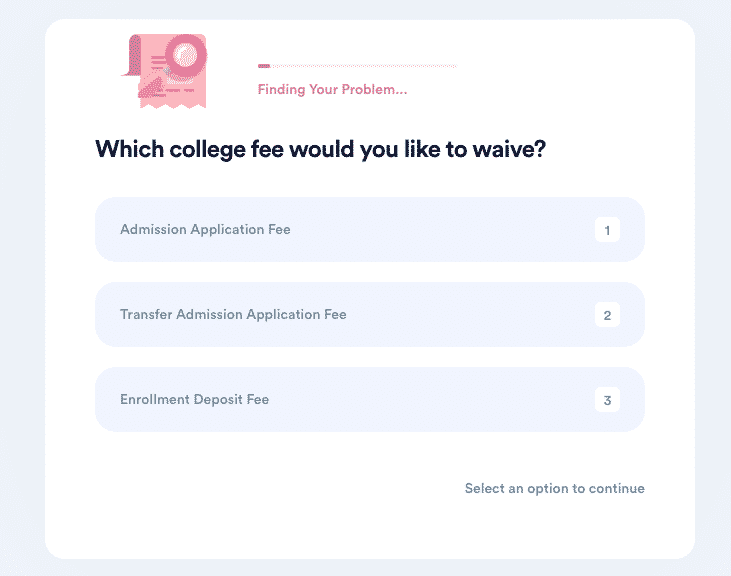 Our large database includes every university in the United States, and you can request a fee waiver in a few clicks. These are the only directions you'll need to follow:
Access DoNotPay from any

Navigate to the

College Application Fee Waiver

feature

Select the fee you want to bypass paying

Choose the school you are applying to

Tell us more about your financial situation by answering some questions
Sometimes you'll need a signature from your school counselor. If this is the case, you can let us know when you fill out the form. When this is not a mandatory step, DoNotPay will send the form straight to the university's financial aid office.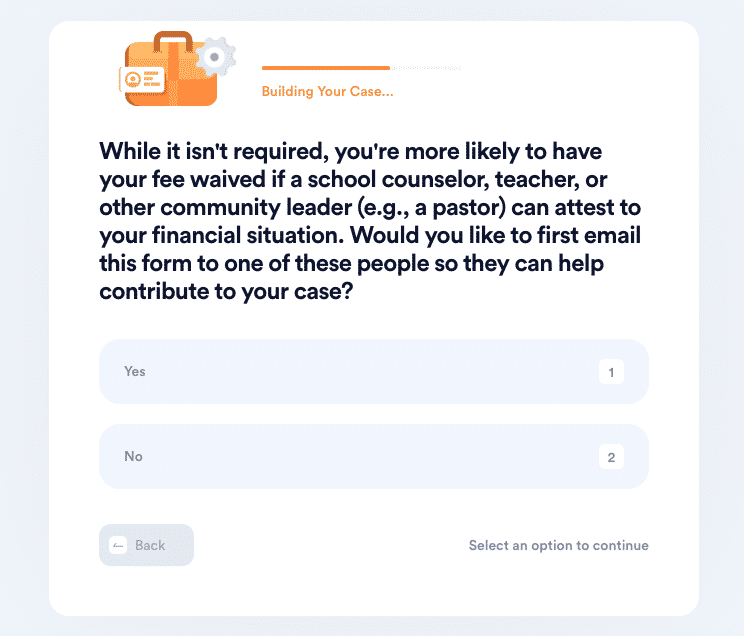 DoNotPay Is the Virtual Assistant You Need
If you are interested in learning more about interventional studies, you can count on DoNotPay to show you the best offer across the country. If you are looking for clinical trials based on a certain disease or a condition, we can help you locate medical studies for HIV, autism, diabetes, Parkinson's, or rheumatoid arthritis, for example.
If you want to participate in clinical trials in specific states, you should check out our guides for Texas, Indiana, Michigan, New Jersey, or Philadelphia.
DoNotPay can also help you manage medical bills, tell you what the best loans for them are, and if there are any consequences for not paying them.
Access DoNotPay from a to see all the other features we have to offer:
Fighting traffic tickets

Disputing speeding tickets