Everything You Should Know About Residential Home Warranty
Every homeowner should consider obtaining a home warranty. It offers a practical and hassle-free way of fixing broken appliances at a significantly reduced price. By paying a monthly fee, you can relax knowing that your home is covered at all times during the warranty period. Residential Warranty Services Inc. is a long-standing company that claims to offer its clients an all-encompassing service at an affordable price. This article will help you if you want to learn all about the company's warranty coverage and the best way to file a warranty claim.
What Does RWS Home Warranty Cover?
Residential Warranty Services Inc. offers two home warranty plans—Simple Policy and The Advantage Plan.
The price of the Simple Policy depends on the house's square footage and starts from $435 for 1500 sq ft. The plan offers standard warranty coverage of:
Central heating system

Central air conditioning system

Plumbing

Electrical systems

Water heater

Range/oven

Garbage disposal

Exhaust fan

Sump pumps

Garage door opener

Dishwasher

Refrigerator
Within the standard offer, the Simple Policy includes components that are often excluded from other companies' home warranties.
The Advantage Plan is even more comprehensive. In addition to the standard warranty coverage of the Simple Plan, it includes items such as a pool, a spa, and garage door spring. You can find more details in the Simple and The Advantage plan brochures.
How Can You File an RWS Warranty Claim on Your Own?
Here is a table of possible methods for filing a Residential home warranty claim:
| | |
| --- | --- |
| Can You Claim Your Warranty Via | Yes/No |
| DoNotPay | Yes |
| Email | No |
| Company Website | Yes |
| Letter | No |
| In Person | No |
| Phone | Yes |
Filing a Claim via the Official Website
RWS allows you to file a warranty claim via an online form on their official website. You have to provide personal information and a brief description of the problem and hit Submit at the bottom of the page.
Requesting Service via Phone
If you need to contact RWS and file a service request, you can dial 1-800-544-8156.
Judging by the reviews, RWS has a reputation of avoiding to honor its part of the agreement. Customers complain that the support service is often unresponsive when you try to reach them using available methods. They use all kinds of excuses to deny a claim or drag out the process long enough for you to drop it. All the more reason to use DoNotPay!
How To File a Residential Warranty Services Claim With DoNotPay
We offer a simple way of claiming your home warranty. When something in your home breaks, the last thing you want to do is go through a grueling process of filing a claim and waiting for a response. Our app will do most of the work, as long as you give us the essential information.
Access DoNotPay from your and follow these instructions:
Select the

Claim Warranty

feature

Select

Home Warranty

Enter Residential Warranty Services Inc. and answer a few questions

Click

Submit
After that, DoNotPay will send the claim letter to RWS on your behalf.
You won't have to wait long before the staff contacts you to arrange a maintenance service.
If you are interested in some other home warranty companies, you can check out the reviews or find out what the best home warranty companies in America are.
We can also help you file claims for car warranties and handle warranties for used cars.
RWS Has Denied Your Claim? DoNotPay Can Help You Appeal It!
If you are one of the unlucky RWS customers whose warranty claim has been denied, there is something you can do about it. When the company denies your claim, but you still think you have a case, you should use DoNotPay to submit an appeal.
You'll only need to follow these simple directions:
Select the

Claim Warranty

feature

Pick the

Appeal a Denied Warranty Claim

option

Provide us with details about the company and your original warranty
We will take matters into our own hands and submit an appeal letter. You can expect a call from RWS not long after they receive it.
If you ever need to file an appeal against a dealer who refuses to cancel an extended warranty, you can always count on DoNotPay!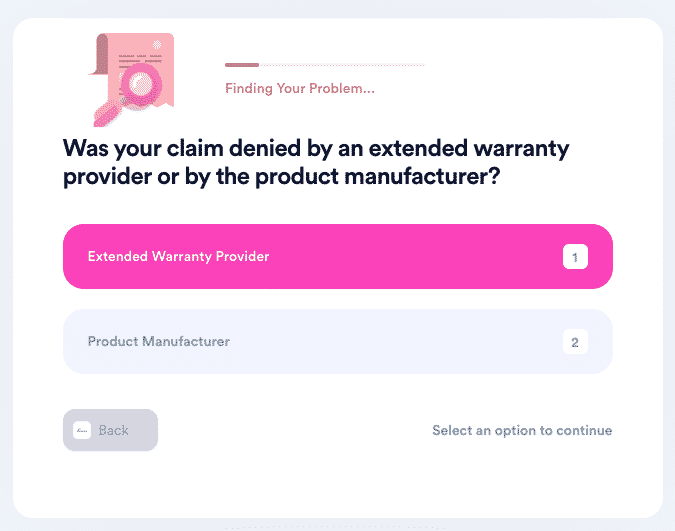 Make Everyday Tasks a Breeze With DoNotPay
Take advantage of our expertise and find out what other types of warranty favors we offer.
We can help you file extended warranty claims for Ford, Kia, or Toyota. If your Samsung microwave or Apple AirPods break, you can turn to our app!
Open DoNotPay in your and check out how we can simplify:
Fighting speeding tickets in different states

Contesting traffic tickets