The Fingerhut Return Policy—Everything There Is To Know
Not so sure about your Fingerhut purchase? Luckily, there is a way to return your item and get your money back.
Skimming through the content on the company's website, there is no doubt that the Fingerhut return policy is a piece of work. Don't let that discourage you and make you stick with an unwanted product—DoNotPay has a way to start your return in a flash, and we'll shed some light on it!
to return anything stress-free!
The Basics of the Fingerhut Return Policy
The Fingerhut return policy for most items is 60 days from the date when you placed the order. The following items are exceptions, and you must return them within 30 days of placing the order:
Computers
TVs
Tablets and other devices that need an internet connection
Camcorders
Digital cameras
Video game systems
Drones
Air conditioners
Air purifiers
Heaters
Generators
Air mattresses
Holiday decorations
Items With Special Return Conditions
You can return a cell phone only if you received it as faulty or damaged and are exchanging it for an identical device. As for movies, music, video games, and software, you must return them unopened (so that the factory seal remains intact) and unused. Otherwise, identical product exchanges are impossible.
Refused deliveries can only be returned for a refund—no exchanges are allowed in such instances.
Damaged/Defective/Duplicate Items and Items You Didn't Order
According to the Fingerhut return policy, you will have to pay shipping fees if the returned items are damaged or defective. It also applies to duplicate items or anything you didn't even order. The company will inspect the condition of every returned product reported as defective.
Non-Returnable/Non-Exchangeable Items
The following items do not qualify for a return or an exchange:
Partial sets (applicable for products sold in sets)
Face masks
Hand sanitizers
Non-defective personalized/customized products
Defective mattresses, mattress sets, box springs, and foundations
Product Concerns Exceeding the Return Period
If your concern exceeds the return window of 60 or 30 days from placing the order, refer to the specific manufacturer. In case you did not receive a product manual that contains warranty information, you need to find the company on the manufacturer list and call the corresponding phone number.
For items covered with an extended protection plan purchased through Fingerhut, contact 1-866-813-2931.
How To Return a Fingerhut Product on Your Own
The Fingerhut return policy enables mail returns only. Check how to return the orders that came with the packing slip and those that came without it.
Orders With Packing Slips
If you received a packing slip, follow these steps:
Find the return form on the original packing slip
Fill in the form and include it in the box
Remove the shipping label from the bottom of the form
Attach the shipping label to the box and remove old labels or bar codes
Ship the package to 6250 Ridgewood Road St. Cloud, MN 56303
No Packing Slip
If you did not receive a packing slip with a prepaid return label, follow these steps to initiate the return process:
Sign in to your Fingerhut account
Select My Orders on the left side of the page
Click on Returns Center
Find your order and select the items you want to return
Click Print Label
Ship the package to 6250 Ridgewood Road St. Cloud, MN 56303
If you intend to use Fingerhut's prepaid return label, make sure to write down the tracking number.
Fees
You will pay a $7.95 shipping fee if returning an item using Fingerhut's prepaid return label. If you need to make an exchange, you can find the options on the return form.
You will be charged a $50 shipping fee for oversize and curbside orders, for which no prepaid return labels are available. They are also not available for the Fingerhut FreshStart orders.
Return an Item With No Bother and Shipping Fees—Use DoNotPay!
Companies tend to promise easy returns, but in most cases, it gets complicated. Returns often get rejected, and there can be a lot of miscommunication along the way. Sending a well-thought-out written request is your best bet to avoid this, and you can use DoNotPay to help you out!
Follow these steps if you want our app to generate an airtight return request letter:
using any web browser
Click on the Return My Purchase product
Answer questions about your purchase and include any available photos
Click on Submit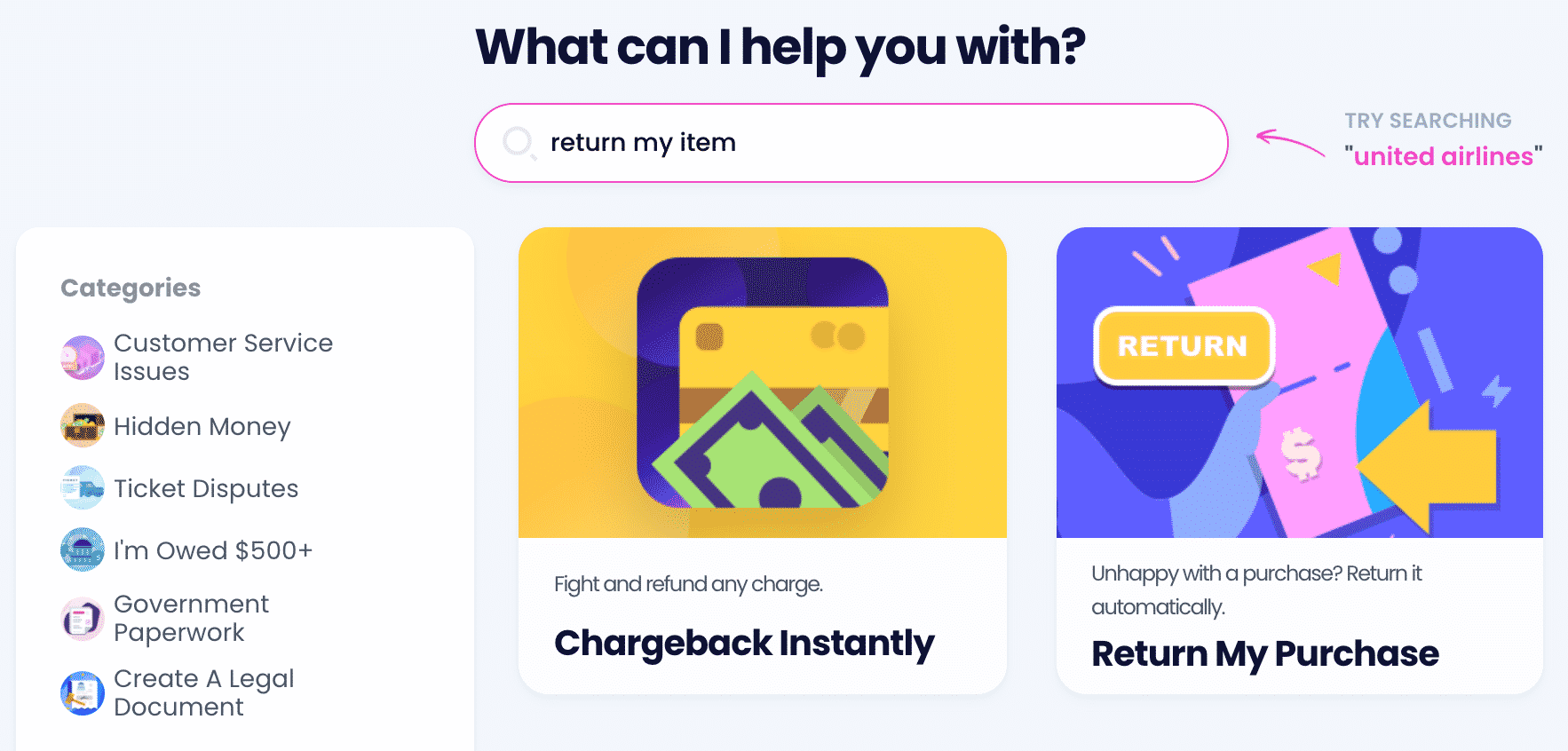 We will compose a custom return request letter and send it to the company, including a deadline for processing the request. That way, we ensure that your request won't be overlooked. We will also get you a free return label, so you can send your product back for free.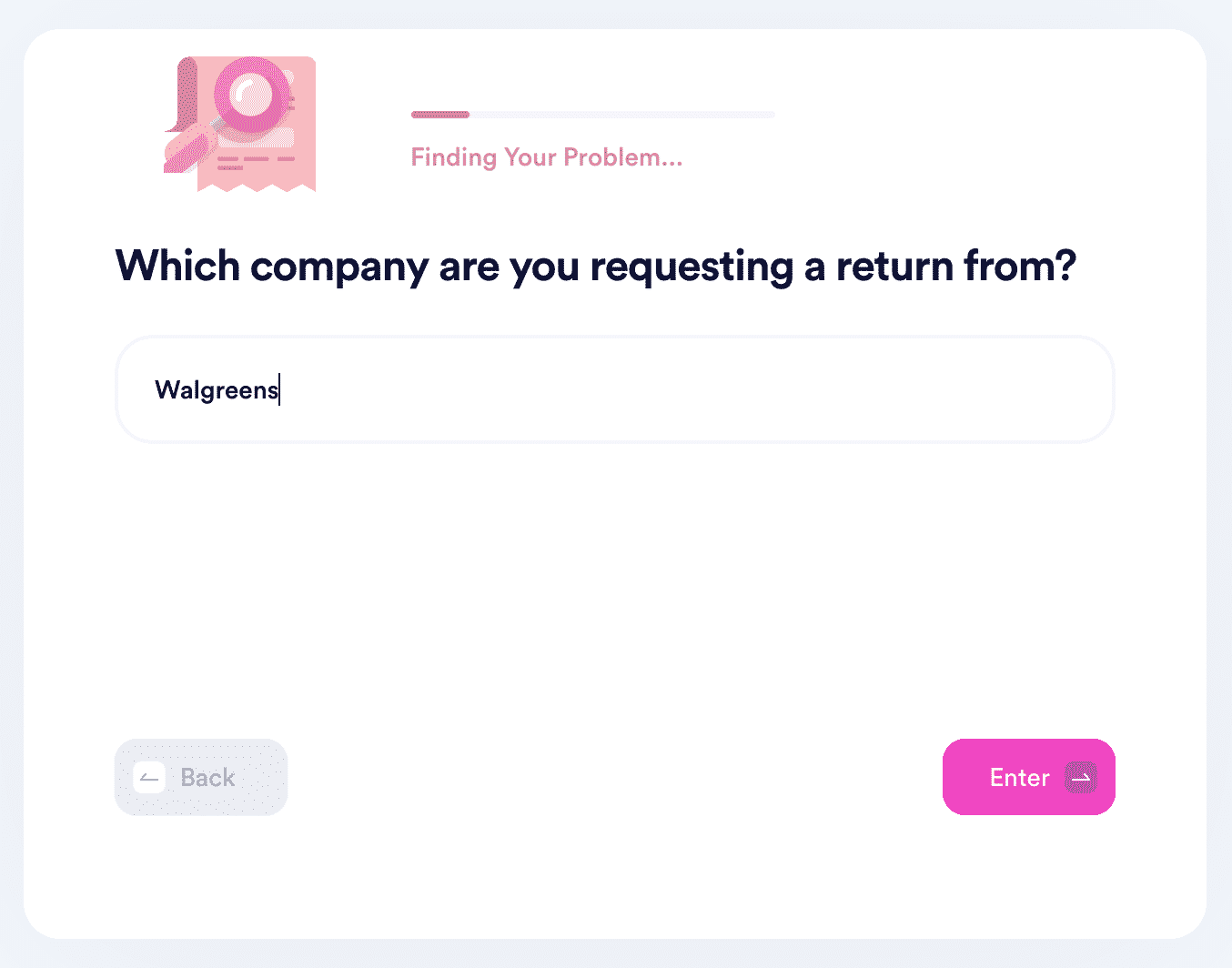 Can DoNotPay Help With Any Other Companies?
Of course—DoNotPay can help you decipher hundreds of companies' return policies! Here are some of them:
The Company Doesn't Want To Refund the Damaged Item? We'll Help You Get Money in Other Ways
If the company you're dealing with refuses to issue a refund, you can take it to small claims court with your personal robot lawyer assistant. We'll create any legal document you may need for the lawsuit, have it notarized remotely, and fax it to anyone you specify in our short questionnaire.
Is there anything else you'd like us to help you with? No problem—rely on our AI-powered products to save the day:
Draft a divorce settlement agreement

Create a power of attorney document
Our Array of AI-Driven Products Doesn't Stop There
You can count on DoNotPay to lend a helping hand no matter what kind of struggle you're dealing with. Need financial assistance? Check out how our app can lower your utility bills and property taxes, appeal your parking tickets, get you a refund from any company or airline, find your unclaimed money, get you free raffle tickets, check your gift card balance and turn it into cash, and so much more!
Dealing with a noisy neighbor or a creepy stalker? Report them using our app! Want to get a refund for a late or missing parcel? Say no more—we'll help you get what's rightfully yours in mere minutes.