A Detailed Guide to the Evike Return Policy
Are you dissatisfied with the Evike airsoft gun or rifle you purchased? Do you want to request a refund but aren't sure how to go about it? Don't stress because DoNotPay will fill you in on the Evike return policy.
This quick guide answers any questions you might have about the company's procedure regarding:
Refunds
Exchanges
Replacements
What's even better, our app can help you return Evike items without unnecessary delays. All you need to do is !
All About the Evike Return Policy
You may return an item to Evike and request a refund or merchandise credit or exchange it for another item within 45 days after delivery. It can be done only if the item is:
Products that are not sent back in their original packaging will be denied.
Prepare to pay a 15% restocking fee for non-warranty items, and keep in mind that the cost of shipping will be deducted from the refund.
What if I Receive a Faulty or Damaged Item?
If the item you purchased from Evike has manufacturing defects, the company will repair or replace it within 45 days of the delivery date. Once they receive the item, one of Evike's technicians will check if it is covered by the manufacturer's warranty. If it's not, you'll have to pay for the repair. The labor rate for the company's technicians is $35.00 an hour.
If the purchased item arrives damaged, one of the company's customer service representatives will help you file a claim with the carrier. Keep in mind that, depending on the carrier, this process might take up to ten business days.
How Can I Return an Item to Evike?
If you bought the item via the Evike webshop and want to send it back to the retailer, the first step you need to take is to complete a return request form on the RMA (Return Merchandise Authorization) page. All returns that are missing an RMA number may be rejected.
To complete an RMA request, you will be required to:
Enter your:

Order number
First and last name
Email address
Phone number
Shipping address

Choose one of the following reasons for returning the item:

Received a wrong item
Purchased an incorrect item
Received a damaged item
Obtained defective merchandise
Paid a repair/upgrade service
Changed your mind

Select a return request:

Repair or replacement
Exchange for a different item
Store credit
Refund
Paid repair or upgrade

Generate a list of items you wish to return
Write a detailed reason for returning the item(s)
If you have trouble submitting the request form, you can email it to rma@evike.com or fax it to (626) 285-8622. For further assistance, you may contact customer support at (626) 286-0360 or mail them at support@evike.com.
For returns, replacements, or exchange of items purchased at an Evike Outpost store, you'll need to contact your local store.
How Long Until Evike Reviews My Return Request?
A member of Evike's RMA staff will contact you between one and three business days after receiving the return request to discuss the further procedure.
DoNotPay Enables Hassle-Free Returns
Writing a return request letter can be time-consuming and tedious, which is why most people dread the procedure. If you are one of those people, you've come to the right place! DoNotPay will take the load off your back by drafting a personalized return request letter for you.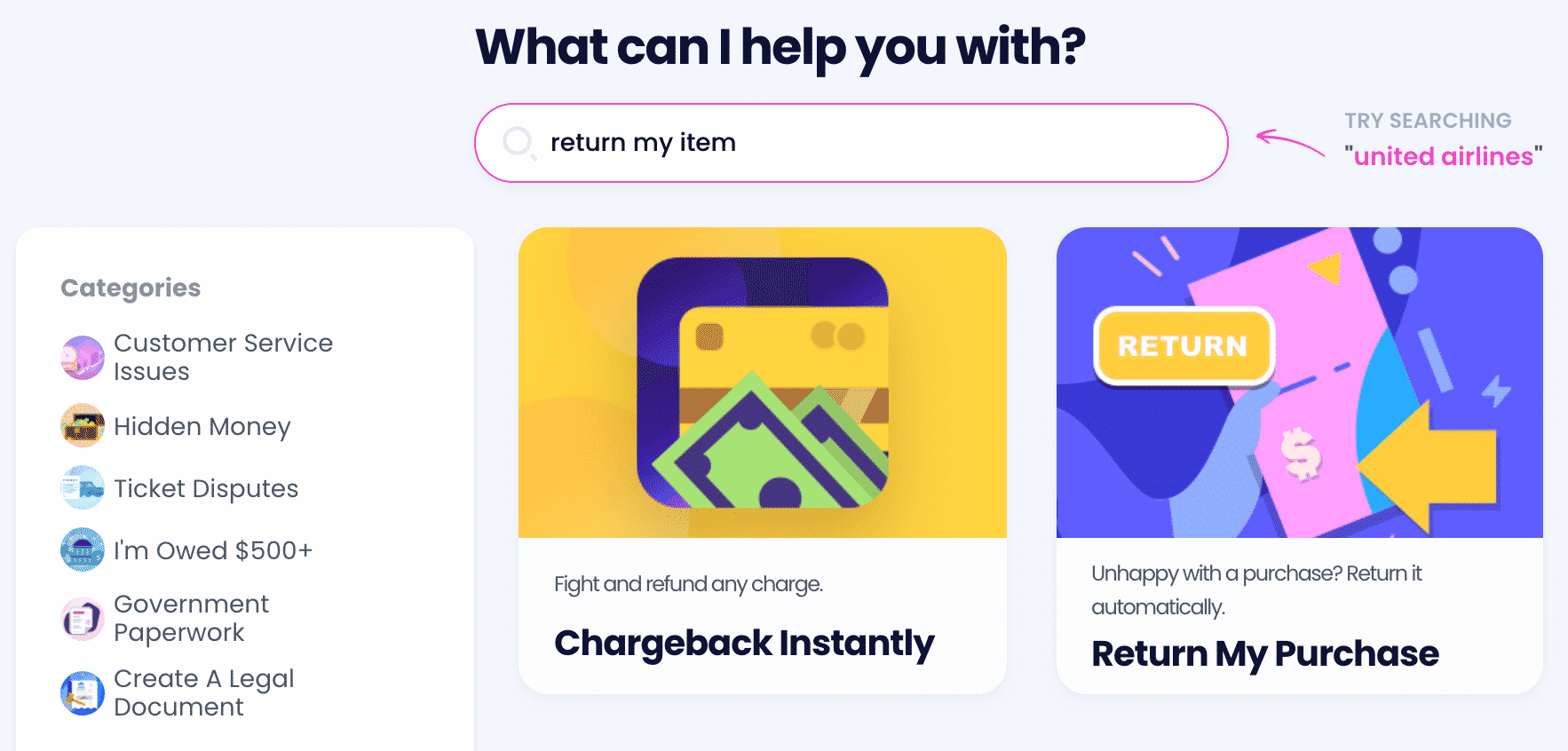 After you , all you need to do is:
Look for the Return My Purchase product
Provide us with the following info:

Which company you are requesting a return from
What the name of the product you purchased is
Why you want to return it

Include photos of the product for proof (if possible)
Submit your request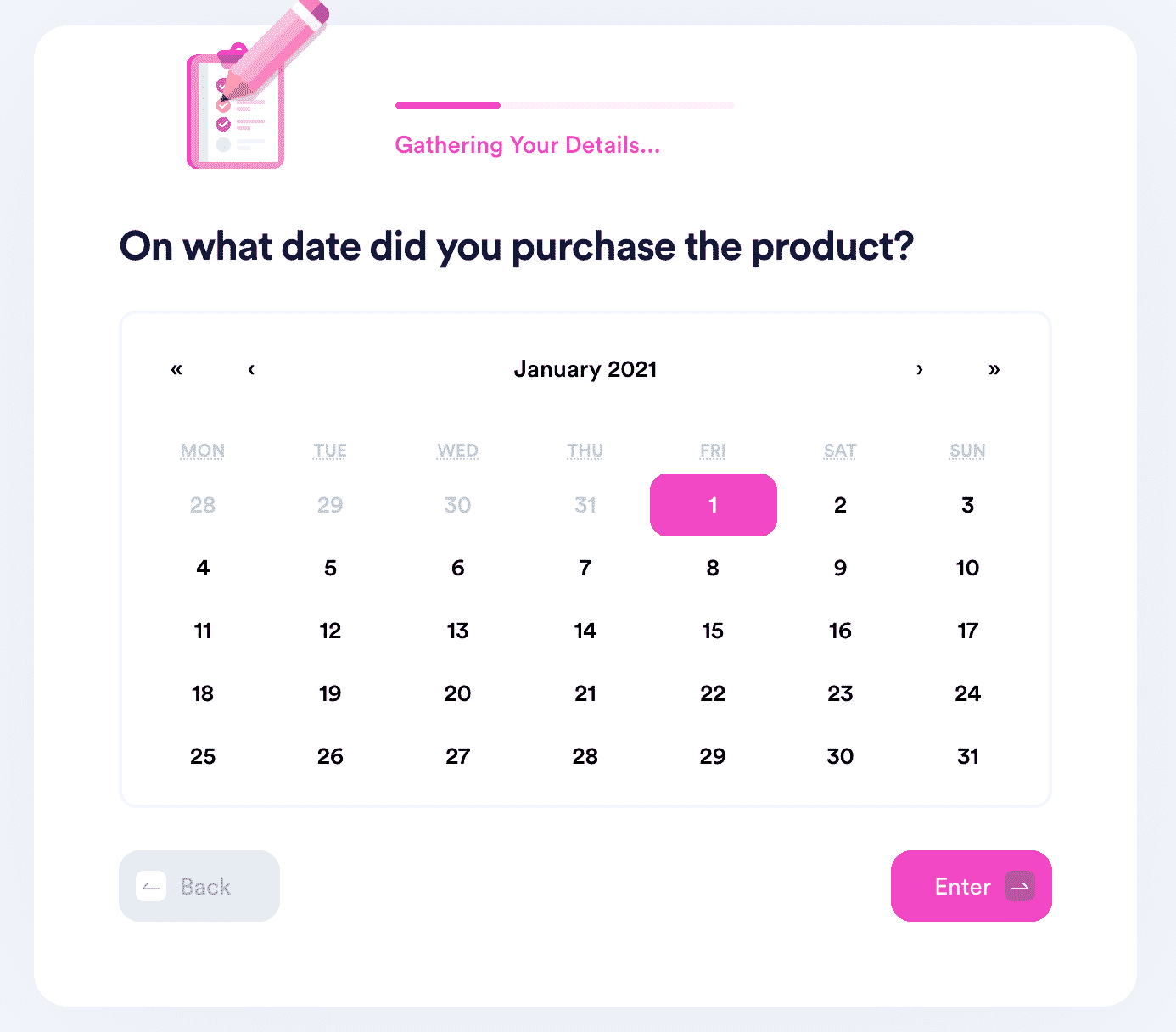 Once you complete the steps, our nifty app will take a mere few minutes to generate a letter and send it to Evike on your behalf. The letter will include a deadline for the response, ensuring your request is processed promptly.
Keep in mind that we will also provide you with a return label so that you can return the item free of charge!
DoNotPay can help you initiate a return with other retailers, such as:
Demand a Refund From Evike With DoNotPay
If you want to request a refund after returning the product, we can help you with that as well.
To get started, log in to your DoNotPay account and take the following steps:
Find the File a Chargeback option
Click on the Get Protected button
Answer a few questions from our chatbot
Click on Sign and Submit
Fast-Track Different Tasks With DoNotPay
Are you trying to get a refund from a company and can't reach its customer service? Was your flight canceled or delayed, and you want to get compensated? Is hiring a lawyer out of the question because they're too expensive, but you have to draft some legal documents? Once you register for DoNotPay, we'll be able to help you with all of the above and more!
Rely on our app to finally put an end to text spam, annoying robocalls, and spam emails.
Do you need help canceling your forgotten subscriptions? We'll help you detect all your active memberships or subscriptions and get rid of the ones you no longer want.
In case you're studying for your driving test, you can use our Government Tests Prep product and ace this and many other exams. We can also schedule an appointment with the DMV on your behalf.
If you have to claim your car or any other insurance or warranty, rely on DoNotPay. Use our app to also contest parking tickets in a jiffy!