What Is the Costco Return Policy on Alcohol?
Are you unsatisfied with an alcoholic beverage purchased from Costco? Learn about the Costco return policy on alcohol in our guide, and find out whether you can return it. DoNotPay can help you file a return request with Costco in a matter of minutes!
The Costco Alcohol Return Policy Explained
Costco may accept returns on alcohol within 90 days of purchase, depending on where you live. Some states ban returns of alcoholic beverages, while others allow it under certain conditions. You can return alcohol if:
It's unfit to be consumed
It's spoiled or expired
You purchased it by mistake
Some Costco locations may also require beverages to be unopened and with their original packaging intact.
You can contact your local Costco to check whether alcohol returns are allowed. Here are Costco's customer support contact numbers:
Department
Phone Number
Operating Hours
Costco.com
1-800-955-2292

Mon–Fri (5 a.m. to 8 p.m.)
Sat–Sun (5 a.m. to 7 p.m.)

Costco Membership and Warehouse
1-800-774-2678

Mon–Fri (6 a.m. to 6 p.m.)
Sat–Sun (8 a.m. to 5 p.m.)
Costco typically doesn't require a receipt to accept a product return because they can track product purchases from memberships. If you aren't a member, you need a receipt as proof that you're the item's original buyer.
Costco doesn't charge a restocking fee for returns.
How Will Costco Issue Your Refund?
The refund method depends on where you return the product, as follows:
Locations
Refund Method
Costco Warehouses

Cash
All Visa Cards
ATM Cards
Costco Member Personal Checks
Costco Member Business Checks
Traveler's Checks
Costco Shop Cards
EBT cards
Mobile Payment (Google Pay, Apple Pay, Samsung Pay)

Costco Gas Stations

The Costco Anywhere Visa
All Visa Cards
ATM Cards
Costco Shop Cards

Costco.com

ATM Cards
All Visa Cards
The Costco Anywhere Visa
Costco Shop Cards
MasterCard
Discover Cards (Including JCB and Diners Club)
How To Return Alcohol to Costco: A Step-by-Step Guide
Once you're positive that your local Costco accepts alcohol returns, you can return your purchase:
In person
Via mail
Returning Alcohol to a Costco Location
If you'd like to receive a refund right away, you should return the item in person. To do so, follow these steps:
Pack the alcoholic beverage inside its original packaging or another suitable container
Go to the nearest Costco in your area
Tell a salesperson you'd like to return a purchase
Show your Costco membership ID or receipt
Returning Alcohol via Mail
If you purchased your item online, you can request a return or a replacement on Costco's website and return the product via mail by doing the following:
Locate Orders and Returns
Find your order
Click on the Return Items button
Download your return label and print it
Place the product inside an appropriate container
Follow additional packaging instructions provided by Costco
Attach the shipping label to the box
Mail it to the appropriate address or schedule a pickup (if possible)
Shipping and handling fees will be refunded alongside the item price. You won't be charged for the return shipping cost.
Don't Let Costco's Alcohol Return Policy Intimidate You—Let DoNotPay Send a Return Request on Your Behalf
Costco's return policy on alcohol can be confusing, and the whole return process is usually time-consuming. If you'd like to avoid heading over to the nearest Costco store or wasting hours trying to mail the item, you should rely on DoNotPay.
Our Return my Purchase tool can help you draft a return request letter and send it to Costco in just a few clicks. Here's what you should do:
Open your preferred browser to access your DoNotPay account
Search for the Return My Purchase product
Answer a few questions and submit the form
We will send a detailed return request letter explaining the reasons for your return and provide a free shipping label. The letter will set a deadline for the merchant and state the solution you expect.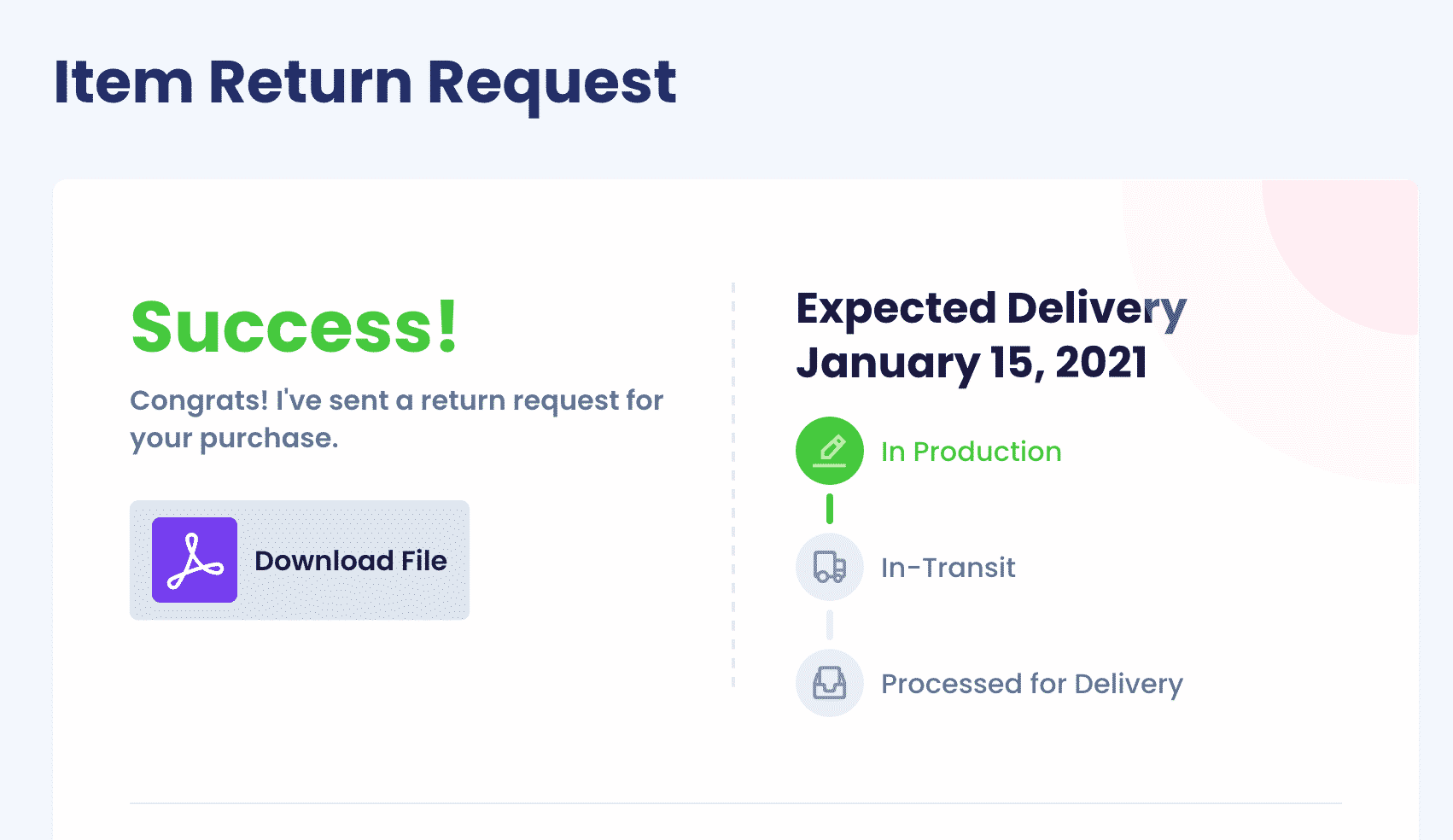 Not Getting a Refund Although You Deserve One? Demand It With DoNotPay!
If you have returned the item and think that you're eligible for a refund, you can use our app to send a refund request by completing these steps:
Search for the Chargeback Instantly product
Click on Get Protected
Answer a few questions
Sign and Submit the document
Within minutes, we will send a tailor-made refund request letter to the retailer in your stead.
Has Costco Wronged You? Sue It in Small Claims Court With DoNotPay's Help!
If Costco owes you a refund or refuses to compensate for damaged products, you can sue them in small claims court with the help of DoNotPay—the world's first robot lawyer recognized by the American Bar Association.
Here are some of the tasks our app can help you with:
Gathering all of the necessary paperwork
Writing a demand letter
Filling out all court forms
Filing your complaint
Creating a script with the strongest argumentation to use in court
What Other Item Return Requests Can DoNotPay Help With?
If you received unwanted or damaged items from other stores, our app can help you return them. Some of the retailers DoNotPay can file return requests with include:
DoNotPay Is a Master at Getting What's Rightfully Yours
Are you dealing with a company that refuses to approve your return? Once we submit a refund request in your stead, we can also prepare all the paperwork you need to sue the merchant in small claims court and win your case.
Need a legal document for the lawsuit? Draw it up with our handy tool. Want to get any document notarized and fax it to someone? We have products that can do that for you as well.
Has an airline rescheduled your flight, or is your package damaged or missing? Demand compensation with DoNotPay!
Do you believe that you may have some unclaimed assets? Count on us to find and get them for you.
It Doesn't End There!
Use DoNotPay whenever you need to tackle any sort of mundane task. If you're sick of wasting your time in long phone queues or the ones at the DMV, we'll help you skip them. Do you want to apply for a college fee waiver or clinical trial? Are you looking to enter a sweepstake or get a passport photo or a tourist visa? We'll do it all in your stead!
If you want to send a letter of warning to a persistent harasser or loud neighbor or want to get compensation for victims of crime, workplace discrimination, or robocalls, let us know and we'll tackle the issue momentarily.