How To Check Your Carnival Gift Card Balance With No Fuss
A Carnival gift card is great to have while you're on a cruise, but what to do when the vacation is over?
This guide will show you how to check your Carnival gift card balance in no time!
Besides checking your gift card's balance, you will also learn how to convert your gift card to cash!
Carnival Gift Cards Explained
Carnival gift cards are available for purchase on the Carnival website, onboard Carnival Cruise Line ships, and at around 9,000 retail locations.
You can use a Carnival gift card to:
Book a cruise or shore excursion
Enjoy an onboard spa experience
Pay for onboard goods and services
The Carnival gift card terms of use state the following:
You can't use Carnival gift cards on cruise ships with a functional onboard currency other than USD
Carnival gift cards have no expiration date
You can load any amount between $100 and $1,000 on your Carnival gift card
The company doesn't charge maintenance fees
You can't reload your Carnival gift card
Purchases are limited to five gift cards per transaction
You can't merge the balances of multiple Carnival gift cards
Carnival gift cards come in the form of:
Plastic cards
e-Cards
Plastic Carnival Gift Cards
Plastic Carnival gift cards are available in one design only. If you feel like being extra, you can pay an additional $1.99 to get a decorated tin box for your card. You can add a personal message if you're ordering the card for someone special.
Carnival e-Cards
e-Cards come in two designs—the regular and a birthday one. You can send your card via email or pick between several printable greeting cards if you want to give it to someone in person. Besides a personal note, Carnival also allows you to include a photo with the email or greeting card to make the gift even more heartfelt.
Check Your Carnival Gift Card Balance To Make the Most of It
You can check the balance of your Carnival gift card in several ways:
Online
By phone
At a help desk
On a receipt
DoNotPay
How To Check Your Carnival Gift Card Balance Online
To check your Carnival gift card balance online:
Visit the Carnival homepage
Scroll to the bottom of the page
Locate and click on the Gift Cards link under the PLAN A CRUISE text
Scroll down on the gift cards page
Click on the Check your balance button
Enter your gift card number and PIN
Complete the captcha
Click on Continue
Check Your Carnival Gift Card Balance by Phone
To perform a Carnival gift card balance check by phone:
Write down your gift card number and PIN
Dial 1-866-270-1064
Ask the customer representative to check the remaining balance on your gift card
Provide the information you prepared beforehand
Checking Your Carnival Gift Card Balance at a Help Desk
While on a cruise, you can approach the help desk and ask the staff member to check the current balance on your Carnival gift card.
How To Check Your Carnival Gift Card Balance on a Receipt
Every time you purchase something with your Carnival gift card, the cash register will print the remaining balance at the bottom of the receipt.
DoNotPay Offers You a Painless Way To Check Your Carnival Gift Card Balance
Checking your Carnival gift card balance has never been easier! If you want to perform this task stress-free, use our AI-powered app.
To start the process:
Open the Check Gift Card Balance feature
Upload a picture of your Carnival gift card
After you submit your request, we will contact Carnival and notify you of any leftover money as soon as possible.
After You Check Your Carnival Gift Card Balance, Cash It In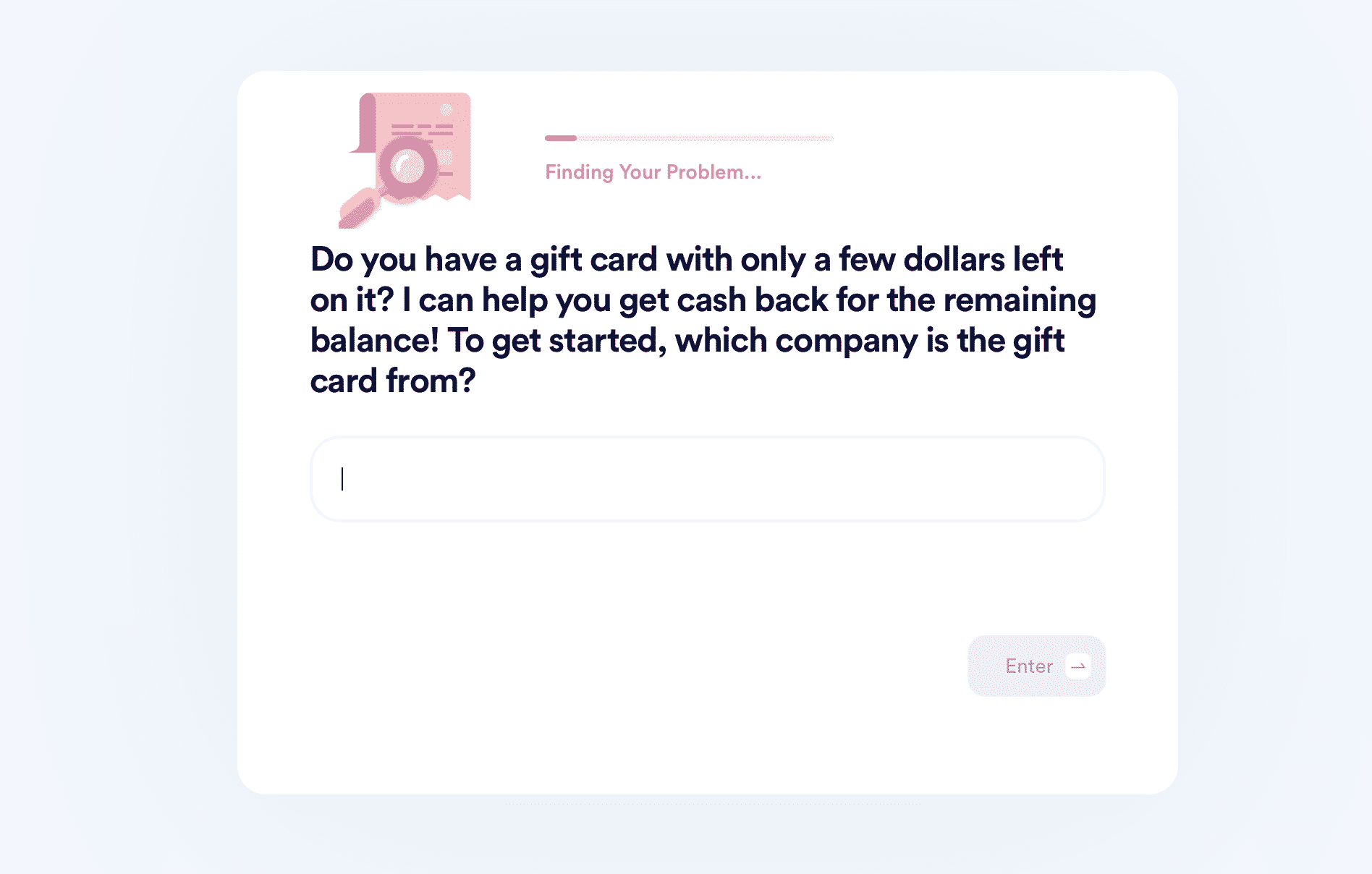 Do you have some leftover money on your gift card but too little to afford something at Carnival? Depending on your state's gift card laws and regulations, there is a chance you won't be able to return your gift card for cash.
Regardless of your location, we can help you get your Carnival gift card cash back in a jiffy! All you need to do is and follow these steps:
Select our Gift Card Cash Back product
Provide your gift card number and other information, such as where you bought it and what the leftover balance is
Click on the Sign and Submit button
We will forward your request to Carnival right away, and you can expect the money in your mailbox within 14 days of your request submission.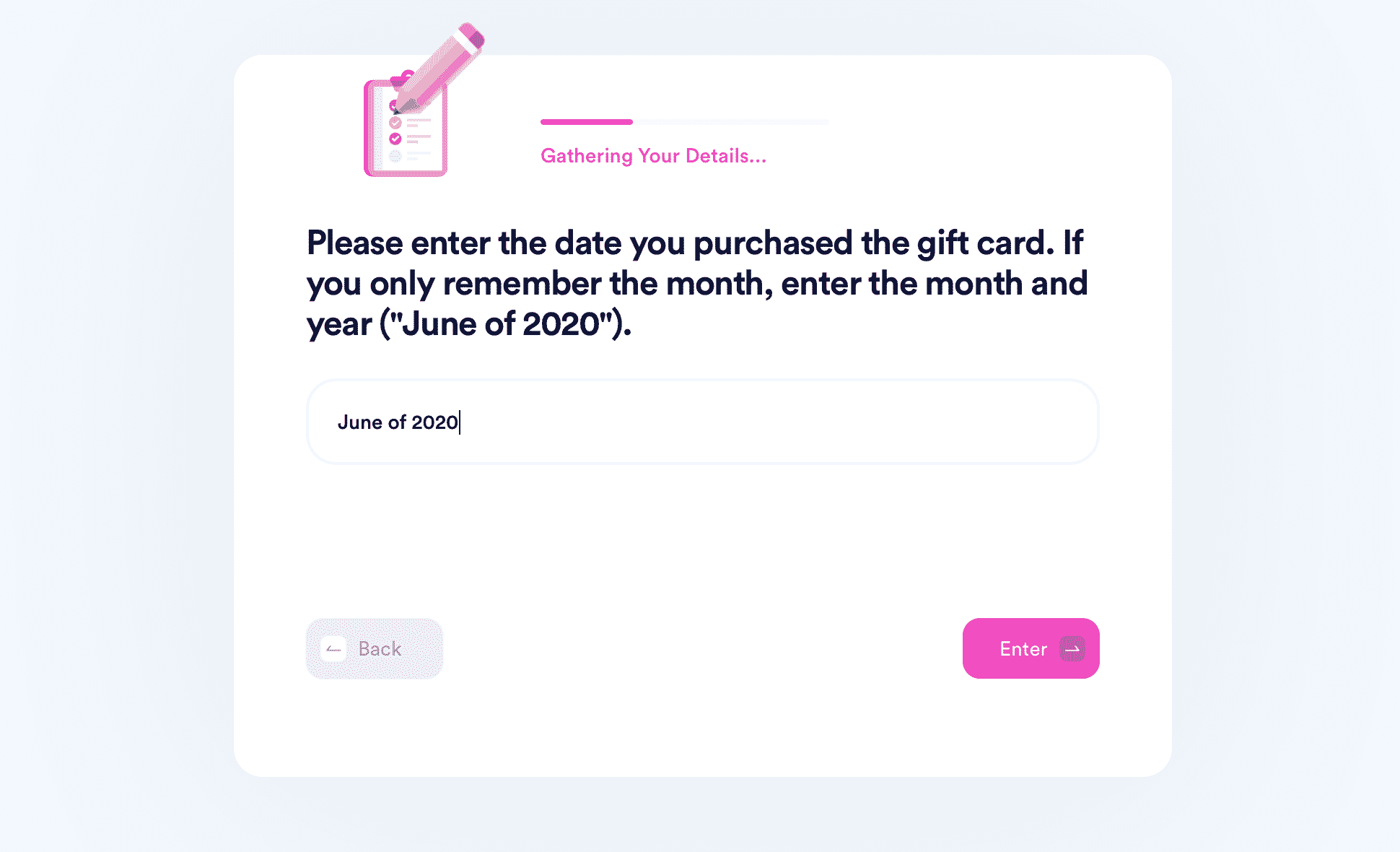 Check out these guides to learn how DoNotPay can help you get the most out of your used gift cards:
| | |
| --- | --- |
| Gift Card How To's | Check Your Gift Card Balance From |
| | |
DoNotPay Keeps Getting Better
Our platform started out as a useful resource for cutting through red tape, but we keep improving the lives of our subscribers by constantly coming up with new and useful products and services.
Check out how diverse our features are:
And that's just a fraction of what DoNotPay can do!
Protect Your Sensitive Info With DoNotPay
We may basically live online these days, but that doesn't mean that the internet is a safe space. There are all kinds of dangers lurking on the web, and one of the most common issues unsuspecting people experience is online scams.
DoNotPay's goal is to protect your identity and sensitive financial information. That's why we developed several useful services that can be your first-choice weapon when dealing with online perps. With your DoNotPay subscription, you can: