How To Check Your Buckle Gift Card Balance and Get Cash Back Quickly
Do you have a Buckle gift card lying around collecting dust, and you don't know how much money you have left on it? DoNotPay can help you check your Buckle gift card balance in a few easy steps. We also assist in turning your gift card into cash effortlessly.
How To Check a Buckle Gift Card Balance by Yourself
You can check your Buckle gift card balance in three ways:
Online
Over the phone
By visiting a store
How To Check Your Buckle Gift Card Balance Online
To check your Buckle gift card balance online, you'll need to visit the Buckle website and follow these steps:
Visit the Gift Cards page
Scroll down to the checking balance boxes
Type in your gift card number
Enter your access code
Tap on View Balance
How To Check Your Buckle Gift Card Balance Over the Phone
You can check your Buckle gift card balance by contacting Buckle customer support:
Call 1-800-522-8090
Ask the customer support agent to check your balance
Provide your gift card number to the agent
How To Check Your Buckle Gift Card Balance in Person
You can go to any Buckle store to check your gift card balance in person. Here's what you should do:
Go to the Buckle store locator
Enter your city, state, or ZIP code
Visit the nearest store
Ask the cashier to check your balance
Perform a Buckle Gift Card Balance Check Hassle-Free With DoNotPay
If you don't want to check the balance on your Buckle gift card by yourself, you can do it with DoNotPay. Our platform will do most of the work for you as soon as you complete these easy steps:
Take a photo of your gift card
Upload the image to DoNotPay
We will contact Buckle to check your gift card balance. As soon as we know the exact amount on the card, we'll let you know.
What To Do With the Remaining Funds
Once you check the leftover balance on your used gift card, you'll want to know what options you have. We are here to tell you what you can do with the remaining gift card money. Consult the table below for some ideas:
What To Do With the Remaining Balance
Explanation
Sell your gift card for cash
Selling gift cards is possible in two ways:

Online—To sell your gift card online, you need to visit one of the gift card reseller websites. You'll type in your remaining balance, and someone will make you an offer. You can either accept or decline it. Be careful as some websites can prove to be fraudulent
In person—Visit a designated gift card store or kiosk and see how much money you can get

Exchange the gift card
If you don't want to use your Buckle gift card, you can exchange it for another one. Visit websites for trading gift cards and type in your balance to see the offer
Spend the remaining funds
You can buy something with your remaining funds if there's enough money for your purchase
Give the gift card away
If you have a friend or a family member who's a fan of Buckle, you can give them your gift card as a present
Can You Get Your Gift Card Money Back?
Officially, Buckle doesn't allow redeeming gift cards for cash unless it's required by law. We have some good news for you—the law is on your side if you live in Puerto Rico and the following 11 states:
Colorado
California
Connecticut
Massachusetts
Maine
Montana
New Jersey
Oregon
Rhode Island
Vermont
Washington
In these states, companies must approve cash back requests if the balance on the gift card doesn't exceed a specified amount predetermined by the state laws. Filing a cash back request can be a complicated process, so we suggest using DoNotPay. Our platform will help you file a cash back request in a matter of minutes and ensure you get your money back within 14 business days.
Use DoNotPay To Get Your Buckle Cash Back Fast
DoNotPay can get you your money back regardless of your location. If you live in one of the states with a cash back policy, we will file a request on your behalf and help you redeem your gift card balance for cash.
Even if you don't live in these states, DoNotPay can help! We will send your request to a Buckle office at one of the locations with gift card cash back laws.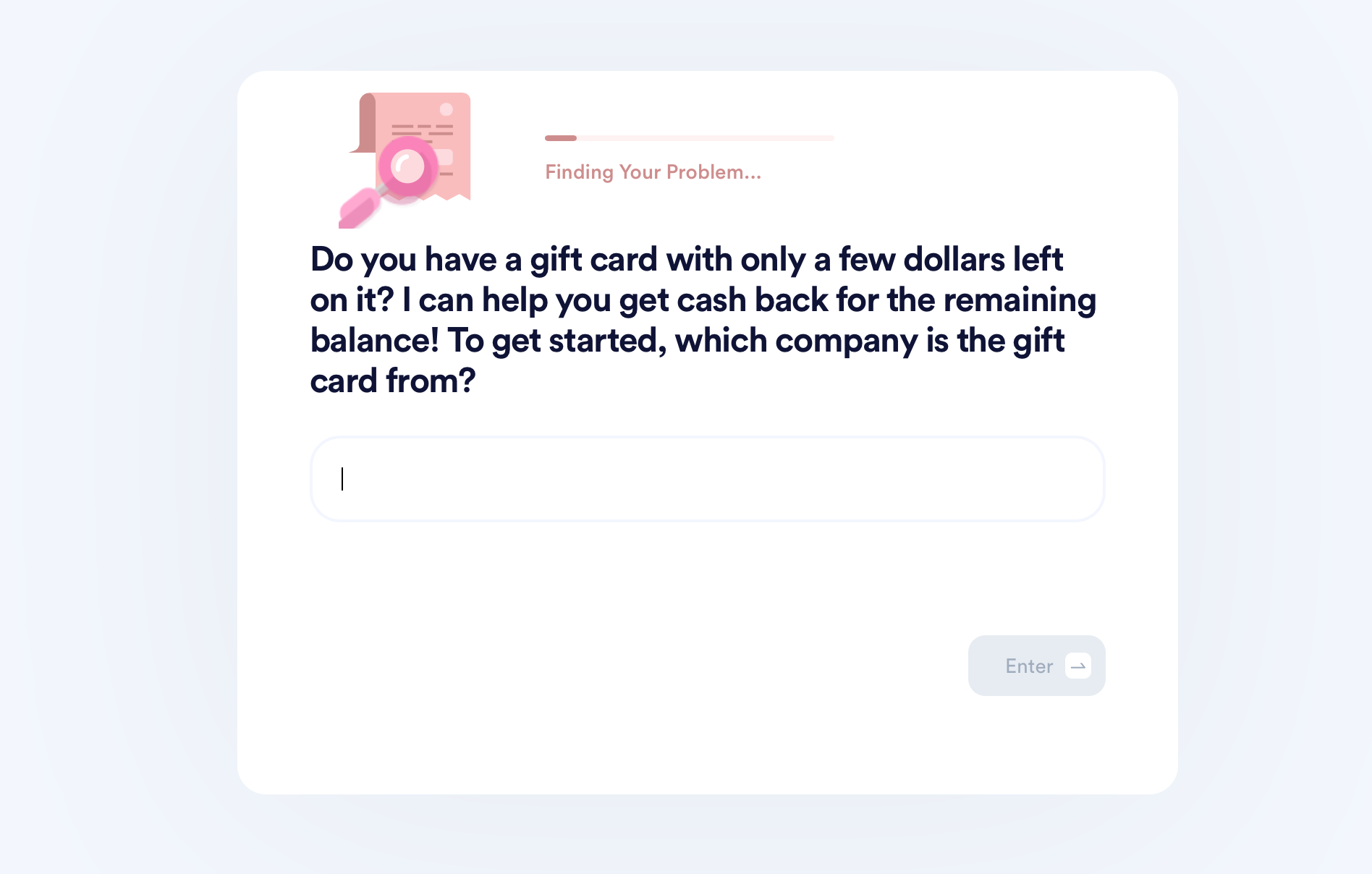 All you need to do is and do the following:
Open our Gift Card Cash Back product
Add all the necessary information, such as:

Your gift card number
Company name
Remaining balance

Tap on Sign and Submit
DoNotPay has a learning center where you can find out more information regarding gift cards. Our platform offers info on how to:
Check balance on a vast number of other companies' gift cards, including:
DoNotPay Is Righting Wrongs Left and Right
DoNotPay is a platform that puts its subscribers' safety in the first place. We can keep you safe from sex offenders, stalking, and harassment. In case you're a victim of a crime, we can help you get compensation.
Fight for discrimination at your workplace with the world's first robot lawyer or sue any company or person in small courts if you feel like you've been wronged.
Is There Anything DoNotPay Can't Do?
The short answer is no, and the list of our AI-based app's features keeps growing by the day. We offer professional assistance with issues that no other platform can help you with. Sign up now and: