A Complete Guide to Finding a Cheap Fax Line

Constant technology progress has diminished the use of fax machines. Those that still need fax for sending legal and confidential documents—banks, companies, and medical institutions—are choosing online fax services rather than traditional ones.
If you still use fax for document exchange and need a cheap fax line, DoNotPay will help with the search!
What Is a Fax Line?
A fax line is a digital or physical phone line used for transmitting analog and digital faxes.
Traditionally, fax machines use the same phone line that is used for phone calls. If your fax machine is sending or receiving documents when you receive a phone call, it interferes with the faxing and can ruin the transfer. To avoid the interruption of the faxing process, people started installing dedicated phone lines and obtaining fax numbers for their homes and offices.
How To Get a Fax Line
Having a phone line dedicated to faxing purposes only can sound luxurious and unnecessary. If you fax frequently—especially if your work depends on it—installing a dedicated phone line is a no brainer.
New technologies allow us to choose between digital and physical lines. You can check the following table to see what each of these options has to offer:
| | |
| --- | --- |
| Type of a Dedicated Fax Line | How To Get It |
| Physical fax line | You can require a dedicated fax line from your phone company. The company will charge you for installing and opening a new phone line. You should keep in mind that the phone company won't send someone instantly, and you will have to wait a couple of days |
| Digital fax line | To get a dedicated digital fax line, all you need to do is browse the internet for some online fax services. You should be careful with the decision, though—not every online fax service is reliable enough, and a lot of them charge way too much for the service |
How Much Does a Fax Line Cost?
Depending on the type of service, here's what a dedicated fax line might cost you:
Extra phone line

—depending on the phone company, an extra phone line could cost you from $25 to $40 a month for a home installation or more for a business installation

Digital fax line

—different online fax services have different price ranges, so a monthly subscription can cost you anywhere from $5 to $50 for 100 pages per month

Additional phone number

—if your phone company provides this service, you can add another phone number to your existing phone line. The price of this service ranges from $3 to $10 per month, on top of the existing phone line costs
Looking for a Cheap Fax Line? DoNotPay Has the Right Fax Line Service for You!
Fax machines became obsolete for many reasons, and the maintenance cost is one of them. Banks, businesses, and individuals all want a faster, cheaper, and more convenient method of document exchange. Fax apps seem to meet all of the requirements, but the fact they offer only one service for a pricey subscription can be a cause for reconsideration.
Fortunately, one platform stands out! Being a virtual assistant, DoNotPay offers various useful services besides faxing—canceling memberships, getting refunds from companies, fighting against copyright infringement, enrolling in clinical trials, and so much more. And on top of that, DoNotPay is easy on your wallet!
Using DoNotPay's Fax feature allows you to:
Fax quickly with the snap of a photo or upload your files the standard way

Use a

smartphone

or laptop for faxing

Send 100 pages per month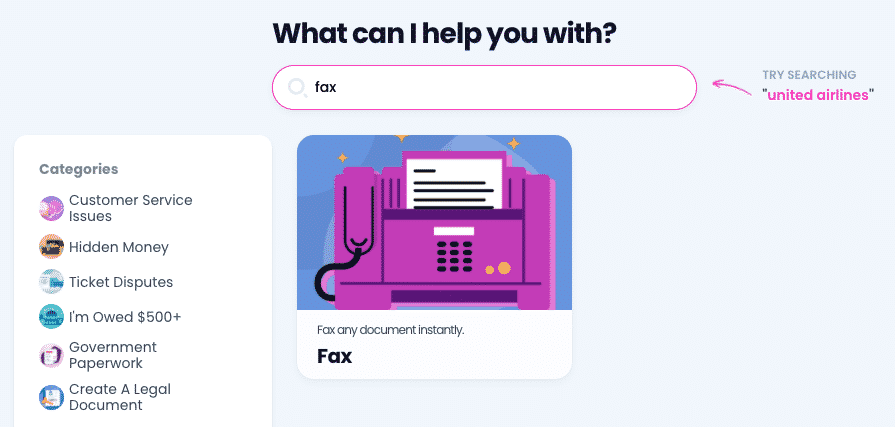 How To Send a Fax With DoNotPay
DoNotPay strives to put clients' needs first! Our features are time-saving and easy to use. You can get the job done in a few steps.
With our Fax service, you can send documents without a fax machine and phone line.
If you're not sure how to fax online, we can guide you step by step. After logging in to your DoNotPay account in a , follow these steps:
Locate the

Fax

feature

Upload a document or take a photo

Insert the recipient's fax number
We will send a fax in your name and notify you once the process is complete. Our Fax feature is integrated with numerous other services, including the Standardized Legal Documents service. This merger allows you to create various contracts that you can later fax to other parties with our online faxing service.
What Are the Alternatives to a Fax Line Service?
There are many available methods of sending faxes, but more isn't always merrier. Choosing the most suitable faxing option can be difficult as it requires careful examination. Luckily, can show you the benefits and disadvantages of various faxing options, including:
DoNotPay Is an Ultimate Money-Saving Assistant
Our app can help you manage bills that are too high to pay, but there are plenty of other money-saving possibilities out there we can help you with.
Want to challenge a parking ticket? DoNotPay can dispute parking citations in any city! Is someone getting revenue from your creative work? Cut the thieves off with DoNotPay!
We can also help you get your college application fees waived, file any insurance or warranty claims, locate unclaimed funds in your name, or earn some extra cash from paid clinical trials in your area.
No More Risky Free Trials With DoNotPay
Do you love free trials but tend to forget to cancel your subscription before the trial ends? If this is the case, check out DoNotPay's virtual credit card for a risk-free experience.
With our virtual credit card, you can sign up for any service without worrying about unwanted charges. DoNotPay will even provide you with a random email address, which will help keep your inbox clean from spammy emails from the company.
Our app can also get in touch with the company's customer service, request a refund from them, or even escalate your issue to small claims court if the company is challenging to communicate with.