Certified vs. Notarized—Understanding the Difference
Not everything is a copy of a copy. Learning the difference between certifying and notarizing copies of documents can help you avoid confusion and save you some time and money. What if the difference doesn't come from these terms but the documents in question?
In this article, you can find out if there is any distinction when it comes to certified vs. notarized copies of documents.
Need help finding an online notary who can certify copies? —the best online notary platform!
What Is the Difference Between a Certified and Notarized Copy?
When a government agency or some legal entity requests a copy of a document, they usually specify whether you need to bring the original document or a certified or notarized copy. The tricky part is determining the difference between certified and notarized copies.
The good news is that there is practically no difference. While certified copies usually refer to the copies of vital records that you can get only from the county clerk or another official custodian, the terms certified and notarized copies of documents can be used interchangeably for the most part. What matters is the documents whose copies need certification or notarization and the public official allowed to perform such an act.
Can a Notary Certify Copies of Every Type of Documents?
Only a notary public can produce a notarized copy of a document. Notaries have to vouch that the copy is factual and accurate.
Here are some key aspects of notarizing copies of documents:
A notary cannot make a copy of another copy—Most states don't allow notarizing copies of anything except the original documents

The document must not be a public record or a vital record, such as:

Marriage certificate

Separation agreement

Divorce decree

Death certificate

Making notarized copies of school records is not allowed—School records are under the authority of the school's registrar
Some states have additional requirements regarding the types of documents whose copies can be notarized. Here is a brief overview:
State

Limitations

Texas

Notaries in Texas can certify only the documents that can't be recorded with any type of government entity

California

The Golden State allows notaries to certify copies of

powers of attorney

and notary's journal entries

Hawaii

In the Aloha State, notaries public are limited to certifying copies of entries in the notary's journal

Virginia

The state's law prohibits notaries from attesting copies of court-issued documents
Why Do I Need a Notarized Copy?
Applying for a job or visa or submitting an admission to a university usually requires including some sort of an important document. It is not practical—and often not possible—to include the original documents.
Getting a copy notarized by a notary public makes it more complicated or impossible to alter the copy later and proves to the recipient that the copy is authentic.
Do All States Allow Notaries To Certify Copies?
No, not all states in the U.S. allow notaries public to certify copies of documents. In 2005, the U.S. State Department released information about which states allow notaries public to certify copies and which states don't. You can check the overview in the following table:
States That Permit Certification of Copies
States That Don't Permit Certification of Copies

Alabama

Arizona

Arkansas

California

Colorado

Connecticut

Delaware

District of Columbia

Florida

Georgia

Guam

Hawaii

Idaho

Iowa

Kansas

Kentucky

Louisiana

Maryland

Massachusetts

Minnesota

Missouri

Montana

Nevada

New Hampshire

New Mexico

Oklahoma

Oregon

Pennsylvania

Texas

Utah

Virginia

Washington

West Virginia

Wisconsin

Alaska

Illinois

Maine

Michigan

Mississippi

Nebraska

New Jersey

New York

North Carolina

Ohio

Rhode Island

South Carolina

South Dakota

Tennessee

Vermont

Wyoming
How Does Notarization Work?
How long the notarization will take depends on the notary service you choose. In-person notarization consists of the following:
Scheduling an appointment

Going to the notary's office

Presenting the documents that need notarization

Providing an identification document, such as an ID or passport

Answering several questions to help the notary verify your identity

Signing the document before the notary

Waiting for the notary to perform notarial acts and create the notarial certificate, which includes:

Date and place of notarial acts

The signer's full name

Notary's seal and

signature
The notary will not make or witness the making of a certified copy if the document in question is not a true original. If you want a notary to certify a copy that has already been made, you will still have to provide the original document so they can compare it with the copy.
In states that don't allow copy certification, the notary cannot seal and sign your copy. Instead of that, you have to write a statement that confirms that the copy is a true copy of the original document. The notary should seal and sign your statement.
Need an Online Notary To Certify a Copy for You? DoNotPay Can Help!
DoNotPay is your loyal assistant whether you need a notarized will, affidavit, car title, or power of attorney. We can connect you with an online notary that works round the clock any day of the week.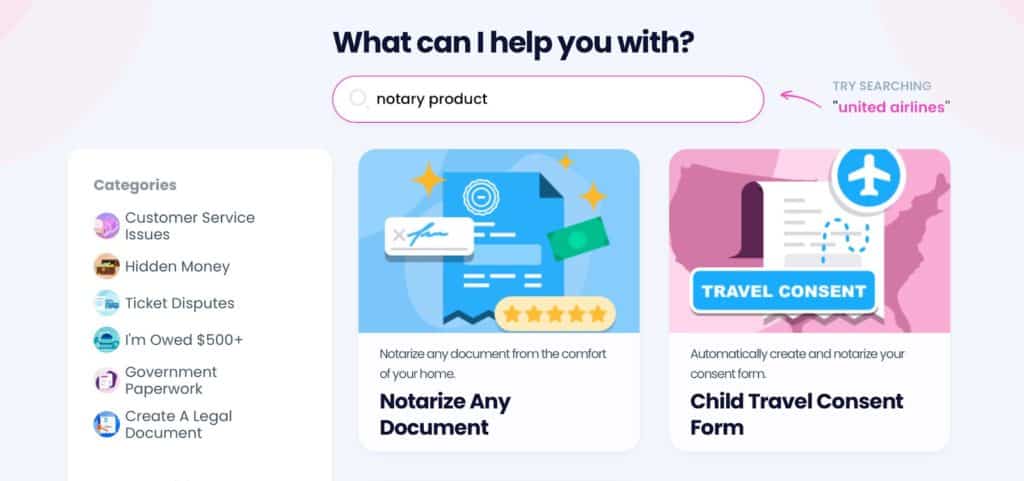 Here's what you have to do:
Find the

Notarize Any Document

product

Upload the document you need to get notarized

Add your email address
Once you complete the steps, you will receive a link in your inbox. You should click on the link to confirm your meeting with an online notary.
Keep Your Money Safe With DoNotPay
Don't let greedy companies threaten your consumer rights by holding back refunds, refusing to cancel your subscriptions, or charging you after your free trial ends.
DoNotPay helps you try out different services without providing your credit card info or phone number—you will never again have to deal with unexpected post free trial charges!
Our app also helps you avoid paying unnecessary parking tickets, delay challenging bills, or waive your college application fees.
If any company refuses to issue you a refund or an airline won't compensate for canceled flights, we can help you sue them in small claims court.
DoNotPay Is a Time-Saving App
How many customer service reps do you have to deal with only to file an insurance claim or book your DMV appointment?
DoNotPay helps you sort out these tasks and much more in only a few clicks.
Get your revenge on robocallers, report text scammers, find validated clinical trials, claim your warranties, get in touch with your loved ones in prison, and protect your creative content—all in less than five minutes.
No more hours-long phone calls, emails, or in-person visits.
We cover everything from freeing your inbox from spam to providing excellent prep tests for government exams! Save time with your all-in-one app!