Take the NJ HazMat Practice Test and Prepare for Success
If you have been in the trucking industry for a while, you are well aware of how important adding the HazMat endorsement to your standard Commercial Driver's License (CDL) can be for your career prospects.
Do you think you are ready for a promotion and a salary raise? If yes, take the HazMat test and apply for better-paid jobs.
DoNotPay can help you prepare for a HazMat test in New Jersey easily!
What Is the HazMat Test?
You need a special license to transport hazardous cargo. This license is called the Hazardous Material Endorsement (HME). Adding HME to your CDL gives you permission to load, transport, and unload hazardous materials that include:
Acid

Propane

Chlorine

Gasoline

Explosive cartridges

Radioactive and infectious substances

Additional dangerous items and materials
You are eligible for the HazMat test if you meet these general eligibility criteria:
Eligible
Ineligible

If you have

a CDL issued by a U.S. state and the status of a:

U.S. citizen

Naturalized citizen

Lawful permanent resident

Nonimmigrant alien, asylee, or refugee

Incomplete or false application information
How To Apply for the NJ HazMat Test
If you would like to get the HME in New Jersey, you must comply with the NJ Motor Vehicle Commission's (NJMVC) six points of ID verification. You can use one of these two tools to select the documents:
This ID verification process ensures licenses are issued only with proper legal documents and helps prevent identity theft.
To obtain the HME, you should do the following:
Complete an

application

Submit your fingerprints

Pay the application fee of $86.50
Before applying, take a look at the required documents and check whether you meet the eligibility criteria for a reduced application fee of $67.
If you would like to get assistance or detailed explanations regarding your HME application, you can contact the Universal Enroll help center at 1-855-347-8371. You should call the same number to submit your fingerprints and be prepared to pay the fingerprinting fees.
Transportation Security Administration (TSA) takes fingerprints and performs necessary background checks on the CDL holders applying for the HME and will notify the State of New Jersey of the results.
Based on the background check, New Jersey either issues or denies the HME. Your HazMat endorsement is valid for four years in New Jersey.
What Is the HazMat Background Check?
The USA Patriot Act requires background checks on all commercial drivers applying for the HME. The TSA has designed a plan to prevent potential threats from terrorists transporting hazardous materials.
Your fingerprints will go through different Interpol, FBI, and anti-terrorist agencies databases to check if there are reasons for concern. Different mental health and immigration checks will be performed, as well.
You can be disqualified if you have been:
Convicted or found not-guilty-by-reason-of insanity of a disqualifying felony in the past seven years

Released from prison in the past five years

Wanted or under indictment for committing disqualifying felonies

Found mentally incompetent
What Does the NJ HazMat Test Include?
You first need to complete the TSA online application, submit your fingerprints, and then proceed with the HazMat knowledge test. This exam is conducted at an MVC driver testing center.
The NJ HazMat test has 30 multiple choice questions, and you will need to answer at least 80% correctly to pass.
The test assesses your understanding of:
Proper handling of hazardous materials

Federal and state HazMat regulations

Your responsibilities regarding the safe transportation of hazardous materials
Ways To Prepare for the NJ HazMat Test
You should go through the New Jersey Motor Vehicle Commission's CDL manual to prepare for the test. For further inquiries, you can get in touch with NJMVC via:
An

online form

Mail at

Motor Vehicle Commission, Customer Advocacy Office, P.O. Box 403 Trenton, NJ 08666-0403
You can get plenty of handbooks, study guides, and tutorials, some of which might be pricey. Certain truck driving schools offer HazMat test courses, but it is also a rather expensive option.
If you prefer a more relaxed but efficient way, you should choose DoNotPay's NJ HazMat practice test.
DoNotPay Provides a Convenient NJ HazMat Practice Test
You can prepare for the HazMat test with DoNotPay, as our app offers a demo version to help you ace the real exam.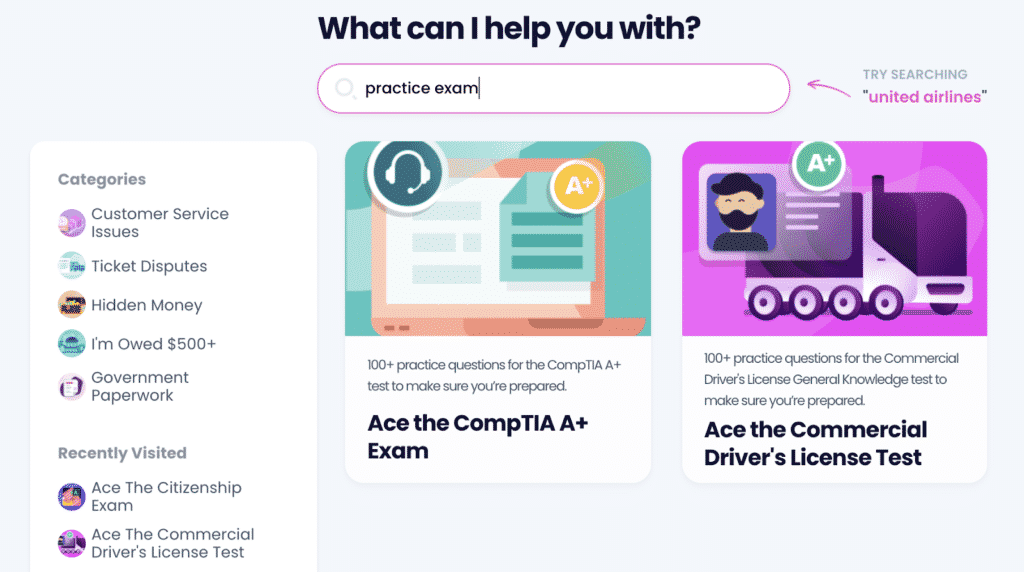 To practice for your HazMat test in New Jersey with the help of DoNotPay, take the following steps:
Access DoNotPay from your

Type in the name of the test

Choose the number of questions—10, 20, or 30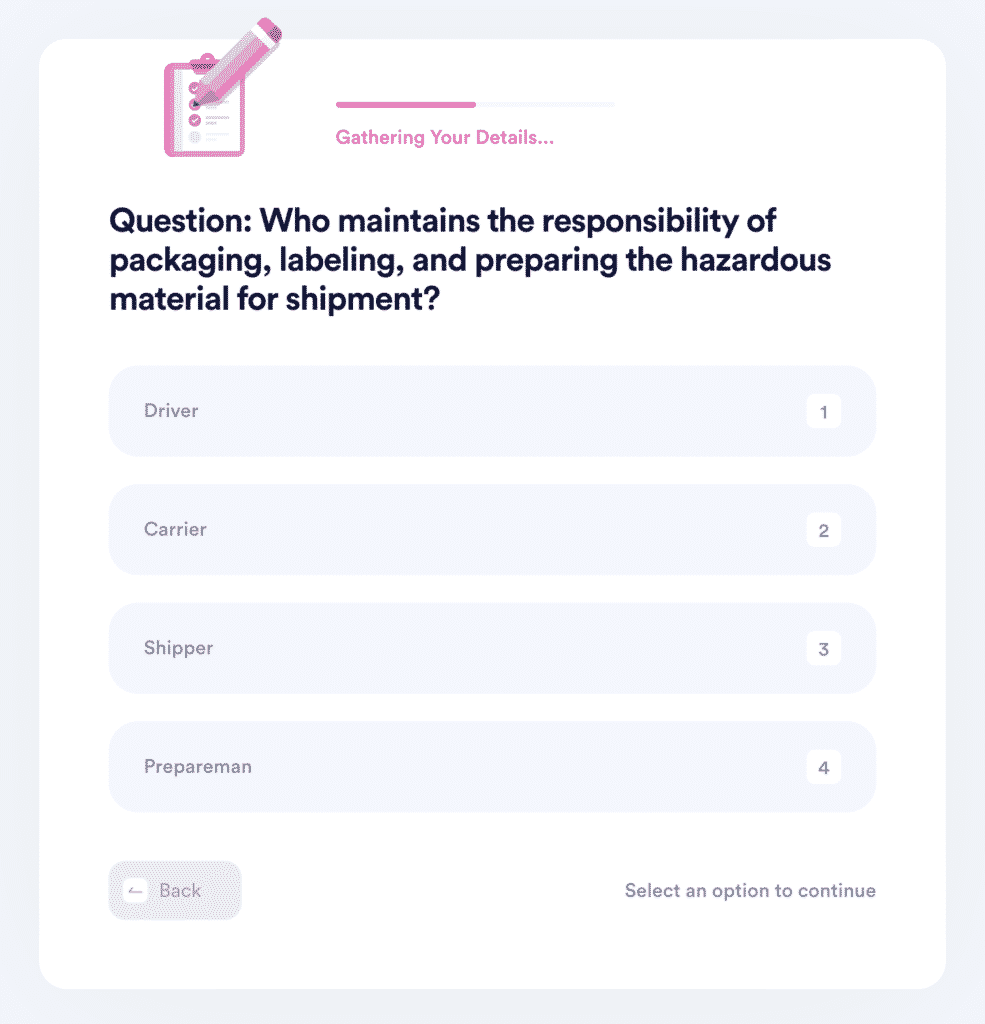 With our NJ HazMat practice test, you can return to each incorrectly answered question as soon as you make a mistake. There is also an option to retake the whole test once you check the results.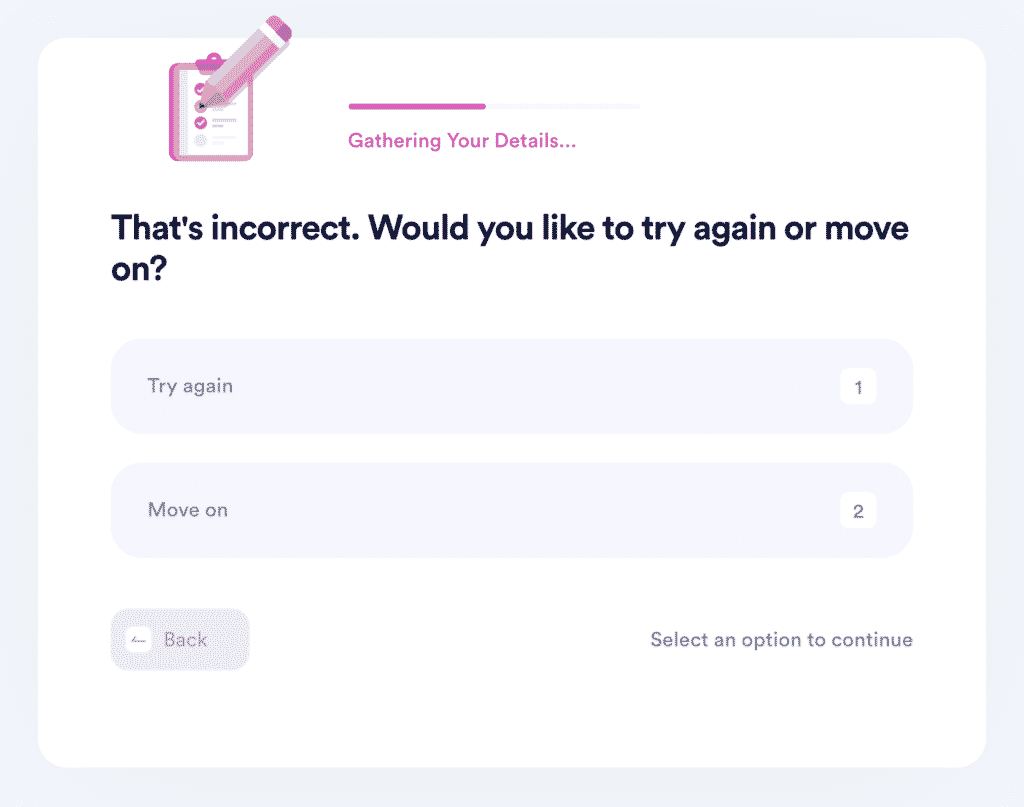 DoNotPay can assist you in preparation for numerous government tests. Our app is your practice test database where you can take a CompTIA, ASVAB, DMV, CCAT, postal exam, U.S. citizenship, or notary practice test.
Why Opt for the NJ HazMat Endorsement?
If you obtain the HME, your employment chances can improve. Truck drivers with a HazMat endorsement often have a higher income as some specialized industries specifically require drivers with HMEs.
The U.S. trucking industry is a major player in the overland freight movement and is still growing. Truck drivers are in high demand, and there are 947,000 truck drivers in the U.S. as of 2019.
DoNotPay Reduces Your Problems and Expenses
Would you like to learn how to pass the written driving test or make a DMV test appointment? Apart from offering this information, DoNotPay provides ASVAB test scores.
If you live in New Jersey, you might want to find out how to take an NJ driving test, get help with your electric bills, or apply for clinical trials.
DoNotPay offers additional helpful services, so open DoNotPay in your and find ways to:
Dispute traffic tickets

Dispute speeding tickets