Get the Top Scores on the CDL Exam With CDL Combination Practice Tests
A commercial driver's license (CDL) is a type of license required for operating vehicles that are large, heavy, commercial, or transporting hazardous materials. Depending on the type and size of the vehicle you want to drive, you have to apply for a suitable endorsement when taking a CDL test.
Combination vehicles are more difficult to operate and require better driving skills than single commercial vehicles. Due to that, passing the knowledge test for combination vehicles requires more preparation, studying, and practice. If you want to ace your exam, take DoNotPay's CDL combination practice test!
What Does the Commercial Driver's License Test Consist Of?
To obtain a commercial driver's license, every applicant has to meet certain requirements:
Being at least 18 years old

Having an operator's license

Passing the vision exam

Passing the

CDL knowledge

and

road

tests
In the table below, you can find all the information about CDL classes and their requirements:
CDL Class
What Is It Required For?
What Does the Knowledge Exam Consist Of?
What Does the Road Skills Test Include?

Class A

Operating trucks and combination vehicles over 26,000 lb

Towing vehicles or units over 10,000 lb

General knowledge exam

Combination vehicles test

Exams for desired endorsements

Vehicle inspection

Basic vehicle control

On-road test

Operating straight trucks and buses over 26,000 lb

General knowledge exam

Air brakes test

Exams for chosen endorsements

Class C

Operating vehicles transporting placarded amounts of hazardous materials

Driving vehicles transporting more than 16 people

General knowledge exam

Air brakes test

Exams for desired endorsements
How To Prepare for the
CDL Combination Vehicle Test
Driving any commercial combination vehicle requires skill, patience, and knowledge. Passing a CDL combination test is not a walk in the park! That is why you should clear your schedule and devote some time to studying for it. Some of the best methods of studying for a CDL combination test include:
Reading a CDL manual that is valid in your state

Hiring a tutor to help you study

Creating a

driving test checklist

Taking practice tests
The goal of the CDL written exam is to test your knowledge about traffic laws, rules, regulations, and signs. The test can include questions about:
Vehicle inspection

Railroad crossing

Accident procedures

Driving under the influence

Staying alert while driving

Communicating with other drivers
How Many Questions Are on the CDL Combination Test?
The written part of every CDL test consists of 50 multiple-choice questions. To pass the knowledge exam, you have to answer 80% of it correctly.
Where To Find a CDL
Combination Vehicle Practice Test
Once you read your CDL manual and learn all the laws and rules by heart, you should put your knowledge into practice. You can do that by taking online practice tests.
Practice tests mimic the form and even questions from real knowledge exams. If you want to take the CDL combination vehicle practice test, you should consider reliable sources, including:
Reasons To Choose DoNotPay for CDL
Combination Practice Tests
Practice tests are a great way to test your knowledge, but if a test is not good enough or contains incorrect information, it can diminish all your hard work and time spent on studying. Don't let that happen! Take the CDL combination practice test using the most reliable source—DoNotPay.
We have the most comprehensive database, and our practical Government Test Prep service enables you to take CDL practice tests regardless of your location.
With our app, you can practice for CDL tests in Texas, Idaho, California, Florida, Oklahoma, West Virginia, or anywhere else in the States.
How To Take the
CDL Combination Practice Test
With DoNotPay
To take the best CDL combination practice test, follow these steps:
Log in to your DoNotPay account in a

Find the type of practice test you want to take

Choose the number of questions—10, 20, or 30

Start taking the practice test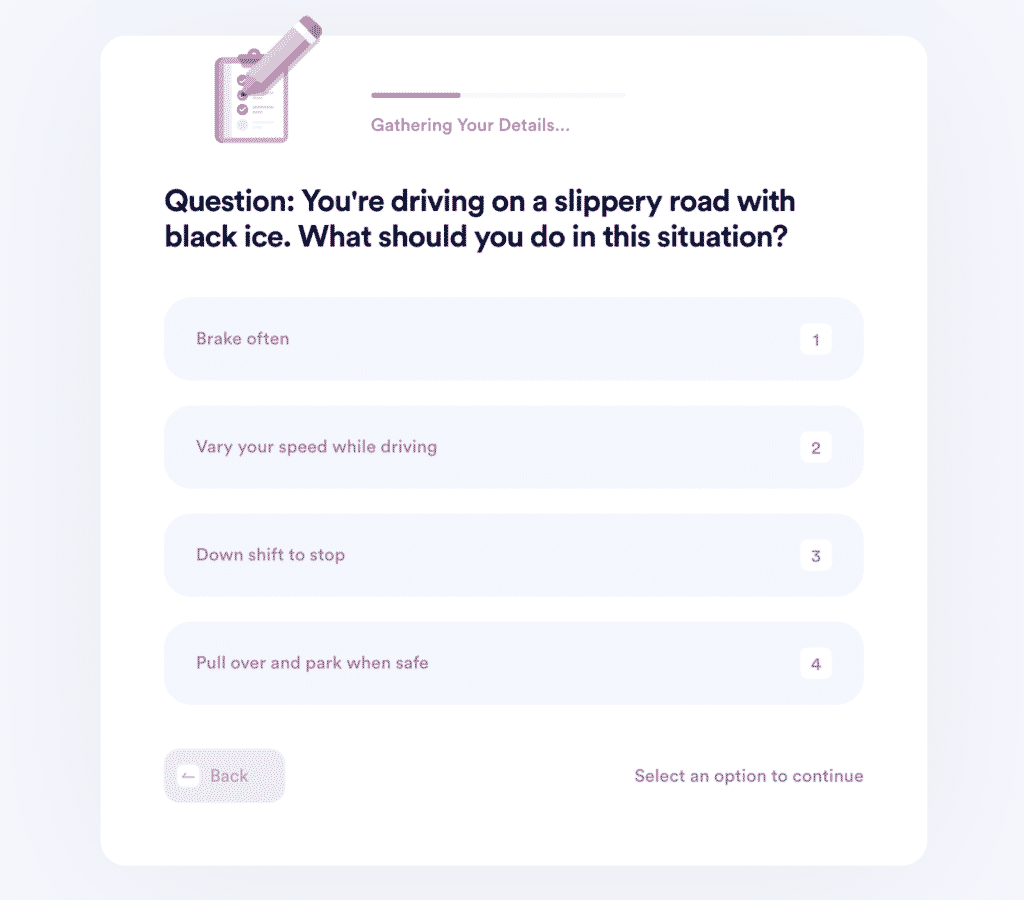 You can correct the wrong answer right away or see the results once you complete the practice test—it is up to you. The best part is you can take the test as many times as you need!
Use DoNotPay To Check Your Knowledge for Other Government Tests
When it comes to government-issued tests, we have all the necessary information! With DoNotPay, you can learn how to pass the written part of the exam of DMV tests.
We can even help you schedule a driving test appointment.
Rely on us if you need assistance in interpreting the scores you got on the Armed Service Vocational Aptitude Battery (ASVAB) test.
Open DoNotPay in any in case you need to practice for:
DoNotPay Is a Time-Saving App
How many customer service reps do you have to deal with only to file an insurance claim or book your DMV appointment?
DoNotPay helps you sort out these tasks and much more in only a few clicks.
Get your revenge on robocallers, report text scammers, find validated clinical trials, claim your warranties, get in touch with your loved ones in prison, and protect your creative content—all in less than five minutes.
No more hours-long phone calls, emails, or in-person visits.
We cover everything from freeing your inbox from spam to providing excellent prep tests for government exams! Save time with your all-in-one app!
Keep Your Money Safe With DoNotPay
Don't let greedy companies threaten your consumer rights by holding back refunds, refusing to cancel your subscriptions, or charging you after your free trial ends.
DoNotPay helps you try out different services without providing your credit card info or phone number—you will never again have to deal with unexpected post free trial charges!
Our app also helps you avoid paying unnecessary parking tickets, delay challenging bills, or waive your college application fees.
If any company refuses to issue you a refund or an airline won't compensate for canceled flights, we can help you sue them in small claims court.