Use This WV CDL Practice Test To Get the Perfect Score on the Exam
People who want to operate any vehicle with a gross vehicle weight of 26,001 pounds or more need to obtain a Commercial Driver's License (CDL). The CDL is also necessary for anyone who wants to transport passengers or various materials. If the materials are hazardous, future commercial drivers need to pass the HazMat test as well. Everyone who passed the DMV written and regular test can apply for a CDL.
Since every state has different rules, regulations, and requirements, DoNotPay created a special feature that can help users prepare for a CDL test in any state, including West Virginia. You can find information about CDL rules and regulations in Ohio, Florida, Nevada, Louisiana, and many others.
What Is the
WV CDL Test
?
The West Virginia Commercial Driver's License test consists of two parts—knowledge exam and skills test.
The CDL general knowledge test can be both written and oral. You'll need a score of at least 80% to pass the test, which means that answers to 40 out of 50 multiple-choice questions must be correct. The questions are taken from the official West Virginia CDL Manual.
If you fail your test, you can retake it seven days after your initial attempt. You will have three more attempts before you have to pay the fee again.
What Are the Requirements for the WV CDL?
West Virginia doesn't joke around with its rules and regulations when issuing a CDL. Every applicant who applies for a CDL must meet certain general and physical requirements.
Check out the table below to learn more about the criteria you need to meet to get a Commercial Driver's License in West Virginia:
Type of Requirements
The Applicant Must

General

Be at least 18 years old with two years of driving experience

Provide proof of identity—SSN and West Virginia Residency document

Have legal status in the U.S

Provide current DOT medical certificate, acquired through a

CDL medical exam

Show written proof of employment

Complete the application form for the CDL or endorsements (CDL-1)

Physical

Meet the eyesight criteria. Each eye needs to be 20/40 with glasses or contact lenses

Be able to recognize colors

Have satisfactory hearing—be able to discern a whisper at a distance of at least five feet

Have normal blood pressure—the allowed blood pressure is 160/100

Have blood sugar lower than 200

Be free of any addiction—drug, alcohol, etc
Where Can You Do
WV CDL Practice Tests
?
Finding the best website for practicing CDL test examples isn't as easy as it might seem. You never know if the questions and information on a particular website are up-to-date. The only way to be sure that the questions you'll get are relevant for your WV CDL test is to find reliable resources.
Apart from DoNotPay, you can check the following websites:
Why Is DoNotPay the Best Choice for Your
WV CDL Practice Test
?
DoNotPay's Government Test Prep feature includes all major government practice tests. We created a platform you can use to find everything you need in a single place. There'll be no more endless searches on Google. Type in the name of the test you need in our search bar and get what you need in seconds.
Aside from CDL, HazMat, and driving tests, DoNotPay helps you practice for:
U.S. citizenship exam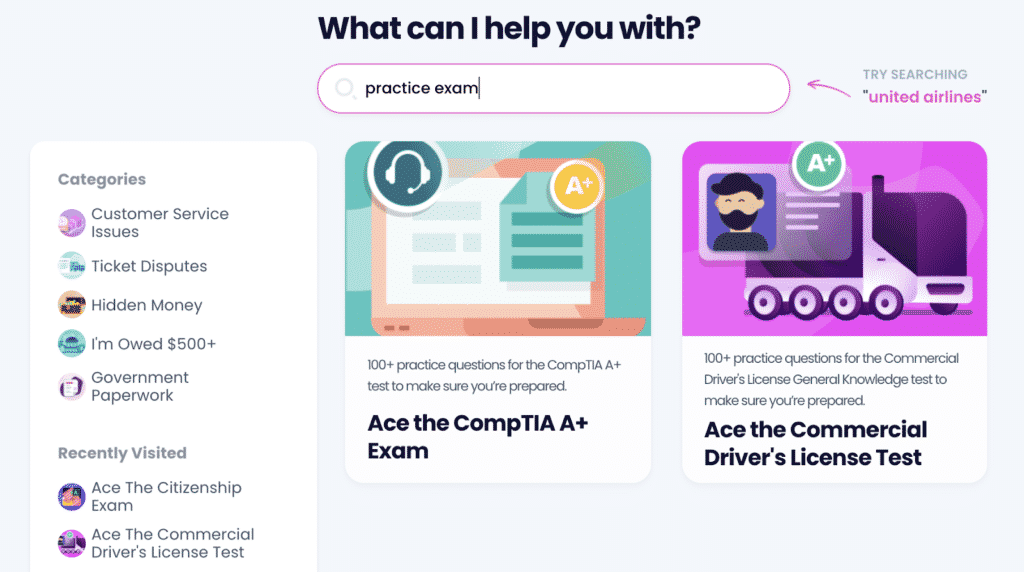 After choosing the test, you can select the number of questions you'd like to do. You have three options—10, 20, or 30 questions. With each wrong question, you can decide whether you want to retry it or continue with the test and redo all of the questions in the end.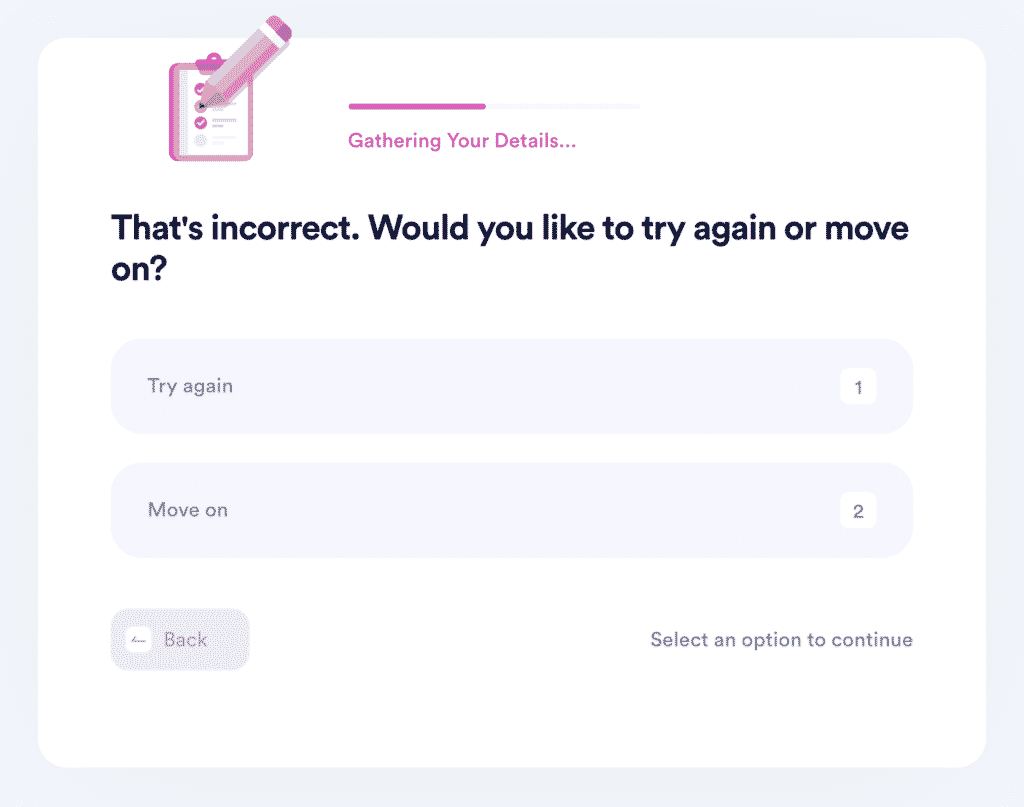 DoNotPay teaches you how to avoid paying WV parking fines, make a DMV driving test appointment without waiting for weeks, and get the best ASVAB test scores ever.
How To Use DoNotPay for
WV DMV CDL Practice Test
You'll need to take a few simple steps to access DoNotPay's WV CDL practice tests. This is how it works:
Open DoNotPay in your

Type in

WV CDL Test

and select the test you want to do

Choose the number of questions and start practicing

Keep redoing the tests to get the perfect score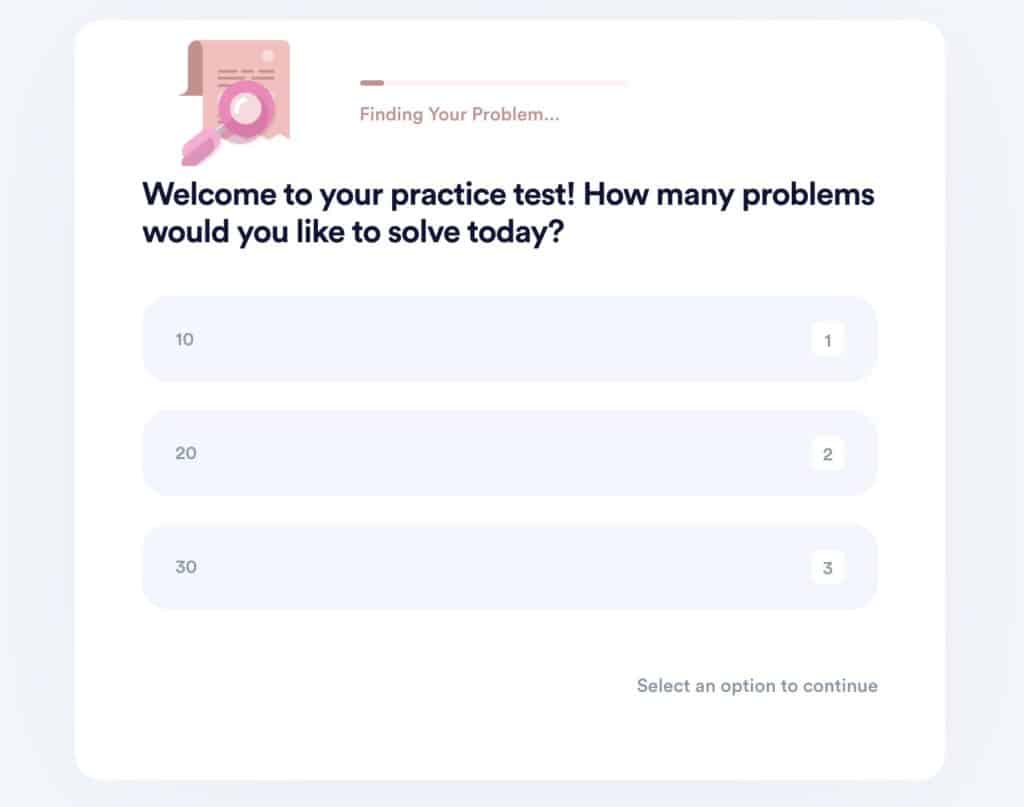 Want To Avoid Tiresome Admin Processes? DoNotPay Will Handle Them
Applying for a clinical trial, free trial, copyright of your work, or any service without phone number verification is a time-consuming task many people want to avoid. Fortunately, such processes are DoNotPay's specialty.
If you feel like a company or individual has wronged you, you can sue them in small claims court. DoNotPay will handle the paperwork, and all you need to do is show up in court and win the case!
With our robot lawyer's help, you will also be able to protect your work from copyright infringement, deal with various credit card issues, deal with high bills you cannot pay, and appeal speeding, parking, and traffic tickets in no time.
Report Companies or Individuals That Won't Give You a Break
DoNotPay also makes it easy for you to report and earn off persistent robocalls, email spam, spam text messages, and stalkers and harassers.
Once you sign up for our handy app, you won't have to deal with any of these. We'll even make it easy for you to schedule a DMV appointment or jump the phone queue when getting in touch with any company's customer service!