Best Refrigerator Warranty Explained
Buying a quality refrigerator is a serious matter. When you purchase a fridge, you want to make sure that it will serve you for a long time. All kitchen appliances break at some point, and a great warranty can save you from spending a ton of money on repairs. The question is—which refrigerator warranty is objectively the best?
We will compare and assess some of the companies with leading refrigerator warranties and provide the best way of filing a warranty claim.
What Makes the Best Appliance Manufacturer Warranty?
Here are some warranty factors you have to pay attention to before purchasing a refrigerator from any company:
Limited vs. full warranty—

Most companies offer limited warranties on their refrigerators. Limited warranties leave more space for companies to avoid replacing or repairing a faulty product. If you find a company that offers a full warranty on their product, it is worth considering

Shorter vs. longer warranties—

Always pick a refrigerator from a company that offers long protection of their products

Reliable brands—

Warranty coverage may look good on paper, but some brands do anything to avoid accepting the warranty claim. Others are prepared to go the extra mile to stand behind their product, including fixing the issue even after the warranty expires
What Is the Refrigerator With the Best Warranty?
Choosing the right manufacturer means making sure that the fridge has a proper life span, doesn't require service very often, has easily replaceable parts, and is protected by generous warranty coverage.
Here is an overview of companies that offer the best refrigerator warranties:
Company Name
Coverage

One-year limited warranty

One-year warranty on non-electronic parts

Four-year warranty on electronic parts

One-year full warranty

Two years if registered within 60 days

Two-year full warranty

Full five-year warranty on sealed system repairs

Twelve-year limited warranty on sealed system parts

One-year limited warranty

Four-year warranty on sealed system repairs

One-year limited warranty

Nine-year warranty on compressor parts

One-year limited warranty

Four-year warranty for sealed system parts

Nine-year warranty for inverter compressor parts

One-year limited warranty

Four-year warranty on sealed system repairs

One-year limited warranty

Four-year warranty on sealed system repairs

One-year limited warranty

Four-year warranty on sealed system repairs
Use DoNotPay To File a Warranty Claim for Your Refrigerator in No Time
Even the most reliable products sometimes break due to a workmanship or material issue. When that happens, you should file a warranty claim immediately.
DoNotPay makes the process easy and effortless. Our handy Claim Warranty feature will help you get approval from any company.
You only need to access DoNotPay in your and follow these steps:
Log in to your DoNotPay account

Find the

Claim Warranty

feature

Click on

Warranty on a Purchased Product

Enter the name of the company and explain the issue

Tap on

Submit My Claim
Our app will produce a warranty claim based on the information you provided and send it to the selected company. They will reach out to you shortly after receiving the claim.
You can use our app if you need to claim a home or car warranty or even an extended warranty for used cars.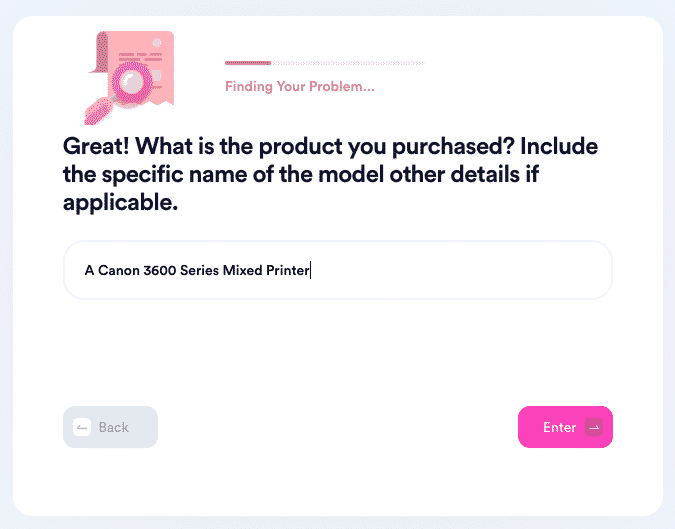 Don't Worry if Your Claim Gets Rejected—DoNotPay Can Help
Almost everybody's first warranty claim gets rejected. Companies tend to make up a bunch of excuses or drag out the process as much as possible to make you give up on your claim. If that happens, you can turn to us for help!
We will assist you in filing an appeal and getting the service you deserve. Follow these simple steps first:
Access the

Claim Warranty

section

Pick

Appeal a Denied Warranty

Type in some information about the first claim you filed

Choose whether you're appealing against the

Product Manufacturer's

or the

Extended Warranty Provider's

decision

Click on

Submit
The information you give us serves as the basis for the appeal letter we will submit on your behalf. The warranty provider is bound to get in touch with you to discuss your appeal soon after. In case you are having issues with a dealer who refuses to cancel your extended warranty, you can use our app!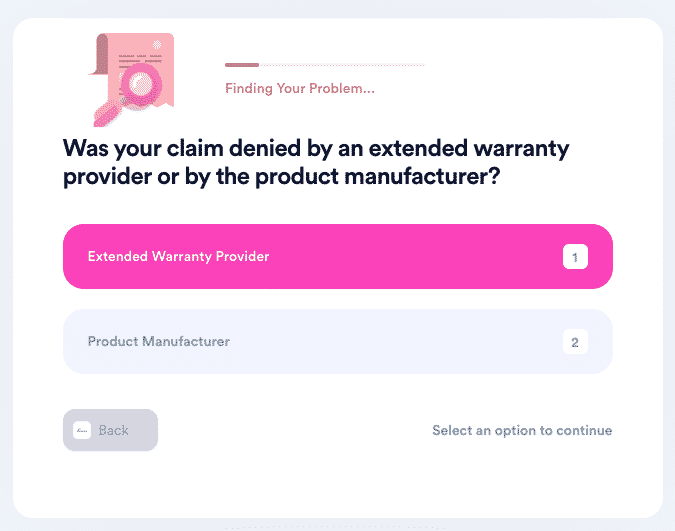 Let DoNotPay Take Care of Boring Administrative Tasks
Do you want to know more about warranties? DoNotPay is here to give you insight into home warranty reviews and the best home warranties of America.
If you need to file a warranty claim for a Whirlpool water heater or a Samsung microwave, we have all the information.
DoNotPay can handle numerous issues on your behalf. You can open our platform in any and find out how to:
Overturn speeding tickets

Contest traffic citations