All You Need To Know About the Maytag Warranty Service
Maytag is an American home and commercial appliance brand owned by Whirlpool Corporation. It produces kitchen appliances, washers, dryers, and numerous other products.
What Does
Maytag Appliance Warranty
Cover?
Every Maytag appliance has a one-year limited manufacturer warranty. Maytag also provides two types of home warranty plans:
Check the table below to see what each plan covers in detail:
| | | |
| --- | --- | --- |
| Coverage | Basic Plan | Total Plan |
| Heating system | ✓ | ✓ |
| Ductwork | ✓ | ✓ |
| Water heater | ✓ | ✓ |
| Plumbing system | ✓ | ✓ |
| Plumbing stoppage | ✓ | ✓ |
| Refrigerator | ✕ | ✓ |
| Clothes washer and dryer | ✕ | ✓ |
| Air conditioning | ✕ | ✓ |
How To File a Maytag Warranty Claim
You can contact Maytag to claim a warranty or request any other information you need. Maytag provides clients with a few ways to claim a warranty, but the process is usually quite long. To speed up the lengthy procedure, you can resort to DoNotPay. Check the table below for all available methods to file the Maytag Warranty Claim.
| | |
| --- | --- |
| Can You File Your Warranty Claim With | Yes/No |
| DoNotPay | Yes |
| Phone | Yes |
| Email | Yes |
| In Person | No |
| Letter | No |
| Company Website | Yes |
Filing a Maytag Warranty Claim via Phone
To file a claim over the phone, call 800-462-9824. Once you reach Maytag's customer service, ask for all the necessary information and further instructions regarding your warranty claim.
Filing a Maytag Warranty Claim Online
You can claim your warranty online on Maytag's website. Follow these simple steps to start live chat and schedule the necessary service:
Go to the company

website

Select the

Live Chat

option

Explain your request to the customer chatbot

Tap Send
File a Maytag Warranty Claim With DoNotPay
You can choose an easier way to file your warranty claim and use DoNotPay to make the process a bit faster. Our app also offers information on claiming a warranty for used cars or handling a company refusing to cancel your extended warranty. Using DoNotPay's Claim Warranty feature, you can claim any car, home, or product warranty. These are five simple steps you should follow to claim your Maytag warranty with DoNotPay:
Open DoNotPay in any

Choose the

Claim Warranty

feature

Click on

Home Warranty

Provide the information needed

Press

Submit my claim
After that, DoNotPay will do the rest of the work. Maytag should get in touch with you to schedule an appointment.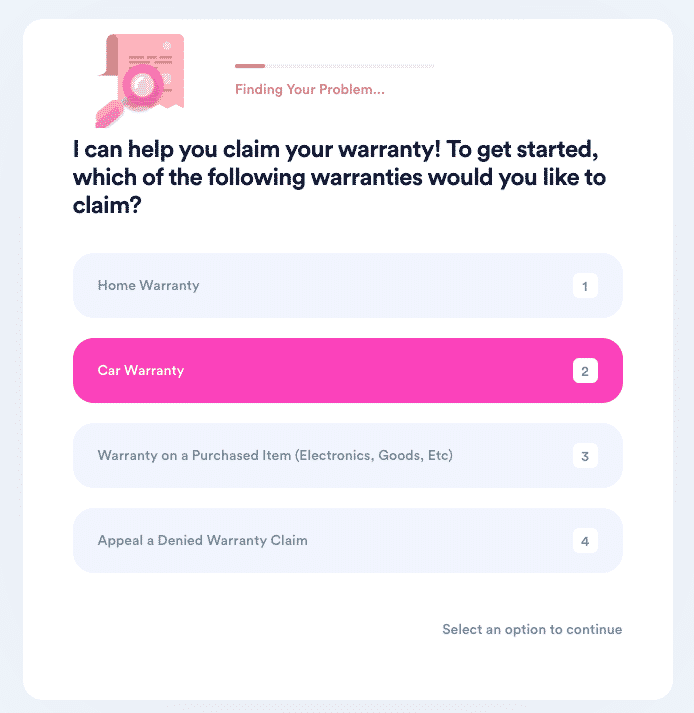 You may need to give additional details once you choose the type of warranty you would like to claim.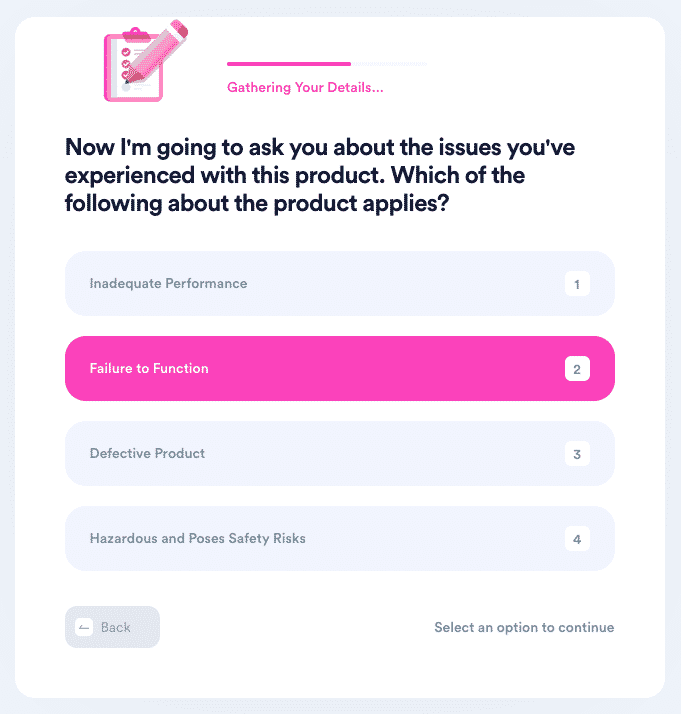 DoNotPay Will Jump In To Help You Appeal a Denied Warranty Claim!
It's not uncommon for your initial warranty claim to get rejected. If Maytag denies your request, you can use DoNotPay to appeal the decision. Here's how it works:
Access DoNotPay in your

Select the

Claim Warranty

feature

Hit

Appeal a Denied Warranty Claim

Choose between an extended warranty provider or a

product manufacturer

Provide additional information about the company and the initial warranty claim
DoNotPay will then submit the appeal letter on your behalf, and Maytag should contact you regarding the service.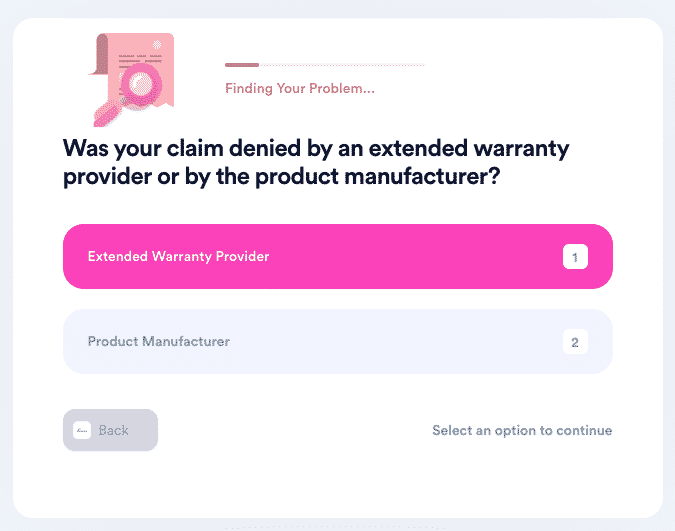 If Maytag Isn't Responding to Your Request, Sue Them
If Maytag doesn't provide the help you seek, you can use DoNotPay to sue them! The world's first robot lawyer can help you sue the company in small claims court. The justice you deserve is a few clicks away!
DoNotPay has been recognized with the American Bar Association's Louis M. Brown Award for our commitment to improving services and our innovative use of technology.
DoNotPay's Other Useful Features
Besides dealing with warranty claims, DoNotPay offers useful home warranty reviews and helps you find the best home warranties in America. But that's not all! If you ever need help regarding other companies, DoNotPay can assist in claiming warranties from BlueRibbon, BFS, Costco, OneGuard, IGS, and many more. Open DoNotPay in your and see how we can help you:
Fight speeding tickets

Dispute traffic tickets