Claim Whirlpool Water Heater Warranty in a Few Clicks
Whirlpool is an American manufacturer and marketer of home appliances based in Michigan. The company sells and distributes small domestic appliances under a range of brand names.
What Does Whirlpool Water Heater Warranty Cover?
Whirlpool offers a warranty for water heaters lasting up to twelve years. It's limited to water heaters used in one-family homes in America. This warranty period gets reduced to one year if the water heater is used for commercial or industrial purposes or to supply more than one residence. The table below shows what's covered with this warranty in detail:
| | |
| --- | --- |
| Covers | Does Not Cover |
| The inner tank | Any accidental damages or expenses from any defect in the water heater due to the use |
| Components | Defects resulting from the water heater or any part being under water |
| Return of defective water heater and components | Shipping, handling, and delivery costs of sending a new water heater or replacement parts to the owner |
| Labor | Any material required to complete installation of a new water heater or replacement parts |
How To Claim Whirlpool Water Heater Warranty on Your Own
You can use different methods to contact Whirlpool and claim your warranty. Many companies offer a few ways to claim warranties, but the process usually takes forever, so you can opt for an easier option to solve this issue—DoNotPay.
| | |
| --- | --- |
| Can You Claim Your Warranty With | Yes/No |
| DoNotPay | Yes |
| Phone | Yes |
| In Person | No |
| Letter | Yes |
| Email | No |
| Company Website | Yes |
Claiming Whirlpool Water Heater Warranty Over the Phone
To file a claim via phone, call the toll-free number 1-866-698-2538. Once you reach customer support, a representative should explain the process and guide you through it.
Claiming Whirlpool Water Heater Warranty by Mail
You can file a claim for your warranty by sending Whirlpool a letter with your request to 553 Benson Road Benton Harbor, MI 49022.
Claiming Whirlpool Water Heater Warranty Online
Whirlpool offers the Live Chat option on their website, so you can file your warranty claim online. The steps are simple:
Visit the

website

Click

Launch Live Chat

Type out your warranty request

Hit

Send
One of the company representatives should respond to your request shortly after.
Claim Whirlpool Water Heater Warranty With DoNotPay
DoNotPay's Claim Warranty feature allows you to claim any warranty—for your car, home, or other purchases—without a hitch. We can also assist in claiming a warranty for used cars or handling a company refusing to cancel your extended warranty. With DoNotPay, you can file your Whirlpool water heater warranty claim by following these simple steps:
Open DoNotPay in any

Choose the

Claim Warranty

feature

Click

Warranty on a Purchased Item

Provide the information needed

Press

Submit my claim
You did your part, and now we will do ours and get to work. Someone from Whirlpool should reach out as soon as possible and let you know whether your claim is accepted.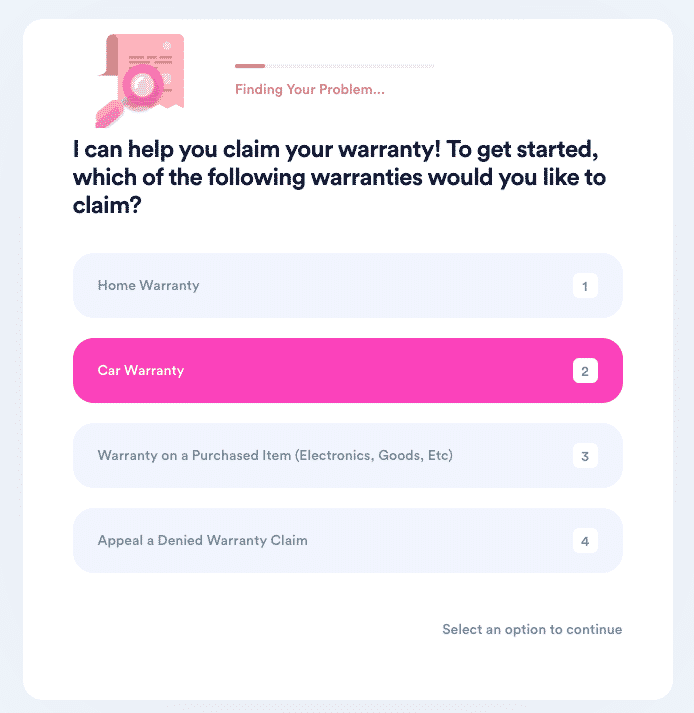 Appeal a Denied Warranty Claim With DoNotPay's Help
If your warranty claim gets rejected, DoNotPay will spare no effort to help you appeal it! Here's what you need to do to appeal a denied warranty claim:
Open DoNotPay in your

Choose the

Claim Warranty

feature

Click on

Appeal a Denied Warranty Claim

Say whether you're appealing against an extended warranty provider or a

product manufacturer

Provide details about the company and the original warranty claim
That's all it takes on your part—we cover the rest. DoNotPay will take the matter further by sending the appeal letter on your behalf, and all that's left is for Whirlpool to respond to your request in due time.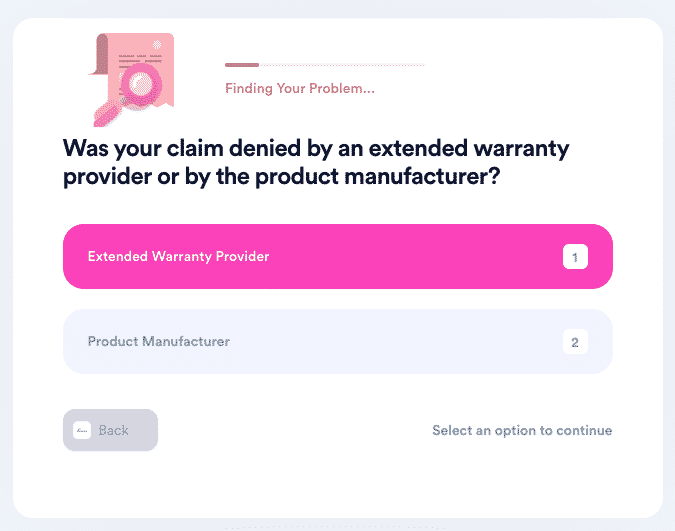 If Whirlpool Refuses To Cooperate, DoNotPay Can Jump In
If Whirlpool—or any other company—has wronged you, and you're having a hard time solving the issue on your own, DoNotPay will help you out! The best part is that it takes almost no effort at all! Here's what DoNotPay can do for you:
Check whether your case is suitable for small claims court

Compose a demand letter

Complete the needed court forms

Create a script for your court appearance
What Else Can DoNotPay Do
Besides claiming and appealing warranties, DoNotPay boasts other useful features! Are you in need of home warranty reviews, or perhaps you wish to find the best home warranties in America? We got you covered! We can help you with other home warranty companies, like or . Open DoNotPay in your and see how we can help you:
Dispute traffic tickets

Fight speeding tickets