What Are Your Options if Your G Suite Account Has Been Suspended?
Having your Google Workspace, formerly known as G Suite, account suspended can be a costly downtime for your business, especially if you can't access your business emails and other features. No matter the cause of the suspension, you need to restore the account to get things running as fast as possible.
This guide will explain the options available to you if your G Suite account has been suspended.
You can also learn more about account suspensions in general, find out if you can appeal your suspension, and discover the easiest way to handle suspensions and bans .
Reasons for G Suite Account Suspensions
Google can suspend:
An organization's Google account
User accounts associated with a company's G Suite
If your organization's G Suite account has been suspended, you will get an alert when logging in to your Google Admin Console. Some of the reasons for G Suite account suspension include:
Failed automatic monthly payments
Expired trial period
Canceled annual plan contracts
Expired Google-registered domain
How To Restore a Suspended G Suite Account
Restoring a suspended G Suite account depends on the reason why it was suspended. For your suspension to be lifted, you need to fix the issue explained in your suspension alert message.
Failed Automatic Monthly Payments
Google may suspend your G Suite account if they can't charge your primary payment method. Some of the reasons for failed monthly payments are an expired card, a low balance in your bank account, and unverified or invalid payment methods.
To fix your billing issues, follow these steps:
Log in to your Google Admin Console
Navigate to Billing, then go to Payment Accounts
Click on View Payment Methods
Confirm that you have set a valid primary payment method
Click on Fix or consult your card issuer—if there's an issue with your primary payment method
Select one of your payment methods as primary (if you haven't already)
Tap on Add Payment Method if you need to add a new card
Expired Trial Period
Google begins to charge your provided payment method once your trial period expires and may suspend your account if they can't. If you didn't set up your billing information earlier, here's how you should do it to continue with automatic payments:
Sign in to your Google Admin Console
Navigate to Billing, then go to Manage Subscriptions
Click on Start Paid Service or Set Up Billing
Proceed according to further instructions
Canceled Annual Plan Contracts
If you opt not to renew your annual contract, the services will be discontinued when the contract term expires. To unsuspend your yearly contract, proceed as follows:
Log in to your Google Admin Console
Click on Fix This (if you get an error message)
Go to Billing, then click on Subscriptions
Tap on Your Subscriptions
Click Change under Renewal Options
Choose Auto-Renew My Contracts and Save
Expired Google Registered Domain
If you purchased your domain through Google, you might lose access to your G Suite features if you fail to renew the domain before its expiration date or if you haven't set automatic domain renewal.
You should renew your domain immediately to ensure it's still available. Follow these steps to restore your Google domain:
Log in to your Google Admin Console
Navigate to Billing and Manage Subscriptions
Tap on Domain Registration Subscription
Click Change and choose Auto-Renew under renewal options
Go to the account ID for your subscription
Confirm that your primary payment method is valid
How To Reactivate a Suspended Gmail Account
Google may also suspend Gmail accounts for different users associated with a company's G Suite for various reasons, such as:
Underage users
Unverified log-in activities
Excessive use
Breaches of the Google Workspace terms of service
Compromised account status
The organization's admins can also temporarily suspend a user account. Although the user can utilize other products, like Google Drive, they can't use email tools to send or receive messages.
The company's administrator can restore the user's account using these steps:
Go to the Users icon
Locate the user on the list
Go to the suspended user's profile page
Tap Reactivate and verify
It can take up to 15 minutes for the suspension to be lifted. If the suspension notification mentioned that the account's security is undermined, the admin needs to use the administrator security checklist before any attempts to recover the account.
Note that if the account was suspended due to a breach of Google's policies, the admin cannot restore or delete it in the organization's G Suite. In the case of underage users, they must submit proof of age within 30 days of the suspension.
If Your G Suite Account Has Been Suspended—Use DoNotPay

If you get banned or suspended from any platform or company for any reason, DoNotPay can help you appeal the initial decision in no time. All you have to do is:
Go to Unban My Account
Answer a few questions about your suspended account
Click Sign and Submit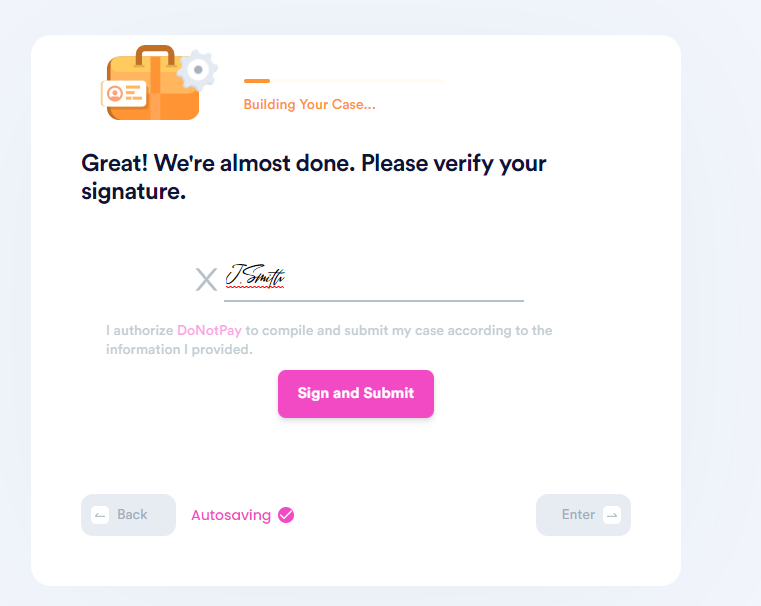 That's it! DoNotPay will quickly generate a custom demand letter and send it to the company on your behalf. The letter gives the company a two-week deadline to respond to your request, so you don't end up on the indefinite waiting list.
If the company has responded to your initial appeal, their decision is final—sending another request will be in vain.
The following guides can help you get unsuspended from the most popular websites and platforms:
Need Legal Assistance? DoNotPay Got You Covered!
Forget about getting a migraine every time there is an administrative task to handle. DoNotPay makes it easy and stress-free to deal with any bureaucratic issue that comes your way.
Not only can we assist you in drafting a legal document and getting it notarized, but we also help you:
Reduce your property taxes
Finishing Your Daily Errands Has Never Been Easier!
Looking for help with running errands? You don't have to spend hours trying to make a DMV appointment or contacting a customer service rep! Completing your day-to-day tasks stops being a burden once DoNotPay gets involved.
There is no shortage of errands we'll help you run for a small subscription fee, including:
Sign up for DoNotPay and avoid spending hours on simple daily tasks that can be done in a jiffy!