Decoding the Wilsons Leather Return Policy—A Simple Step-by-Step Guide
Ordering one of numerous leather goods from Wilson Leather is always exciting—unless, of course, it arrives in the wrong size or color or you just plain don't like it as much as you did while shopping online.
What's a shopper to do in these instances? The smart option is to resort to our summary of the Wilsons Leather return policy, in which we also outline how DoNotPay takes care of return requests for you.
Wilsons Leather Return Policy—The Basics
The Wilson Leather return policy states that only unused items in their original condition, which you have received 30 days ago or less, are eligible for a return and refund.
Other important points include:
The only way you can return an item is via mail
You will receive the refund to the method of payment you used when buying the product
The refund covers the cost of the product and the applicable sales tax
The shipping address for all returns is:
Wilsons Leather
c/o Returns
4811 Nashville Rd #9
Bowling Green, KY 42101
Shipping costs are not included in the refund.
How To Return Wilsons Leather Merchandise
When filing a return request with Wilsons Leather for any new and unused item, you need to follow these steps in their particular order:
Complete the form included in your item order
Add the Reason Code that corresponds with the particular reason you're returning the item
Return the item in its original packaging
Enclose the return form within the packaging
For Wilsons Leather item exchange, you need to return the item you wish to exchange and then place a new order for the item you want to replace it with.
What Happens if Your Shipment Is Incorrect or Product Is Damaged?
In the event of an incorrect shipment (in other terms, poorly packaged item) that results in a damaged product, Wilsons Leather will still accept the return/exchange request. The vendor will also supply a full refund for the item.
Important Note About U.S. Wilsons Leather Return Shipping Labels
Wilsons Leather has included the prepaid peel-and-stick return label for all orders from the mainland U.S., Hawaii, and Alaska. The proper use of this label includes:
Place the shipping label on the package's exterior
Drop off your package via FedEx or USPS (you can schedule a free USPS pickup)
Save the tracking number from the label for your record
Please note that the vendor will deduct the $6 prepaid label fee from the refund price.
| Can You Initiate a Return With Wilsons Leather Via | Yes/No |
| --- | --- |
| DoNotPay | Yes |
| Email | No |
| Phone | No |
| Mail | Yes |
| In person | No |
DoNotPay's Role in Any Return Request's Happy Resolve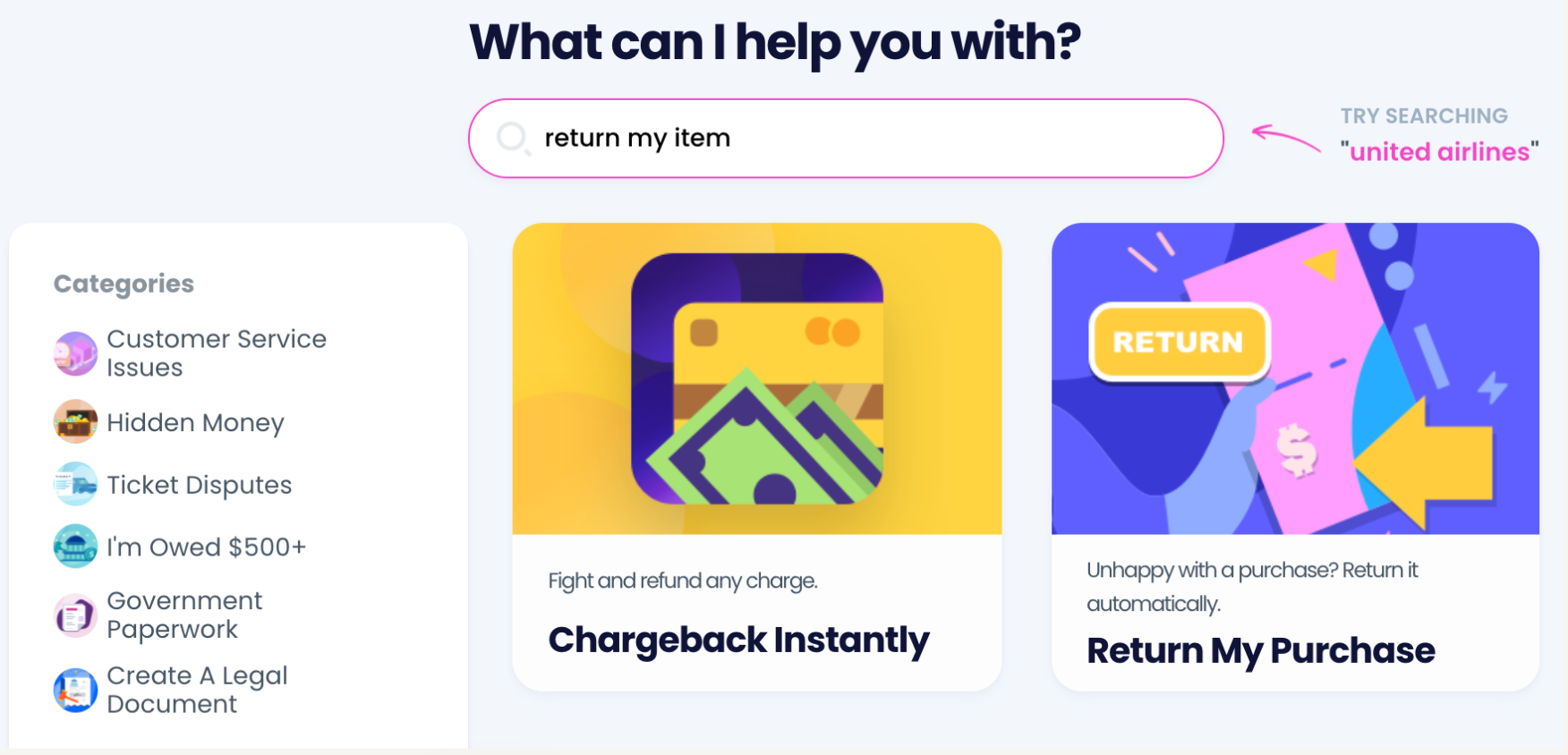 Did you know that you can pretty much avoid all of the above and let a mobile app handle return requests for you? DoNotPay is a nifty tool that takes care of most administrative and bureaucratic tasks to help you achieve your goals faster and easier.
All you need to do is follow these four steps for returning an item with DoNotPay:
Choose the Return My Purchase feature
Answer a few chatbot questions
Click Submit
And voila! The purchase return is set in motion. After you submit the request, the app composes and sends a return request letter to Wilsons Leather on your behalf. The letter contains all of your purchase information.
Return Your Item to Dozens of Vendors With DoNotPay
With DoNotPay, you're not restricted to returning items with Wilsons Leather only.
The app covers the following vendors you can return your items to—and that's not even close to the entire list:
Say No to Bad Purchases—DoNotPay Will Help You Get Back What's Rightfully Yours
Have you finally returned that damaged item thanks to DoNotPay's nifty product? Our app's capabilities don't stop there—we can assist you in doing so much more! Do you believe you have some missing money? Use the world's first robot lawyer before the government claims your assets! Are you feeling lucky and want to enter sweepstakes without purchasing anything? DoNotPay will sign you up for them automatically! Looking for ways to save on property taxes or utility bills? We'll show you the way. Don't want to get charged for free trials that auto-renew into paid subscriptions? We'll help you cancel them on time. No matter the issue you're facing, DoNotPay is here to resolve it in a split second.
Need Help With Anything Else? Your Robot Lawyer Will Provide!
Aside from sending return request letters to a myriad of companies in your stead, we can also help you get refunds from airlines, earn off robocalls, appeal parking tickets, protect your intellectual property, claim insurance and warranty, and so much more! Are you dealing with rude neighbors or mean coworkers that discriminate against you? DoNotPay will help you fight for your rights!