An Expert's Guide to the Vineyard Vines Return Policy
Vineyard Vines' slogan urges their customers to feel good every day, but this can't be the case when the received items are not what you expected.
How do you return them? Are all items returnable? How long will the return process take?
We will explain everything about the Vineyard Vines return policy in this guide and show you how DoNotPay's AI tool can help you .
What's the Vineyard Vines Return Policy All About?
If your Vineyard Vines items are still unused—with all the tags and hygienic liners intact—they are eligible for a return. Customers must have purchased these items on the Vineyard Vines website, app, or in one of its retail stores.
If you have a Vineyard Vines account, take the following steps to return an online purchase via mail:
Visit the Start a Return page
Fill in your email address
Type in your postal code
Provide the order number
Click on Begin My Return and follow the instructions
Vineyard Vines allows both mail and in-store returns. If you opt to return your online order to a store, you can only send it to a retail store but not an outlet or partnership store. To return a gift or online and in-store purchases to a retail store, use the Find a Store page and search for stores by state, mile radius, or ZIP code.
How To Contact Vineyard Vines Customer Support
If you can't find your order number or you have some other return questions, you can contact Vineyard Vines' customer support using these methods:
Contact Method
Instructions
Phone
Call customer support at 1-800-892-4982. Their business hours are:

Monday–Friday, 9 a.m. to 6 p.m.
Saturday, 9 a.m. to 5 p.m. ET

Email
Email Vineyard Vines at tieguys@vineyardvines.com
Live chat
Click the Open Live Chat button on the Contact Us page
Mail
Send a letter to:

Vineyard Vines

Attn: Customer Care

181 Harbor Drive

Stamford, CT 06902

Website
Go to the Ask a Question section on the Contact Us page:

Choose your question category from the My Question drop-down menu
Describe your query in the Comment field
Provide your order number
Fill in your email address or your phone number
Input your first and last name
Click Send Message
What Items Can Be Returned to Vineyard Vines?
Vineyard Vines does not accept returns for every item. Return eligibility will depend on where the item was purchased and what sale category it belongs to.
The following return conditions apply:
Altered, personalized, and made-to-order items do not qualify for return or exchange
In-store purchases will not qualify for a return without a receipt
Clearance and final sale items do not qualify for return or exchange
Sample Sale or Whalehouse purchases are deemed final sale and do not qualify for returns or exchanges—returning Whalehouse and Sample Sale online orders is accepted at most locations
Items damaged from normal wear and tear, accidents, or misuse are not eligible for return
At its discretion, Vineyard Vines may accept or reject return items from bulk or repeat returners
Gift cards do not qualify for returns or exchanges
Return items without a receipt or order number could still be accepted. You will have to provide additional information, but it may take more time to process your return.
How Are Returned Items Refunded Under the Vineyard Vines Return Policy?
Vineyard Vines' return window varies from 30 to 90 days after the purchase date, depending on the item type, category, and availability of proof of purchase documents.
Different types of purchases are reimbursed according to the following rules:
Order Type
Return Window/Conditions
Refund Type
Full-price orders
Within 60 days
Full refund or merchandise credit
After 60 days
Purchase-value merchandise credit
After 90 days
Previous-value merchandise credit
Sale orders
Within 30 days
Full refund or equivalent store credit
After 30 days
Purchase-value merchandise credit
After 60 days
Previous-value merchandise credit
Holiday gift orders
Within 60 days (regular items)
Refund to the original credit card
Within 30 days (sale items)
Refund to the original credit card
After both windows
Store credit or gift card
Vineyard Vines outlet store purchases can be returned or exchanged within 30 days of purchase but not at a retail store or the company's online fulfillment center. Original shipping fees are non-refundable on correctly shipped orders.
How Do Vineyard Vines Exchanges Work?
To exchange your items, you need to call customer support to arrange the return. To exchange your purchase via mail, fill out the return section of your receipt. This will detail your reason for returning your item, the product information for your replacement item(s), and your contact information.
If your return has a higher value than the exchange item, you will receive a refund equal to the difference in price according to the Vineyard Vines return policy. If your exchange item is pricier than your return item, Vineyard Vines will contact you using your provided contact information to arrange a proper form of payment. Always keep your tracking number, a copy of your shipping label, exchange form, and any other document tied to your exchange request.
Vineyard Vines can take up to 60 days from receiving a returned item to process returns and exchanges. To expedite the process, you can always return unwanted items for a refund using the prepaid return label and place a new order. Only the original purchasers are eligible for expedited processing.
How Can DoNotPay Help You Return Your Item to Vineyard Vines?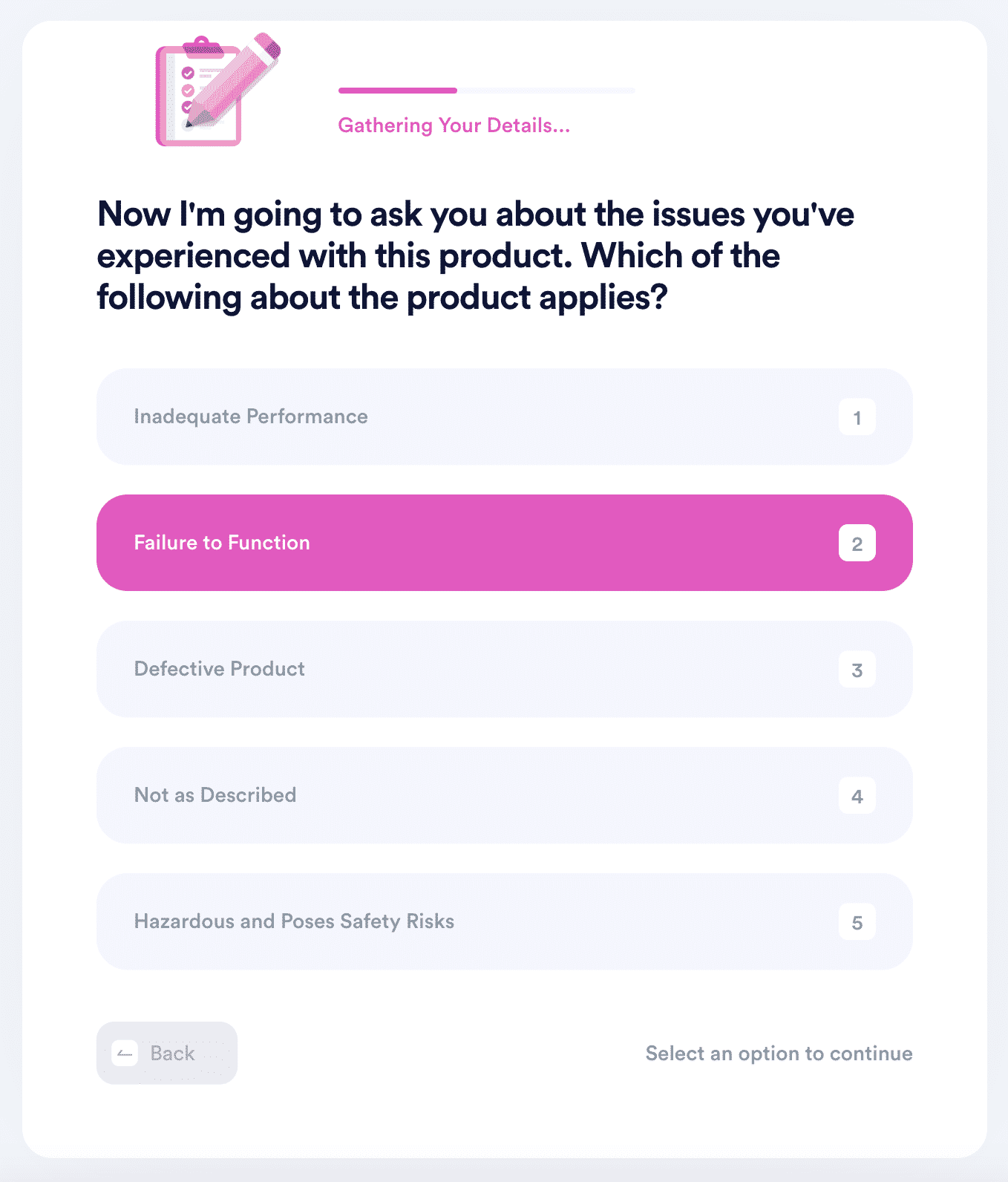 DoNotPay helps take the stress out of the return process by composing a return request letter and sending it to the merchant, including a deadline for processing. You'll also get a return label to save on shipping costs for returning your item. Follow these steps to return your order the easy way:
in a web browser
Look for the Item Return Request tool
Answer a few questions
Submit the request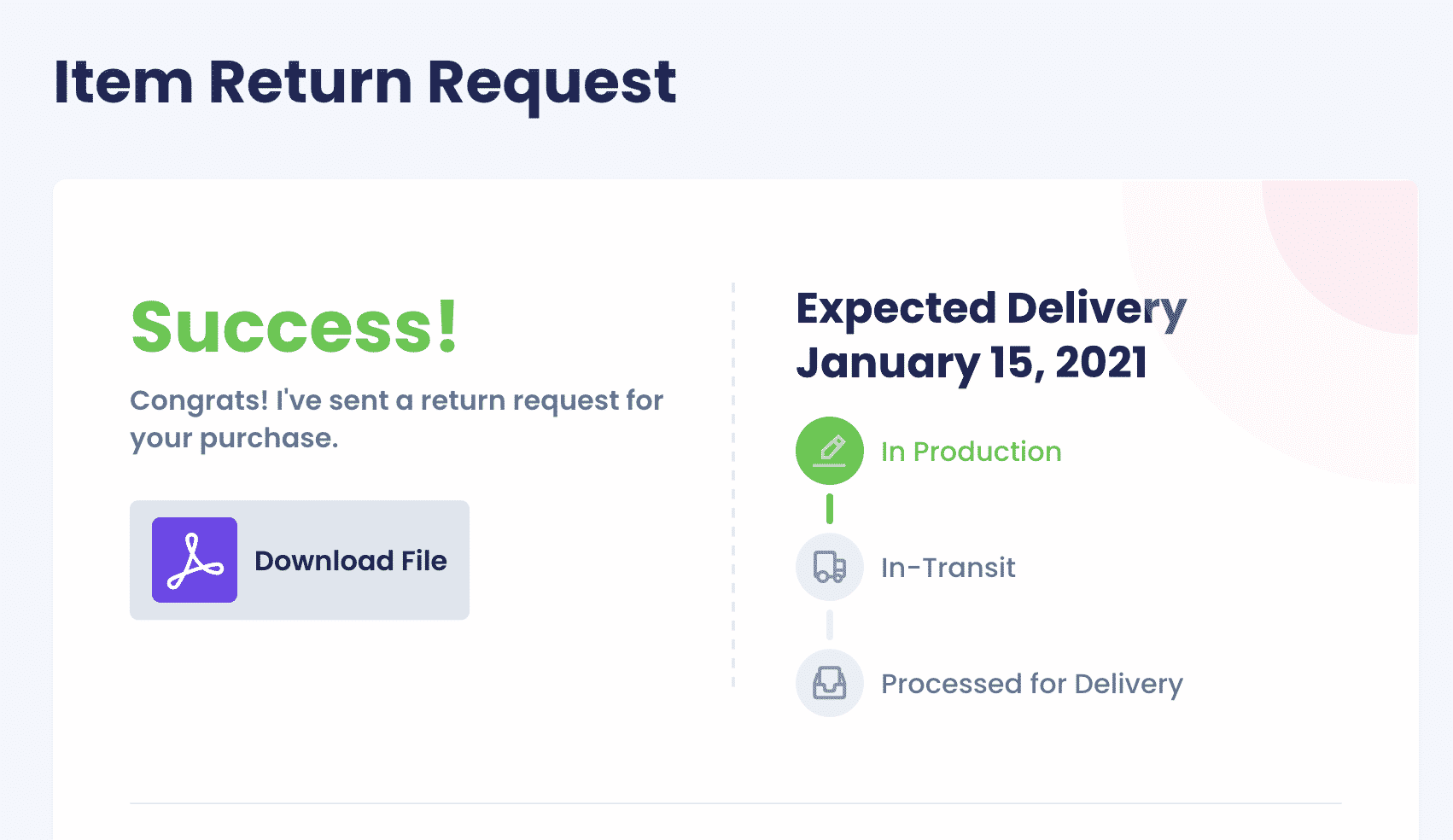 Are you experiencing return issues with other companies? Use DoNotPay's learning center to gain insight into the return policies of hundreds of brands:
Wasted Your Money on a Non-Returnable Purchase? There Are Other Methods To Earn It!
Don't feel down if the item you got isn't returnable—DoNotPay has many more tricks up its sleeve that will help you earn some money!
From helping you enter sweepstakes, decrease your property taxes, and lower your utility bills to assisting you in earning off email or text spammers and robocalls, waiving your college application fees, submitting a college financial aid appeal letter, and getting a refund from any company or airline, we can do it all!
DoNotPay Is Always at Your Disposal
Our app's mission is to take everyday admin and legal tasks off your plate so you don't have to waste any of your precious time. If you want to appeal your parking tickets, draw up a legal document, get any agreement notarized, get a tourist visa, keep a sex offender at bay, mail anything without waiting in line, or get in touch with a loved one in prison, DoNotPay will resolve any of these with ease.
Too busy to track your memberships? You don't need to worry about canceling your free trial on time before it turns into a paid subscription if you use our virtual credit card.
With DoNotPay, you can tackle any otherwise annoying chore stress-free.