Do You Struggle With Paying College Application Fees? Learn How To Get a UTSA Fee Waiver
The University of Texas at San Antonio is a growing institution founded in 1969. The University counts over 34,000 students and has four campuses—Main Campus, Downtown Campus, Hemisfair Campus (Institute of Texan Cultures), and Park West Campus. UTSA students can choose among 165 degree programs.
When applying for admission at UTSA, students need to pay a fee. In case you can't afford the costs of UTSA's admission application, learn how to request a fee waiver.
What Are College Application Fee Waivers?
Before you encounter exorbitant college fees, you will need to pay an application fee. These expenses can be challenging for economically disadvantaged students. The application fees range from $40 to $100. In case you apply to several colleges, you may have to spend hundreds of dollars.
If you are going through a financial hardship and can't pay college application fees, you can request a fee waiver. Colleges usually waive fees for those students who can prove that they have financial issues.
Everything You Need To Know About the UTSA Application Fee
The UTSA application fee is 70$. You can't get your money back once you pay it.
There are several ways to pay the fee:
| | |
| --- | --- |
| Online | Pay the application fee with a credit card via ASAP. You will need your myUTSA Account ID and Passphrase |
| Via Money Order or Check | Send a check or money order to UTSA. Provide your full name and date of birth so that the school can match your payment with your application |
| With a Fee Waiver | Request a fee waiver and send the necessary documentation |
Are You Eligible for UTSA Admission Application Fee Waiver?
You can qualify for the UTSA application fee waiver if you:
Are eligible for the

Pell Grant

Are an orphan, homeless person, or ward of the state

Live in a foster home or a federally subsidized public housing

Belong to a family that receives public assistance, such as the

Temporary Assistance for Needy Families (TANF)

Come from a family whose income doesn't exceed the amounts determined by the

USDA Food and Nutrition Service
To get a fee waiver, you need to meet at least one of these criteria and submit the documents that prove your financial hardship.
The UTSA offers application fee waivers only to first-time freshmen. You won't get the waiver automatically upon submitting your request because UTSA's Office of Undergraduate Admission judges each request individually.
SAT and ACT Fee Waivers for UTSA
In case you earned a fee waiver for your SAT or ACT, you can use it to apply for UTSA without paying the application fee.
You should note that UTSA has changed its policy regarding the requirement for the SAT and ACT scores. If you aren't able to take the SAT or ACT due to the COVID-19 pandemic, you can still send your application to UTSA without the test results.
How To Request a UTSA Fee Waiver
You can submit your UTSA fee waiver request via the ApplyTexas application or use your SAT or ACT fee waiver.
What Is ApplyTexas?
Through the ApplyTexas app, you can apply to most Texan universities. The app also allows you to submit your application essays, apply for scholarships, seek financial aid, and get more information about the school you want to apply to.
After you request your UTSA fee waiver on ApplyTexas, you will have to send additional documentation to demonstrate your financial need.
What Documents Should You Send To Get the UTSA Application Fee Waiver?
Here is the documentation you need to add to your fee waiver request:
Proof that your family receives TANF

Proof that you are an orphan, homeless, or ward of the state

Evidence that you live in a foster home or subsidized public housing

IRS transcript with your family's annual income—don't send a photocopy of your tax return but the IRS Tax Transcript

The FAFSA form with the code 010115 and Student Aid Report (SAR) to prove you are eligible for the Pell Grant
In case you want to submit the FAFSA documents, keep in mind that UTSA will process your waiver request in November or December.
Here are the ways you can submit the required documents:
Email

Online

UTSA's Document Uploader

Letter

UTSA Office of Undergraduate Admissions

One UTSA Circle

San Antonio, TX 78249
If you write an email to UTSA, make sure you don't include any documents that contain your Social Security number.
Submit a College Fee Waiver Request Fast and Easy With DoNotPay
The University of Texas at San Antonio requires you to submit your fee waiver request via the ApplyTexas application. Still, in case the institution permits requesting application fee waivers via email, you can use DoNotPay to get done with it in no time!
DoNotPay has an extensive database of U.S. schools in all states and allows you to request application fee waivers for Columbia University, Brown University, Northeastern University, Harvard Law School, Johns Hopkins University, Georgetown Law School, The City University of New York, and many others!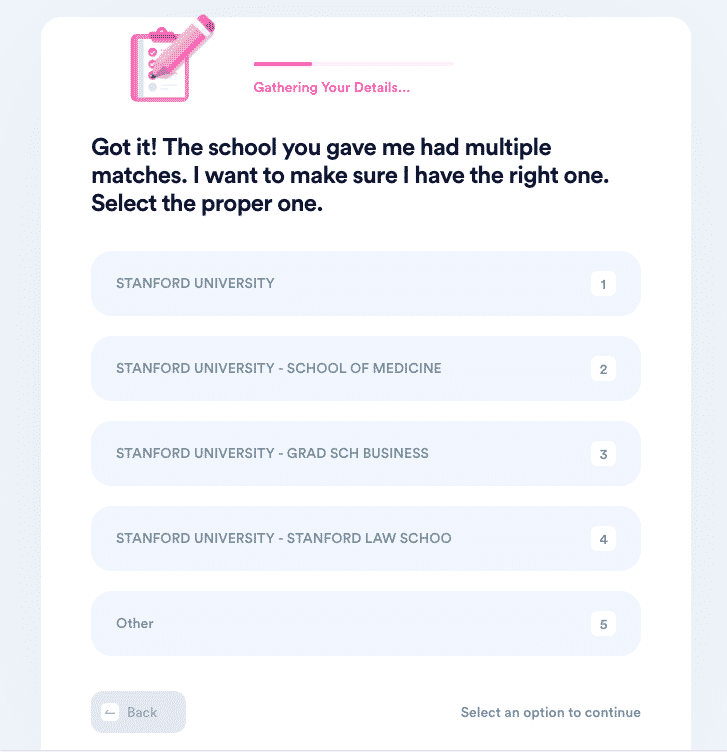 With DoNotPay, you won't waste your time filling out numerous forms! We will fill out the necessary forms for you and send them to the admission office of the school of your choosing.
You can submit the application fee waiver request in minutes! All you need to do is:
Log in to DoNotPay in any

Choose the

College Application Fee Waiver

option

Find the fee you want to waive

Select

The University of Texas at San Antonio

and answer a few questions about your economic status

Indicate whether you need a counselor's signature
DoNotPay can waive fees for new applicants, as well as for transfer students. You can also use our help to avoid paying enrollment deposits.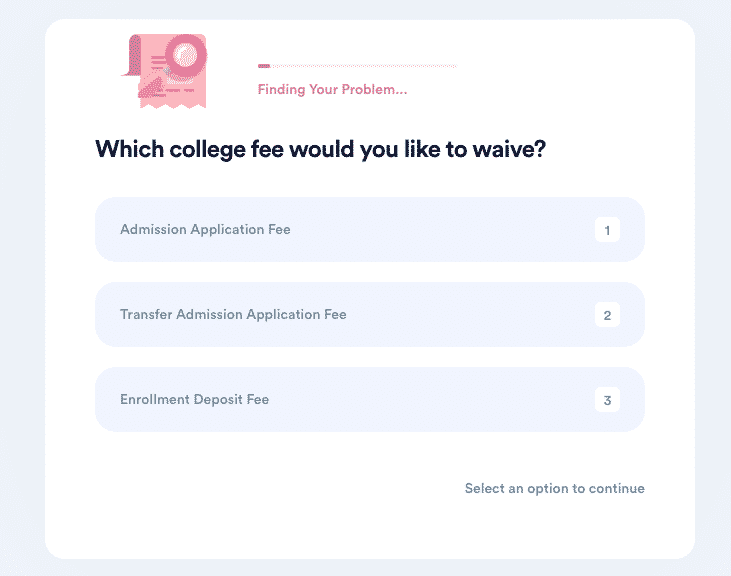 Use DoNotPay To Solve Other Bureaucratic Issues
DoNotPay is a lawyer app that deals with the bureaucracy you would rather avoid! Our efforts to provide services to those in need were recognized by the American Bar Association who granted us the Louis M. Brown Award for Legal Access.
We can show you how you can request fee waivers from any college without using the Common App!
You can use our app to request a refund from Adobe or Grammarly. If you have subscriptions to Mathway, Bartleby, Study Edge but don't use them, stop wasting your money—use DoNotPay to cancel them!
Do you want to sign up for free trials without worrying about being charged when they expire? Use DoNotPay's virtual credit card generator for free trials and try out Microsoft Word or Amazon Prime Student!
With DoNotPay, you can solve a bunch of daunting administrative tasks! Access DoNotPay from any , and check out how we can help you deal with:
Fighting traffic tickets

Appealing speeding tickets