How To Avoid the University of Florida Application Fee Easily
The University of Florida (UF) is among the ten largest single-campus universities in the United States, with more than 50,000 students. It is located in Gainesville and consists of over 150 institutes and research centers and 16 colleges.
If you are interested in starting a university life at this school, we can tell you more about the costs you can expect and possible ways of cutting them down.
When it comes to college fees at UF, you will need to spare $6,381 for local tuition and 28,659 for domestic tuition unless you have a scholarship.
Before you reach that stadium, you'll need to pay the college application fee, and DoNotPay can help you avoid that.
Application Fee Waivers—The Way To Lower Expenses
One aspect of college life that begins before any other university trouble is money-spending. You will have to pay application fees for most schools you apply to. When combined, the total expense for several universities can end up being more than $400.
Applicants with low income cannot afford to pay this much, and that's why fee waivers were created. There are different criteria for obtaining fee waivers, but these are the most common ones:
Financial hardship

Participation in certain programs

Having received an

SAT

or

ACT fee waiver

beforehand
If you meet any of these qualifications, you should be able to obtain a fee waiver without trouble.
There are also various ways of requesting your fees be removed, but the simplest one is DoNotPay!
Use DoNotPay To Apply for the UF Application Fee Waiver
DoNotPay is here to help students get the financial aid they need by requesting fee waivers. Our app has a database of all universities across the U.S. This means that you may use it for the University of Florida and all the other schools on your wishlist.
DoNotPay can:
Simplify the process by automatically filling out the form for you

Mail the documents to the university's financial aid office

Send the form to the school's counselor if you need a signature

Waive these types of fees:

New Student Application Fee

Transfer Student Fee

Enrollment Deposit Fee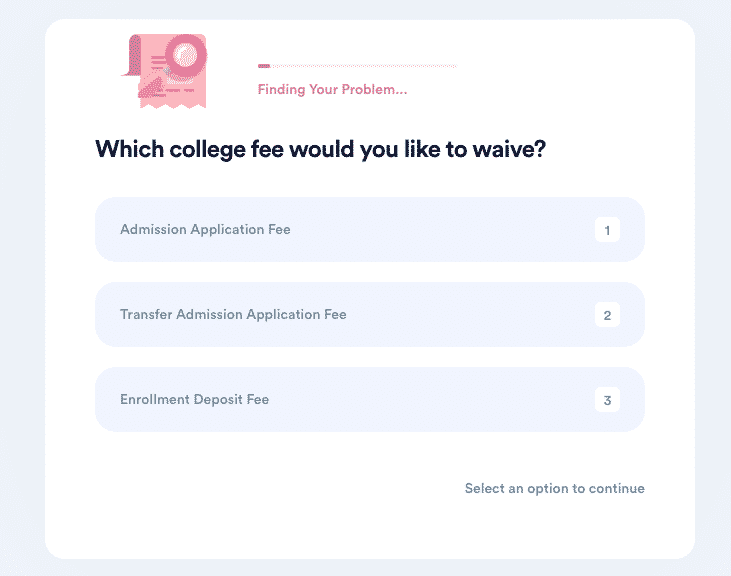 To get your application fee waived, follow these simple instructions:
Access DoNotPay from any

Open the

College Application Fee Waiver

feature

Pick the fee you would like to waive

Choose the university you are applying to

Answer a few questions about your financial situation

How To Request the University of Florida Fee Waiver Manually
Schools that offer fee waivers to students provide several ways to request them. This is usually done through the Common App or some other app specific for that school.
Undergraduate students interested in having their application fee for UF waived can send their request when applying through the Coalition App. This procedure can be confusing and takes more time than DoNotPay.
Here is what you'll need to do:
Create an Account

Find the

Profile

link and select it

Choose

University of Florida

as the school you're applying to

Select all the factors that can make you eligible for a fee waiver

Answer all the other questions
How To Obtain the University of Florida Graduate Application Fee Waiver
If you are a Ph.D. applicant, the process of requesting a fee waiver differs from the one for undergraduate students. You will need to complete an Information Request form. This is what you'll need to do:
Access the

Information Request

form

Provide your personal information

Enter your email and phone number

Select a

Graduate Degree Interest

Enter your GPA

Choose your

Graduate Program of Interest

Check your ethnicity from the provided list

Select your gender

Choose your type of citizenship

Agree to the Terms and Conditions and click on

Submit
Before requesting a fee waiver from the University of Florida, you will need to see if you are eligible for one.
Who Is Eligible for a UF Fee Waiver?
Not everyone can apply for a fee waiver because there are certain qualifications needed. You have the best chances of obtaining a fee waiver if you are experiencing financial struggles. Some of the criteria include:
Being homeless

Receiving public assistance

Being eligible or enrolled in the

Federal Free or Reduced Price Lunch (FRPL)

program

Meeting the

Income Eligibility Guidelines

according to the Food and Nutrition Service

Being an orphan

Living in a foster home

Being a part of a program that helps students from low-income families

Living in a federally subsidized public housing
If you are a graduate student, you may also get fees waived based on these requirements:
Applying for Ph.D.

Being a permanent resident or a U.S. Citizen

Applying in the fall term

Having a 3.50+ cumulative undergraduate GPA
How Much Is the Application Fee at the University of Florida?
The application fee at UF is $30 + $5 processing fee, which makes it one of the cheapest. Other schools usually have application fees ranging from $50 to $100. Take a look at this table of some universities in Florida and neighboring states that might pique your interest.
These are their application fees and acceptance rates:
Regardless of their costs, DoNotPay is here to help you get those fees waived and save money!
Our app has another feature you could find useful if you become a student in Florida. We can help you contest parking tickets at the University of Florida or the University of Central Florida.
Use DoNotPay and Don't Worry About Administrative Tasks
People living in the Sunshine State can count on DoNotPay for help with various bureaucratic tasks. We can help you find and apply for clinical trials in Florida. Even if you want to participate in interventional studies in specific cities like Miami or Orlando, we have your back.
In case you are a driver, we can tell you how to speed up your driver's license renewal.
Are racist robocalls bothering you? Your virtual assistant can tell you how to report and get rid of them once and for all.
Perhaps you can't manage to pay for Florida Power and Light bills? Let us handle this issue for you as well.
We even have the solution for the safest and easiest communication if you have a prison pen pal in Florida.
Your virtual assistant has a lot more to offer and is not focused solely on the state of Florida. To explore other feature in our offer, access DoNotPay from any and let us help you with:
Fighting speeding tickets

Contesting traffic tickets