How To Get the UIUC Application Fee Waiver the Easiest Way
The University of Illinois at Urbana-Champaign (UIUC) is the main part of the University of Illinois System. This public institution was founded in 1867 and has more than 50,000 students.
As with most schools, you will need to pay an application fee if you want to enroll here. Luckily, there is a way of avoiding this first of many college fees. Get the scoop on obtaining the fee waiver for this and any other school in the U.S.!
Why Should You Use Application Fee Waivers?
If you are applying to more than one university, you should expect to spend a large amount of money on application fees. There aren't many schools without this payment requirement, and for the rest, you can expect the price to be as much as $100.
Can you afford to spend hundreds of dollars solely on applications? If not, there is a way to avoid this step. Application fee waivers are the way to save money, but not anyone can obtain them.
Each school has its own set of requirements. In most cases, you will be eligible for a waiver if your financial situation proves you need aid. There are several ways of obtaining this aid. If you already got the ACT or SAT fee waiver, you become entitled to a college one automatically.
If you are a graduate student, you will usually have the option to avoid the fee payment if you are a participant in one of the selected programs, which we will cover below. You should use DoNotPay to get your fee waived fast if you meet the school's specific criteria!
The University of Illinois at Urbana-Champaign Application Fee
UIUC has different application fee prices depending on the type of student applying. Take a look at this table to see how much money you'll need to spend:
| | | |
| --- | --- | --- |
| Type of Student | Domestic Application Fee | International Application Fee |
| Graduate | $70 | $90 |
| Undergraduate | $50 | $75 |
A fee waiver is available for everyone except for international students.
Tuitions and college fees are different for public and private universities. Check out these lists to see the difference, and maybe you'll notice some of the schools on your wishlist.
Application Fees for Popular Public Universities
Here are some of the most popular public universities in the U.S. and the costs you'll have to cover if you apply to any of them:
Application Fees for Popular Private Universities
These are some of the popular private universities in the United States. Check out how much the application fees are:
You can avoid giving any of your money to the listed schools if you choose to use DoNotPay to waive the fees! You will not regret picking our app instead of any other option of obtaining an application fee waiver because it is the fastest, simplest, and safest choice!
Who Can Get a Fee Waiver From UIUC?
It doesn't matter whether you're a graduate or an undergraduate student—you can get a fee waiver from UIUC if you have financial problems. To be considered for a UIUC fee waiver, you should check at least one of the items from this list. You will get a fee waiver if you:
Don't have living parents

Meet the

USDA Food and Nutrition Service

Income Eligibility Guidelines regarding your family income

Live at a foster home

Are homeless

Participate in a state or local program that helps students from families with low incomes

Receive public assistance

Participate or are eligible for the

Federal Free or Reduced Lunch Price program

Get financial aid from institutions such as PELL Expected Family Contributions or

ISAC Amount

Have already gotten an SAT or ACT fee waiver
Graduate students may also ask for a fee waiver if they are:
How To Request an Application Fee Waiver From UIUC on Your Own
While it has become common practice for schools to allow students to send in their applications and fee waiver requests via the Common App and the Coalition App, you won't be able to find UIUC in their databases. Undergraduate applicants may request a fee waiver only by sending a form completed by:
A college counselor

A high school counselor

Any other school official
The chosen official has two options of sending the form:
Via fax to

217/244-4614

By mail to

Office of Undergraduate Admission Fees Unit, 901 W Illinois St, Suite 103, Urbana, IL 61801
Use DoNotPay To Request Fee Waivers From Schools Across the U.S.
DoNotPay may not be able to help you request a fee waiver from the University of Illinois at Urbana-Champaign, but we will be there for all your other applications! Our database covers most universities in the United States, and it has the simplest procedure. You can ask to skip paying the application fee in a few clicks.
These are the only steps you'll need to follow:
Open DoNotPay in a

Navigate to the

College Application Fee Waiver

feature

Select the fee you wish to waive

Choose the college you are applying to

Answer a few questions regarding your economic status
You can also let us know if you need a counselor's signature. Sometimes, this step can be skipped, but you should check with your school if it allows for it.
If you don't need such proof, DoNotPay will complete, address, and mail the document to the chosen university's financial aid office.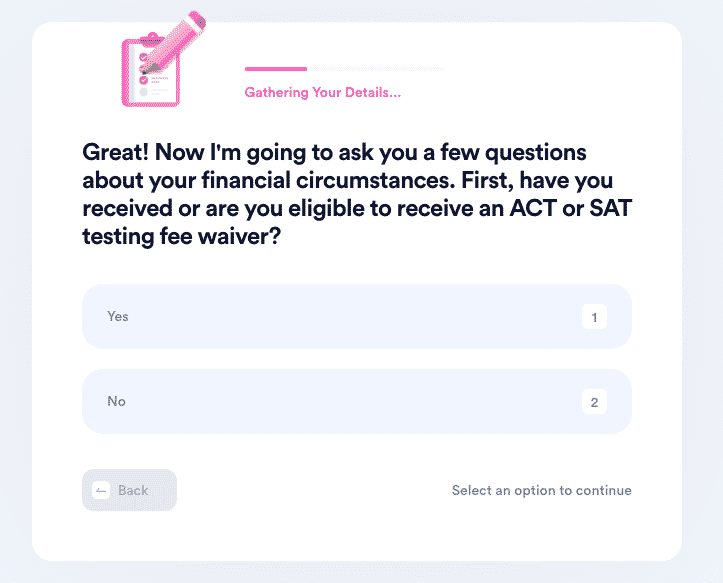 DoNotPay's capabilities with waiving fees are not limited to new-student applications. We can help you request skipping the payment for transfer students and enrollment deposits as well.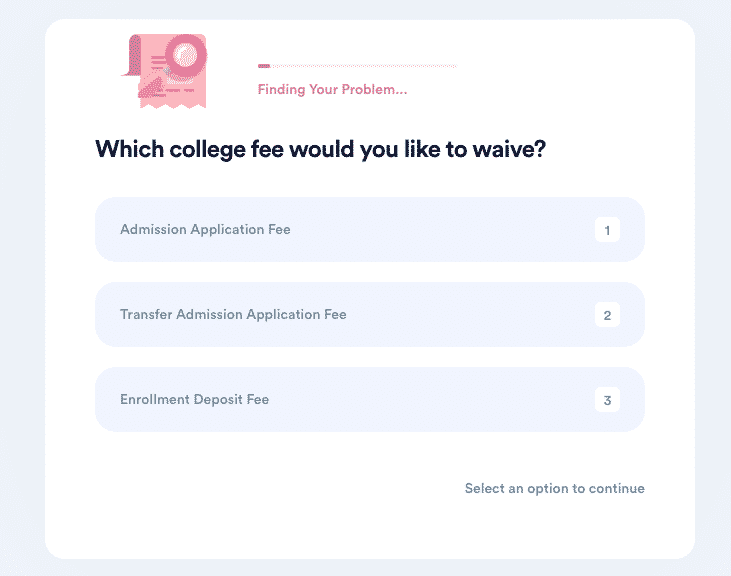 DoNotPay Can Help You With Many More Administrative Tasks
You can use DoNotPay to manage high electric bills in Illinois. Maybe you want to cancel ComEd? We can make that happen easily.
If you are looking for interventional studies to participate in, your virtual assistant can show you all the available options of clinical trials in Chicago.
If you want to dispute parking tickets in the Windy City with ease, you should also use our handy feature.
Are you fed up with daily news? You should consider canceling your subscriptions to The Chicago Tribune or The Chicago Sun-Times.
DonotPay is called the world's first robot lawyer for a reason, and you can rest assured that we will aid you in dealing with many more bureaucratic issues outside the Prairie State as well.
Open DoNotPay in your to see all the other features in our offer:
Fighting traffic tickets

Disputing speeding tickets