DoNotPay Helps You Avoid the
Texas A&M Application Fee
Texas A&M University—also known as TAMU—is a tertiary education institution from College Station, TX. It is the first public institution of higher education in Texas and has one of the largest student bodies in the U.S.
Prospective TAMU students who wish to lower their college fees by applying for application fee waivers can turn to DoNotPay and avoid unnecessary charges without any trouble.
What Are College Application Fee Waivers?
College application fee waivers are formal requests that eligible students submit with their university applications to avoid paying application fees. While some universities don't charge students for processing their admission documents, most higher education schools in the U.S. have application fees of up to $100. 
Considering that most American students apply to five to ten universities, application fees can do significant damage to their finances or hinder lower-income students' opportunities.  
How Much Does the
Application Fee for Texas A&M
Cost?
The Texas A&M University application fee is on the higher end of the spectrum. If you wish for this school to process your application documents, you will have to pay $75, whether you get a place offer or not. Domestic applicants to graduate programs need to pay $65, and international students must pay $90.
Payment methods that TAMU accepts include:
Checks

Money orders

Credit and debit cards—Visa, Discover, MasterCard, and American Express
Eligibility Criteria for Getting a
Texas A&M Application Fee Waiver
The first requirement you need to fulfill if you wish to avoid paying the Texas A&M application fee is to be an American citizen. Fee waivers do not apply to international students.
Other criteria relate to students' financial status. The list below pinpoints prospective students who qualify for an application fee waiver, according to the official TAMU requirements:
Applicants participating in a TRIO program (Upward Bound)

Students who are eligible for federal free or reduced lunch programs

Candidates in foster care or homeless

Applicants who are wards of the state or orphans

Candidates living in federally subsidized public housing

Students whose families receive public assistance
If you're not sure whether you qualify for a federal free or reduced lunch program based on your family's income, you can check the official guidelines in the table below:
| | |
| --- | --- |
| Household Members | Total Annual Income |
| One | $23,606 |
| Two | $31,894 |
| Three | $40,182 |
| Four | $48,470 |
| Five | $56,758 |
| Six | $65,046 |
Getting a
Texas A&M Fee Waiver
by Yourself
Researching what methods for obtaining application fee waivers work for each university you're interested in can be time-consuming—for example, some colleges accept the Common App waivers, others don't. 
The table below gives you a clear idea of available options valid for Texas A&M University:
| | |
| --- | --- |
| Waiver Request Method | Does It Work? |
| DoNotPay | Yes |
| NACAC Request Form | Yes |
| School Visit | No |
| QuestBridge Program | No |
| Letter Request | Yes |
| SAT/College Board/ACT Request Form | Yes |
Get a TAMU Application Fee Waiver With a NACAC Request Form
The National Association for College Admission Counseling (NACAC) can help you get a fee waiver with these steps:
Print it out or fill it in on your computer

Check all relevant boxes in the

Economic Need

section

Add your signature

Send the form to the person who can attest to your economic eligibility

Forward the request form to the university's admission office after obtaining the counselor's signature
Send a Letter Request To Get a Texas A&M Application Fee Waiver
Texas A&M University allows students to request a fee waiver directly from the university's admission office. Applicants who qualify for a fee waiver by participating in the federally funded free or reduced lunch program can write a letter on the school letterhead, including their name, date of birth, and the counselor's signature and contact details. 
You should send the request letter to the following addresses, depending on the study level:
Freshman Admissions Processing

Texas A&M University

P.O. Box 30014

College Station, TX 77842-3014

Graduate Admissions Processing

Texas A&M University

P.O. Box 40001

College Station, TX 77842-4001
Get a Fee Waiver With an SAT/College Board/ACT Request Form
All students who acquire SAT or ACT fee waivers can apply to Texas A&M University without paying the application fee. You will need to provide the request form signed by you and the school counselor at the moment of application. 
Obtain a Texas A&M Application Fee Waiver With DoNotPay
The idea behind DoNotPay's College Application Fee Waiver feature is to help future college students reduce expenses related to university applications. When you're applying to several schools, you deal with loads of paperwork and hundreds of dollars in fees. Our platform can help you get rid of:
New Student Application Fees

Enrollment Deposit Fees 

Transfer Student Fees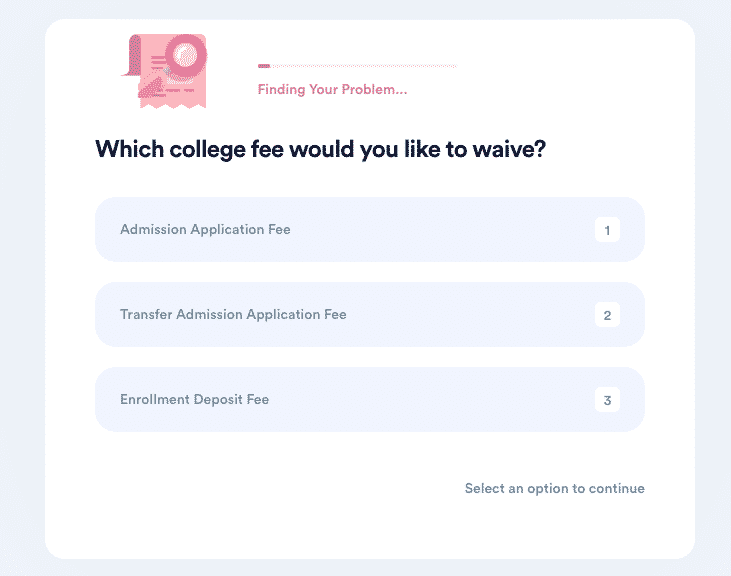 How To Use DoNotPay To Avoid the
TAMU Application Fee
DoNotPay's philosophy is to cut administrative procedures to the bare minimum and involve only the necessary steps to accomplish what needs to be done. Filling out the required forms and mailing them to the right address is a lot easier with our app. The process of getting a fee waiver with DoNotPay consists of the following steps:
Create your DoNotPay account in your default

web browser

Sign in and select the

College Application Fee Waiver

feature

Pick the fee you wish to get rid of and Texas A&M from the list of universities

Provide the necessary information about your financial needs

Select whether you need a counselor's signature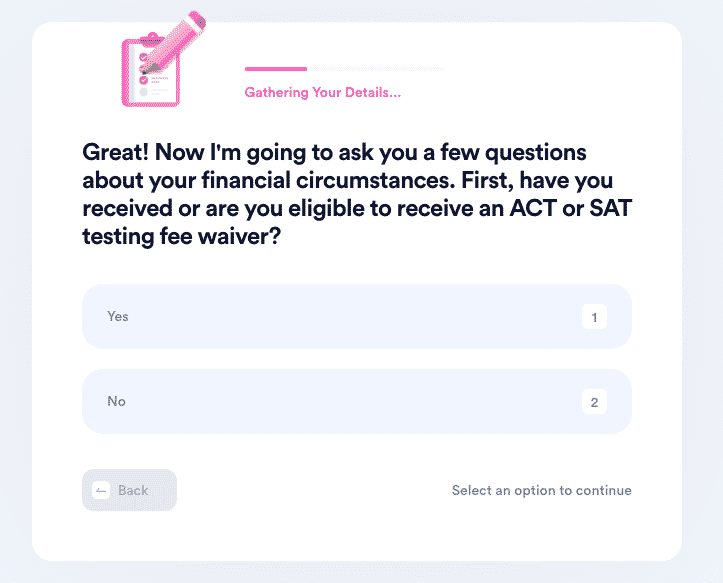 This procedure will take less than five minutes. When you input all the required personal details and submit your request, our AI bots will take care of the rest. You can focus on other items from your application to-do list while we get the forms ready and mail them to your counselor for verification. 
We can also mail your documents straight to the financial aid office if some other university you're applying to doesn't require a counselor's signature or in case of special circumstances, like the COVID-19 pandemic. 
DoNotPay Provides Additional Assistance to College Students
By applying to several colleges, you can increase your chances of enrolling in a degree program. Don't let high application fees stop you—DoNotPay can help you eliminate those expenses for other Texan universities, such as Rice, Baylor, and the University of Texas in Dallas. You don't need to shy away from universities in other states, even if you're applying to Brown or Columbia.
Our platform is chock-full of other features useful for anyone who lives in the Lone Star State. We can help you pay electric bills, renew your driver's license, or protect yourself from stalking.
Students love DoNotPay because we can assist with extending student loan bills, canceling services like Course Hero, or getting free trials for Amazon Prime Student. 
Access DoNotPay from any web browser, and explore the full range of our features, including:
Contesting speeding tickets

Fighting traffic tickets