Dispute Chicago parking tickets for free in two minutes from your computer or mobile phone

Use DoNotPay to help you appeal any parking citation. The app has an AI-powered chatbot that gives you the exact script you need to win your parking ticket appeal. Money reports that this robot lawyer has beaten hundreds of thousands of parking tickets. It has a very high win rate, which has allowed users to save millions of dollars.
Here are quick and easy steps that you can follow in disputing your ticket:
You can use DoNotPay directly from your web browser.

The chatbot will ask a couple of questions, which you will need to answer accurately. They will ask what type of violation you're dealing with, which jurisdiction it happened in, and why you wish to dispute it.

After that, you need to take a picture of your ticket and upload it to the app.

Once it has all the necessary information, the robot lawyer will give you the exact template to submit to Chicago's parking authorities.
Watch how to dispute parking citations in any city:
I don't want to pay the parking ticket I received in Chicago, can I beat it?
It is always worth disputing your ticket because by doing so, you can either eliminate or reduce your fine. With DoNotPay, your chances of beating it are even higher. It uses AI technology to give you advice for free within two minutes.
Here are some arguments that work for most parking ticket disputes:
You were not the owner of the car at the time of the violation.

The street signs or markers were severely faded.

The relevant signs were missing from the area.

It is difficult to read the information on the parking ticket.

Some data on the ticket is wrong.
Simply disputing the ticket can reduce your fine. Access DoNotPay through any .
Don't pay your Chicago parking ticket without disputing it first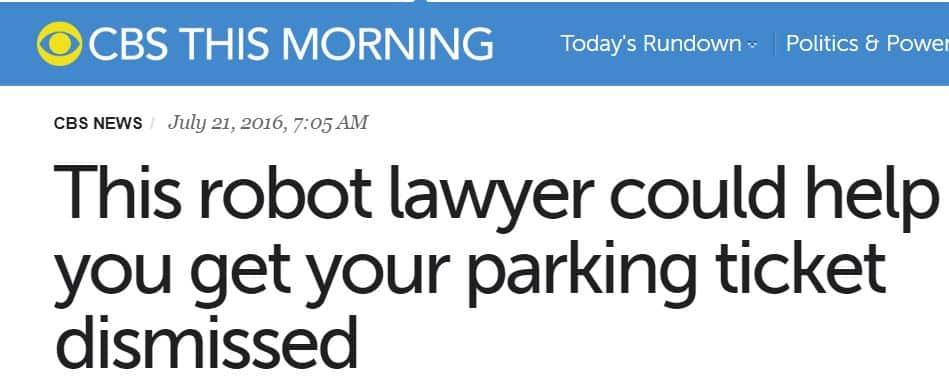 If you decide to dispute your ticket on your own, it will take you from half a day to a couple of days. Choosing DoNotPay will help you save a significant amount of time. It only takes 120 seconds for you to receive the advice that you need to dispute your citation. Access DoNotPay through any .
Can DoNotPay help me fight and dismiss parking tickets from private parking companies?

DoNotPay doesn't only help you fight parking infractions from the government. The app can also assist you in appealing tickets from any private parking company, including:
Towne Park

Ace Parking

Douglas Parking

Lanier Parking

SP+, aka Standard Parking

ABM Parking Services

Imperial Parking, aka Impark

Laz Parking
Does it make sense to get a lawyer to avoid paying a parking ticket in Chicago?

It is possible to get a lawyer to help you appeal your Chicago, Illinois parking tickets. However, it is not necessary. It is costly to hire a lawyer, so save your money and use the DoNotPay app. Access DoNotPay through any . All you have to do is answer the app's questions. After all this, it will provide you with a step-by-step solution to your problem.
If you decide to hire a lawyer, not only will it cost more than your ticket is worth, but it will take a lot more time. Here are some steps to follow in finding a good lawyer:
Thorough research: There are many lawyers that you can find, but you will need to do your research to get one that has a great track record with parking ticket cases. Ask for recommendations from your family, friends, and acquaintances. Also, try to get info on the previous cases they've handled.

Consider the cost: You will have to pay a considerable fee for their service, it could cost you more than the citation. Try to be cost-efficient.

Interview: The best way to learn more about your prospect lawyer is to ask them key questions face-to-face.
How much will I have to pay for a parking attorney in Chicago?

Generally, the cost of hiring a lawyer to help you dispute your ticket ranges from $200 to $1000. If you don't have enough funds, you can always use the DoNotPay app to help you solve your problems. You won't have to pay a single penny. All you have to do is download the free app and tell the chatbot about your ticket. Access DoNotPay through any .
What if I got a ticket, but someone took it off my car? Do I still need to pay?
Sometimes, an officer places a parking ticket on your windshield, but someone or something removes it. Someone may put it on their vehicle to make it look like they have already been ticketed.
The city will send you a letter notifying you that you have a citation and the due date of the payment. You may feel that it's all a mistake and end up ignoring the notification. Remember, deciding not to pay the fine will make you incur additional penalties. To avoid such a situation, you can clarify with the authorities by calling them and dealing with it as soon as you can.
Here is a discussion thread on this kind of situation.
Can parking violations increase my insurance rate?
The great news is, no, receiving parking infractions does not increase your insurance rates. The danger is if you fail to pay off your tickets. The DMV may then refuse to re-register your vehicle. Many insurance companies will refuse to insure an unregistered vehicle. If you end up needing to apply for a new policy, you may end up paying more than you had before.
Can I avoid paying my ticket if I'm visiting from another state?
Every vehicle owner is obliged to follow the traffic and parking rules in any place that they are visiting. If you are in Chicago for a vacation and received a parking ticket, you still have the responsibility of dealing with it. DoNotPay can help you dispute it remotely. Access DoNotPay through any .
What if I'm still in the car? Can I still get a parking ticket in Chicago?
Yes, it is possible to get a parking ticket while you are still in the car. If you are sitting behind the wheel while you are stopped in a no-parking zone, an officer has every right to give you a citation. It does not matter whether or not you are in the vehicle. If an officer has grounds to believe that you are violating any parking law, he or she can ticket you. If you wish to learn more about other people's related experiences, check out this discussion.
If I lose, do I have to pay the entire amount immediately?
Before paying your ticket, dispute it. If you lose your dispute, you may not have to pay it off all at once. Here are some options:
Online payment plans: Only vehicle owners that have not committed serious violations and have not had their driver's license suspended are eligible for these plans. You can choose the early payment plan wherein you will have three months to pay your citations. You can apply for this plan if your violation has yet to reach the final determination status. For those that have reached that stage, you will have to go with the standard payment plan.

In-person payment plans: If your car has been booted or if your license has been suspended, you will need to pay in-person. You will have to pay a 50% down payment on the total debt, and future payments can be made in equal installments up to 12 months.

Hardship payment plans: For those who will have difficulty paying the fines, you can select this plan. You will be allowed to pay your debt off over 36 months.
To be eligible, you will need to be any of these:
A student with a valid ID

A senior citizen

Active military

Discharged from the military in the last 180 days

Suffering a foreclosure

Bankrupt

Have claimed an earned income tax credit
To learn more about the payment plans and where to pay, go to this page.
Pay or Dispute?
| | | | | |
| --- | --- | --- | --- | --- |
| | Ease | Time it takes | Cost | Benefits |
| Dispute | Much easier and quicker with DoNotPay. | DoNotPay will handle everything in a couple of minutes. | The app is free to download for everyone. | You can reduce or eliminate all fines. |
| Pay | It is convenient to do online. | Many hours or days. | You will have to pay what is written on the parking ticket. | Your wallet will be lighter. |
Can I get my fine reduced?
By the simple act of disputing your ticket, you could reduce or eliminate the amount that you have to pay. Chicago has several payment plans that you can choose from, depending on what best suits your situation and capability. For those who are part of programs that prove that you are having difficulty financially, such as government-issued unemployment compensation, low-income home energy assistance program, temporary assistance for needy families, etc., you can apply for the hardship payment plan.
Remember, it doesn't matter if you are guilty or not. As long as you appeal your ticket, there is a high chance that you can reduce your citation or completely get rid of it. Access DoNotPay through any .
What will happen if I don't pay my parking ticket?
The Chicago government is meticulous about collecting parking ticket fines from violators. If the city discovers that you have two unpaid tickets, they may boot or impound your car. They could also suspend your driver's license. They may even hire a collection agency. You should either pay or contest your ticket as soon as you get it.
Can parking citations go on my driving record?
Receiving a parking ticket in Chicago does not affect your driving record, but if you do not pay your fines, the city may refer your case to a collection agency. This will be reflected in your credit report, thereby decreasing your credit score.
A lower credit rating may make it a lot more difficult for you to get a loan in the future. Always dispute your parking citation immediately. Access DoNotPay through any .
If I got a ticket in Chicago while driving a rental car, do I have to pay?
When you rent a car, you are liable for any traffic or parking infractions you make. Car rental companies usually provide a long agreement form that includes all the rules that you need to follow. Hertz, for example, states that it is the responsibility of the renter to pay off any fines you incurred during the duration of the rental. If you do not pay the parking fine yourself, the city will charge it to the car rental company. Hertz will charge the fine plus an additional administrative fee to the card you used to make the booking.
How much does Chicago make from parking tickets?
Parking citations in Chicago, IL, can range from as little as $25 to as much as $250. According to this article, the city issues millions of parking citations per year and earns hundreds of millions in revenue from them.
A great way of dealing with parking tickets is by contesting them. You will have a chance to eliminate or at least reduce your fines, even if you were in the wrong. Try using DoNotPay to dispute your citations effortlessly. Access DoNotPay through any .
DoNotPay helps users fight and beat tickets in any city
DoNotPay helps users fight parking tickets in every city in the US and UK. Here are a few cities we've helped users dispute the most tickets in:
What else can DoNotPay do?
There are many other things that the DoNotPay app can help you with, other than disputing parking tickets. DoNotPay can:
Using the DoNotPay app can help you save both time and money. You won't have to go through complex legal battles. You can immediately receive the exact legal argument that you can use in filing your dispute.
To summarize parking tickets from the city of Chicago:
| | |
| --- | --- |
| It is quite simple and easy to appeal your parking ticket in Chicago. | Hundreds of thousands of people have successfully disputed their parking tickets. |
| You can contest a parking citation in two minutes. | All you need to do is download the DoNotPay app and answer a few questions regarding your case. |
| DoNotPay not only helps dispute tickets from the government but also from private companies. | DoNotPay can appeal a ticket from any private parking company in America. |
| There are different payment plans you can choose to pay your citation. | However, you have the option to contest your ticket so that you can either reduce or eliminate any parking fine. |
| Just because you didn't see a slip on your windshield doesn't mean you can ignore any notice from the government. | You are responsible for paying your fines and dealing with the ticket as soon as you receive the notification. |
| Your vehicle's insurance premium doesn't increase if you receive a ticket. | However, if you have unpaid tickets, you might lose your vehicle registration. |
| You have to pay off all the tickets you receive, no matter where they were issued. | You are obligated to follow all laws in every city you visit. |
| A parking enforcer can give you a parking ticket even when you are still sitting behind the wheel. | You need to be very mindful of all the rules you have to follow, even when you need to temporarily stop to take a call or check a text message. |
| When you rent a car, you need to pay all the fines you receive during the rental. | On top of the fine, you also have to pay an additional administrative fee. |
| Chicago makes hundreds of millions of dollars on parking tickets. | In 2016, parking tickets brought in around $264 million to the city of Chicago. |
| DoNotPay doesn't only help you dispute parking tickets. | They also help you sue people, set appointments with the DMV, and other services. |